The Knog Oi Bike Bell is marketed as a bicycle bell which doesn't look like or sound like an ordinary bike bell. The most striking thing about the new Oi Bell is that it has a very slim profile. This makes it easy to fit on the handlebars.
The sound is quite pleasing (a bit like a glockenspiel) and quieter than an ordinary bell. The ringer is also small and the first few times when I reached for the bell I missed the ringer at first glance. This was due to my reflexes being used to reach for my previous bigger bell. After getting used to the new position on handlebars it is fine.
(update: after 18 months of use it broke)
Optimal sound of a bicycle bell
Sometimes when I ring an ordinary bell, people jump out of their skins which probably makes them think 'Bloody cyclist using my roads e.t.c."
But then, on the other hand, you can ring your bell three times and the people are immobile – standing in the road or cycle path; when you go past, they mutter sarcastically 'Don't you have a bell?' The problem with this bell is that it is quieter than ordinary bells. On a windy day on the footpath or during noisy traffic, the sound is easily lost in the environment.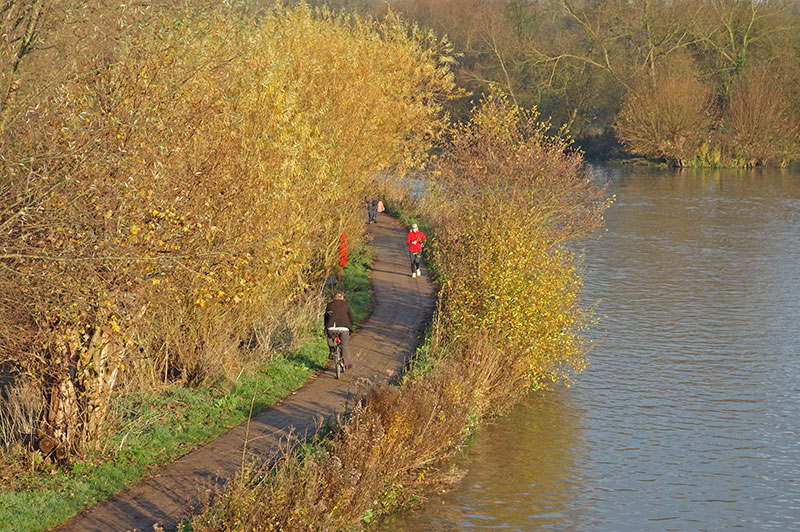 When using this cycle path by River Thames I often timidly ring my bell because I don't want to sound like a menacing cyclist wanting people to jump out of the way. But, when I timidly ring the bell, they often don't hear.
This Knog bell is quite good if you want to err on side of not ringing too loudly. The sound is certainly not threatening, but at a distance might not be heard at all. The problem is if people don't hear, the bell becomes a mere ornament. Continue Reading →