A reader asked if I had any ideas training for a 100 mile time trial. Next year, the National 100 mile TT will be one of my main pre-hill climb season targets. Last year I finished 5th in a time of 3.46, and I hope to go a bit better next year. I set a pb of 3.34.17 in 2014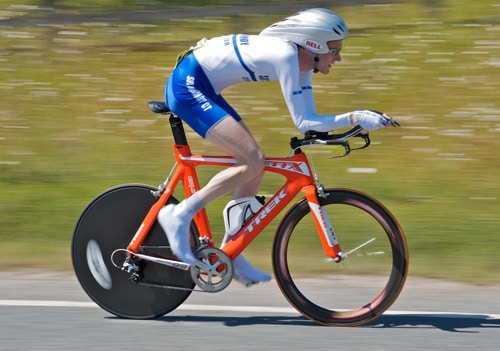 Basic Training for a 100 mile TT
At the risk of stating the obvious, the 100 mile TT is a formidable challenge. It's one thing to ride 100 miles, but to race 100 miles, is quite a challenge. A quickish rider will be able to do it in 4 hours.
The record for 100 mile TT is  Kevin Dawson (03:22:45) in 2003. If you think that sounds fast, Ian Cammish did 3:31:53 in 1983 before tribars and discwheels.
A 100 mile TT is possibly cycling's answer to the marathon; it's a similar effort in terms of time.
Base Endurance
The obvious starting point for doing a 100 mile TT is to do sufficient aerobic endurance training. If you are starting from scratch, this will take a good 6 months to build up. You can do 10 mile TT or 25 mile TT on little training, but unless you want to suffer like anything, you need that base endurance to be comfortable sitting in the saddle and able to complete the distance.
Minimum base endurance
As a minimum, I would suggest you need one long ride of 3-4 hours every fortnight. If possible, you would make it more frequent and longer. In winter and early season, I would do these training rides around level 2, so it is around 70% max heart rate. around 60-70% max threshold power.  These aerobic training slowly build up aerobic fitness, fat-burning capacity and ability to cycle for long periods. There are also smaller benefits for top end performance, such as increased lactate threshold. But, this is the first priority in terms of training for 100 miles. At the least, I would do a ride of 80 miles before racing. If you've already done a 100, it will be good for your confidence psychologically. But, it's not essential. I know a few good time triallistswho will only do over 80 miles in a 100 mile TT.
Optimal base endurance
To maximise my chances in the 100 mile TT, I will be concentrating on the winter months in building up a strong aerobic endurance. At the moment, in November, I'm trying to do two long rides a week of 5-6 hours (averaging about 16mph). The average speed is not important. These are the classic long slow distance rides (LSD); you can easily do it with other riders. With a couple of shorter rides, it provides quite a strong framework for later in the season. At this time of the year, I don't see these as 'junk miles', but an important foundation for increasing intensity in Jan and Feb.
Throughout Dec, Jan and Feb, I will continue to work on this aspect of cycle fitness. I don't rigidly stick to level 2, but sometimes in the year it is good to concentrate on a particular type of training, after a long seasons hill climbs, endurance training seems a nice break from top level intervals.
A very rough target is to manage 1,000 miles a month in winter. But, these days, I'm less religious about clocking up the miles. It's important not to get carried away and maintain a good balance between rest and training. This balance is different for different athletes. In my first season, 1,000 mile a month would have left me pretty tired, after a few seasons accumulation in fitness, it is more manageable. But, in the winter, I still leave a good two days of rest or very easy riding. Also, in a month, it's good to vary effort from week to week. Perhaps 3 weeks of 200-300 miles, and in the fourth week have much lighter week.
Sweat Spot training
A typical cyclist might be racing a 100 mile TT at around 80-90% of threshold power. e.g. if you average 300 watts for a 25 mile TT, you might do well to average 250 watts for a 100 mile TT. This effort level of 10-15 % below your threshold for an hour, is often termed sweat spot training or 'tempo' training.
It is called the sweat spot because you can gain big improvements in fitness, with only relatively limited muscle damage and tiredness. If you race at threshold or above, you can make more gains, but also face greater fatigue and need more rest.
Therefore, in training for a 100 mile TT, a very good training schedule will be to incorporate these 'tempo' rides into your training.
Early in the year, you can start off with just doing one hour at this tempo of 80-85% threshold power. You will need to concentrate to maintain the power and effort, conversation is no longer really possible; it will be difficult to do in a group, unless you have a small number of riders of similar ability.
As the year progresses, increase the duration of these tempo rides from 1 hour to 2, 3 and even four hours. This is training which closely matches your race pace, so it is targeted training to the race effort of a 100 mile TT.
The good thing about sweat spot training is that it is a lot of fun and rewarding. You can do quite a bit of it without excess fatigue. If you have limited training time, then I would concentrate on this sweat spot training. Effort at this intensity will bring substantially more gains than low intensity level 1 and 2.
Intervals and speed work
For a 100 mile TT, the bulk of your training will be endurance and tempo efforts. But, to get that extra speed, you still need to do higher intensity efforts. Once you have a sufficient base of endurance, you can incorporate much harder interval efforts. These will come later in the season, from February onwards.
One session I like to do is  several 5 minute hill efforts as hard as I can. This will be at an intensity above threshold effort. After 4 or 5 intervals, it is hard to keep that intensity. From what I can gather, training at this effort level not only increases your threshold power, but also helps other aspects of aerobic capacity. Hard intervals give a big bang for you buck so to speak. If training time is limited, a 2-3 hour hard interval session will give substantial improvements in threshold power. If you can increase your threshold power, then you will be able to go faster in a 100 mile TT, so long as you can maintain the distance. I use pyramid intervals for training for 10 and 25 mile TT, and I will use this fitness for 100 mile TT.
Racing
Most people doing a 100 mile TT, will be racing shorter distances, 10, 25, and 50 mile TT. Obviously, this all helps towards doing a 100 mile TT, especially 50 mile TT. However, I did my first 100 mile TT after only doing a 25 mile TT.
Examples of top 100 mile time triallists
I know quite a few top time triallists, such as Michael Hutchinson, Matt Bottrill, and Mark Holton who have won the national 100 mile TT on fairly limited mileage. I don't know exactly there training regimes, but, from what I can gather they are not mile munchers like the BBAR contenders of previous decades. They really focus on training for 10, 25 and 50 mile TT and use that time trial speed to good effect in a 100.
I read that the great Ian Cammish (who is probably the greatest 100 mile time trialist of modern era) used to concentrate on short hard interval sessions. A typical session for Cammish involved going all out for 30 seconds, resting for 30 seconds and repeating.  These were full on intervals, but they made him fast for 100 miles. However, Cammish was brought up in the more traditional school of many miles. He said when going for the BBAR, he would often do 500 miles a week (and he would have done 600 miles if that what it took)
Training on a time trial bike
After a few experiences of doing 100 mile time trials, I would place a lot of emphasis on training on your time trial bike. It's one thing to get fit on a road bike, but you can turn up on your TT bike, and be in agony after two hours. If you're not comfortable racing in your TT position for 4 hours, you are likely to end up dissappointed. This winter I'm placing a lot of emphasis on improving core body strength. If nothing else, do the 'plank' exercise' and slowly build up the time you can hold the plank position; this will definitely help for any time trial. If possible, keep riding your TT bike all year. I don't actually ride it in Nov – Jan. But, in Feb I take it down and do at least 50% of my training on the TT bike.
Feeding
A major part of a 100 mile TT is to get the food and hydration right. So many people train all year, then turn upto a 100 mile TT and make big mistakes in the feeding and hydration (and from bitter experience I include myself!) When training, try to replicate a four hour effort with using exactly the feeding techniques you will use in your race. Also note the temperature; a variation in temp can drastically alter the amount of hydration you need. Never get to the race and try something different you've never done before. So many people say their 100 mile TT gets ruined because a water bottle, they are using for the first time jumps out, leaving them without enough drink.
See more details on energy consumption during long rides
Pacing a 100 mile TT
A power meter will help give you an idea of your threshold power. e.g if you do an hour at 300 watts, this is roughly your 'threshold'
For a 100 mile TT, you could try set off at around 85% (255watts), which will feel quite easy to start off with. After two hours you can pick up the pace, if you can. But, you may find it becomes increasingly hard to maintain that intensity as the time goes on. Of course, the more practice you can get in training and doing 50 mile TT, the better will be your knowledge of what kind of effort you can maintain. But, I would hazard a guess most beginners start off their first 100 mile TT too fast! I know I often do. Pacing in long distance TT was my main motivation for buying a power meter.
If you don't have a power meter, you can still use a heart rate monitor or just go on feel. Bear in mind a heart rate monitor is a bit more variable and there can be a delay between power and heart rate.
Pacing in pb ride
av. power 262 watts
av. speed 28 mph
Note: This was one of those rare hundred mile TT where the pacing was relatively good.
Other experiences of riding 100 mile TT
Related