Today was the North Hampshire 25 mile time trial on the H25/8 Bentley course. The 25 mile TT is considered the 'blue ribband' of time trialling. The most popular distance, with the national championship being won by many of the great short distance time triallist – Alf Engers, D. Webster, G.Obree, Chris Boardman, Stuart Dangerfield e.t.c. The National 25 was a couple of weeks ago in the Lake District, where Matt Bottrill won in a time of 48.15, beating Matt Clinton 48.56. Bottrill had been trying for many years to win the event. Just shows, you never know when you might win the big one.
The competition record for 25 miles is 45.43 set by Matthew Bottrill (Drag 2 Zero) CTT – September, 2014
Former Record holders
Michael Hutchinson 45.46 – Set by in 2012.
It was held by many years (1993-2009) by Chris Boardman with a 45.57  set on the A34 near Oxford! The women's record is 50.01 set by Julia Shaw 2011.
My pb is 49.36 set on the Welsh course, at an average speed not much faster than my pb for 50 miles. For various reasons I haven't done a 25 mile time trial since last July – over 13 months ago.
I'm moving into hill climb season with thoughts moving to hill intervals rather than one of riding at threshold, but the arrival of a new bike (Trek Speed Concept) was enough motivation to enter one final time trial and get to ride the bike in a race before putting in loft.
Race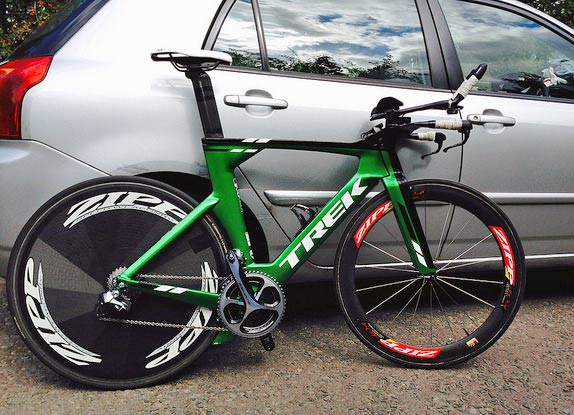 I was number 100, off at 16.10. Just before I set off on the startline, I had a very short chat to my old friend Brian James (Brian is about 85 years young) (Brighton Mitre CC) who had started 91 minutes previously and had just finished as I was waiting to go to the startline. He had just enough time to tell me 'good ride in the 100, shame you didn't do 12 hour! Then it was time to set off.
I know the Bentley course well, and the prevailing wind seems to be from the West. It makes it a hard drag from the start – uphill into the wind. After the first turn at Holybourne roundabout. You pick up a nice tailwind, making a very fast 10 miles to the Chawton turn. I know from experience to hold back a bit with fast tailwind. I was held back a little by necessity a little – having only a 54 chainring. (my last bike had a 56). It meant I was spinning out at 39mph on the 54*11. It was that fast. I saved my biggest effort for the middle 10 miles all into the headwind. It was a big effort to go up the hill for a second time. The last five miles was so fast, you couldn't really get everything out. But, I still felt a little sick at 20 miles, which is always a good sign for doing a 25 mile.
25 miles is that distance where you can ride just above threshold, gaining increasing acidity in the legs. Often after a 25, you can feel the acidity still in the body for quite a while.
How was the new bike to ride
I enjoyed riding the new bike. It felt fast. The Dura Ace Di2 weren't behaving themselves properly, my disc-wheel seems a bit thinner than the other wheel. It seems to be the trend to make wider wheels, but it meant the gears didn't move fluidly and were unresponsive. I rather dread delving into Di2 adjustment, but maybe it's not that bad.
Still it was not a major problem.
The other thing about the ride was that I was also riding a new saddle – a dash TT saddle. The new saddle felt more different than riding a new bike.
In the end, I finished with a time of 51.59. This was 10 seconds slower than my last ride on this course H25/8 – in similar circumstances. So much for new bike being 10 seconds faster! on the plus side, I only need to win another 120 open events, and I'll have enough prize money to be in profit on the whole enterprise. There's always a justification for buying a new bike
I was first in 51.59
2nd was Nick English (AW Cycles in about 52.30 ish)
3rd was Wouter Sybrandy (Sigma Sport) in about 52.45 ish.
First lady was Bronwen Ewing (

Trainsharp Racing Team ) 58 ish.

2nd was Rebbeca Slack (Look Mum no hands)
Thanks to North Hampshire Road Club for putting on good event.
The best quote of the day (overheard in HQ was)
"If you do too many hill intervals, you can just lose the will to live"
Well, on that note, it's time to sign off from the time trial season and look forward to 10 weeks of constant hill repetitions. Can't wait to get started.
No power meter, but heart rate – average 183. Max 189.
Related