My new time trial bike (Trek Speed Concept 9) arrived at Beeline this week. Ironically, just as my time trial season is coming to an end. Anyway it looks nice. Which is the most important thing in a new bike.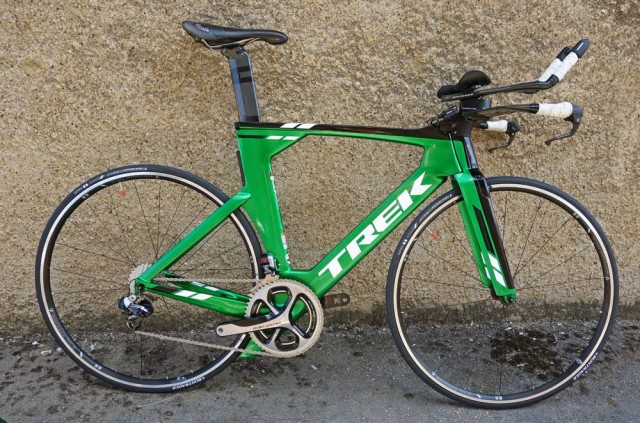 Trek Speed Concept 9
600 Series OCLV Carbon,
KVF (Kammtail Virtual Foil) tube shape,
Carbon Fork
Weight: frameset, cockpit setup, headset, BB and small frame parts come out to 1,874g
Total bike weight (with Bontrager R5 training wheels and tyres) 8.1 kg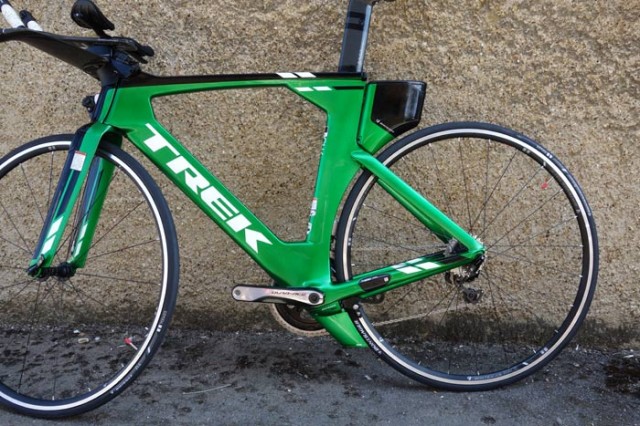 Bike with draft box
 Project One
I bought the bike through Project One. You order the bike online (or through Trek dealer) and it gets delivered to bike shop. The great thing about Project One is that you can choose any combination of equipment. This enabled me to keep costs lower by choosing cheap training wheels. I also like to be able to choose the colour of the frame. You can spend quite a bit of time, switching equipment on the website
Another great thing about Project One is that it gets delivered to a good bike shop and experienced mechanics can put it together. The staff at Beeline bikes Oxford have been helpful in getting the bike on the road. Project One combines the best of the internet buying with also using a good bike shop. The best of both worlds really. Definitely adds to the experience to get a bike through a bike shop with enthusiastic workers to look after bike.
Trek Speed Concept at Project One
The main disadvantage of Project One is the time taken for bike to arrive. I ordered in  May. It arrived end of July. I kept waiting to have enough money in the bank before ordering, but if I'd known how long it would take, I could have ordered earlier.
Also, it has proved bad timing on my part. My time trial season is effectively over (I might do one 25 mile TT just to use bike). I should have waited for new model to come out in Autumn and got bike for start of 2015. When buying a bike, it's always worth planning the best time of the year to buy it.
Clean lines on Trek Speed Concept
This is what you pay your money for. Nice neat lines, everything hidden away. Super aero.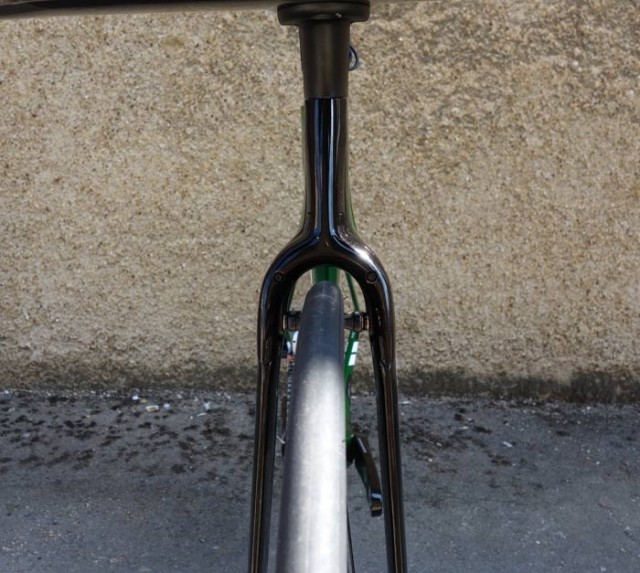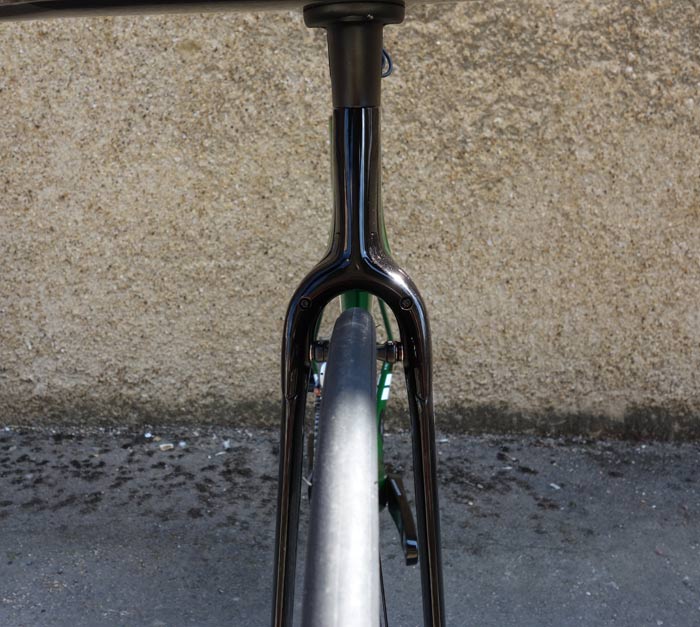 Neat front section. Really clean. Though annoyingly the plastic cover doesn't fit 100% flush with the fork.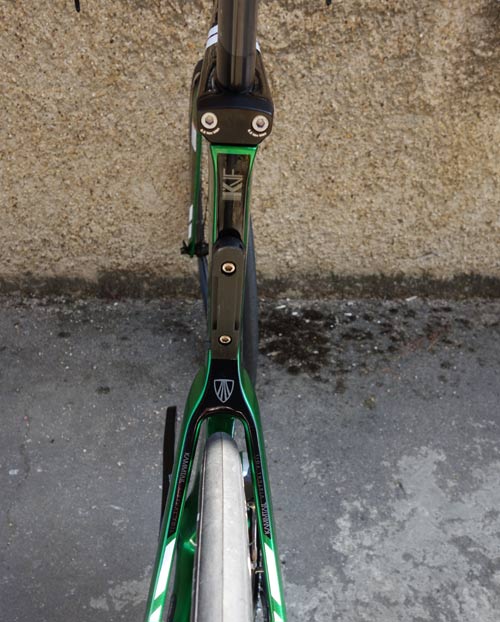 Smooth rear view (the black plastic bit for draft box can be removed) The lines of the frame are immaculate.
What's it like to ride?
First impressions are good. Pretty stable at high speed. Seems to cut through the wind pretty well. Though disappointingly if you want to go fast, you still have to pedal very hard. It is difficult to make quantitative judgements about how much time it saves from last bike (Trek Equinox SSL) Even when I race it will be difficult. I was more impressed by the electronic gears than new frame. Electronic gears are pretty cool and easy to see the difference. Marginal aero gains, hard to judge. But, it definitely looks Aero!
Overall
Overall I am happy. It looks good, it looks fast and it feels like a big upgrade from the last bike. It has some very nice touches like micro adjustment of saddle, aero fins, clean lines and integrated brakes. It isn't perfect, some things spring to mind.
Project One takes a long time to arrive
For such a high quality bike, there are moments of 'cheap plastic'. The draft box fell open on first ride, and it does have feeling of cheapness. The front aero brake cover is a great idea, but it doesn't fit 100% flush. Disappointing, even if very marginal.
I was surprised the aerobars had moments of cheap aluminium. They could have saved weight there.
The aerobars are OK. Though I guess I was hoping for a bigger angle of adjustment.
Problem
Aerobar bolts keep breaking. See: this post on aerobar bolts that keep breaking.
Weight – The new bike is the same weight as my Trek Equinox SSL. Partly this is due to the extra bits and bigger frame which make it more aero. 8 kgs is still reasonably good for a time trial bike and this compares well against other TT bikes (though as I found when researching TT bikes, companies hate giving weights for bikes). Also, I might be able to reduce weight a little with lighter saddle and lighter wheels.
It's easier to list the things which could be better. But, it's still a very good bike. Nevertheless, it doesn't quite feel like the finished product. Perhaps future models will be able to improve on this. I'm hoping I will be able to go faster on this bike than old bike – though I have a feeling these extra seconds will be relatively expensive seconds saved.
Still, if all else fails, it looks good, so that has to be worth it.
Other bits about bike.
Aero fins
Aero fin in front of rear wheel. It does look a little 'fishy'. I've taken mine off.
Adjusting brakes
Inside the casing, the front brakes with plastic cover taken off. It's quite easy to adjust brakes. (e.g. making wider for wide rim like Zipp 808)
Tribars and cockpit
The integrated tribars and cockpit offer a degree of adjust-ability. It's not too difficult to change.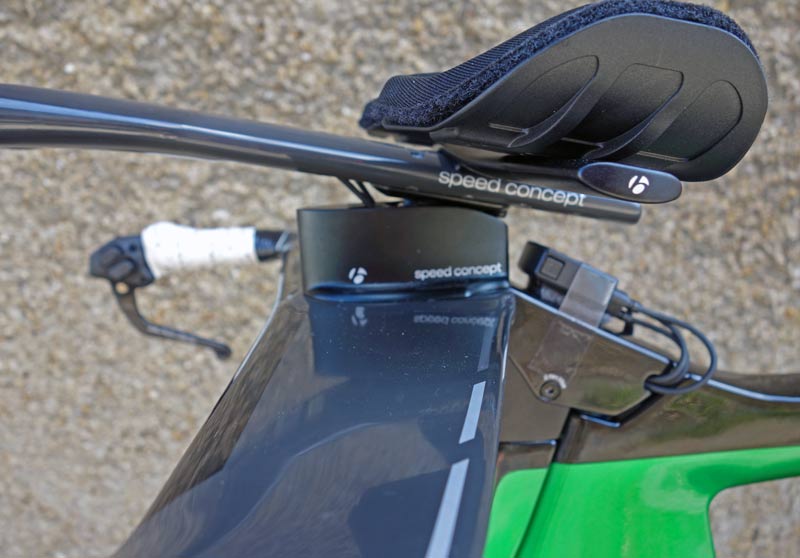 The integrated cockpit can be angled about 10 degrees. It's good for those wanting to adjust angle (something many TT bikes don't offer). But, it's not enough angle for those who want to ride in the praying mantis position (potentially much more aero position)
I think the Speed Concept base bar is UCI legal though it does look to be stretching the 3:1 ratio rule.
The integrated tribars are not particularly light. This is fairly heavy aluminium. Pretty soon I decided to cut off those extra bits because they stick out in the wind, and weighed 50 grams.
Alternative to Speed Concept basebar.
If you are happy to have a flat aerobar and ditch angle, you can buy an adaptation which simplifies this base bar set up and save a bit of weight. I can't remember what it's called, but it will come to me sometime.
Unfortunately, the Dura Ace battery didn't fit in that space by stem. Making it a little bit sticking out. This is the only area of the bike that is not super-smooth and clean.
The end of the tribars stick out and it looks like it needs cutting.
Frame
Shimano Dura Ace front mech. 54/42. My last bike was 56/39
Integrated fork and TT frame. This is the full foil fork. I choose the non UCI Legal fork, which I may regret for next year's British Time Trial Championship
The rear brake pads are hidden behind the Chainring.If you want to change the brakeblock, you will need to take the outer chain ring off. (Ouch!)
I hope the aero benefit is worth the extra maintenance hassle.
The frame
Draft Box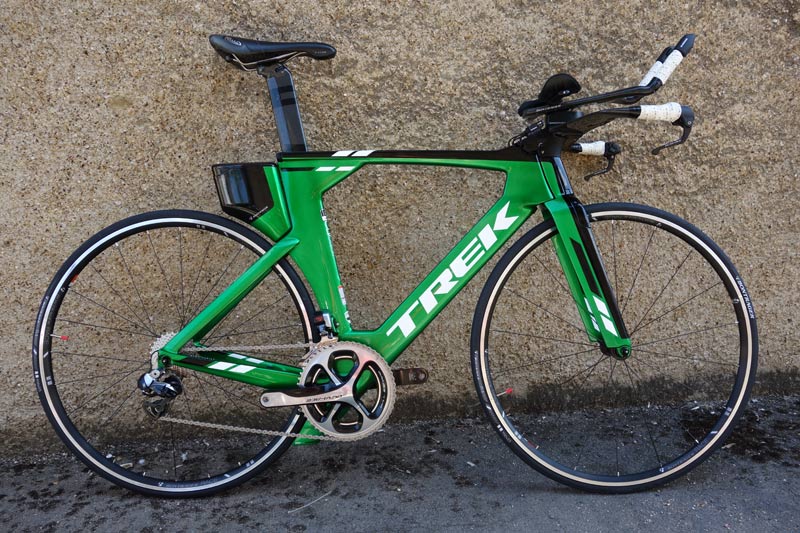 Trek claim that the addition of the draft box doesn't add any drag onto the bike. It is drag neutral.
It is a fantastic carrying space. Easily get a couple of spare inner tubes and mini pump. I'm often in a dilemma about carrying spare tub in race, but this makes it easier.
However, for such an expensive bike, it feels like surprisingly cheap plastic. On my first ride, the lid jumped out on a speed hump.
The bike looks better without it.
Adjustment of arm pads is quite good, you can change angle.
Dura Ace Di 2
It is a new bike, but also a new gear system. Electronic dura Ace Di2. I didn't set it up, but left it to bike shop. They have quite a bit of experience with Di2 and say it is very low maintenance and easy to use.
I will review Dura Ace Di2 later, but first impressions are really good. I can definitely see how it will be very helpful in hilly timetrials. It's just so easy to change gears!

Dura Ace rear derailleur
Reasonably aero front mech. It's a real surprise to feel how easy it is to change between chainrings. Just changing gears gives joy with Di2.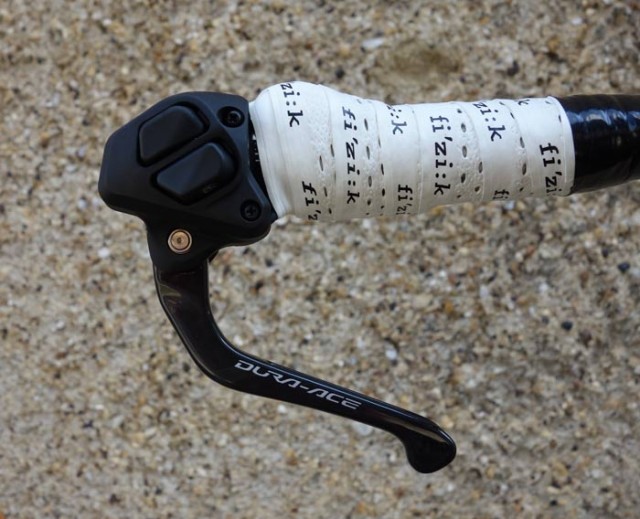 Non-invasive gear change Buttons.
Brake levers have wonderful ergonomics.
The brakes are incredibly powerful, though I have to change the brake blocks for carbon rims – so braking power will be affected.
Front mech
Related
External links