I was cycling into town yesterday to sell some books at Blackwells. I must have been carrying 15 kg in my panniers. Cycling felt very different. It was a real effort to accelerate away from the traffic lights! With an extra 15 kg, you start to notice inclines on the road, you had never noticed before.
When the hill climb seasons starts and I get out my racing wheels, you really notice the difference when you swap a training wheel (1.3kg) for a lightweight wheel and tub (0.5kg) There is a noticeable difference.
In the 2010 national hill climb championship I was 0.9 seconds behind finishing on the podium. This was an unfortunate experience as it has always justified to myself spending a lot of money on saving weight….
This is a look at how much time and effort we can save by losing weight from either ourselves or our bike. We all know that saving weight helps us to get up hills, but how much will we save, if we can shave off 1 kg from our bike (or lose 10 kg off our tummy) ?
As a very rough rule of thumb, I was told by hill climb experts that on an ascent of 100 meters, saving 1 kg would give you an extra 2 seconds.
Analytic cycling have this program to calculate approx time saved from losing weight.
I put in figures for the
Rake hill climb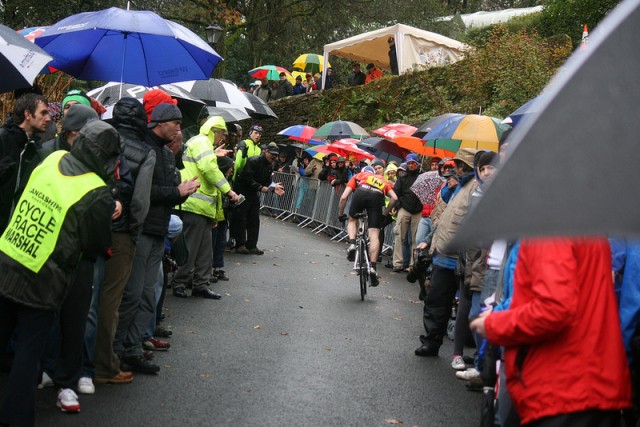 length: 900 metres.
Height gain: 100 metres
Average gradient 11%
Weight of rider: 61 kg
power 500 watts
Time saved – 1.7 seconds
This seems about right from my own unscientific tests with different weights on the bike.
By, the way, in 2005 on the Rake, Ben Greenwood beat Jim Henderson by 0.3 seconds. In other words the winning margin was 0.3 seconds or 170 grams.
However, it depends which way you look at it. If you are a leisure rider. Is it worth spending an extra £2,000 to save 1.7 seconds on a climb like the Rake? If it takes you 4.40, does it matter if it takes you 4.42?
Hardknott Pass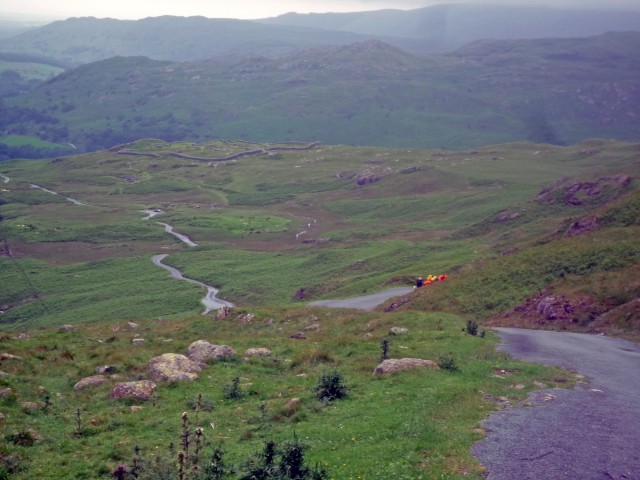 298m height gain
2.2 km
Average gradient: 13%
If weight of rider 61 kg, power 300 watts.
5kg less. Time saved = 46 seconds
However, it may be more time saved, when the gradient is variable. The analytical model assumes a constant gradient. But, Hardknott pass gets up to 30%. Weight saved is likely to be more important on variable gradients because of the effort to accelerate up the steeper parts.
What about a climb like Alpe d'Huez?
photo Maurice Koop
14 km distance
Average gradient of 8.1% (max gradient 10.6%)
Height gain 1071 metres
power 400 watts
1 kg saved = 24.16 seconds
Lose 10 kg and you will be able to climb Alpe d'Huez 4 minutes quicker. No wonder, heavier built riders like Mark Cavendish can never compete in the mountains.
Empirical Tests on Alpe D'Huez
According to this site (Alpe d'Huez weight). A rider tired climbing Alpe d'Huez at constant power of 275 watts. With 1.8 extra kg. It took an extra 66 seconds – which is very close to what the model suggests for 1.8 kg (64 seconds) .
Losing weight on the wheel
It is argued that saving weight on your wheel gives an even bigger advantage. This is because a wheel rotates at twice the speed of your bike. Therefore, extra power is needed in accelerating wheel weight. According to the empirical tests on Alpe d'Huez adding an extra 1.8 kg to wheels was an extra one minute slower than putting the weight on the bike. Therefore, if you can some lighter wheels, the benefit from the weight saved will be greater.
Test Results from Alpe d'Huez
 52.01, 275w – Normal bike + 1.8Kg extra water in tyres(!)
 51.34, 277w – Normal bike + 1,8Kg extra water on bike.
 49.40, 278w  – Normal bike
50.38, 273w – Normal bike, reduced tyre pressure only 3 bars.
Other issues in weight saving
Power. When climbing it is not all about weight, but also power transfer. If you lose weight at the expense of rigidity and strength, the gains may be lose. When I switched from Aluminium frame to Trek Madone 6.9 Carbon fibre, I felt a stiffer more powerful bike – the weight was actually the same.
Aerodynamics. At certain speeds benefits from reducing aero drag outweigh weight savings. Thus a slightly heavier time trial bike may be faster than a road bike on a hill climb of 3%.
Tailwind. If there is a strong tailwind, the lighter riders will tend to do relatively better. This is because with a tailwind, power to weight ratios become more important than power to aerodynamic drag.
Related