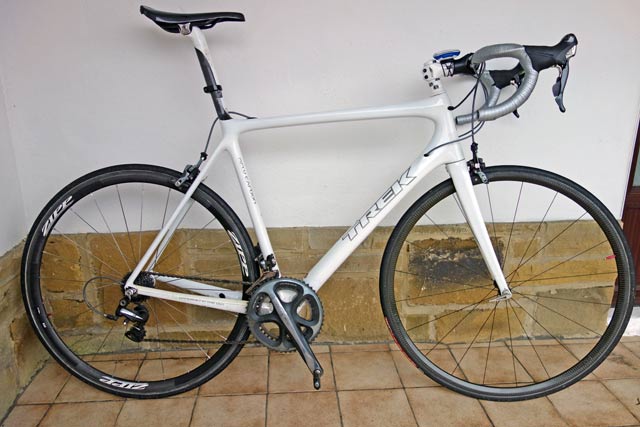 My Trek Hill Climb Bike used in National hill climb championship 2013
bought in 2010
| | |
| --- | --- |
| Frame | OCLV2 SSL Carbon, E2, BB90, internal cable routing |
| Fork | Bontrager Race XXX Lite, full carbon |
| | |
| --- | --- |
| Saddle | Tune 85 grams |
| Seat Post | Bontrager Ride Tuned Carbon |
| Handlebars | Bontrager Race XXX Lite VR, |
| Stem | Bontrager Race XXX Lite Carbon, (non standard size |
Groupset – Shimano Dura Ace. – 39*53 – cassette 23-12
Front Wheel – AX Lightweight rim front wheel – Tune Mig 45 20 hole.  It weighs 365 grams
Rear Wheel – Zipp 202 (604 grams)
Tubulars – Vittoria Chrono tubular (170 grams)
Pedals – Speed play pedals
Total bike weight – about 5.9 kg (weighed on electronic bathroom scales)
Project One
I bought as Trek Project One through local Oxford bike shop Beeline in 2010. Trek Project One was really good because I was able to customise the bike, but also get the bike through the local bike shop. In the past few years, Beeline road bike shop have been helpful in giving advice on mechanical issues and help out on a few things. It's also nice to pop into shop and chat to people interested in road bikes.
It's been a very good road bike for past three years. My only regret is not taking a bit more care to avoid a few small scratches on frame…
Customisations
The only customisations I made to the Trek Madone is
Saddle – very lightweight Tune saddle about 75grams
Rear Wheels – Zipp 202
Front AX lighteness rims – Tune hubs
Last year (2012) I bought an expensive AX lightness stem and Schmolke Handlebars. It saved about 90- 100gram. But, I didn't really like the standard (smaller) size so I decided to sell on ebay at start of the year. It felt a bad purchase. It cost a lot for little weight saving. This is the first year where I haven't spent a lot of money on weight saving carbon fibre, but actually made some money from selling stuff.
Best way to save weight
For hill climbs, the best way to save weight is on the wheels. When I put the racing wheels on, you can really feel the difference in acceleration up the climbs.
For many years, I just used relatively heavy Continental Competition tubulars. My philosophy was it was better not to puncture. But, you are adding an extra 120 grams compared to Chrono. Towards the end of the season I put the Chrono tubulars on, and just hope I don't puncture.
Times saved from weight loss.
As a rough rule of thumb –  with 100 meters of ascent, saving 1Kg would give you an extra 2 seconds. I put figures for the Stang south side in to analytical cycling
Basically if you cut 1kg  of weight from your bike then on the 3.7km at 6.8% gradient, there is a predicted time saving of 5 seconds.  Roughly 200 grams equals 1 second. It might be more because the average gradient is mixed up with downhill. There is quite a bit of acceleration, it's not a constant gradient.
| | | |
| --- | --- | --- |
| This Much Less Weight | 1 | kg |
| Over This Distance | 3700 | meters |
| On Hill of Slope | 0.068 | Decimal |
| Faster by | 5.08 | s |
| Ahead by | 36.38 | m |
| Frontal Area | 0.5 | m^2 |
| Coefficient Wind Drag | 0.5 | Dimensionless |
| Air Density | 1.226 | kg/m^3 |
| Weight Rider & Bike | 68 | kg |
| Rolling Coefficient | 0.004 | Dimensionless |
| Power | 400 | watts |