This is another collection of classic time trial photos from the Bernard Thompson collection. I have already published some of these on my last cycling blog, but this is a new collection from the 280 images, and bigger sized (640px) than last blog. I hope you enjoy these insights into the 'golden era' of domestic British cycling and time trialling.
Thanks to Peter Whitfield for including this CD of copyright free images in his excellent cycling books – '12 Champions' and 'History of Time trialling'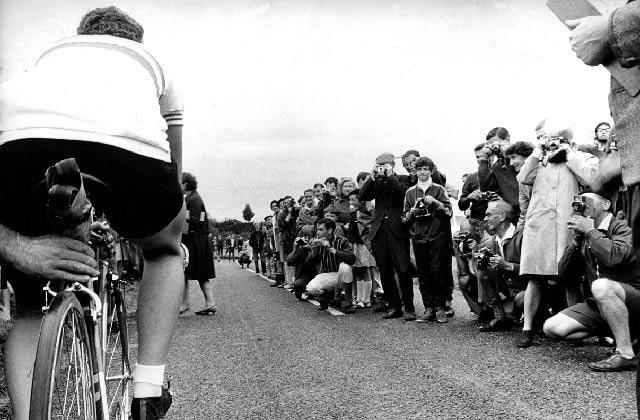 A familiar scene for early morning Sunday time trials. Time keeper and pusher-off.
A road with no markings, must have been relatively quiet.
A classic shot from the Catford CC hill climb – the oldest cycle race in the world.
At the start of the national 100.
Looks like this rider got a good push from the pusher off. Many people checking watches and looking on.
Time Trial Legends
The 1960s was the peak of the BAR competition with the best timetriallist competing with the best road men.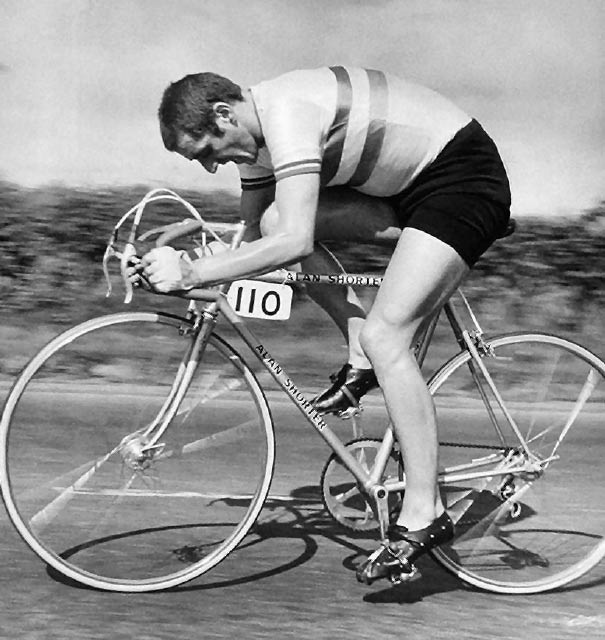 Alf Engers set a new competition record of 49.24 for 25 mile TT in 1978, before the advent of tri bars and disc wheels. It was the first sub 50 25 mile TT. He had a habit of annoying the establishment, but he was a class act on the bike. Engers was national 25 mile TT champion in 1969 and 1972-1976.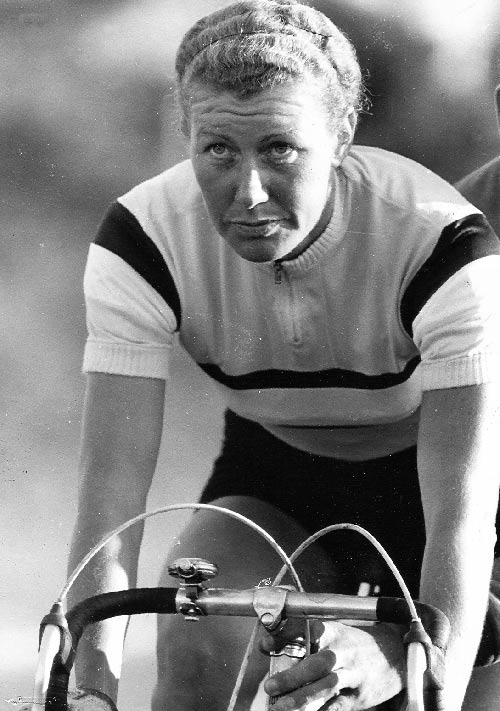 The achievements of Beryl Burton are so impressive it is hard to know where to start. 25 times consecutive BBAR holder. Once held both men and women's 12 hour time trial record with 276 miles.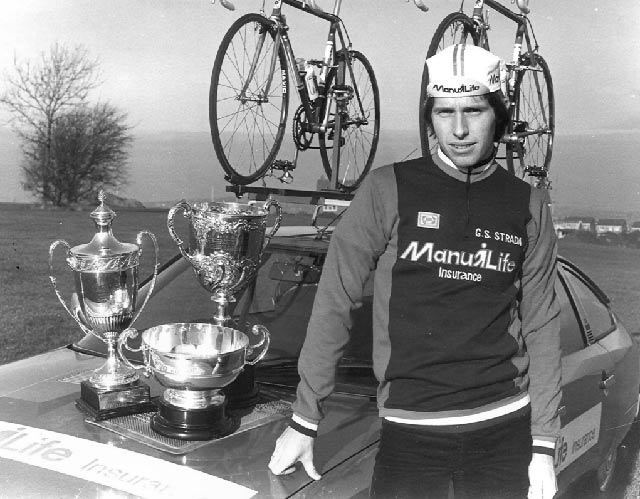 Ian Cammish was a supreme 50 and 100 mile time triallist. Dominating the BBAR in the 1980s. Ian Cammish won national 100 mile title 1980 – 83 and 1985-89.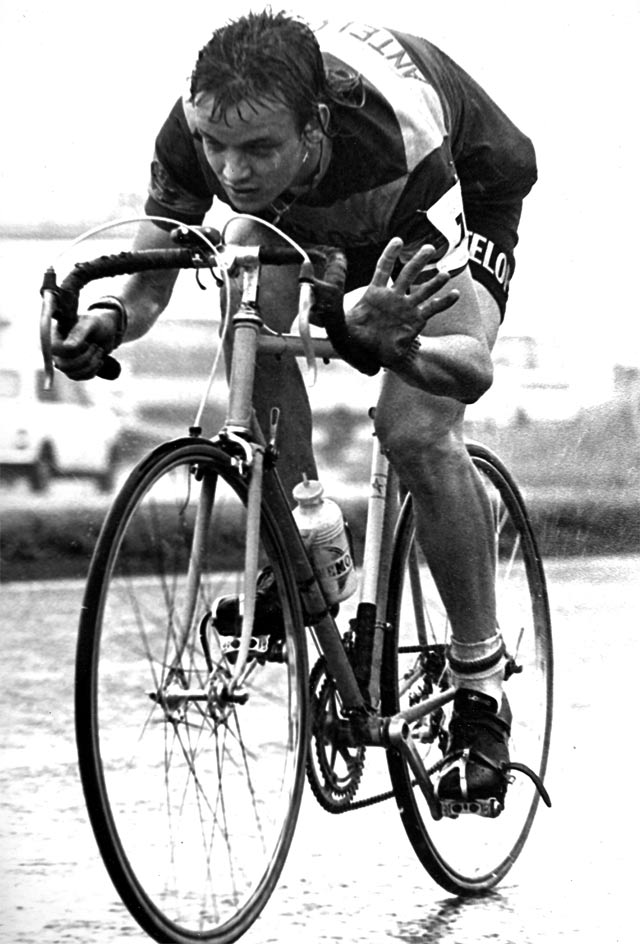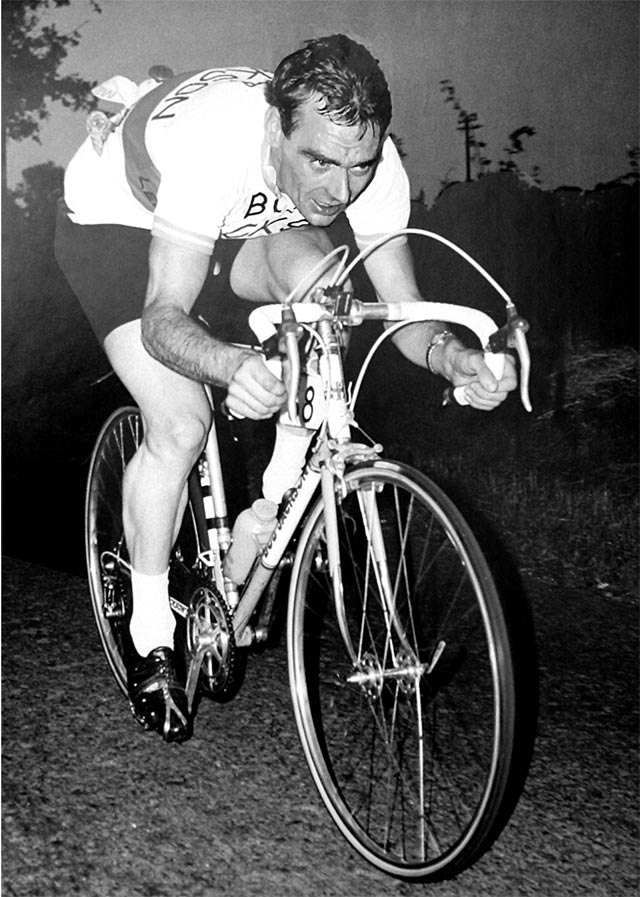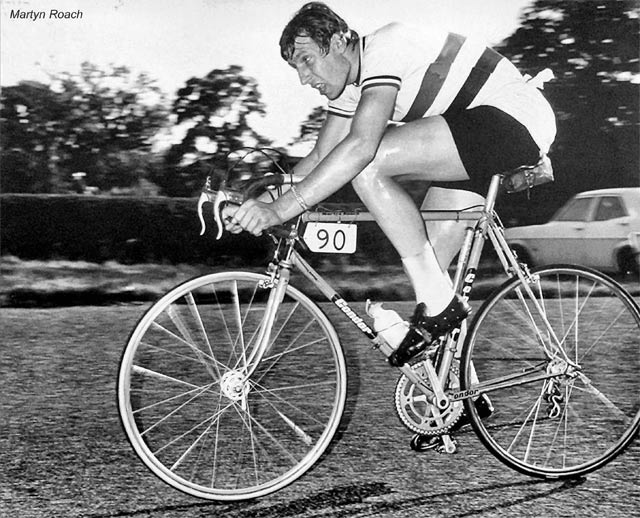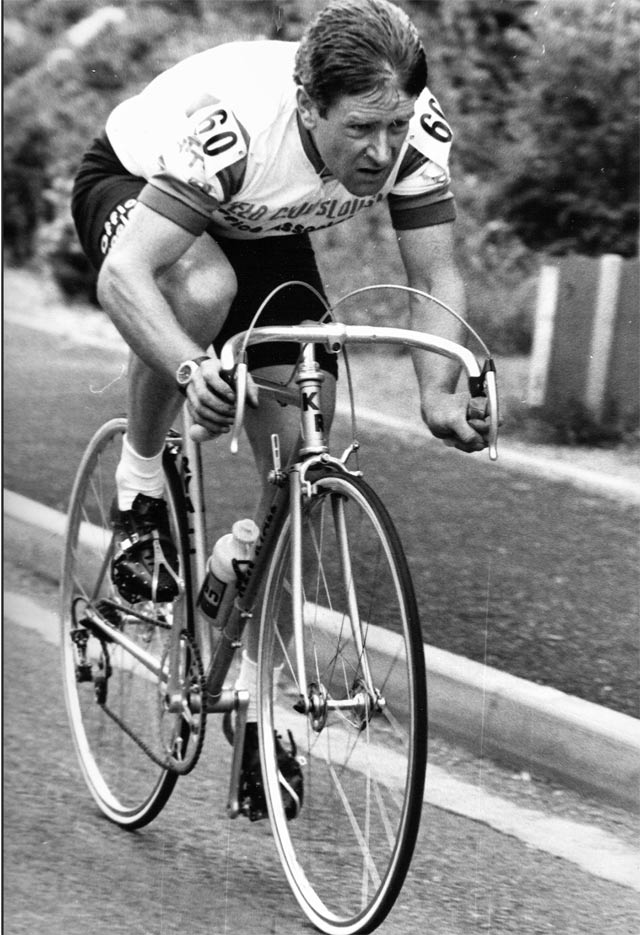 John Woodburn won the national 25 mile championship in 1961. He went on to be the first Veteran to win the BBAR in 1978. He also set a new Land's End to John 'O Groats record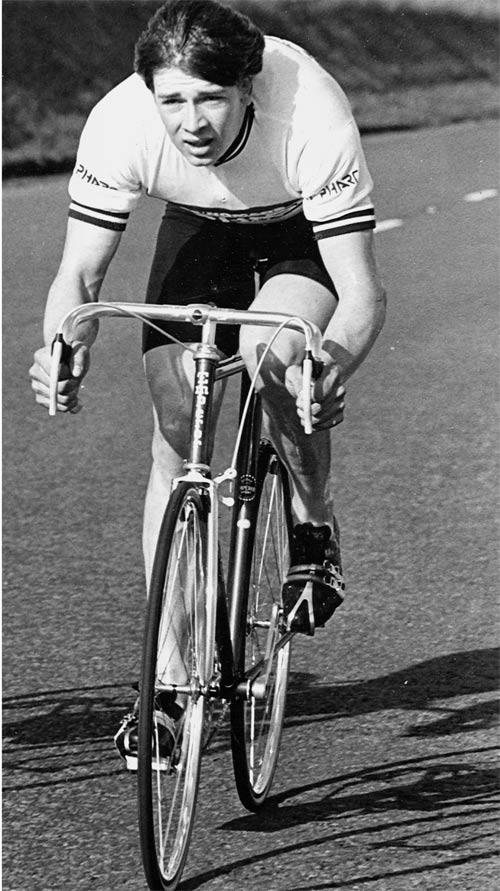 Sean Yates began his cycling career doing domestic time trials, winning the National 25 mile TT in 1980. He went onto be a Tour de France star, becoming first British rider to win a time trial in the Tour de France and wearing the yellow jersey.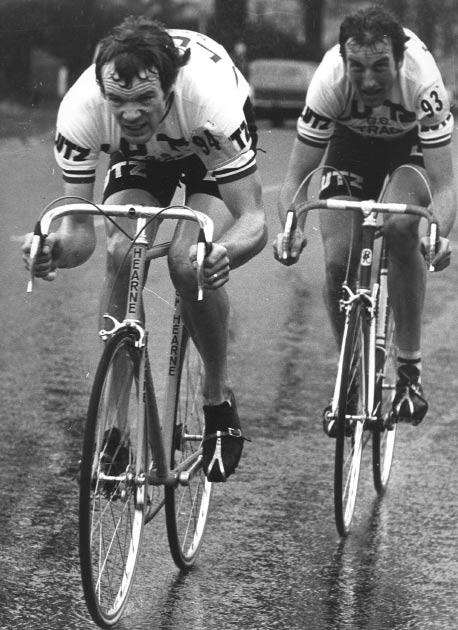 Despite being a top roadman, Phil Griffiths won the BBAR 5 times in the 1970s.
Interesting shots
Who needs a fancy HQ. A 'made do and mend' changing room.
The loneliness of a long distance time triallist.
A companion for the ride.
It's hungry work this time trialling.
The 'dead' U-turn in the middle of the road. Presumably before the days of traffic counts.
No points for style, but plenty for effort.
Ian Dow (national 24 hour competition record holder), doing a turn.
Oops! A turn which went wrong.
Jon Baylis passing the chaps having a nice cup of tea. The sedate world of time trialling.
Wake me up when it's time to race.
The strength of a lion.
Marshalls showing the way to go. Before 'health and safety' dished out the high vis vests.
Have they escaped from a Monty Python Sketch?
Notice the excellent socks and the massage by the side of the road. Sometimes things don't  always change for the better.
Shillingford Bridge. This may well have been during the famous Bath Road 100 mile TT.
More cyclists pass Shillingford Bridge.
Time stops for no man, esepcially the cyclists who is riding 'contra la monde'
A symmetry of triangles.
24 Hour Time trials
John Woodburn riding at night.
The famous Norman Maggs smoking a pipe as he begins the Mersey 24 hour time trial.
Night time in the 24 hour. Nice jumper, more style than the marginal gains of Team Sky's see-through skinsuit. (Rider is Eric Mathews.)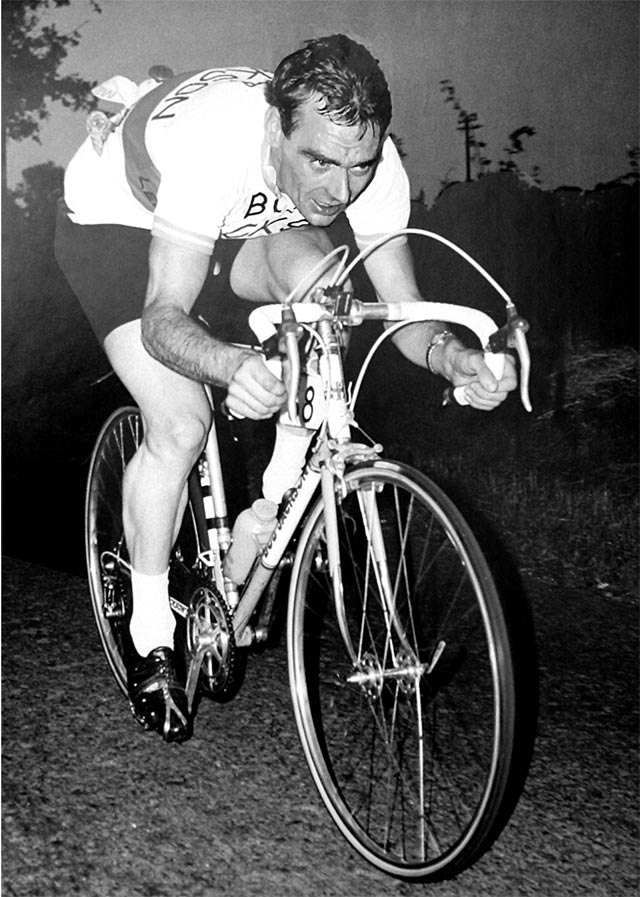 Taking a bottle at night.
The Hill Climbers
Granville Sydney (Huddersfield Star Wheelers) 6 times national hill climb champion. Note he never shaved his legs.
The hill climb agony.
The long drag.
The horseshoe pass in Wales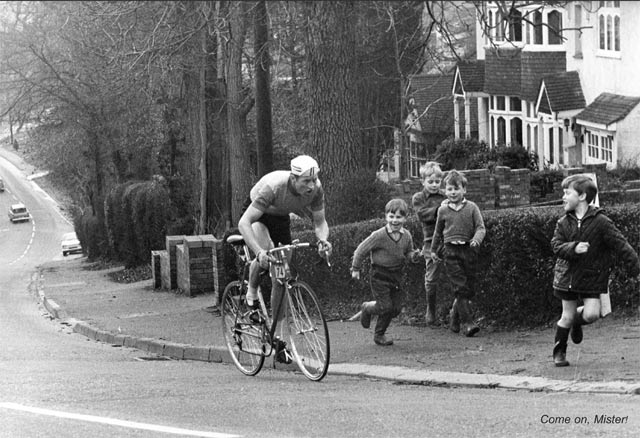 Come on, Mister!
Nick 'o Pendle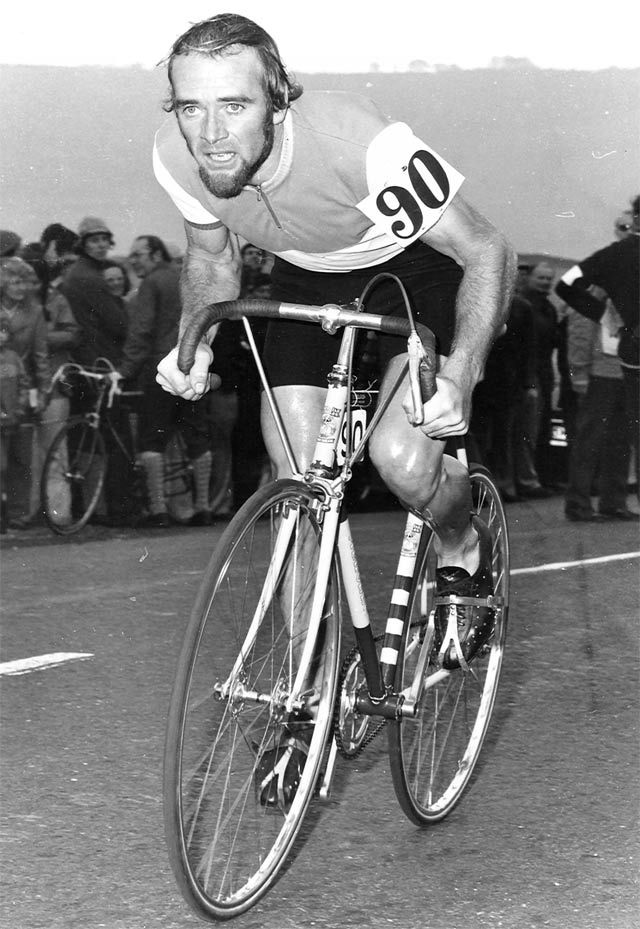 How to finish a hill climb.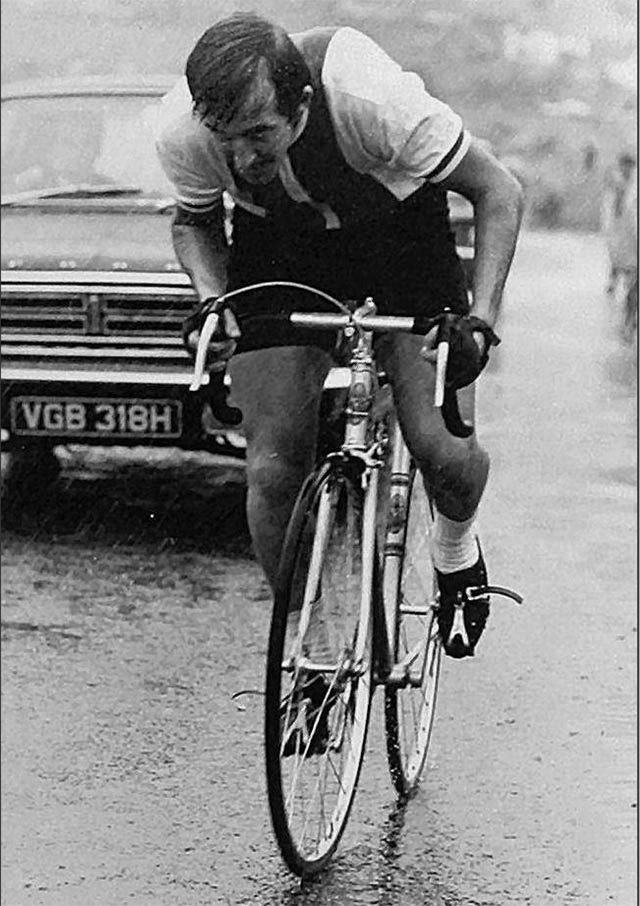 More shots
A tricycle on the way to Barrow.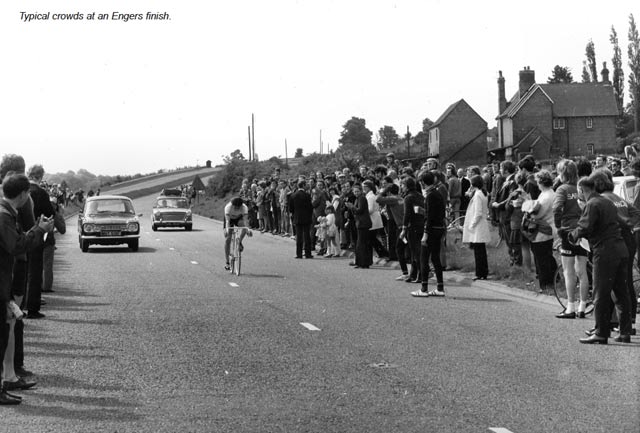 Who says time trialling isn't a spectator sport?
Morning papers?
Tom Simpson on the right at Crystal Palace.
London to Holyhead was an important one day race.
Tandem.
All over black was once the regulations for time triallist.
Early marginal gains.
dig in.
Looks like a bell on his bike.
Finish in Pangbourne Lane, a popular road for the flatish A4 courses.
Taking a drink on the move.
Early season snow.
Through the trees.
Old fashioned time keeping.
Daryl Webster on Horseshoe pass.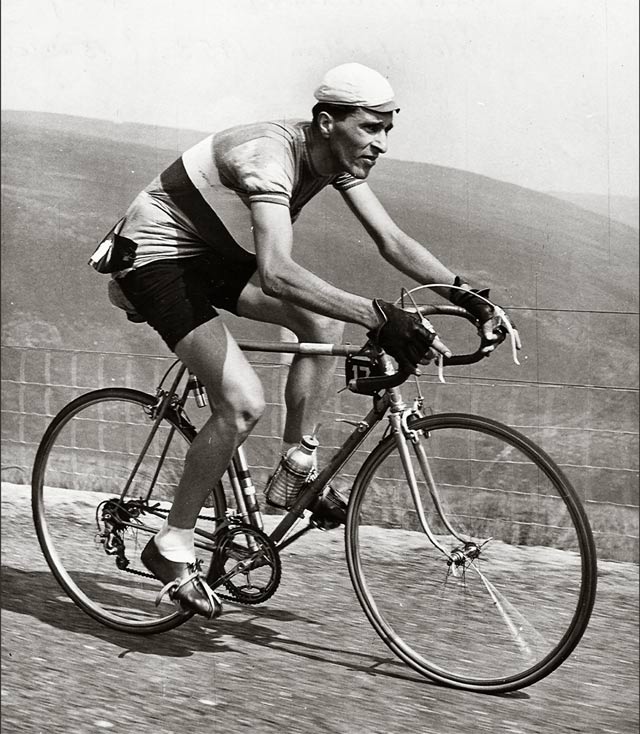 Winter grit
A rolling course
Tricycle through water.
Early morning
Photographs by Bernard Thompson. Thompson was born in Southfields, West London in 1924 he was a freelance photographer, particularly interested in time trials.
You can buy a CD (there are over 280 pictures) from:
Peter Whitfield
Wychwood Publishing
Tachbrook House
Charlbury
Oxfordshire OX7 3PS
for £10.
If you like this, post, you will like Peter Whitfields books
The History of Time trialling – Time, Speed and Truth
12 Champions – featuring B.Burton, I.Cammish, R.Booty, M.Roach
Note on CD: In commemoration of Bernard Thompson's lifetime's work as a cycling photographer, these images are presented copyright free for the use of any individuals or institutions furthering the interests of cycling.
Related