I came across these wonderful collection of black and white cycling photos, uploaded by Peter Morris, Flickr. The photos are of family members, primarily H.R.Dick Morris and Jack Rossiter.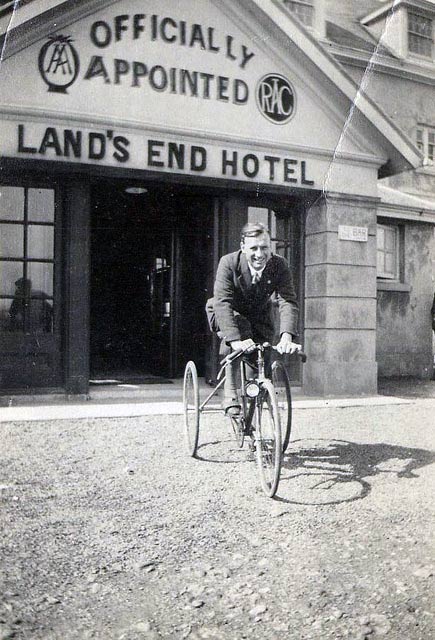 In this newspaper extract, it states Jack Rossiter, broke the Land's End to John o Groats record, with a time of two days 13 hours 22 minutes. The newspaper goes on to say he is regarded as the greatest cyclist England has ever produced. (See: Opperman's record attempt)
Jack Rossiter broke the record which had stood for 30 years, set by Harry Green in 1907. He rode on a Raleigh bicycle, with a three speed Sturmey Archer. He used a "K" hub, giving variations of 2? per cent. below and 33 1/3 per cent. above normal.
A year later he broke the 1,000 miles record, which had also been standing for 21 years, by nearly 4 hours. (See: Sheldon Brown)
According to this, Jack Rossiter finished 13th in the 1921 World Championship in Denmark (link)
Congleton Cycling Club have the Jack Rossiter Memorial trophy for the most improved rider.
Jack Rossiter in the North Road 24, 1928. The caption under the image stated 408 miles, second!
Jack Rossiter with support crew.
Before the days of proper bike racks.
Jack Rossiter on the start line with quite a few spectators.
Well dressed