A look at hill climbs through the eyes of a photographer.
'Hill Climb Agony'. Photo by Bernard Thompson.
The National Championship at Winnats Pass. Spectators throng the side of the road.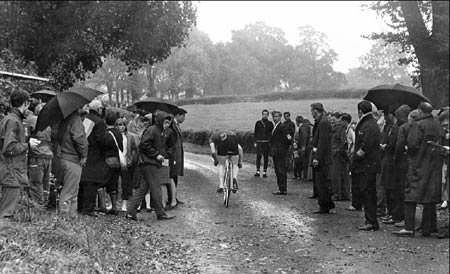 The Catford CC Hill Climb. The Catford CC hill climb can make a claim to be the world' oldest cycle race. The first race was held at Westerham Hill on August 20th 1887. In those days, it was considered an achievement to get to the top without falling off. Riders rode a mixture of 'safety bicycles' and penny farthings – all on solid tyres. Of 24 starters, only 12 made it to the top. That's how the sport of hill climbing began. You could say it was a lot harder in them days.
Pre – race Warming up
It's a strange sport sometimes. Drive up the M1, to a beautiful part of the Peak District. Spend 1 hour warming up on a turbo and rollers in the carpark. Then kill yourself up a 5 minute hill. But, those five minutes can give such an exhilaration, you keep coming back for more…
The Start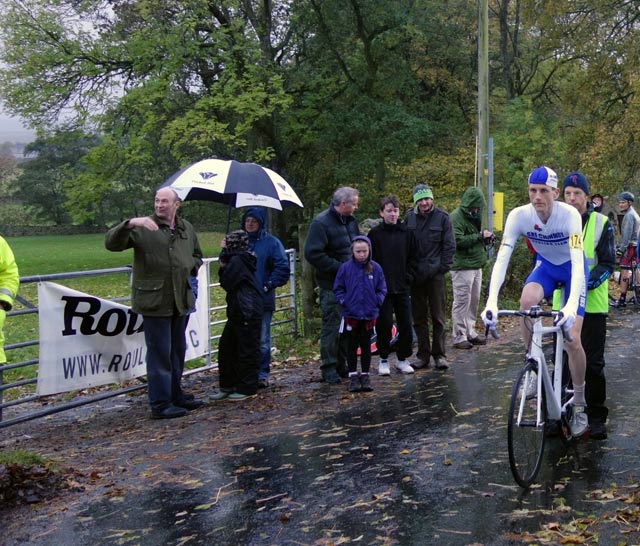 On the start line at the Stang, 2013.
Stewart House at the start of the 2009 National Championship.
The Gurning Competition
Some hill climbs give a prize for the best 'gurn' picture of facial pain.
Some spectators run alongside the cyclist a la Tour de France (without banana costumes) Photo Bernard Thompson
Marc Allen of the Swindon R.C. Dover's Hill 2010.
Pea Royd Lane. Photo Techno.
David Clarke.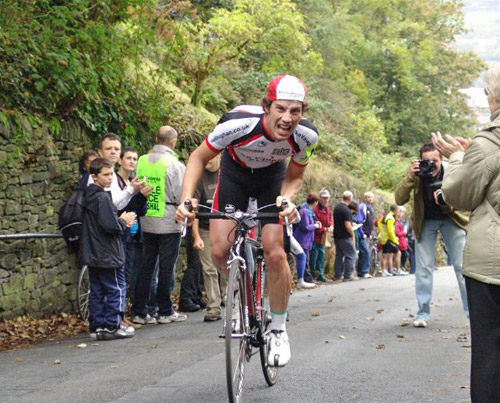 Matt Clinton on the steepest part of the Rake. Photo Bob Muir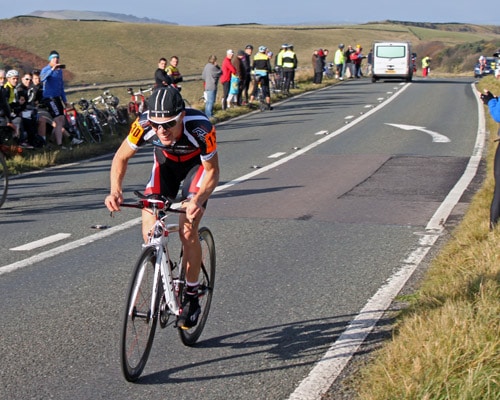 Gunnar Gronlund 2011 National champion
An open mouthed Rob Hayles. He chose the 2011 National Hill Climb Championship to bring an end to his illustrious career as Olympic medalist and double World Champion.

The Rake reaches 23%. Notice handrail for pedestrians. Here a young cyclists swerves his way up. Photo Bob Muir.
Overtaking on the Nick 'O Pendle.
Enjoy the scenary
The long climb out of Sowerby Bridge. Huddersfield R.C.
Horseshoe Pass – Photo Techno, Smug Mug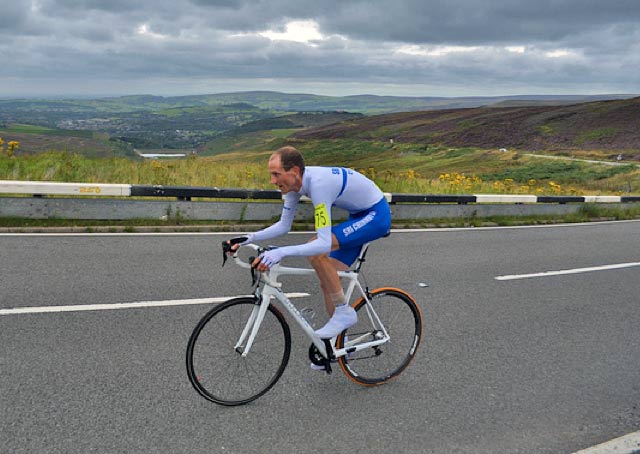 Snake Pass, near Glossop. Photo by Glossop CC.
Nick 'O Pendle.
The finish
The finish. Make sure you know where the finish is. Preferably you want to collapse just after rather than just before
Finishing the hill climb with nothing left in the tank. Here the catchers do their job.
Collapsing on the side of the road
The only way is Up!
The Rake. Photo Bob Muir
Bank Road. National Hill Climb Championship 2009.

Mow Cop in the rain, 2013. Photo Bhima, Buxton CC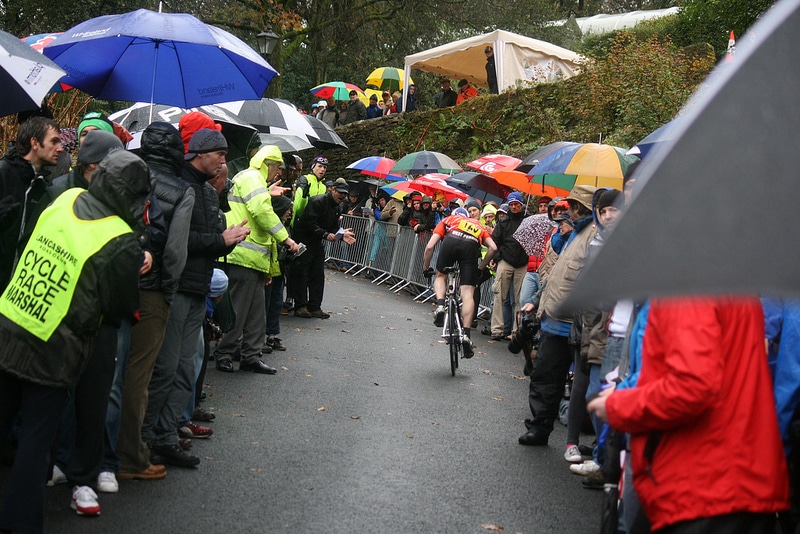 Mow Cop. Photo p. Jones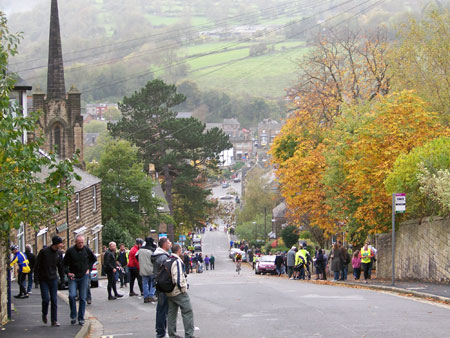 Bank road
The Stang
Oddities
You don't have to be crazy to do a hill climb, but it helps. Here a duo try to climb the rake on a tandem. Photo Jon Scone.
Related