Some of the useful techniques for cycling uphill from 3% long drags to 30% wicked hairpins.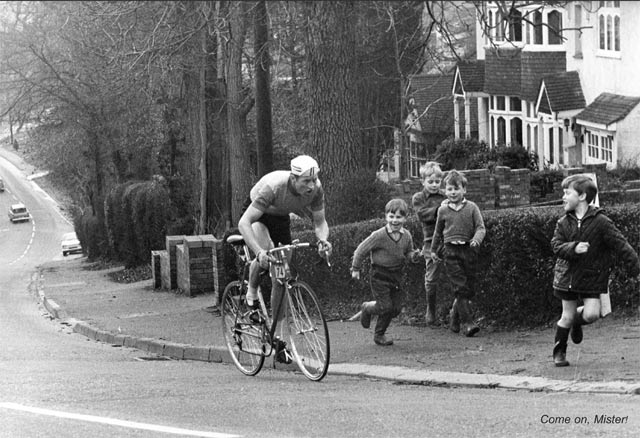 Simple top 7 tips
The quickest 7 tips to cycling uphill I would give are:
Avoid going into the 'red' too early on the climb. Don't get carried away on the lower slopes, if you still have a long slog to the top.
Maintain a reasonable cadence of 65-80 rpm. It will be a lower cadence than normal, but avoid pushing a big gear at a very low cadence.
Anticipate steep sections in advance by getting into lower gear before.
Traffic permitting, avoid the steepest apex and go wide around corners to maintain the best rhythm and constant speed.
Where possible remain seated. Save standing on the pedals for the really steep hills and steep sections.
Stick to your own pace. It is counter-productive to try and stay with much quicker riders. You will lose more time in the long run.
Know what you are climbing – length, gradient, max gradient, and likely time needed.
Preparation

The effort required to cycle uphill increases exponentially as the gradient increases. If you're unfit/new to cycling don't start off in the Lake District, it may put you off for life. You need a reasonable fitness before you tackle steep hills. Also, when you start to climb, you use your upper body and back more. Core strength exercises to strengthen upper back muscles will help a lot.
Climbing in saddle or out of saddle?
A big issue is whether to climb seated in the saddle or climb out of the saddle. In short, I find it best to be seated for long gradual climbs.  Getting out of the saddle is useful for when the gradient really gets steep. Climbing out of the saddle is less aerodynamic and is harder work. It is good for short bursts of power, but you will tire more quickly.
Climbing in the saddle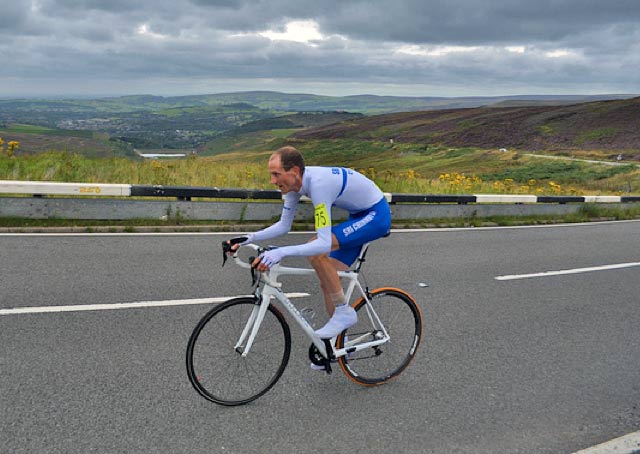 Where possible, I try to remain seated when climbing. It is more efficient and you can maintain a high power for longer. It is also more aerodynamic. For novices, it is good training to try and climb whilst seated and get out of the habit of standing on the pedals as soon as the road goes uphill.
Climbing whilst out of the saddle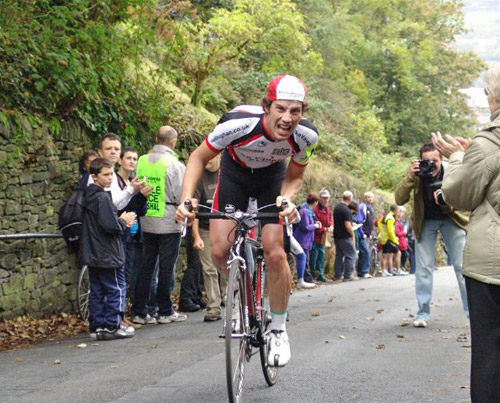 Sometimes referred to as 'standing on the pedals'. Here you employ a lot more muscles and upper body strength to help you pull up against the handlebars. If you stand up, you will get a short term increase in power. If you're using a power meter, you will probably see your power increase significantly. This is great for acceleration or getting through a particularly steep section. But, when the fast twitch muscle fibres are exhausted, the burst of power will evaporate, and you will find your power dissipates.
Bear in mind, there is no hard and fast rule about climbing in the saddle. If you watch the Tour de France, you will see different riders have different styles. A light rider like Alberto Contador always seems to be out of the saddle rocking around all over the place. A heavier more powerful rider like Cancellara will be much more likely to be going up the Alpine climbs whilst seated. Shorter, lighter riders generally do better out of the saddle than heavier riders. Sometimes it's good to get out of the saddle just to give your back muscles a stretch and break the monotony of climbing in the seated position.
Don't forget the wind
Some of my hardest hill climbing experiences have actually been due to a super strong headwind, as much as the gradient. The closest I came to walking up a hill was Wrynose pass (25%) but, that day there was a super strong headwind. Obviously, if you can keep lower on the bike, it helps avoid the headwind. This is why it can be good to practise climbing seated. On the other hand, in 2013 the national hill climb had a 35mph tailwind, making it an advantage to do most of the climb standing up!
Rock solid core and minimising other movements
Talking of pro techniques – watching last year's Vuelta Espagne I was struck by the stage where Vasil Kiryienka (Team Sky) won. On the last climb, he was absolutely solid on the bike. His lower and upper back wasn't moving – only his legs were moving. He must have worked a lot on core strength, this increases power climbing because more effort is going to his legs and less into his upper body.
Best line to take climbing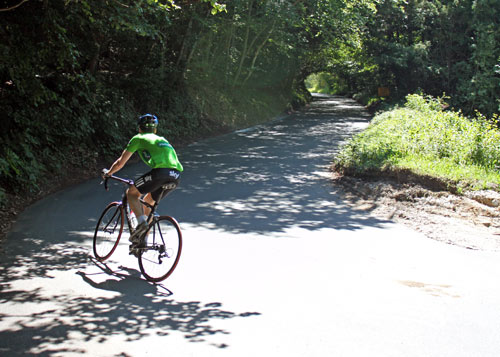 Where possible you want to try and reduce the gradient of the hill by going wide on the corners and avoiding the apex. The shortest route is not the quickest. If you go through the apex you will break your rhythm and be forced to try harder. It is better to try and maintain the same gradient by going wide. You can keep in the same gear and maintain your speed; this is a secret of climbing, maintain your momentum where possible.