Winnats Pass is a tough climb in the Peak District from the village of Castleton heading West through a steep limestone cleft.  It averages over 10%, with a considerable section of 20% + near the top.
Winnats pass has featured in the now-defunct Tour of Peak road race and also featured as a venue for the National hill climb Championship on a record ten occasions (most recent 1977). It will also be the venue for 2021. There is now a popular Tour of the Peak sportive, run in May. The sportive offers closed roads for Winnats Pass.
The climb travels through a natural amphitheatre with steep slopes and rock faces on either side of the road. It provides an excellent location and challenge. The main drawback of Winnats pass is that it can be quite busy with motor traffic.  (unfortunately, the old A road through Mam Tor was closed due to subsidence.) Combined with the narrowness of the road, it can become a little crowded. As a result, you are likely to be greeted with the reassuring smell of burning clutch as cars struggle up the 20% inclines.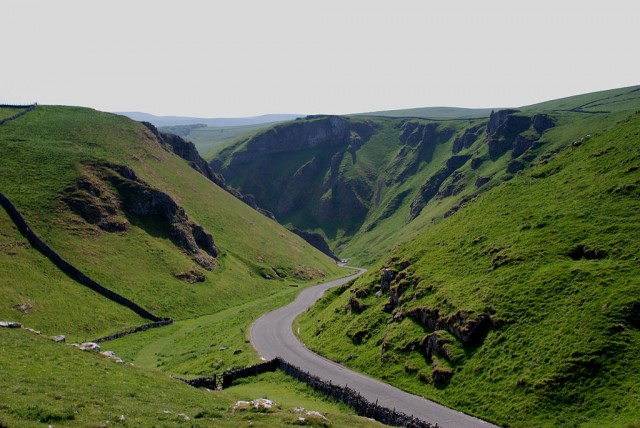 Winnats Pass old Hill Climb Course
The National Hill Climb Championship has been held on Winnats Pass on ten occasions. They used to be able to get a road closure because the alternative A road to the top was still functioning.
The winning time was around 3.20 – 3.30. It is hard to know the actual course but this is a rough approximation.
2021 National hill climb course
The 2021 National hill climb has been confirmed as Winnat's Pass. The course is said to be
"Start at first kerbstone on left 5 metres above Cattle Grid. Proceed uphill to finish at Cattle grid sign just before Cattle grid at top. 0.56mile/ 985yds"
Best approximation so far.
Twitter – Winnats Pass
Strava – Hill climb course Winnats Pass
---
Winnats Pass Full climb:
After leaving the village of Castleton you turn left. Initially, the climb is not too steep, but the gradient increases until you come to a fairly constant section of 20%, which lasts for quite a bit.