Another 100 climbs states that Great Dun Fell is the greatest climb in England' "Our Mont Ventoux' it  has no peers, there is no comparison." The only surprising thing is that I hadn't heard of the climb until quite recently. But, since finding out there was a Pyrannean style climb in England, it was definitely on my list of things to do. Since I was up in Kendal for Shap Fell hill climb, I thought it would be good to combine the two.
I've spent many years scouring OS maps, looking for the most difficult climbs, but you could quickly scan over Great Dun Fell (on OS 91), assuming it is nothing more than a farmyard track or glorified footpath. Ironically it has a pretty good road surface all the way to the top. The top half is closed to cars, but open to bicycles. It is definitely worth a visit and is a real epic climb.
The statistics of Great Dun Fell only tell half the story:
Length – 4.5 miles
Vertical ascent – 632 m
Average gradient – 9%
Max gradient – 20%
Height at top – 2,900 ft / 835 metres
Category of climb – 2
KOM time: 25:03 – 10.2mph
100 climbs 11/10 (number 187)
Great Dun Fell from Long Marton
If you want to add an extra 100 metres on to the climb, you can start on the valley floor from Bolton and head towards Long Marton before going north to the village of Knock. This makes a 7 mile climb of 757 metres, which gives a category 1 rating. The rise from the valley is pretty steady, a nice leg loosener before the climb starts proper. The good thing about approaching from Bolton and Long Marton is that you can see the radar station looming on the horizon for quite a distance. At least you know where you are heading. The radar station dominates the skyline throughout this valley.
Knock
It would be easy to cycle past the turn up to Great Dun Fell. There are no 20% signs. Just a sign saying dead end, a sign for Knock Christian Centre, and a sign telling you to beware of red squirrels.
The song that came unconsciously into my mind as I was cycling through Knock was the old Guns and Roses classic 'Knock, Knock, Knocking on heaven's door'. The village of Knock obviously. But, 'heaven's door?' –  well the Christian centre, and perhaps the fact you are about to head up to the heavens. (or through hell)
In comparison to Alpine climbs, Great Dun Fell is shorter, and at a maximum heigh of 835 metres, it is well below some of the Alpine giants which stretch to over 2,000m. But, what Great Dun Fell my lack in absolute height, it makes up for in unrelenting steepness. When you are already tired, you will have to get out of the saddle as you battle up slopes of 20%. There's no way just to sit in the saddle and pedal a nice high cadence on Great Dun Fell.
After a promising opening mile of fairly steady climbing, the gradient goes up to 10-15% and the start of the really long slog begins. There are few places to recover, though the gradient is always changing. The scenery starts to get more spectacular and the road has a fantastic vista which makes you feel you are doing the real thing.
Gate
Half way up there is a gate. I seemed to spend quite a long time trying to work out how to open it. Perhaps I didn't have the strength to open the catch. In the end, I got over cyclo cross style, putting my bike over and then jumping the gate. In a way, it's a shame there is a gate to break your rhythm of climbing. But, then Great Dun Fell is that climb which has a bit of everything – including cyclo-cross style obstacles. In one sense it kind of gives you a break from climbing. But, once over the gate, there is immediately a steep section, which takes you up on to the higher slopes, with the road winding away in the distance. After 3 miles of climbing, there is a brief descent. Try to build a bit of speed because the next section is the hardest of the climb.
The last mile and a half are the hardest and steepest of the climb. It briefly touches 20%, and is the better part of 15% for a considerable time. Whatever gear you have, you will probably find yourself getting out of the saddle to grovel up the steep gradient.
As you wind your way to the top, it becomes more exposed and the wind will blow you around. I thought I had a tailwind, but up there it seemed to be blowing all over the place. Near the top, there is another gate, you can kind of go cross country around the gate, though you will need to dismount again.
Even after the last gate, there is still more to go and the gradient hardly relents as you work your way to the big golf balls, which are now looming into close view.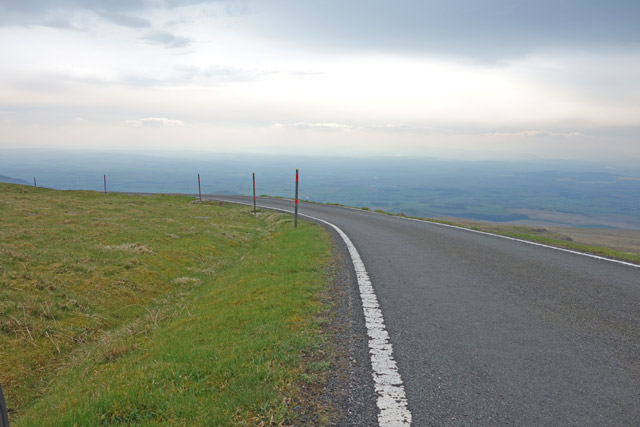 Descent
The descent would make excellent practise for anyone wishing to improve their Alpine descending skills. It is fast and twisty. Good road surface and you are very unlikely to meet a car. But, you will need to use plenty of brakes, because you soon pick up momentum around the corners.
It might sound like stating the obvious, but it is much colder at the top. The weather was relatively benign on the day I visited, but I imagine you could easily get caught up in a fierce cloud or storm. Bear in mind, it is often deserted up there. I wish I had had some leg warmers for the cold, windy descent.
Getting to Great Dun Fell
The nearest big town to Great Dun Fell is Appleby in Westmorland.
Great Dun Fell would make a good cycle ride from Kendal. If you go up Shap Fell (A6), it is about another 15 miles to Knock. Making a good, but manageable round trip.
One good way to visit Great Dun Fell would be to take your bike on the Leeds-Settle Carlisle line. You could get off at Appleby just a couple of miles from the climb or you could get off earlier at Dent, Garsdale or Kirby Stephen and enjoy a good run in.
Overall
Great Dun Fell is definitely a great climb. It's really testing and hard, but the sense of climbing a real classic makes up for the difficulty. Visually, the climb is stunning. It is a quiet part of the country – on the north west fringes outside the Lake District – definitely off the beaten track. But, this gives an added advantage, it's very quiet and you can really enjoy the experience. The first ascent took around 26 minutes. The second ascent about 30 minutes. Earlier in the day, I had done Shap Fell hill climb – so it was 2,000 metres of climbing for the day. They soon add up when going up Great Dun Fell!
Veloviewer

Strava
Related
Related hills
Hartside Fell – 10 miles north this is another long climb worth visiting.