For the past few years, May Bank holiday Monday means the Kent Valley R.C. hill climb on Shap Fell. The attraction of riding Shap Fell has increased now I've found Great Dun Fell, a few miles away. So I can come up north and do two hill climbs for the price of one. This year, I ended up riding Hartside too, so I kind of got three for the price of one this year.
The first thing about Shap Fell hill climb is that you pay close attention to the weather forecast (or more accurately the wind direction) The first two times I rode Shap Fell were into roaring headwinds. After riding it with a tailwind in past two years, it doesn't take a genius to work out which is more enjoyable.
Last year I rode a road bike on the basis that aerodynamics probably don't matter with a tailwind. But, this year I thought a time trial bike would be quicker. So I brought two bikes – the Trek Speed Concept and my road bike for riding Great Dun Fell later.
Short course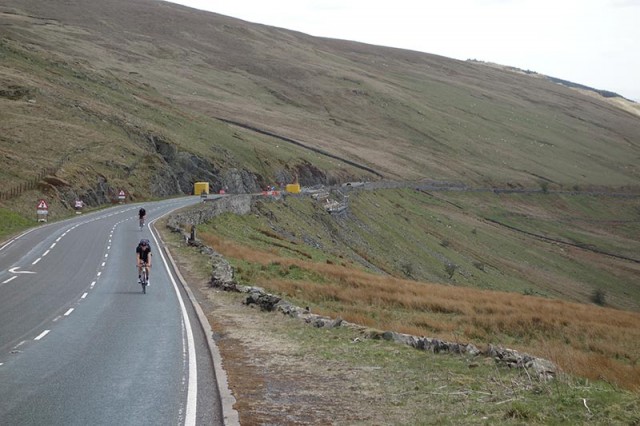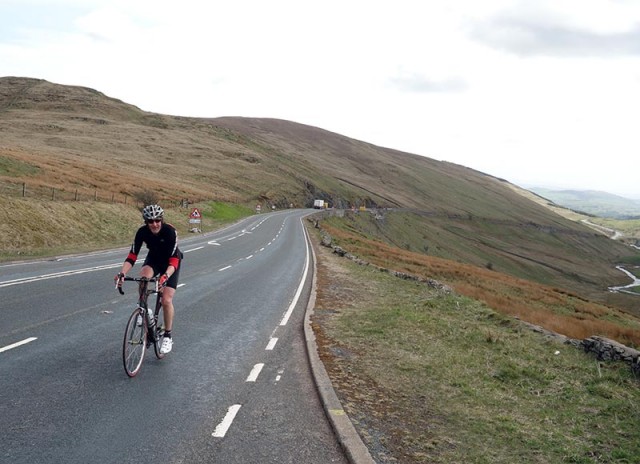 The full Shap hill climb course is nine miles. But, this year we again had temporary traffic lights because of work on rebuilding the banking at the top. It meant we had to use a shorter 7 mile course. It's a shame the full course wasn't in use because with helpful tailwind it could have been a good day for a potential CR.
Tailwind
With the helpful tailwind it meant the race was quite fast. It's curious doing a 'hill climb' when you're riding at 25 mph average speed. It felt a bit more like doing a ten mile time trial. I wasn't really riding to power, but I did take a few cursory looks every now and then. Higher power on the steep bits and backing off on the flat (and descents). Because it was quite fast, I was in my outer chain-ring (56) all the way up until the last section off the A6. I think at one point I was in 56*11 – which is a first for a hill climb (max speed 38.1 mph). It was only when we turned off the A6 on to an unnamed road that I had to go down in to the little ring for the last big effort on the steepest part of the climb.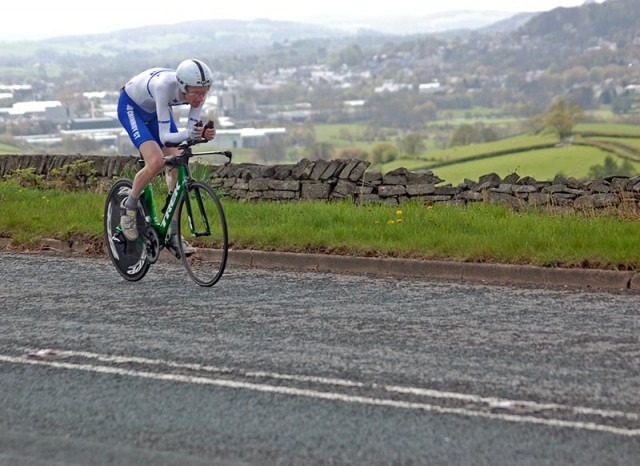 I did 16.43 – 1 minute and two seconds faster than 2014 I suppose that settles the TT bike vs road bike debate. I might have slightly better form than last year, but I don't think it extends to 62 seconds.
It was great to see five times former national hill climb champion Jim Henderson on the start sheet. I don't think long shallow climbs were ever Jim's forte, but talking to Jim after the event, there is a very small chance of something of a comeback. Watch this space…
Finishers
1 Tejvan Pettinger Sri Chinmoy Cycling Team 16:43
2 James Gullen Velosure Starley Primal Pro Cycling 17:04
3 Simon Bridge Manchester Wheelers Club V40 18:21
4 Richard Bickley Border City Whs CC 18:22
5 Henry King Ilkley CC 18:29
6 Nathan Allatt Holmfirth CC JUV 18:42
7 Andy Ashurst Manchester Whs V50 19:10
8 Ben Lane GS Metro V40 19:14
9 Peter Greenwood Team Swift V60 19:26
10 Ross Malpass Garstang CC 19:42
11 Keith Melvin Border City Whs CC 19:43
12 Jim Henderson Southport CC V40 19:49
13 Tom Roper Beacon Whs JUN 19:59
14 Duncan Orme Kent Valley RC 20:03
15 Thomas Brook Lancaster CC 20:17
16 Peter Thomas Kent Valley RC 20:25
17 Aaron Tonks Ribble Valley CRC V40 20:28
18 Darren Brackwell Lakes RC 20:29
19 John Edmondson Beacon Whs 20:23
20 Kieran Lacey Lakes RC 20:39
21 David Murphy Liverpool Mercury Dolan CC JUN 20:50
22 Ian Wilcock Nelson Whs V40 20:56
23 Duncan Park North Lancs RC V40 20:58
24 Chris Smedley Nelson Whs V40 21:16
25 Sean Casson Barrow Central Whs V40 21:17
26 Derek Schofield Rossendale RC V60 21:20
27 Ian Sibbert Garstang CC V40 21:25
28 Randle Shenton Team Swift V50 21:27
29 Dougi Hall Border City Whs CC V50 21:33
30 Phil Shaw Kent Valley RC V40 21:37
31 Vanessa Whitfield Team 22 W 21:38
32 Philip Brayshaw Wigan Whs CC V40 21:55
33 Roy Flanagan Rossendale RC V50 22:06
34 Nikola Butler Pearl Izumi Sports Tours International BOBC W 22:21
35 Stuart Timmins North Lancs RC V50 22:30
36 Dave Bateson Horwich CC V60 22:40
37 Stephen Glenwright VTTA (Merseyside) V50 23:14
38 Tim Bennett Kent Valley RC V40 23:46
39 Carol Westmorland Border City Whs CC WV40 23:50
40 David Hargreaves North Lancs RC V60 24:35:00
41 Steve Wilkinson Nelson Whs V50 25:12:00
42 Mike Westmorland Border City Whs CC V70 25:21:00
43 Stewart Mounsey Kent Valley RC V40 27:52:00
44 Bill Smith Cleveleys RC V60 29:57:00
45 Peter Knott Kent Valley RC V70 32:13:00
46 David Tinker Clayton Velo V50 32:37:00
Other awards
Fastest Woman,  Vanessa Whitfield (Team 22) 21:38
Fastest V40, – Simon Bridge
2nd V40, Ben Lane (GS Metro) 19:14
3rd V40, Jim Henderson (Southport CC) 19:49
Fastest V50, Andy Ashurst (Manchester Whs Club) 19:10
2nd V50,Randle Shenton (Team Swift) 21:27
Fastest V60+ Peter Greenwood (Team Swift) 19:26
2nd V60 Derek Schofield (Rossendale RC) 21:20
Fastest Jun/Juv,  Nathan Allatt (Holmfirth CC) 18:42
Thanks to Richard Belk and Kent Valley RC for promoting event. They also promote other events through the year
Midsummer 10 and Edwin Howson Memorial 25 on the Levens course in June and for those who like hilly sportives we have the Three Counties Challenge (3CC) rides – Kirkstone Pass the hard way is at 70 miles on long route – on August 17th
Previous attempts at Shap Fell
2015 – 16.43 1st (short course) (tailwind) – Av. Sp 25.0 mph. av. power 328wats. Max
2014. 17.45 1st (short course) (link) (tailwind)
2011 28.27  1st. (headwind)
2010 (29.56) 1st (headwind) Av. speed 18.5mph
After Shap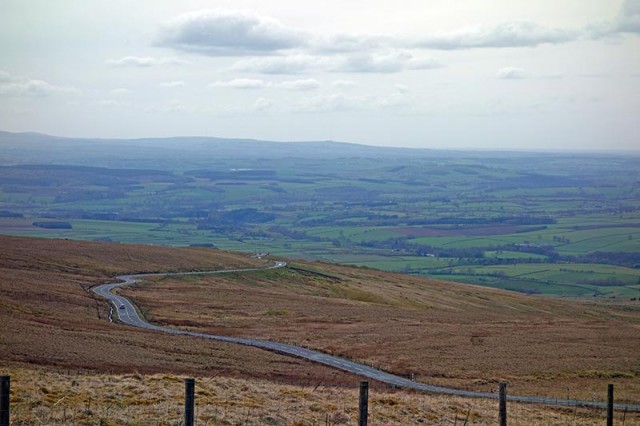 I drove up to Penrith and did Hartside and then Great Dun Fell. I remember why I liked Great Dun Fell so much. It's a beautiful climb; really hard, isolated, great views. And this time the gates were both open so I didn't have to spend a minute trying to work out how to open them. Hartside is great too, especially with a tailwind!