Shap Fell is the first hill climb of the season. It's seems a bit strange to be doing a hill climb, just as everyone else is gearing up for a quick blast down the fastest dual-carriegeways in the land. But, to be fair to Shap Fell, it's not the most torturous hill climb. You don't need to be reaching for your lowest sprocket; you can even do it on the Big Ring if you really wanted. But, it is long. 9 miles from Kendal to the top of Shap Fell averaging 3%. It needs  good steady pacing, not dissimilar to a ten mile time trial.
Shap Fell from Kendal to shap
distance: 9.0 miles
height gain: 1245 ft, / 370 metres
Height altitude: 1,400 ft / 420 metres
average gradient: 3%
max gradient: 8%
I was keen to enter the Kent Valley RC event – partly for the first opportunity to wear the National Hill Climb Jersey, but also hoping for a tailwind to have a go at the course record, which has stood for quite a while (Gethin Butler, I believe). The wind Gods prevailed and there was a nice tailwind up the exposed Lake District slopes. Unfortunately, the gods of long term traffic works were not so compliant and resurfacing work meant we couldn't do the full climb, but got diverted near the top – 'down a farm lane, where there might be some hens crossing the road'.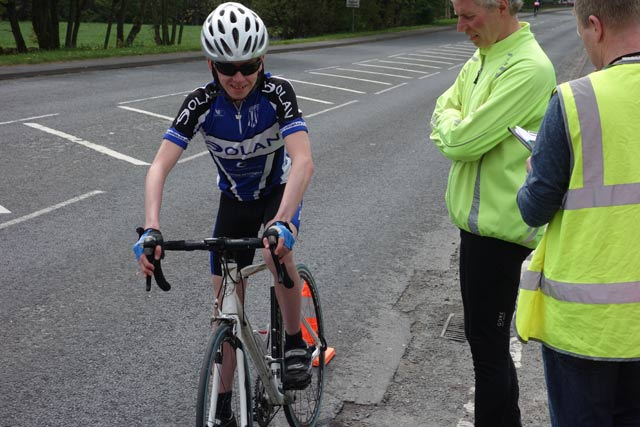 I had time to do a quick warm up and ride the modified course. I didn't see any ducks crossing on the minor road, but there was a sheep wandering in a random direction as sheep are wont to do.
The modified course, would be just 7 miles, averaging 3%. It meant the hardest last section to the top of Shap Fell was missed out.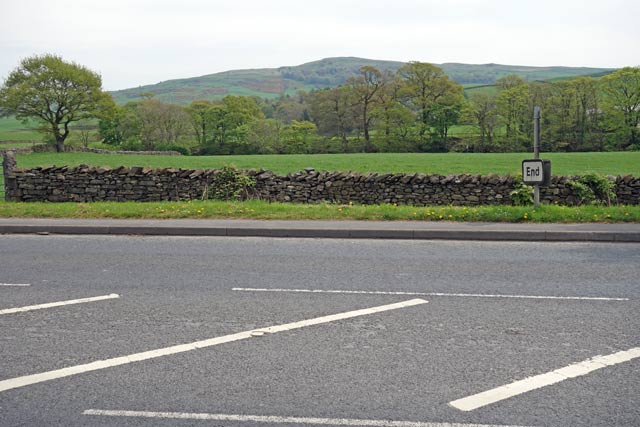 Amongst the competitors, there was a good mixture of road bikes vs time trial bikes some with full disc wheel. With a tailwind forecast, I left the bongo bongo (aero) equipment at home, and took the good old fashioned road bike. Even with tailwind, there is a good case for using time trial bike, disc wheel and aerohelmet.  But, I seem to have been riding TT bike since the first of Jan, I wanted to remind myself what is what like to ride a road bike. Plus after the race, I was planning to head up Great Dun Fell – and there was no way I was going to do that on a TT bike.
It was a perfect day for racing up Shap Fell, warm, tailwind and even the odd outbreak of sunshine – on a May Bank Holiday Monday to boot. I didn't set off too fast; I assumed the times for a 7 mile hill climb would be close to a fast 10. I haven't done the climb for a few years, and I'd forgotten the sections of flat and downhill. I spent a bit of time in an Obree tuck, trying to keep aerodynamic. But, just as you are flying along at 23mph plus, you hit a steep ramp of 5-7% and you have to get back into hill climbing mode. I caught a couple of riders and made a last big effort after turning off the A6 onto the minor road. Fortunately, the hens were all well behaved and I had a clear run for the line.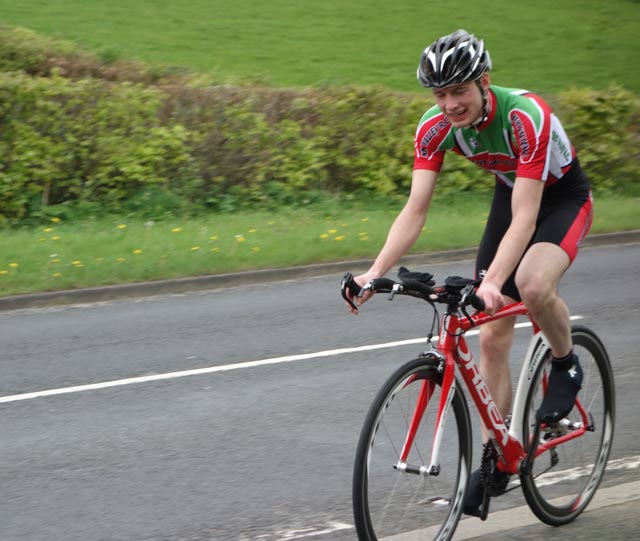 Results
| Position | NAME | CLUB/RACING TEAM | CAT. | Time |
| --- | --- | --- | --- | --- |
| 1 | Tejvan Pettinger | (Sri Chinmoy Cycling team) | | 17:45 |
| 2 | Richard Bickley | (Border City Whs) | | 18:49 |
| 3 | Mark Haydock | (North Lancs RC) | | 18:59 |
| 4 | Paul Roby | (Coveryourcar.co.uk) | V40 | 19:03 |
| 5 | Peter Greenwood | (Team Swift) | V60 | 19:08 |
| 6 | Paul Fleming | (Preston Wheelers) | V45 | 19:57 |
| 7 | Thomas Gibson | (Kent Valley RC) | | 20:04 |
| 8 | David Wilkinson | (Kent Valley RC) | V55 | 20:20 |
| 9 | Peter Thomas | (Kent Valley RC) | | 20:25 |
| 10 | Paul Greenhalgh | (Manchester Wheelers) | V45 | 20:28 |
| 11 | Randle Shenton | (Team Swift) | V55 | 20:41 |
| 12 | David Trotter | (Lancaster CC) | | 20:44 |
| 13 | John Paterson | (Classic Racing Team – SCU) | | 20:52 |
| 14 | David Robinson | (VC Cumbria) | V50 | 20:53 |
| 15 | Dougi Hall | (Border City Whs) | V50 | 20:56 |
| 16 | Mark Brearton | (The Endurance Store – SCU) | V40 | 21:05 |
| 17 | David Murphy | (Liverpool Mercury Dolan CC) | JUN | 21:17 |
| 18 | Philip Bradshaw | (Wigan Wheelers CC) | V45 | 21:22 |
| 19 | William Belcher | (Clayton Velo) | V50 | 21:27 |
| 20 | Roy Flanagan | (Rossendale RC) | V55 | 21:45 |
| 21 | Derek Schofield | (Rossendale RC) | V60 | 21:46 |
| 22 | Simon Jones | (Beacon Wheelers) | | 22:00 |
| 23 | Stewart Mounsey | (Kent Valley RC) | V40 | 22:02 |
| 24 | Stephen Gardner | (Lancaster CC) | V40 | 22:21 |
| 25 | Elliot Dason-Barber | (Oxonian CC) | V40 | 22:33 |
| 26 | Stuart Timmins | (North Lancs RC) | V55 | 22:42 |
| 27 | David Pritchard | (Kennoway Road Club – SCU) | V55 | 22:50 |
| 28 | Tim Bennett | Kent Valley Road Club | V45 | 23:11 |
| 29 | Neil Wood | (Lancashire RC) | V45 | 23:38 |
| 30 | Earle Logan | (Lune RCC) | | 23:57 |
| 31 | Colin Reynolds | (Leigh Premier RC) | V40 | 27:14:00 |
| 32 | Mike Westmorland | (Border City Wheelers) | V65 | 29:50:00 |
| 33 | David Tinker | (Clayton Velo) | V55 | 30:33:00 |
If the revised course was 7 miles, that works out at an average speed of 23.7 mph (The Bristol South CC megahilly was an average speed of 21.9 mph)