It is the first hill climb of the year, though the nine mile slog from Kendal to the top of Shap on the A6, never feels like your traditional hill climb. It was also my first race under 25 miles. I haven't done any 10 mile TT's yet to gauge efforts.
The important thing for Shap hill climb is the wind direction. The wind from the south makes it "fast". The wind from the north makes it painfully slow.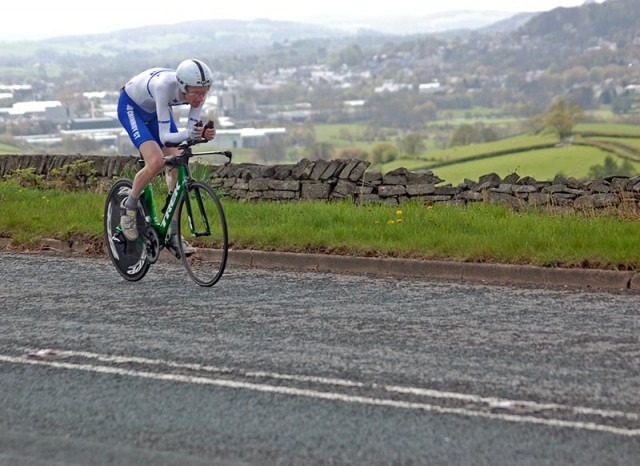 Photo: Kenny Roberts (2015). I used same wheel and bike combination Zipp disc, and lightweight front wheel without deep section.
Driving over to Kendal, it was quite wet and blustery, but fortunately the weather cleared up for the race, just leaving a nice strong tailwind. Setting off from north of Kendal, I was soon nearly in my top gear of 56*11. That's a proper hill climb when you can go at 30mph plus. However, even a strong tailwind doesn't get you up a gradient of 3-10%. The speed still plummets when the road gets steep. Although the average gradient is 3%, there is a considerable bit of flat and also downhill sections, so it means there are some more testing gradients and a lot of variable power efforts. It also goes on for nine miles. With a tailwind, the climb is a rough approximation to a sporting 10 mile time trial. With the wind at your back, I'm always a little uncertain whether to get low or to sit up and benefit from the wind. But, I was on my tribars for most of the ride, apart from the last tricky descent where there was a strong sidewind before the last steepest section to the line.
Course record
I've had my eye on the Shap Fell course record for quite a few years. The first two years (2010 + 2011) I was defeated by a strong headwind. The last two years have had the wind in the right direction, but the course was shortened due to long-term traffic lights on the A6 embankment. Today the wind was right, and I knew it would be quick. But, James Gullen (Pedal Heaven) was also on the startsheet. Gullen has had a great year, setting 17 minute 10s, breaking course records by Bradley Wiggins and doing well in some Premier Calenders. It was a shame I was last man, because I felt I had more chance of holding course record for nine minutes if I went off before him.
In the end we both smashed the course record. I did 23.07 – nearly two minutes off the course record. James did 22.49 – two minutes 13 off the course record. No record is ever on the shelf forever, but it won't be so easy to break again. It's not often you take nearly two minutes off a course record, but settle for 2nd.
Kelly Murphy (Boot out Breast Cancer CC) also set a new women's course record of 27.52.
Coming back down
Coming back down was interesting. The first steep bit the wind seemed to blow around all over the place. By the end of nine miles descent, it was quite cold and relieved to have made it. The huge tailwind was just a little reminiscent of 2013 on the Stang, where another very blustery tailwind made the ascent quick and descent tricky and cold.
Often after Shap I've cycled over to Great Dun Fell, but it was already getting on in the afternoon. It's a shame because there was a good tailwind up the Great Dun Fell too.
Comparisons to previous years
When I first rode in 2010, I did a time of 29.56, with an average speed of 18.5mph. I didn't have a power meter in those days, but I would hazard a guess, it was very similar to 333 watts. So the direction of wind can make a good six minutes different.
Previous results from Shap Fell
2016 – 23.07 – 2nd (tailwind) Av. power 333 watts. Max speed 41.8mph (cadence 90) Average speed 23.2 mph
2015 – 16.43 – 1st (short course) (tailwind) – Av. sp 25.0 mph. av. power 328 watts.
2011 – 28.27  – 1st. (headwind)
2010 – 29.56 – 1st (headwind) Av. speed 18.5 mph
Results from 2016
| Position | Name | Club | Cat | Event Time |
| --- | --- | --- | --- | --- |
| 1 | James Gullen | Pedal Heaven | M | 00:22:49 |
| 2 | Tejvan Pettinger | Sri Chinmoy Cycling Team | M | 00:23:07 |
| 3 | Craig Steele | Lakes RC | M | 00:25:19 |
| 4 | Jake Cowen | The Nab Racing Team | M | 00:25:48 |
| 5 | Derek Parkinson | Springfield Financial Racing Team | M40 | 00:25:51 |
| 6 | Martin Mikkelsen-Barron | Velo Club Cumbria | M | 00:25:55 |
| 7 | Richard Bickley | Border City Wheelers CC | M | 00:26:07 |
| 8 | Andy Ashurst | Manchester Wheelers | M50 | 00:26:55 |
| 9 | Andrew Newby | Langsett Cycles RT | M | 00:26:55 |
| 10 | Tom Roper | Beacon Wheelers | MJun | 00:26:56 |
| 11 | David Allonby | Springfield Financial Racing Team | M | 00:27:12 |
| 12 | Ian Sibbert | Garstang Cycling Club | M40 | 00:27:24 |
| 13 | Aaron Tonks | Ribble Valley CRC | M40 | 00:27:36 |
| 14 | Peter Greenwood | Team Swift | M60 | 00:27:40 |
| 15 | Paul Fleming | Preston Wheelers | M50 | 00:27:45 |
| 16 | Sam Anderton | North Lancs RC | M | 00:27:46 |
| 17 | Kelly Murphy | Boot Out Breast Cancer CC | W | 00:27:52 |
| 18 | Sam Holden | Lancashire RC | M | 00:28:08 |
| 19 | William Sisson | Kendal Cycling Club | M | 00:28:18 |
| 20 | Keith Melvin | Rock to Roll Cycles | M | 00:28:19 |
| 21 | Paul Braithwaite | Pendle Forest | M40 | 00:28:20 |
| 22 | Kieran Lacey | Lakes RC | M | 00:28:28 |
| 23 | Andrew Askwith | Bridlington CC | M50 | 00:28:37 |
| 24 | Nathan Turnbull | Leigh Premier | M | 00:28:45 |
| 25 | Darren Brackwell | Lakes RC | M | 00:29:05 |
| 26 | Grant Ormerod | Team Wallis CHH | M | 00:29:22 |
| 27 | Phil Shaw | Kent Valley RC | M40 | 00:29:26 |
| 28 | Duncan Orme | Kent Valley RC | M40 | 00:29:36 |
| 29 | Claire Swoboda | Starley Racing | W | 00:29:50 |
| 30 | Benjamin Horrobin | Horwich Cycling Club | MJun | 00:29:57 |
| 31 | Gethin Butler | Preston Wheelers | M40 | 00:30:25 |
| 32 | Stuart Timmins | North Lancs RC | M50 | 00:30:29 |
| 33 | Derek Schofield | Rossendale Road Club | M60 | 00:30:32 |
| 34 | David Wilkinson | Kent Valley RC | M50 | 00:30:35 |
| 35 | Aaron Hemsley | PBK-Santini | M | 00:30:52 |
| 36 | Bethany Crumpton | Boot Out Breast Cancer CC | W | 00:31:09 |
| 37 | Dougi Hall | Border City Wheelers CC | M50 | 00:31:55 |
| 38 | Nikola Matthews | Boot Out Breast Cancer CC | W | 00:31:59 |
| 39 | Dave Bateson | Horwich Cycling Club | M60 | 00:32:24 |
| 40 | Mike Westmorland | Border City Wheelers CC | M70 | 00:32:36 |
| 41 | Tim Bennett | Kent Valley RC | M50 | 00:32:39 |
| 42 | Roy Flanagan | Rossendale Road Club | M50 | 00:33:06 |
| 43 | Carol Westmorland | Border City Wheelers CC | W40 | 00:33:10 |
| 44 | Martin Horrobin | Horwich Cycling Club | M40 | 00:33:18 |
| 45 | Ruth Taylor | Boot Out Breast Cancer CC | W | 00:34:18 |
| 46 | Stephen Glenwright | VTTA (Merseyside) | M50 | 00:34:26 |
| 47 | Caroline Leighton | Lancashire RC | W40 | 00:34:47 |
| 48 | Bethany Taylor | Boot Out Breast Cancer CC | W | 00:34:49 |
| 49 | Amanda Howard | Kent Valley RC | W50 | 00:35:50 |
| 50 | Paul Targett | Pendle Forest | M50 | 00:37:07 |
| 51 | James Edge | Springfield Financial Racing Team | M70 | 00:38:11 |
| 52 | Peter Knott | Kent Valley RC | M70 | 00:49:25 |
Results image