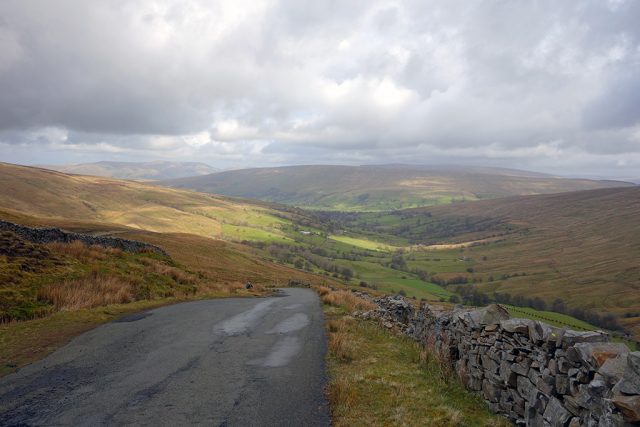 I was half joking about getting a train into a headwind in post on Tips for riding in wind. I never do it in Oxford, but when visiting Yorkshire, it's a great way to see a few Yorkshire valleys I wouldn't otherwise make it to. I cycled a hilly 6 miles to Bingley station and got the 'slow pacer' – Leeds to Morecambe train. It reminds me of what train travel was like in the 1980s; quiet, slow, a little dirty, a feeling of neglect, you're the only passenger who gets off at the station.
However, the Bentham line is popular with cyclists – at different times, there were four different bikes on the train. One young girl took her bike from Skipton to Gargrave where she worked and was going to cycle the 3 miles home in an effort to get fit and lose weight. She said one mile on the bike left her feeling completely out of breath, but she hoped one day to be able to cycle both to and back to Gargrave. I encouraged her by saying – if you keep cycling every day, you will definitely see a big improvement quite quick. We all started with cycling for a couple of miles, and you never know where it may lead you.
The battle of the touring bikes – My Trek Speed Concept (left) vs a classic Ellis Briggs Reynolds 531 steel tubing. A small difference in colour, a large difference in price tag.
I would have liked an Emonda for the hills of Yorkshire. The TT bike is good for the flat, but it does add extra weight for steep 20% climbs that you could do without.
The Ellis Brigs had an inner granny chain ring of a 26, which was one area where it definitely outsmarted the Trek Speed Concept.
The next bike to alight was a Connondale T2000, it seemed to have the smallest inner chainring I've ever seen, perhaps a 16. The owner was taking the train to Whitehaven to do the 'Coast to Coast' ride. I told him I hope the Westerley tailwind perseveres. The Coast to Coast could be the ultimate train and tailwind combination.
I got off at a deserted Clapham station and rode into a headwind for a few miles. It was a bit misty over Ingleborough.
The road north up Kingsdale from Ingleton to Dent is very quiet. The main obstacle is sheep and a few gates in the road. It is another throwback to a previous age to find gates in the road you have to open and close. A bit annoying on steep descents though!
There's a great view down into Deepdale. It's quite a steep climb up the other way. (White Shaw Moss)
Dent dale
Dent dale
Garsdale Head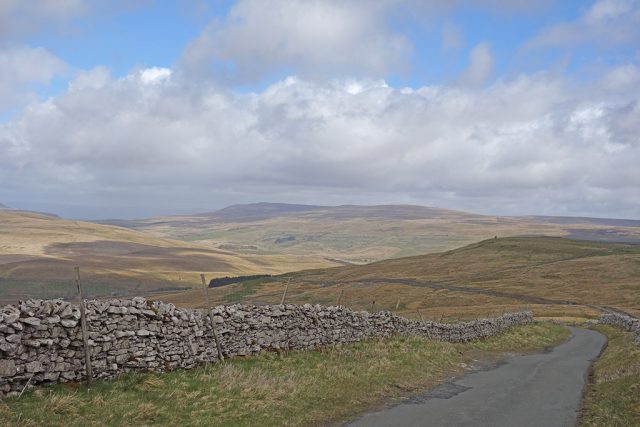 From Dentdale, I went up Garsdale Head past Dent station. Dent station is half way up a steep hill, and well known as the highest station on a mainline train track.
Sign says 'Winter conditions can be dangerous.'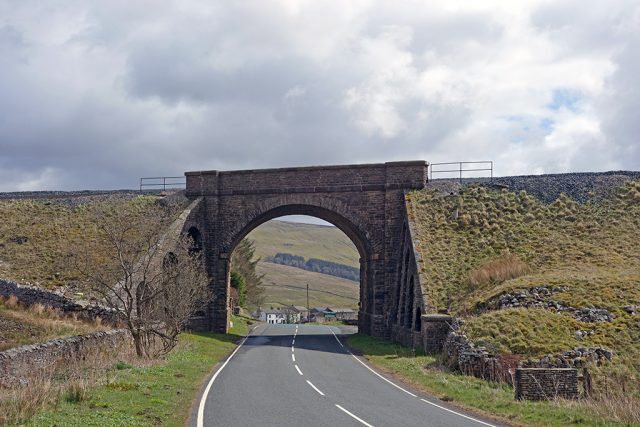 After plunging down to Garsdale Station, you end up on the A684 (which is part of the Circuit of the Dales). There's a great view through this train bridge.
I also caught a train passing Garsdale Viaduct. I also noted that Semaphore signalling still prevails on the Settle-Carlisle line and there was a reassuring click as the train past the points and the signals changed. I almost felt a twinge of nostalgia seeing and hearing a manual signal. It feels like this is a part of the world, the technological age hasn't quite conquered; I'm sure silent electronics are on their way to save a few efficiencies. But, I will miss the sight of the semaphores, which have been going since the line was built in the 1870s.
One thing technology can never quite beat, a good view. This is on the road from Garsdale to Kirby Stephen. It is classed as a B road (B6259) but in practise is as quiet as any minor road. It runs parallel to the Settle-Carlisle line for quite a bit.
Lamps Moss
Just before Kirby Stephen I turned right up Lamps Moss. This is a climb in 100 Climbs, I haven't done before. A long 2.5 mile climb averaging 8%. It reaches a peak of 518m. It's a good test, though at least I picked up that tailwind going up here – given it is quite exposed, it does make a difference.
Lamps Moss top. It reminds me of Tan Hill.
Descent to Keld.
The long descent to Keld and the start of the River Swale was on roads I've never cycled before. It was typical Yorkshire Dales countryside and at this time of the year, very quiet.
Near Keld. The River Swale picking up tributaries. The problem with Cycling in the Yorkshire Dales is I kept wanting to stop and take photos. It was a stop start training ride, though I always had in mind being a tourist too.
Buttertubs was into a headwind and really hard work, I used it as an excuse to take a breather and get another photo.
Although the sun was out, descending Buttertubs, the clouds changed and rain came down. No rain was forecast, but Buttertubs and Fleet Moss seem to have its own micro climate – a climate of frequent rain. I didn't particularly feel like climbing Fleet Moss in the driving rain, so took a short cafe stop. The best thing was this heater, which I used to dry gloves. I never stop in cafes in Oxfordshire, but I've been saved by so many Yorkshire cafes offering a chance to dry out, warm up and get some sustenance to finish off the ride.
It was still raining when I left Hawes and began climbing, but by the time I'd got to the top, the weather had changed and you wouldn't believe it was so wet a few minutes before.
As an added bonus the road was closed so no cars allowed. I chanced my arm and cycled on – hoping it would be road works which were close road to cars, but not bikes. I got lucky which was good because at the bottom of Fleet Moss the other side, I wouldn't have fancied a u-turn. It's a long detour around Fleet Moss!
After that I had enough photos so just put head down and cycled down Wharfedale. To make 91 miles, plus 6 cycling to Bingley station.