Pea Royd Lane has been the venue for the national hill climb championships in 2009, 2014 and it will be the last minute venue for the 2018 National Championships.
It is a classic hill climb length- relatively short and steep with a few sharp corners to make it really testing.  The gradient is variable from fairly shallow at the bottom to a gradient of up to 20% near the top.
Blog from 2014 national hill climb championship
Practice run August 2014
I was driving up north this weekend, so I took the short detour off the M1 to revisit Stocksbridge and have a go at Pea Royd Lane, which I haven't done since 2009. The weather was warm with a cross wind. It felt like a headwind at the start, but tailwind in the middle. The last section I couldn't work out. That's the nature of the course, the wind can be all over the place.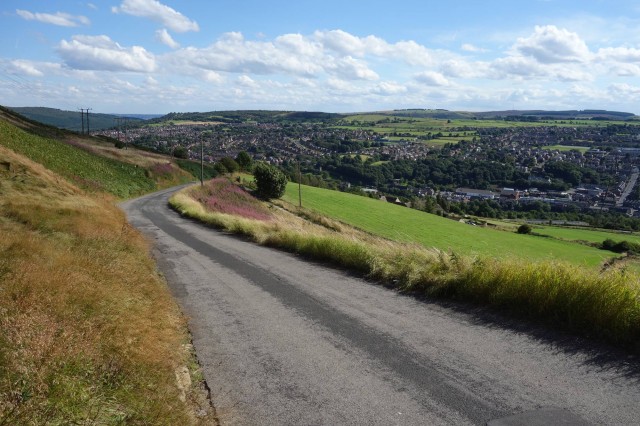 The over-riding impression of the climb was it's steep and also a painful reminder of how hard hill climbs are. I've been looking for a similar hill in Oxfordshire, but there is nothing which gets the same height gain, in such as short space of time – though Whiteleaf hill and Chinnor Hill come close.
After a warm up, I gave it a good effort –  to try and get a rough idea of what time I can do after a summer of 50 and 100 mile time trials.  I've gone deeper in the hill climb season proper. But, it was plenty hard enough. I'm sure there was a lurking thought somewhere in my mind 'Why do I do hill climbs again?'
It's a hard hill climb because the gradient is always changing. The road surface is also quite rough. There was plenty of loose gravel, chippings and patched up road surface. I hear it is going to be resurfaced soon!
I took lots of photos of the climb (see bottom of post). It's quite a mix of scenic Yorkshire views, with some ageing steel plants and electricity pylons thrown in. Still it's a good view from the top.