It is the first hill climb of the year, though the nine mile slog from Kendal to the top of Shap on the A6, never feels like your traditional hill climb. It was also my first race under 25 miles. I haven't done any 10 mile TT's yet to gauge efforts.
The important thing for Shap hill climb is the wind direction. The wind from the south makes it "fast". The wind from the north makes it painfully slow.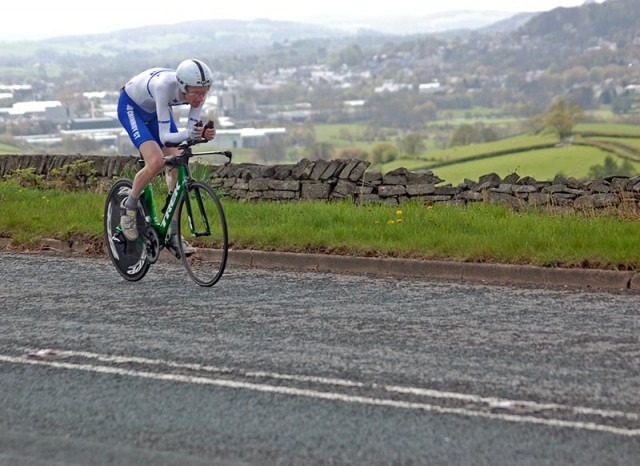 Photo: Kenny Roberts (2015). I used same wheel and bike combination Zipp disc, and lightweight front wheel without deep section.
Driving over to Kendal, it was quite wet and blustery, but fortunately the weather cleared up for the race, just leaving a nice strong tailwind. Setting off from north of Kendal, I was soon nearly in my top gear of 56*11. That's a proper hill climb when you can go at 30mph plus. However, even a strong tailwind doesn't get you up a gradient of 3-10%. The speed still plummets when the road gets steep. Although the average gradient is 3%, there is a considerable bit of flat and also downhill sections, so it means there are some more testing gradients and a lot of variable power efforts. It also goes on for nine miles. With a tailwind, the climb is a rough approximation to a sporting 10 mile time trial. With the wind at your back, I'm always a little uncertain whether to get low or to sit up and benefit from the wind. But, I was on my tribars for most of the ride, apart from the last tricky descent where there was a strong sidewind before the last steepest section to the line. Continue Reading →