The Nick O Pendle hill climb is a testing climb from the village of Sabden Village up to the moors of Nick O Pendle.  (#72 on 100 hill climbs). The climb averages approx 10%, but at the start there are a few sections of 16%. It has been used several times for the National Hill Climb Championship, including 1988 when a young Chris Boardman won his first hill climb championship, setting a course record of 3.29 (he used a 60 inch fixed). A 19 year old Malcolm Elliot was also national champion on this hill in 1980.
Course Description

Start at the lamp-post outside the apartment block on the site of the old garage in Sabden Village. Proceed up the hill to FINISH at the large stone at the start of parking area and approximately 50 yards before the crest of the hill.The course is approximately 1350 yards long and has a maximum gradient of 1 in 6.
Nick 'O Pendle Hill climb (from Sabden)
Distance 1.2km
Avg Grade 11.1%
Max Gradient: 16%
Elev Gain 135m
Height 1,514 ft – 461 metres
Course Record: Chris Boardman 3.29 (1988 – hill climb championship)
My PB: 3.35 (2011)
100 climbs #74
Veloviewer

Strava
National Hill Climb Championships at Nick o Pendle
1988

1988 – 1st Chris Boardman – 3.29, P. Sheard 3.43, P.Curran 3.43.6 (link Paul Curran's page)
Chris Boardman had finished second by less than one second to Paul Curran in 1987. But, after winning in 1988, he told Cycling Weekly: "I'm quite satisfied with the ride. It's nerve racking to get it all out in three minutes. Some start too fast.
1980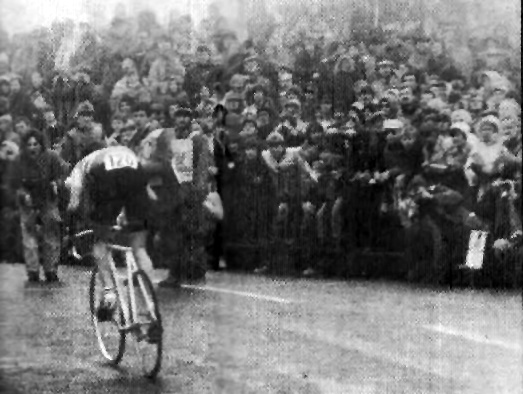 1980 – 1st Malcolm Elliot – 3.33.4,  2nd Jeff Williams 3.33.6, 3rd Gareth Armitage 3.36.6
1975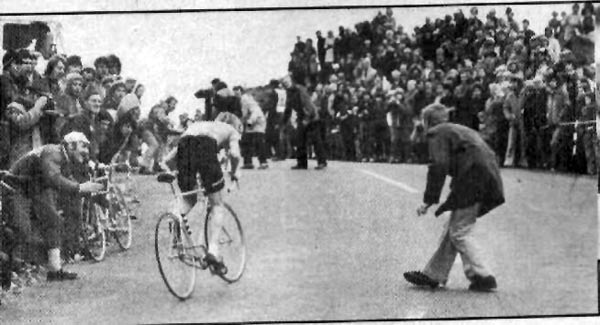 1975 – 1st Gareth Armitage 3.49 – 2nd Paul Carbutt 3.50 (Saracen RC) – 3rd Joe Waugh (Tyne RC)
1970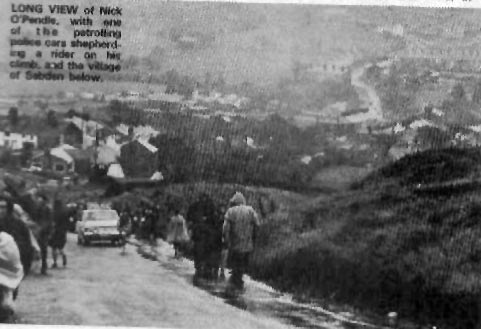 1970 – 1st Granville Sydney -Huddersfield SW – 3.59 – 2nd Ralph Wilson – Bridwell Wh. 4.05 3rd Tony Gornall – Clayton Velo 4.10
1962 – 1st Peter Graham
Riding the Hill
Fixed v Gear
I would imagine this is a good course for fixed. Chris Boardman set the course record on a 60 inch fixed. Although the gradient varies, there is no flat or downhill. I used gears and changed once or twice during the climb. I was riding a 39*15 for most of climb.
2011 Nick 'O Pendle Open
The good thing about 2011 was the weather was kind – relatively warm and tailwind. At the bottom it wasn't really noticeable, but on the exposed slopes it was really quite helpful, this helped push you up.
With the slight variations in the gradient so I found myself getting in and out of saddle. At about the half way point there is a cattle grid. You definitely want to be in the saddle for going over the cattle grid and keep the bike nice and straight. After half way the climb eases off a little.
But, despite the gentle gradient it was hard to pick up speed because my legs were already tired from the initial effort. Towards the last hairpin I caught my minute man, he offered me some encouragement before finding some extra strength and sprinting for the line. It was kind of funny as I could never talk in a hill climb! It gave me something to chase, but I couldn't keep up; I ended up almost 'dribbling over' the finish line, I was relieved the finish was 50 metres before the crest of the hill. I was quite spent at the top and felt a little light-headed for a few minutes. I'd given it a lot and missed out on the course record by 5 seconds. There was quite a crowd of people waiting at the top and I got quite a cheer through last few hundred yards. I can imagine in a National championship, this would be a great atmosphere.
After racing, I rode back up the hill to take some photos – the wind was even stronger. I can imagine with a headwind, this climb would be even tougher.
Brief Results from 2010

Tejvan Pettinger Sri Chinmoy Cycling Team – 3.34.5
Richard Handley – Team Raleigh – 3.40
Matthew Pilkington – Progressive Cycle Coaching DS – 3.59
Carl Hellilwel – 4.04
Paul Jones – Bristol South – 4.06
1st Women
Sarah Hartley – Blackburn & District 5.37
Results 2012
1. Tejvan Pettinger 3.39
Results 2013
Matthew Pilkington 3.38
James Gullen 3.43
Jim Henderson 3.57
Previous Winners
2010 – Matthew Pilkington – 4.14
2008 – Adam Pinder – 3.50
2007 – Adam Pinder – 3.54
Photos from Nick 'O Pendle
On the outskirts of Sabden.
Leaving the village of Sabden
The finish on the crest of the hill.
T

last few hairpins.
Black and White Nick O Pendle from B.Thompson's collection
Thanks to PJ for photos of me cycling
Nick O Pendle from Clitheroe to Sabden (southbound)
Distance 1.7 miles

Avg grade = 7%

Max grade = 15%

Elevation gain 591 ft / 180m

From the other side from Clitheroe to Sabden the climb is longer, but not as steep, it features in the popular Nick O Pendle Cyclo sportive. It is quite a long and steady climb, but reaches 15% at its maximum. It is quite exposed.
In 2015, the Tour of Britain will climb Nick 'O Pendle from this side
Veloviewer

Strava
Related