The 2014 national hill climb championships was held on the closed roads of Pea Royd Lane. – ably promoted by Stocksbridge CC. Like 2009, there was a strong tailwind, and this year there was also a very nice smooth, recently resurfaced, road surface. As the organiser, Stewart Smith said – perhaps the only road in the Sheffield area to be resurfaced – so we were treated very well. A bit of Tour de France fever still lingered over into this late October event. I think the crowd was quite a bit more than 2009. – There was certainly a great wall of noise up the last half of the climb.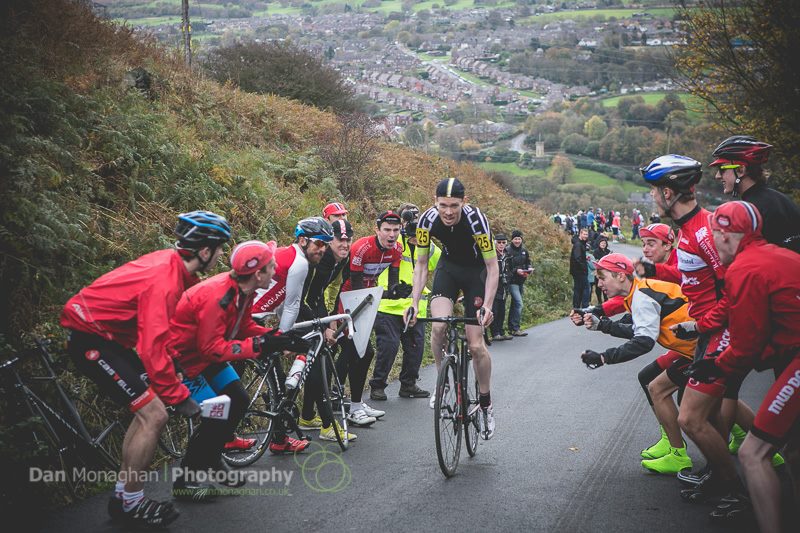 I finished in 4th place, in 3.32. Dan Evans (Team Elite) was a deserved winner in a storming time of 3.24, Matt Clinton (Mike Vaughan Cycles) once again raised his game for the national to take second in 3.26, and Adam Kenway (Team Zenith/Buzz Cycles) got onto the podium with a 3.28. In the women's event, Markya Sennema (Kingston Wheelers CC) (4.35) retained her title (also giving great hope and inspiration to those of us approaching the better side of 40). 2nd was Lou Collins (Beeston RC) (4.42.1)  and third, former champion Lyn Hamel (Trainsharp RT) (4.42.6)
Also pretty impressive ride from hill climb stalwart Chris Myhill Peak RC – 3:51.1 – 18th place at 48 . Pete Tadros was top vet in 3.49. 17 Harry Luxton RuTrainingToday time of 03:40.6 – 9th place overall and 1st junior was also another impressive ride.
2014 hill climb season
It has been a great standard of hill climbs this year. Even setting a course record hasn't always been enough to get a first place. Like Mow Cop, where M.Clinton held a course record for 1.8 minutes, and Horseshoe pass where I went faster than a CR (previously held by Dangerfield, Boardman and Dobbin) only to find Dan Evans had gone 10 seconds quicker in 8.52. It's also great to see entries for hill climbs on the rise. The organiser received nearly 280 applications for 180 places – making a difficult start sheet to devise. When did hill climbs become so popular?
As reigning national champion, it's been a great year and I've enjoyed riding the national jersey at events up and down the country. Since May, I've done 16 hill climbs, which is quite a lot! I've won 13 opens and set 7 course records – not a bad record. But, it's the national hill climb championship which is the big draw. Once you've won it once, you would like very much to get back on top.
2014 Race
Last night I had a vivid dream that I finished 4th in the national hill climb championship. Although I tried my best to forget, what proved to be an irritatingly prescient dream, I didn't have the same  hope as last year – when I was virtually unbeaten in the lead up to the championship on the Stang.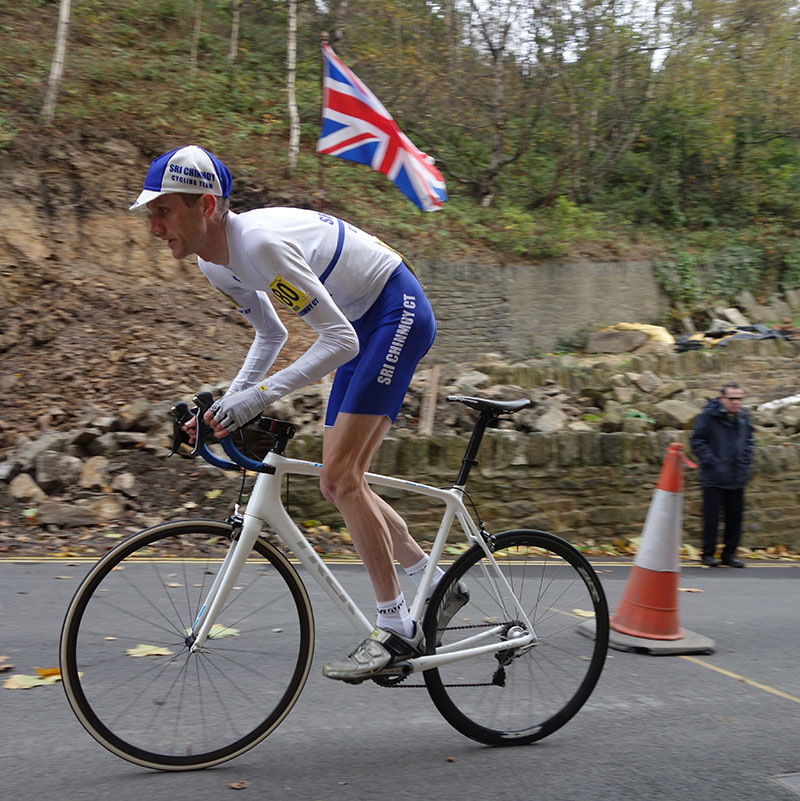 I got there early to get a good parking spot and was ably assisted by Sri Chinmoy CT team mate Vilas Silverton in getting ready and warming up. A couple of friends also came up all the way from London to see what hill climbs are all about. They enjoyed it so much they've promised to enter a hill climb next year. I shall hold them to their word…
Before the race, I also caught up with old OUCC teammate – and five times national champion Jim Henderson – my family also had come out to watch.
I had a good warm-up and felt much better after riding the bike – (much better than waiting around waiting for event to start). I felt good on the start line and made a steady start and  tried to lift the pace all the way up. It was much faster than in training and it all seemed to go in a blur. I don't remember thinking about anything, I was just really in the flow.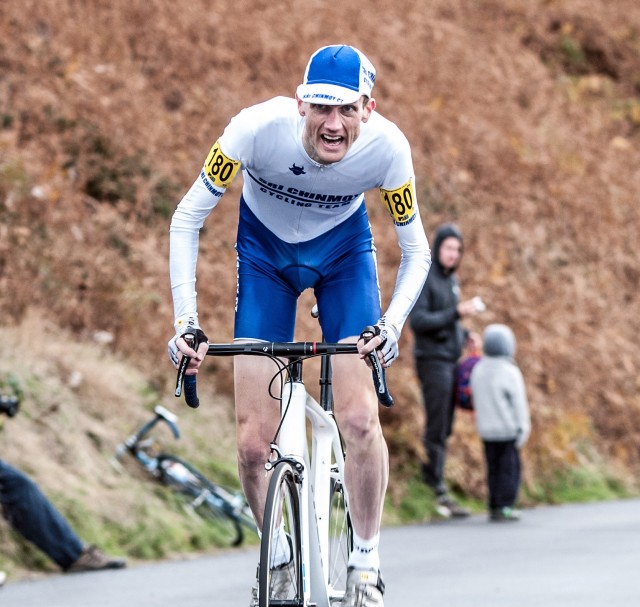 There was a lot of noise and enthusiastic encouragement. It all seemed to be over pretty quick. The tailwind finish was different to when I'd done it in training.
I sat in the grass at the top for a bit as people took some photos as I lay in the grass. I felt strangely relieved and happy to have finished my 10th national hill climb and another 4th place. Next year is Jackson Bridge and I'll be looking forward to that. But, I might just have a piece of cake before I go out and get the winter miles in.
Also, thanks a lot to Gordon Wright who has kindly been giving me some expert coaching over the past two months. I don't think I could have come into the championship any better prepared than I was.
The Trek Emonda was irritatingly good. I say irritatingly good because I really want to get one now, but am still paying off the loan for the last bike…
Related
Results and splits
External links
Note: this is just a personal blog, not a comprehensive report. I will try upload more photos later.
Video of 2014 event

Photos
First rider off.
Rider One – 1 down, 179 to go. I took a photo of first rider, and then went off to get ready. I wasn't really in photography mode.
Two National champions. Jim Henderson finished 3rd in 2009 – bringing his hill climb career to an end after five national titles. (He still managed the Rake in 2.33 in 2014 – not a bad time for retirement!)
Who says hill climbs need to be a serious affair?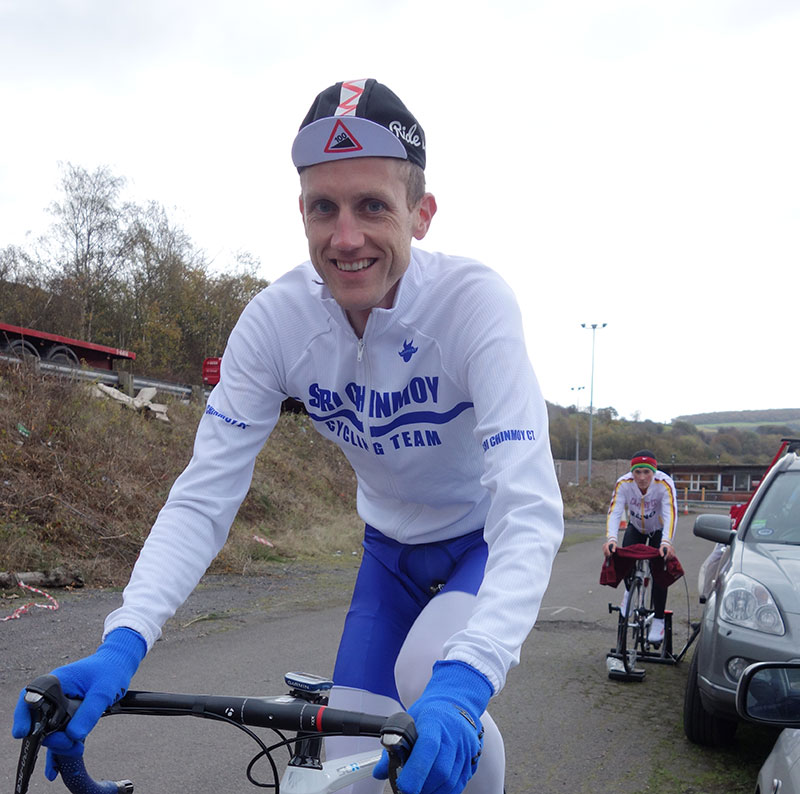 2014 Results
1 Dan Evans Team Elite/Paul Bethall Electrical 03:24.2
2 Matt Clinton Mike Vaughan Cycles 03:26.5
3 Adam Kenway Team Zenith-www.buzzcycles.co.uk 03:28.1
4 Tejvan Pettinger Sri Chinmoy Cycling Team 03:32.1
5 Joseph Clark Team Zenith-www.buzzcycles.co.uk 03:35.3
6 Edmund Bradbury Cambridge University RT 03:36.5
7 James Lowden Lewes Wanderers CC 03:37.5
8 Lee Baldwin Champion System/ClubRoost/Maxgear 03:40.0
9 Harry Luxton RuTrainingToday CC 03:40.6 J
10 Stuart Marshall Team Zenith-www.buzzcycles.co.uk 03:41.1
11 Henry King Ilkley CC 03:42.3
12 Josh Teasdale In-Gear Quickvit Trainsharp RT 03:44.0
13 Daniel Sullivan Norwood Paragon CC 03:45.6
14 William Bourne University of Bristol CC 03:47.2
15 Nick Spencer Blumilk.com 03:48.7
16 Peter Tadros In-Gear Quickvit Trainsharp RT 03:49.2 A
17 Glyndwr Griffiths Arctic Tacx RT 03:50.6
18 Chris Myhill Peak RC 03:51.1 B
19 Joe Norledge Procycling Magazine RT 03:51.4
20 Chris Dyke Manchester Wheelers Club 03:51.8
21 Charles Coleman Felt Colbournes Hargroves RT 03:52.4
22 Jack Pullar Starley Primal Pro Cycling 03:53.9
23 Callum Stewart Sheffrec CC 03:54.0
24 Michael Openshaw Cestria CC 03:54.2 A
25 Jack O'Neil Mike Vaughan Cycles 03:54.4
26 Ben Nichol Amersham Road CC 03:55.0
27 Felix Barker Cambridge University RT 03:55.0
28 Julian Varley PH-MAS Cycling 03:56.0 J
29 Sam Clark Buxton CC/Sett Valley Cycles 03:56.3
30 Tony Kiss Performance Cycles CC 03:56.8
31 Danny Axford Arctic Tacx RT 03:57.0
32 Michael Broadwith Arctic Tacx RT 03:57.2
33 Jonathan Morris Derby Mercury RC 03:57.5
34 Ashley Proctor Bike Box Allan/Whiston Velo 03:57.9
35 Paul Roby Coveryourcar.co.uk RT 03:58.7 A
36 Mike Humphreys Bury Clarion CC 03:58.9
37 Will Corden Lyme Racing Club 03:58.9
38 Adam Hartley Velocity WD-40 03:59.8 J
39 David Powell Horwich CC 03:59.9
40 Joshua Haasz VCL – SCU 04:00.0 J
41 Ben Lowe Nonnad La Squadra 04:01.1 A
42 Daniel Featherstone Bolsover & District CC 04:01.6
43 Matthew Cartlidge Stone Wheelers CC 04:02.1
44 David Roper Ride 24/7 04:02.3
45 Luke Mullen Infinity Cycles-Cube Store CT 04:02.7
46 Adrian Lawson Cadence RT 04:02.8 A
47 Robert Borek Bristol South CC 04:02.8
48 William Adams Velosport RT 04:03.4
49 Chris Baines Buxton CC/Sett Valley Cycles 04:03.6
50 Peter Medhurst Bikeshed UEx 04:03.8
51 John Findley Bill Nickson Cycles RT 04:04.9
52 Ewan Tuohy Banks/Catford CC Equipe 04:05.4
53 Benjamin Butler Bangor University CC 04:06.3
54 Nicholas Latimer Rutland CC 04:06.3
55 Ryan Kenworthy LeisureLakesBikes.com 04:07.4 J
56 Harrison Jones NFTO Race 04:09.5 J
57 Tim Wilcock Tyneside Vagabonds CC 04:10.2
58 Adam Machan Sheffrec CC 04:10.2
59 Archie Cross PH-MAS Cycling 04:10.5
60 Eugene Cross Clifton C.C. York 04:10.6 J
61 Adam Wild Tyneside Vagabonds CC 04:12.2 J
62 Robert Gough Arctic Tacx RT 04:13.7
63 Max Spedding PH-MAS Cycling 04:13.8 J
64 Nick Despres Guernsey Velo Club 04:14.5 C
65 Jonathan Wears Team Jewson-MI Racing 04:14.6
66 Alex Copp Lyme Racing Club 04:14.8 J
67 Matthew Cosgrove SportCity Velo 04:14.9 J
68 James Ward Cambridge CC 04:15.7 A
69 Simon Warren Norwood Paragon CC 04:15.8 A
70 Chris Smith Condor RC (Calderdale) 04:16.1
71 David Watson Coventry RC 04:17.2 B
72 James Coleman Velo Club Walcot 04:17.2
73 Henry Cash Holme Valley Wheelers 04:17.7 J
74 Kevin Thomas Chippenham & Dist. Whs. 04:17.9
75 Mark Nulty Manchester Wheelers Club 04:19.1
76 Andrew Pearson Huddersfield Star Wheelers 04:21.4 A
77 Ben Lane GS Metro 04:22.4 A
78 Paul Armstrong Sheffrec CC 04:23.2
79 Richard Taylor Harry Middleton CC 04:23.3
80 Stuart Baker Buxton CC/Sett Valley Cycles 04:23.4
81 Graham Payne Preston CC 04:24.0 C
82 Liam O'Toole Sheffrec CC 04:24.3
83 John Sanderson Manchester Wheelers Club 04:24.4 A
84 George Goodwin Mike Vaughan Cycles 04:24.6 J
85 Paul Newton Derby Mercury RC 04:26.1
86 Anthony Bromley Barnsley RC 04:26.9
87 Theo Jefferies Westmead Team 88 04:27.0 J
88 Michael Askew Albarosa CC 04:27.6
89 Richard Lilleker Cleveland Wheelers CC 04:27.6
90 Thomas Hanlon Harry Middleton CC 04:28.8
91 Matt Blythe Newport (Shropshire) CC 04:30.1 A
92 David Trotter Lancaster CC 04:31.2
93 Joe Swinnerton Lyme Racing Club 04:31.8 J
94 Maryka Sennema Kingston Wheelers CC 04:35.3 W A
95 Dan Charlton Hetton Hawks 04:35.8 J
96 Andrew Askwith Bridlington CC 04:36.2 C
97 Joshua Hodgson Newcastle Cheviot CC 04:36.6
98 Samuel Walley East Lancashire RC 04:37.1 J
99 Neil Bentley Sheffrec CC 04:37.3 B
100 Dave Starkey Mammoth Lifestyle RT 04:38.5
101 Nick Decker Congleton CC 04:38.6
102 Russ Thompson Performance Cycles CC 04:38.9 A
103 Zack Williamson Clay Cross RT 04:39.9
104 Lewis Hartley Velocity WD-40 04:41.2 J
105 Lou Collins Beeston RC 04:42.1 W
106 Steve Gordon Sunderland Clarion 04:42.1 A
107 Joe Varga City RC(Hull) 04:42.4 J
108 Will Boyes Team Cystic Fibrosis 04:42.4 A
109 Lynn Hamel Trainsharp RT 04:42.6 W
110 Carl Saint Yorkshire Road Club 04:42.6 B
111 Kieran Simcox Bike Box Allan/Whiston Velo 04:43.8 J
112 Nicola Soden gbcycles.co.uk 04:43.9 W
113 Thomas Cornwell SportCity Velo 04:44.3 J
114 Benjamin Last Clay Cross RT 04:46.0
115 Paul Kippax Rutland CC 04:46.7 A
116 David Murphy Liverpool Mercury/Dolan CC 04:48.3 J
117 Aaron Tonks Ribble Valley CRC 04:48.5 A
118 Josephine Gilbert VC ST Raphael 04:48.6 W
119 Hayley Simmonds Velosport-Pasta Montegrappa 04:49.8 W
120 Mason Hollyman Kirklees Cycling Academy 04:50.0 J
121 Paul Bailey Manchester Wheelers Club 04:52.0
122 Tom Cullen Otley CC 04:53.5 J
123 Thomas Booth Stocksbridge CC 04:54.6 J
124 Alice Lethbridge Kingston Wheelers CC 04:55.8 W
125 Raymond Robinson Houghton CC 04:56.5 A
126 Elliot Dason-Barker Oxonian CC 04:56.8 A
127 Alex Trippier East Lancashire RC 05:00.6 J
128 Angela Hibbs Tyneside Vagabonds CC 05:00.7 W
129 Helen Eborall Born To Bike-Bridgtown Cycles 05:01.3 W
130 Bernard Swinnerton Lyme Racing Club 05:02.4 C
131 Annasley Park RST Racing Team 05:02.5 WJ
132 Halley Woods SportCity Velo 05:04.7 J
133 Ian Shapiro Heanor Clarion CC 05:06.1
134 Natasha Cutmore RST Sport/Aero Coach 05:08.4 W
135 Cameron Turner Darlington CC 05:09.1 B
136 Leanne Farrow Ilkley CC 05:09.6 W
137 Vicky Clark Albarosa CC 05:10.6 W
138 Heather Despres Guernsey Velo Club 05:16.1 WJ
139 Heidi Viles Exeter Wheelers CC 05:16.2 W
140 Alice Cobb Shutt Velo Rapide 05:18.7 W
141 Dougi Hall Border City Wheelers CC 05:20.5 C
142 Patrick Smart Matlock CC 05:20.7
143 Ayse Vahiboglu Exeter Wheelers CC 05:21.4 W
144 Fiona Prew Stone Wheelers CC 05:23.9 W
145 Ingrid Shephers Sunderland Clarion 05:24.6 W B
146 Henrietta Colborne Beacon Wheelers 05:24.8 WJ
147 Sandra Mackay gbcycles.co.uk 05:25.7 W B
148 Ralph Keeler Cambridge CC 05:26.2 E
149 Robbie Pollard Otley CC 05:26.5 J
150 Jamie Dene Welwyn Wheelers 05:29.6 J
151 Henry Hollyman Kirklees Cycling Academy 05:29.8 J
152 Ivan Paul Ashley Touring CC 05:32.0 J
153 Alex Deck Langsett Cycles RT 05:33.2 W B
154 Jayne Dickens Stone Wheelers CC 05:35.6 W B
155 Iona Sewell gbcycles.co.uk 05:36.4 W
156 Caroline Freeman GS Metro 05:38.2 W
157 Paul Ashcroft Lancashire RC 05:39.7
158 Jonathan Starbuck RAF CA 05:42.4
159 Martin Rigby Mansfield RC 05:42.6 A
160 Ian Hutchinson Cleveland Wheelers CC 05:42.9 D
161 Wiebke Rietz 1st Chard Wheelers 05:46.3 W B
162 Huw Parry Clwb Rasio Mona 05:46.7 F
163 Rich Stoodley Tickhill Velo Club 05:57.1 C
164 Louise Scupham Scarborough Paragon CC 06:01.7 WJ
165 Noah Codling East Lancashire RC 06:04.7 J
166 Jennifer McAndrew Witham Wheelers 06:05.4 WJ
167 Anna Anderson Albarosa CC 06:11.0 W
168 Paul Heggie Birdwell Wheelers 06:15.9 E
169 Natalie Hodson PH-MAS Cycling 06:23.6 W
170 Eve Lyon Nutcracker Racing 06:34.1 WJ
171 Alexander Wiseman East Lancashire RC 06:42.4 J
172 Dave Francis Sid Valley CC 06:49.8 F
173 Nicola Greenwood Holmfirth CC 06:53.0 WJ
174 Isla Aimee Rush Wyndymilla 07:20.3 WJ
175 Richard Thorpe Bolsover & District CC 07:47.6 A
176 Jonathan Harris GS Avanti 09:24.9
Women
1. Maryka Sennema Kingston Wheelers CC 04:35.3
2. Lou Collins Beeston RC 04:42.1
3. Lynn Hamel Trainsharp RT 04:42.6
4. Nicola Soden gbcycles.co.uk 04:43.9
5. Josephine Gilbert VC ST Raphael 04:48.6
6. Hayley Simmonds Velosport-Pasta Montegrappa 04:49.8
7. Alice Lethbridge Kingston Wheelers CC 04:55.8
8. Angela Hibbs Tyneside Vagabonds CC 05:00.7
9. Helen Eborall Born To Bike-Bridgtown Cycles 05:01.3
10. Natasha Cutmore RST Sport/Aero Coach 05:08.4
11. Leanne Farrow Ilkley CC 05:09.6
12. Vicky Clark Albarosa CC 05:10.6
13. Heidi Viles Exeter Wheelers CC 05:16.2
14. Alice Cobb Shutt Velo Rapide 05:18.7
15. Ayse Vahiboglu Exeter Wheelers CC 05:21.4
16. Fiona Prew Stone Wheelers CC 05:23.9
17. Ingrid Shephers Sunderland Clarion 05:24.6
18. Sandra Mackay gbcycles.co.uk 05:25.7
19. Alex Deck Langsett Cycles RT 05:33.2
20. Jayne Dickens Stone Wheelers CC 05:35.6
21. Iona Sewell gbcycles.co.uk 05:36.4
22. Caroline Freeman GS Metro 05:38.2
23. Wiebke Rietz 1st Chard Wheelers 05:46.3
24. Anna Anderson Albarosa CC 06:11.0
25. Natalie Hodson PH-MAS Cycling 06:23.6
Junior women

1. Annasley Park RST Racing Team 05:02.5
2. Heather Despres Guernsey Velo Club 05:16.1
3. Henrietta Colborne Beacon Wheelers 05:24.8
4. Louise Scupham Scarborough Paragon CC 06:01.7
5. Jennifer McAndrew Witham Wheelers 06:05.4
6. Eve Lyon Nutcracker Racing 06:34.1
7. Nicola Greenwood Holmfirth CC 06:53.0
8. Isla Aimee Rush Wyndymilla 07:20.3
Junior Men

1. Harry Luxton RuTrainingToday CC 03:40.6
2. Julian Varley PH-MAS Cycling 03:56.0
3. Adam Hartley Velocity WD-40 03:59.8
4. Joshua Haasz VCL – SCU 04:00.0
5. Ryan Kenworthy LeisureLakesBikes.com 04:07.4
6. Harrison Jones NFTO Race 04:09.5
7. Eugene Cross Clifton C.C. York 04:10.6
8. Adam Wild Tyneside Vagabonds CC 04:12.2
9. Max Spedding PH-MAS Cycling 04:13.8
10. Alex Copp Lyme Racing Club 04:14.8
11. Matthew Cosgrove SportCity Velo 04:14.9
12. Henry Cash Holme Valley Wheelers 04:17.7
13. George Goodwin Mike Vaughan Cycles 04:24.6
14. Theo Jefferies Westmead Team 88 04:27.0
15. Joe Swinnerton Lyme Racing Club 04:31.8
16. Dan Charlton Hetton Hawks 04:35.8
17. Samuel Walley East Lancashire RC 04:37.1
18. Lewis Hartley Velocity WD-40 04:41.2
19. Joe Varga City RC(Hull) 04:42.4
20. Kieran Simcox Bike Box Allan/Whiston Velo 04:43.8
21. Thomas Cornwell SportCity Velo 04:44.3
22. David Murphy Liverpool Mercury/Dolan CC 04:48.3
23. Mason Hollyman Kirklees Cycling Academy 04:50.0
24. Tom Cullen Otley CC 04:53.5
25. Thomas Booth Stocksbridge CC 04:54.6
26. Alex Trippier East Lancashire RC 05:00.6
27. Halley Woods SportCity Velo 05:04.7
28. Robbie Pollard Otley CC 05:26.5
29. Jamie Dene Welwyn Wheelers 05:29.6
30. Henry Hollyman Kirklees Cycling Academy 05:29.8
31. Ivan Paul Ashley Touring CC 05:32.0
32. Noah Codling East Lancashire RC 06:04.7
33. Alexander Wiseman East Lancashire RC 06:42.4