Cheddar Gorge is an interesting climb through the beautiful limestone gorge of Cheddar, Somerset. Climbing gently out of the village of Cheddar, the road starts to snake upwards at a gradient of up to 16% round some twisty corners. It is a tough start to the climb, but the remaining couple of km are a much gentler gradient, allowing you the opportunity to take it at your own pace as you climb away from the gorge and onto to the top of the moor.
Cheddar Gorge full hill

Location: Cheddar, Mendip hills, Somerset, South West.
Distance 2.6 miles
Average gradient: 4-5%
Maximum gradient: 16%
Height gain. 150m
Cheddar Gorge, Strava
Cheddar Gorge understandably features in many local cyclo-sportives and is a popular destination for many cyclists. It is also popular with tourists and rock climbers. The road can be busy – especially as you leave the village of Cheddar – so be prepared to be patient until you clear the car parks on the lower slopes of the climb.
It also makes a great twisting descent. But, be careful not to get carried away as near the bottom, you can really pick up speed on the sharp corners.
Cheddar Gorge is nestled within the Mendips in Somerset. There are plenty of other good hills and roads around here. It is just a few miles from Burrington Combe – another popular gorge and a similar climb.
The road is steepest at the bottom after leaving the car parks
I rode Cheddar Gorge in October, 2014 after racing Burrington Combe hill climb. There was a helpful S.E. tailwind making the climb relatively enjoyable. It would be a different proposition with an easterly climb. The wind seems to get funnelled down the gorge – making it strong in either direction.
2007 National Hill Climb Championship
In 2007, the national hill climb championship was organised on Cheddar Gorge. Somehow they managed to get the road closed and it made a great venue for the hill climb. A steep section and a long drag – a bit for everyone. James Dobbin won his second national hill climb championship in a time of 6-51.5. 2nd place was David Clarke (Blue Sky Cycles) Matt Clinton 7.08, (Mike Vaughan Cycles) was third. I was 6 seconds off the podium with 7.14
Overall
1 James Dobbin Arctic Shorter Rochford RT – 06:51.5
2 .David Clarke Blue Sky Cycles – 06:57.6
3. Matt Clinton mikevaughaun.co.uk – 07:08.5
4. Jim Henderson Southport CC – 07:10.3
5. Geoffrey Beetham Retrobike.co.uk – 07:11.7
6. Danny Axford Arctic Shorter Rochford RT – 07:12.6
7. Tejvan Pettinger Sri Chinmoy CT – 07:14.4
8. Ian Stott Blackburn & Dist. CTC – 07:23.6
9. Adam Pinder Blackburn & Dist. CTC – 07:27.1
10. Ben Pochee Bike & Run London
Women champion was Caroline Kloiber (W Foron D'Asolo) – 8.00) ahead of Lyn Hamel (Greenroom Group). (CTT Results)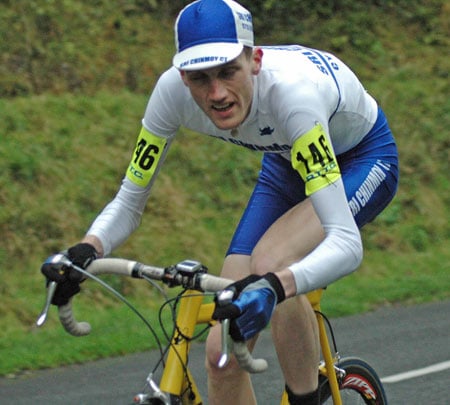 In 2007, I only did one time trial and one hill climb. I wasn't really racing, so did well to come 7th. Looking back, it was perhaps a missed opportunity if I had been riding more.
I have the results sheet from 2007. Interesting to see the split at the top of the short steep section. Robert Gough was fastest up the steep bit – 2.07 –  but finished 14th overall. A 13 year old Hugh Carthy finished 76th in a time of 8.40. (H.Carthy won Tour of Korea in 2014 and has signed with Caja Rural-RGA for 2015). Also riding was Liam Holohan (27th). 56th was Jonathan Knox – junior  hill climb champion in 2013.
David Summers of Bath CC in 2007 national hill climb. Photo – Robert Owens. Riding through the wet. hairpins.
Photos of Cheddar Gorge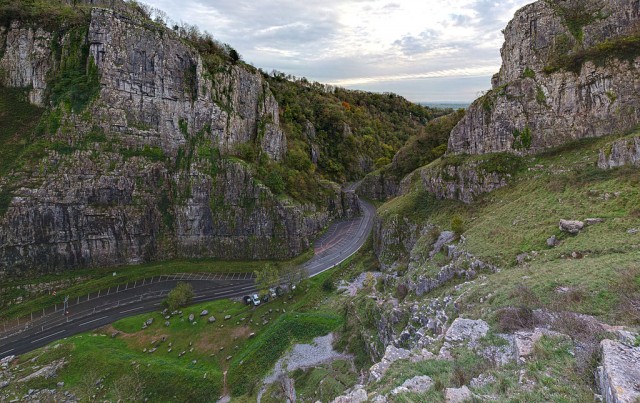 The narrowest part of the climb
Great views on both sides of the road.
The road near the top of the climb, it becomes more exposed.
Rocky outcrops.
Snaking upwards.
16% gradient.
Veloviewer
Strava
Related
Purchase 100 Climbs
100 Greatest Cycling Climbs at Amazon.co.uk
100 Greatest Cycling Climbs at Waterstones