Sunday was the penultimate hill climb and race of 2014. Organised by Bristol South CC, it was a 2 mile hill climb up Burrington Combe.
Burrington Combe was one of the first open hill climbs I ever did – way back in 2004, I did a time of 7.12 in my first season – 2nd to Danny Axford; and perhaps was something that encouraged me to take hill climbs a bit more keenly.
Since 2004, I've been back several times, and always enjoy the climb. It's a pretty good view and nice part of the country. In recent years, there's been an explosion of interest, with the event attracting nearly a full field. Credit to Bristol South and the other local clubs for encouraging people to take part. The WTTA have put on a good season long hill climb competition, which seems to encourage more entries.
Burrington Combe HC course
Length 2.2 miles
Average gradient: 6%
Max gradient: 10%
Height Gain 183m
CR: T.Pettinger 6.51 (2011)
Women's CR: Anna Fischer did 9.04 in 2009
My Race
Yesterday, I took delivery of a new bike – a Trek Emonda on loan for the week. A big thanks to Beeline Bicycles for helping to get the bike and get it ready. When it came in the shop, it weighed 6.4kg. But, within 15 minutes, my hill climb weight weenies talent came to the fore and we had it down to 5.5kg, with perhaps a little more to come. It's sad to look at a bike and immediately work out how you can take 1kg off – but that's being a hill climber for you. (weight loss on hill climb bike)
It meant no riding with a power meter, but at this stage of the season, it's not so critical. I'll do a full review of the bike later, but it rides well, I haven't noticed a big different to my current Madone yet.
Burrington Combe
Another balmy October day meant warming up in 16 degrees plus, there was also quite a strong wind – which was the subject of a surprisingly large amount of conversation – all the riders seemed to struggle to work out where the wind was coming from. The forecast suggested crosswind. Some claimed a tailwind, others a headwind. It was just one of those days.
I was confident to ride without power meter. I've been doing this climb for several years without one. It's rather nice to ride on feel and not worry about numbers in a way. Anyway I got off to a steady start, but still caught up with my two minute men.
The Burrington Roar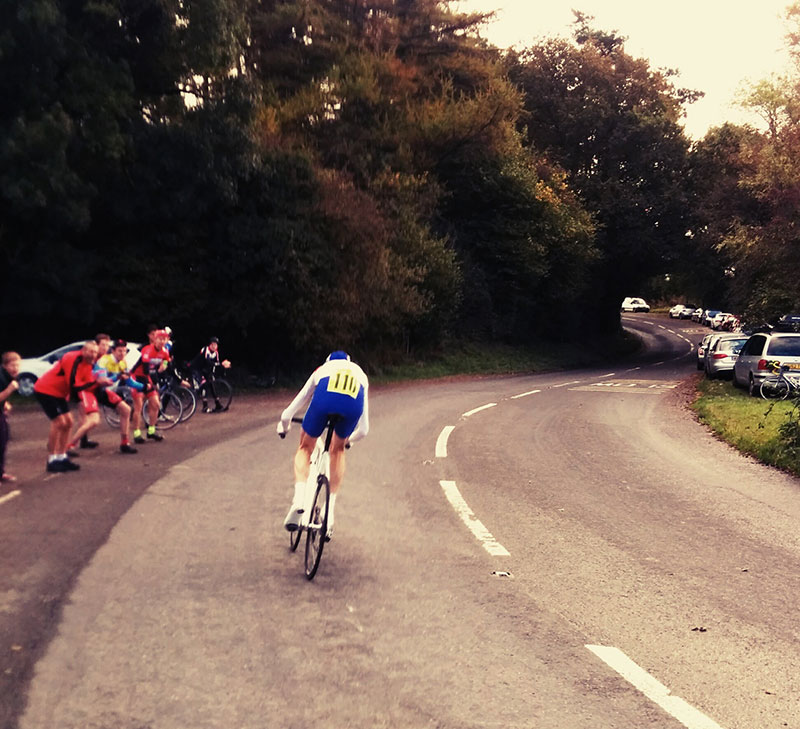 You don't expect a big crowd on a long 2 mile climb, but just over half way, you go past a car park and there were lots of spectators and riders giving a huge cheer to their fellow riders. It was a lot of noise, and much appreciated – it definitely helped add to the atmosphere. After this section, there is a sharper incline, where I struggled a little to keep it in the big ring. I lost my nice fluid rhythm, but I didn't want to go down into the inner ring. After the cattlegrid it is just a minute or so to the finish, so you can dig as deep as you can and hope you hold onto the finish. I caught my third minute man just before the finish, and stopped the clock in 6.57 – not a course record, but the 2nd fastest ride and nice to get under the 7 minute barrier.
Ben Davis (BH Solidor) took second, with Joe Norledge (Procycling Magazine) third. Julie Marazzi (Somer Valley CC) was the quickest woman up the climb.
Going back down the hill I continued to try and work out whether it was a fast day or not. I think the consensus was that it was a little helpful, but not a block tailwind.
I stopped in the Burrington Combe cafe and talked to quite a few of the locals. Some will be going up to Pea Royd Lane next week, others are wisely calling it the end to their season. A pretty good way to go out either way.
As well as the prizes for the Races, there were also awards for the WTTA hill climb series. I took a photo of Ben Davis getting an award from Glyndwr Griffiths
After the race, it was more gluttony for punishment, though the weather made it really quite appealing. I went back up Burrington and down Cheddar Gorge. I enjoyed putting the new bike through it's paces on the steeper 16% lower slopes of Cheddar Gorge – another great climb if you're down in this part of the world.
I toyed with doing more, but time was getting on so, went back to Oxford.
Big thanks to the mighty Bristol South CC and pj for photo.
There is a photo of a Jedi Master destroying the Burrington Combe hill climb here  from Michael Gallagher – it made me smile anyway.
Photos of Burrington Combe
Bristol South starting
Burrington Combe
Hairpin. 
The likely lads
Results 2014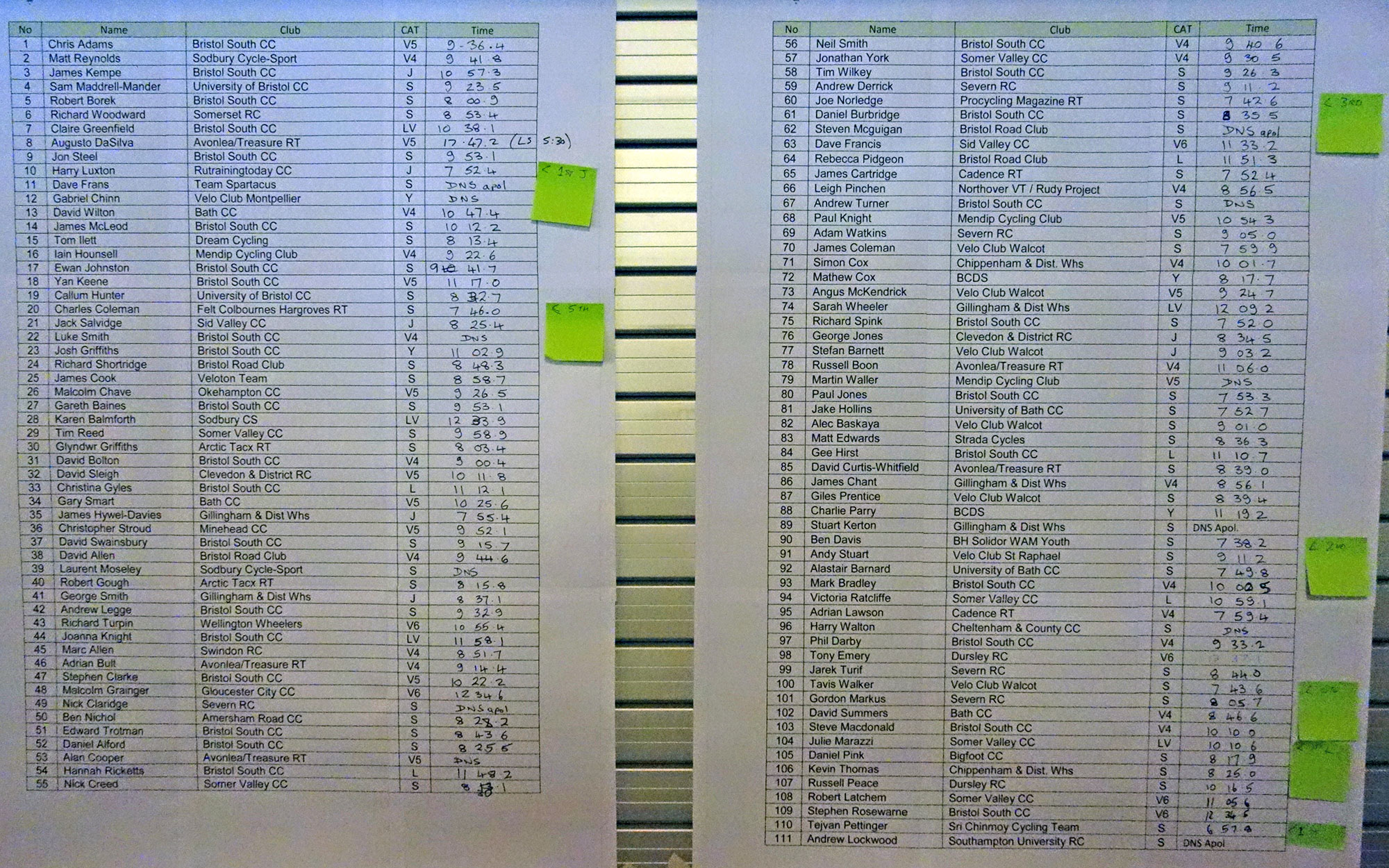 More photos from: at The Breakaway.cc
My previous results in Bristol South hill climb on Burrington Combe
2004 – 7.12 – 2nd/ 43 – winner D.Axford
2005 – 7.06 – 1st / 61  –
2008 – 7.21 – 1st / 50
2009 – 7.20 1st/ 55
2010 – 7.10 1st/51
2011 – 6.51 1st and CR
2014 – 6.57 1st
see also: Bristol South – results hill climb