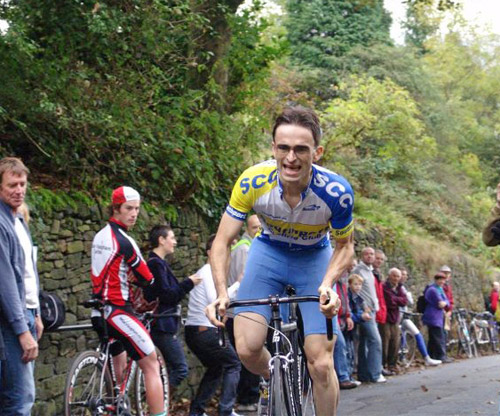 The Rake hill climb is a short and steep 'classic' British hill climb through the Lancashire town of Ramsbottom. It has featured in the Tour of Britain and has been the location for three national championships (1999, 2005, 2012) A wide variety of riders have attempted to ride the rake including Chris Boardman, Malcolm Elliott, Graeme Obree, Chris Newton and Michael Hutchinson.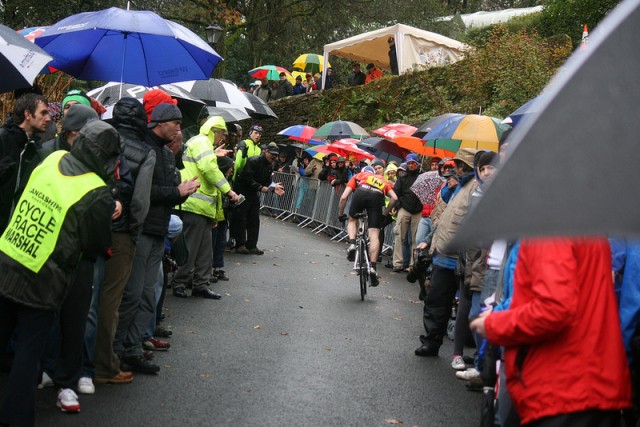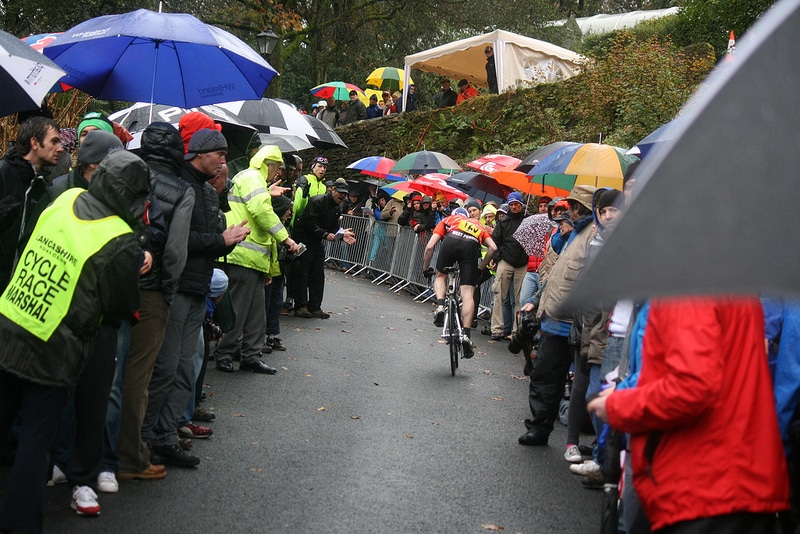 The hill climb course is only 875 meters long. But, though short, it makes up for it in steepness – reaching a maximum gradient of 22%. (1 in 4.8)
Length – 0.9 km
Average gradient: 12%
Max gradient: 23%
Height gain: 98 m
In 100 hills, the Rake is no. 72
I've ridden the Rake twice in two national championships – 2005 (11th) and 2012 (12th).
CTT Course Description:
START at lamp post No. 3 outside the public library in Carr Street, Ramsbottom. Proceed via Carr Street, Tanners Street, Rawson's Rake and The Rake to FINISH at the lamp post opposite Exeter Cottage, Chapel Lane, Holcombe Brook approximately 120 yards before the junction with Helmshore Road.
Length 875 metres (956 yards)
Height gain 98 metres (321 feet)
Average gradient 11%
Max gradient 22%
The climb begins with a gradient of around 10% for the first 300 metres, then there is a false flat for 100 metres until about half way where you turn right onto Rawsons rake and the climb starts to get really steep increasing to 20% with some sections around 22 – 23%. Right at the end there is a short 40 metres of almost flat. The road surface was not great. (though it has been resurfaced in 2012. Very smooth now).
Start of the Rake
History of Rake Hill Climb
It's said that back in 1929, Bury Cycling Club started a challenge to see who could ride the furthest up the rake without falling off! (link) As more managed to ride to the top, it became a test of who could climb the fastest. After the war, Peter Graham and Les Ingham would frequently train on the rake when preparing for their National hill climb championships (they won a total of 8 championships between them). In 1962, it became an open event.
In 1991, the event was run by Lancashire Road club receiving sponsorship from local businesses. It could make claim to be one of the 'world's richest races' With prizes of up t0 £1,000 for winning- not bad for two minutes work!
Course Record
1993 Jeff Wright holds the course record of 2.16.9. He rode a 42×19 with 180mm cranks. (Rake hill Climb)
Previous holders – Peter Graham 2 minutes 18 seconds 1962 (Peter is now organiser of Rake hill Climb for Lancashire RC)
Women's Course Record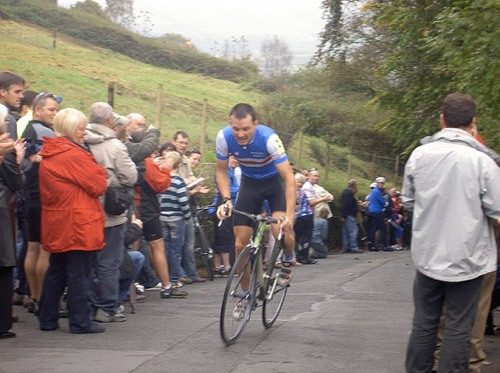 Riding the Rake 2005
I rode the Rake in the 2005 National Championship (my first national hill climb championship) on a stripped down road bike with gears. I finished 12th in a time of 2.39.1
On the lowers slopes I tried to pick up momentum and ride very fast. At the half way point, I got a time check from someone that I was 5 seconds in the lead. But, after this, the dynamics of the climb change, your momentum suddenly evaporates as you hit the section of 20-25%. With gears you can change down one or two. But, whatever bike you use it becomes a fight to keep the bike moving forward. After racing up the lower slopes, I was already in oxygen-debt so the steep section was really painful. On the steep section, the crowd became quite thick and there was plenty of encouragement. But, when you're digging so deep, you feel impervious to the surroundings around you. In 2005, the road was wet and on the steepest section, my back wheel skidded several times. It was an awful feeling. You're on the limit – it's hard enough fighting the gradient, and then to make things worse your momentum goes completely as you lose control of your back wheel; you have to pull on the bars and try to restart the forward movement. But, at this section of 20% sitting in the saddle is really not an option.
When you get to the Rawlinson Rake, it's actually hard to ride in a straight line. You find yourself veering over to the right hand side of the road. You will see many riders swerving all over the place.
When you're completely exhausted you come in sight of the finish line, the last 30-40 metres are actually quite flat, but it could just as well be 25% your so tired, it's a struggle to get over line. But, you can a tremendous feeling of achievement when you've finally got to the top of the rake. (good view down as well.)
I think I was quite pleased to finish 11th, it was very close. Ben Greenwood pipped Jim Henderson by 0.3 seconds.
Riding the Rake 2012
In 2012, I had a great year in winning about 11 out of 12 opens, but didn't do well on the Rake, finishing 12th.
Fixed vs Gears
Being so steep, weight saving is vital. For many years most people would generally ride on fixed. However, in recent years you will see more riders using gears. At the 2011 national hill climb championships, I asked Jim Henderson about this old debate – fixed v gears.(Jim won the 1999 national championship on the Rake (on fixed wheel) and has ridden the climb many times – he rode it 13 times before winning in 1999) However, Jim did say that road bikes are so light these days, that the advantage of fixed over gears is more diminished. Certainly having gears gives you greater flexibility and some advantage of greater efficiency for changing down as it gets steeper. Yet, although Jim said the difference is narrow, he still rides fixed. Chris Boardman said there was a big advantage to riding fixed in hill climbs, but that was quite a few years ago now.
Advantages of fixed
Fixed used to be lighter. (1 Kg, may save 2-4 seconds on the Rake.
No effort wasted changing gears.
Momentum effect of riding fixed, all power transferred into pedals.
 Disadvantages of Fixed
You might want that lower gear on the last 22% section
A change in wind or weather conditions can leave you with the wrong gear choice.
Geared bikes are much lighter these days. I'm aiming for a 5 KG geared road bike. A fixed wouldn't be much lighter.
National Hill Climb Championships on the Rake
2012 Jack Puller (Wheelbase) 2.21. 2nd Gunnar Gronlund (RST Trigon) 2.26. 3rd Matt Clinton 2.29
2005 – 1st Ben Greenwood 2.26.5 – 2nd Jim Henderson 2.26.8 – 3rd David Clarke 2.31. (example of small time differences that can determine winner.)
1999 – 1st Jim Henderson 2.26 – 2nd Jeff Wright – 2.27 – 3rd Richard Taylor – 2.33
Recent Open Event Winners
2015
Lee Baldwin – 2.26
Dan Evans – 2.27
Ben Davis – 2.28
Jim Henderson – 2.29
2014 Lee Baldwin (Champion System) 2.27
2013 James Gullen 2.36
2012 Jack Puller (Wheelbase) – Nat Champs – 2.21
2011 Jack Puller Vanilla Bikes – 2.30
2010 Matt Clinton – mikevaughan.co.uk – 2.29
2009 Matt Clinton – mikevaughan.co.uk – 2.26.9
2008 – event cancelled
2007 Jim Henderson – Southport CC – 2.29.5

2006 Bill Bell of Gemini BC – 2-24.6.

2005 – Nat HC. Ben Greenwood 2.26.5
2.26 – 2.30 seems to be a popular winning time.
Preventing Wheel Spin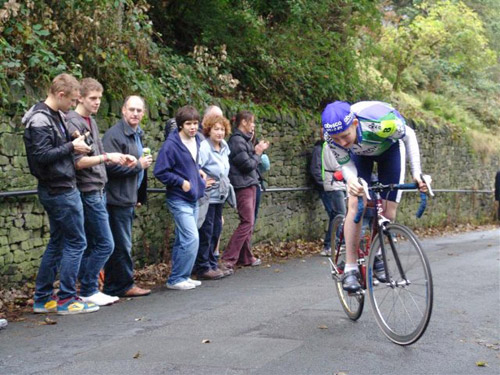 Saving 1kg on your bike may save 2 seconds on a climb which goes up 100 metres. But, if your back wheel skids on the surface you can lose 5-10 seconds.
On wet days, it may be hard to prevent some wheel spin, but it can be reduced by:
grippy tyres
lower tyre pressure in rear.
In 2011, Robert Gough was riding the Cat and Bec on a wet day. On the first climb, Catford CC, he reduced the tyre pressure in his rear wheel to, I think (60psi). He won in a time of 1.54. On the second climb, Bec CC he pumped his tyre back up to usual pressure, 100psi and suffered bad wheel spin finishing down on winner. Even Jim Henderson said he had wheel spin riding the rake in 2011 event after so many years of doing event.
Photos of Rake
photo Ja Brooks
photo Jon the Scone Fancy a challenge? try riding the rake on a tandem. I believe this is Julian and Nicholas Monk of the Rossendale Road Club who did the climb in 5 minutes and 21 seconds.
Video of Rake Hill Climb
Rake Links
National hill climb championships
Hill Climb Links