Sunday was the Lyme Racing Club hill climb up Mow Cop. Mow Cop makes a spectacular hill climb as there is a real sting in the tail with a 25% uphill finish. It makes it quite a challenging mental as well as physical test. After coming out of the lower section, you can see the hill looming up above. Deciding how much to leave for the final section is a difficult decision. I fancied going down a gear just before the start of the steep section, but like last year, I was already in the lowest gear. Probably just as well, as the only thing to do is grin and bear it and hope you keep the momentum up that 23% slope. In hill climbs it's always a difficult balancing act to get the right pacing, but Mow Cop presents a particular challenge.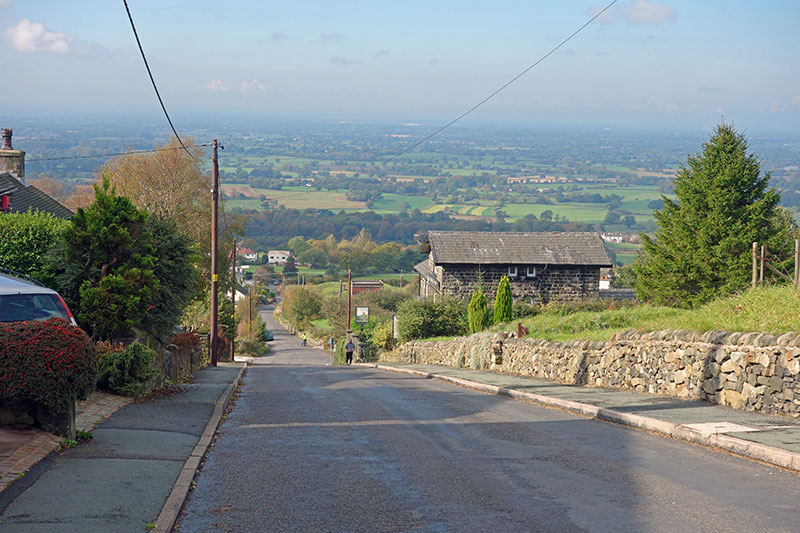 Mow Cop Hill climb stats J9/14

Distance 0.9 miles
Average Gradient: 11.7%
Maximum gradient: 23%
Elevation gain: 170 metres (560 feet)
Last year, there was a persistent drizzle. This year, the weather was much better, though the hill was still wet, providing some minor wheel slip on the steepest sections. On the hill, especially at the top, there were quite a few spectators cheering the riders on. It was good to have a crowd to cheer you on.
In the men, Joe Clarke   (Team Zenith www.buzzcycles.co.uk), who is having an excellent season, finished in 3rd with 4.28. Next came M.Clinton (MikeVaughan.co.uk) who shaved o.1 seconds off the old course record from 2013 with a 4.22. The course record lasted just one minute 58 seconds; I managed to squeeze in front  with a 4.20, to make another close finish. Like so often, another hill climb decided by a couple of seconds. In the ladies, Nicola Soden (GBcycles.co.uk) was first and Helen Eborall (Born to Bike – Bridgtown Cycles) second.
My race
My memories from last year are quite vague. It's interesting how you can quickly forget about what it was like to ride a hill climb. When you're racing, you're on the limit, but when you reflect afterwards you always think about how you could have gone faster. In particular I had the idea next time not to be intimidated by the steep section but go harder all the way into the last section. This is all wonderful in theory, a bit different in practise.
My principle memories from last year were the rain, the steepness and getting to the start line and being a little embarrassed at my grey fuzzy socks I was wearing (last pair in draw). This year I had matching racing socks, and felt quite the part. I always worry about forgetting things – so throw three of everything into the car and hope for the best. It means I have bags and bags of stuff and can struggle to find what I actually need. My car pre-race is best described as 'disorganised chaos' – Lots of single items, few matching pairs. Apart from warming up in odd leg-warmers (one black, one white) it was quite a calm and enjoyable warm up. I arrived in enough time to go and watch some of the early starters suffering up the hill. It's quite fun watching a hill climb, until you remember you have to do it yourself.

The race went fairly well. A bit of wheel slip on the first section, but nothing serious; then it was trying to keep it going and hope you have enough left in the tank to make a big effort up the hardest part of the course. Just as you've got over the 25%, there's 30-40 metres of 5%, but it feels like the hardest 5% you'll ever do. It was a relief to finish.
Will Corden and Lyme Racing put on another great event. A record turn out of 70+ riders. A nice innovation for the event was to see course records for women, veterans and juniors, a good idea for other events. Off the top of my head, I can't remember what they were. But, will post results later.
Someone took a good video of the last steep section at Flickr
Photos
Mow Cop Folly. At the top of the hill.
An early starter
Half way up.
Results
click to enlarge
PRIZE WINNERS
Fastest Overall
1st: Course Record – Tejvan Pettinger (Sri Chinmoy Cycling Team) 4:20.4
2nd:  Matt Clinton (Mike Vaughan Cycles) 4:22.8
3rd:  Joe Clark (Team Zenith – Buzz Cycles) 4:28.9
4th: Stu Marshall (Team Zenith – Buzz Cycles) 4:44.2
5th=:  Matt Cartlidge (Stone Wheelers) 4:49.5
5th = Chris Dyke (Manchester Wheelers) s.t.
Fastest Ladies:
1st:  Nicola Soden (gbcycles.co.uk) 6:02.7
2nd:  Helen Eborall (Born to Bike – Bridgtown Cycles) 6:10.4
3rd: Fiona Prew (Stone Wheelers) 6:45.1
Fastest Veterans:
1st:  Tony Cope (Leek CC) 5:22.1
2nd: Chris Wilcox (Lyme Racing Club) 5:43.1
3rd: Neil Skellern (Team Swift) 5:43.6
Fastest Junior
1st:  Daniel Minor (Lyme Racing Club) 5:00.1
2nd: Alex Copp (Lyme Racing Club) 5:13.8
3rd:  William Kershaw (Macclesfield Wheelers) 5:20.4
Fastest Juvenile
1st:  Joe Swinnerton (Lyme Racing Club) 5:31.7
2nd:  Caleb Hill (Lyme Racing Club 6:35.8
3rd:  Alex Coates (Lyme Racing Club) 6:42.0
Fastest Team of 3
Lyme Racing Club – Will Corden, Daniel Minor & Alex Copp
2014 Mow Cop Results
| | | | | |
| --- | --- | --- | --- | --- |
| Position | Rider | Club | Cat | Time |
| 1 | Tejvan Pettinger | Sri Chinmoy Cycling Team | M | 04:20.4 |
| 2 | Matt Clinton | Mike Vaughan Cycles | M | 04:22.8 |
| 3 | Joseph Clark | Team Zenith – Buzz Cycles | M | 04:28.9 |
| 4 | Stuart Marshall | Team Zenith – Buzz Cycles | M | 04:44.2 |
| 5= | Chris Dyke | Manchester Wheelers Club | M | 04:49.5 |
| 5= | Matthew Cartlidge | Stone Wheelers CC | M | 04:49.5 |
| 7 | Jack O'Neill | Mike Vaughan Cycles | M | 04:54.3 |
| 8 | Will Corden | Lyme Racing Club | M | 04:55.0 |
| 9 | Daniel Minor | Lyme Racing Club | Jun | 05:00.1 |
| 10 | Mark Tickle | Leigh Premier RC | M | 05:05.5 |
| 11 | Chris Baines | Buxton CC | M | 05:11.6 |
| 12 | Alex Copp | Lyme Racing Club | Jun | 05:13.8 |
| 13 | Ben Norbury | Congleton CC | M | 05:17.5 |
| 14 | William Kershaw | Macclesfield Wheelers | Jun | 05:20.4 |
| 15 | Tony Cope | Leek Cyclists Club | V | 05:22.1 |
| 16 | Mark Nulty | Manchester Wheelers Club | M | 05:23.8 |
| 17= | Thomas Hanlon | Harry Middleton Cycling Club | M | 05:29.0 |
| 17= | Wesley Inskip | Newcastle Racing Club 2001 | M | 05:29.0 |
| 19 | Joe Swinnerton | Lyme Racing Club | Juv | 05:31.7 |
| 20 | Chris Bailey | Swinnerton Cycles | M | 05:35.7 |
| 21 | Chris Wilcox | Lyme Racing Club | V | 05:43.1 |
| 22 | Neil Skellern | Team Swift | V | 05:43.6 |
| 23 | Joshua Wilkes | Lyme Racing Club | M | 05:45.0 |
| 24 | Keith Minor | Lyme Racing Club | V | 05:46.6 |
| 25 | Nick Decker | Congleton CC | M | 05:46.7 |
| 26 | Olda Novak | Uttoxeter CC | M | 05:46.9 |
| 27 | Bernard Swinnerton | Lyme Racing Club | V | 05:47.6 |
| 28 | Simon Hodgkinson | Goldtec | M | 05:48.2 |
| 29 | Rob Sutton | Liverpool Century RC | M | 05:50.4 |
| 30 | Oliver Atkin | Headquarters Club | M | 05:51.9 |
| 31 | Joseph Earley | Liverpool Century RC | M | 05:52.1 |
| 32 | Darren Perry | Lyme Racing Club | V | 05:54.1 |
| 33 | Shaun Brassington | Uttoxeter CC | M | 05:55.8 |
| 34 | Miss Nicola Soden | gbcycles.co.uk | L | 06:02.7 |
| 35 | Kris Bowditch | Lyme Racing Club | M | 06:04.8 |
| 36 | Dr. Helen Eborall | Born to Bike – Bridgtown Cycles | L | 06:10.4 |
| 37 | Phil Birch | Headquarters Club | V | 06:13.9 |
| 38 | Ben Joughin | Newcastle Racing Club 2001 | M | 06:15.3 |
| 39 | James Brayford | Lyme Racing Club | Jun | 06:17.3 |
| | | | | |
| --- | --- | --- | --- | --- |
| | | | | |
| 40 | Robert Rhodes | Newcastle Racing Club 2001 | M | 06:19.0 |
| 41 | Mark Allen | Congleton CC | Jun | 06:22.4 |
| 42 | John Hines | Lyme Racing Club | V | 06:23.9 |
| 43 | Matthew Oxby | Lyme Racing Club | M | 06:32.9 |
| 44 | Caleb Hill | Lyme Racing Club | Juv | 06:35.8 |
| 45 | Stephen Hall | Lyme Racing Club | V | 06:38.0 |
| 46 | Eliot Powell | Lyme Racing Club | M | 06:41.0 |
| 47 | Alex Coates | Lyme Racing Club | Juv | 06:42.0 |
| 48 | Miss Fiona Prew | Stone Wheelers CC | L | 06:45.1 |
| 49 | Miss Sandra Mackay | gbcycles.co.uk | L | 06:46.1 |
| 50 | Miss Iona Sewell | gbcycles.co.uk | L | 06:49.1 |
| 51 | Miss Claire Munton | Vegetarian C & AC | L | 06:50.0 |
| 52 | Mrs. Jayne Dickens | Stone Wheelers CC | L | 06:51.1 |
| 53 | Andrew Prince | Crewe Clarion Whs | V | 07:01.7 |
| 54 | David Prince | Crewe Clarion Whs | V | 07:15.9 |
| 55 | Aidan Morley | Lyme Racing Club | Juv | 07:23.0 |
| 56 | Richard Hunt | Lyme Racing Club | V | 07:31.9 |
| 57 | Farley Barber | Lyme Racing Club | Juv | 07:38.8 |
| 58 | Joseph Langford | Congleton CC | Jun | 07:41.1 |
| 59 | Alexander Powell | Lyme Racing Club | M | 08:00.2 |
| 60 | Ethan Dakin | Lyme Racing Club | Juv | 08:41.3 |
| 61 | Brian Powell | Lyme Racing Club | V | 09:44.3 |
|   | Richard Bowditch | Lyme Racing Club | V | DNF (Mech) |
|   | John Edmondson | Manchester Wheelers Club | M | DNS (Apol) |
|   | Will Pegg | Stone Wheelers CC | V | DNS (Apol) |
|   | Marc Heuston | Liverpool Century RC | M | DNS (Apol) |
|   | Oliver Radford | Lyme Racing Club | M | DNS (Apol) |
|   | Julian Wilkie | Cyclesport International | M | DNS (Apol) |
|   | Dave Starkey | Mammoth Lifestyle RT | M | DNS (Apol) |
|   | Max Spedding | PH-MAS – SCU | Jun | DNS (Apol) |
|   | Dave Griffiths | Paramount CRT | M | DNS (Apol) |
|   | Caspar Nelson | Cyclesport International | M | DNS |
|   | Elliot Dason-Barber | Oxonian CC | V | DNS |
|   | Simon Johnson | Chester RC | V | DNS |
|   | James Duncalf | Lyme Racing Club | Juv | DNS |
|   | Jonathan Baines | Buxton CC | M | DNS |
Related
Photos are available from Chris Lees, see www.chrisleesphotography.com
Also, flickr set: https://flic.kr/s/aHsk4Cbqn1