White Lane is a short 700 yards climb. Mostly 1 in 6, it has an average gradient of 13%.
At the start it isn't so steep, but gets steeper the further up the climb you go. Perhaps just over 20% at it's steepest before a slight decrease in gradient before the top.
It is in 100 climbs #16. The climb is situated just to the north of the southern section of the M25 by the village of Titsey.
White Lane has a height gain of just over 79 metres in 0.4 miles.
Perhaps not the most remarkable climb in the country, but it has become well known due to featuring in the annual Bec CC hill Climb. 2014 will be the 59th annual running of the event, which started in 1955. It is usually run on the same day as the Catford CC hill climb – The Catford CC can make a claim to be the oldest race in the world. The Catford CC event first started on Westerham Hill on August 20th 1887. It now takes place on York Lane. If makes a good double hill climb header. Though some of the top riders decide to ride one or the other.
Bec CC Hill Climb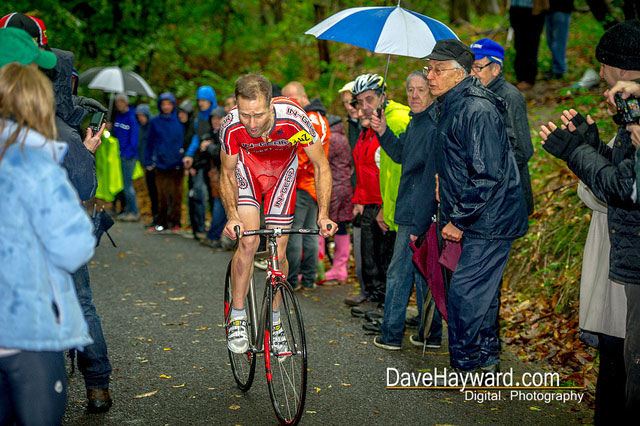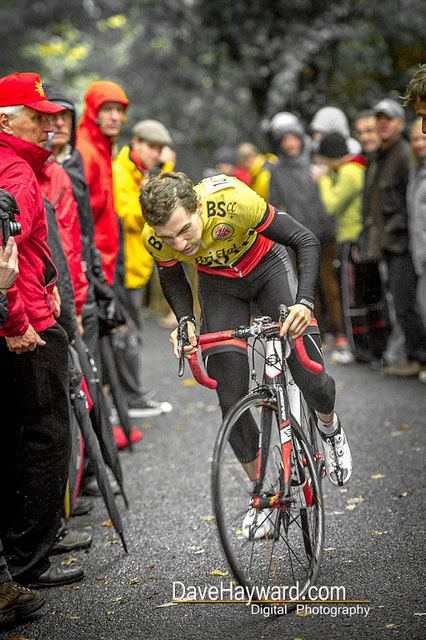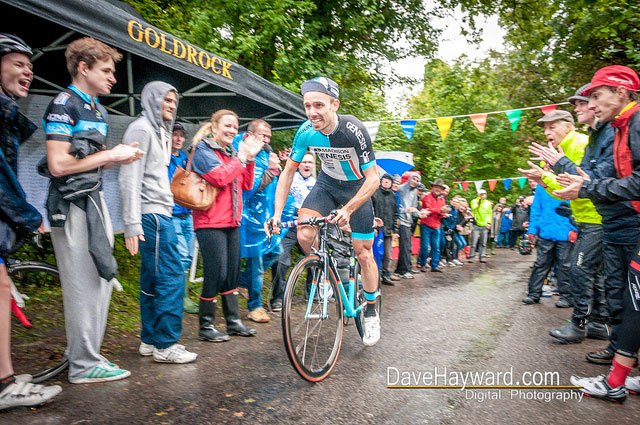 David Millar to ride Bec CC hill climb in 2014
After 18 years as a professional cyclist, David Millar will be riding his last event in the Bec CC hill climb. Millar has chosen a domestic hill climb as a way to mark the end of a long professional career – a career which has seen both highs and lows, has included four individual stages of the Tour de France and five stages in the Vuelta a Espagne.
David Millar explains his choice of his final race.
"I'm not just going to ride uphill & wave goodbye. I'm going to have a crack at setting a new 'White Lane' record in what will be my first ever Hill Climb TT, as well as my last race.. "It'll be like going full circle on my cycling career".

Most Brits start in a Cycling Club as I did, so its fitting to end my career at a British Clubs event. I'm really looking forward to it, although 'Gazza' my friend, Soigneur & organiser of the event, tells me Hill Climbs are not always that easy & it takes a certain knack to hit the Hill just right! He also tells me they bloody hurt, even though its only a sub 2 minute ride.. Maybe I'll enjoy it & not retire after all & just ride Hill Climbs!" (Velo UK)
Should be a great event!
Riding in 2007
I rode the Catford and Bec CC hill climbs in 2007. My time up Bec CC, White lane was 1.59.59. It was a great experience and a world of short intense pain – so great I've never been back. You get a good crowd along the short narrow road, and there is a good atmosphere. The road gets closed for the event.
I think in 2007, I finished just outside the top 10. Unfortunately, short sprints are not quite my forte. That year, Bradley Wiggins was riding, though he only seemed to ride up tempo, finishing in about 2.30 something. Still the event has attracted many of the big names in cycling. I would love to go back, but that weekend I will be up north riding in climbs more suited to me.
How to ride it
Go really hard from the start and hang on!
Course records
Jack Pullar set a time of 1.42.9 in 2012 to set a new record
Women's CR

2012 – Lydia Boylan W Look Mum No Hands! 2.33.3
2013
1st overall. Jack Pullar – 1.46.1
1st lady – Maryka Sennema, Kingston Wheelers C.C. – 2.37.2
Results 2013 at Bec CC
Strava Segments white lane
Past winners
There has been some notable winners of the Bec CC hill climb, including National Champion Dan Fleeman,  In 2011, the 16 year old Germain Burton won in a time of   1.45.1. – A young rider now riding for the GB under 23.
Video of Bec CC Hill Climb 2012
Promo video of 2013
2015 Results of Bec CC hill climb
1
James Lowden
Neon Velo
01:51.5
2
Richard Bussell
RSTSport/Aero Coach
01:52.1
3
Edmund Bradbury
NFTO
01:52.9
4
Michael Smith
Team Corley-Alpha RC
01:53.9
5
Germaine Burton
100%ME
01:54.9
6
Joe Norledge
Pro Cycling Magazine RT
01:56.5
7
Ethan Hayter
Velo Club Londres
01:56.9
8
Peter Cocker
Pedal Pushers
01:57.1
9
Matthew Burton
Velo Club Rutland
01:57.5
10
Bill Bell
Bigfoot CC
01:57.8
full results at CTT
2014 Results of Bec CC hill climb
| | | | |
| --- | --- | --- | --- |
| RANK | RIDER | CLUB | TIME |
| 1 | Jack Pullar | Starley Primal Pro Cycling | 01:49:300 |
| 2 | Daniel Sullivan | Norwood Paragon CC | 01:53:800 |
| 2 | Glyndwr Griffiths | Arctic Tacx RT | 01:53:800 |
| 4 | Bill Bell | Bigfoot CC | 01:56:500 |
| 5 | William Adams | Velosport RT | 01:56:600 |
| 6 | Joe Norledge | Procycling Magazine RT | 01:57:900 |
| 7 | Liam O'Toole | Sheffrec CC | 01:58:100 |
| 8 | James lowden | lewes wanderers | 01:58:700 |
| 9 | Issac Pucci | Pure Motion Cycles/Gatorade | 01:59:600 |
| 10 | Matthew Burton | Velo Club Rutland | 02:00:500 |
| 11 | Richard Bussell | Beacon Roads CC | 02:00:600 |
| 12 | Richard Cartland | South Downs Bikes | 02:00:700 |
| 13 | James Local | London Dynamo | 02:01:300 |
| 14 | Ashley Dennis | Banks/Catford CC Equipe | 02:01:400 |
| 14 | Ben Nichol | Amersham Road Cycling Club | 02:01:400 |
| 16 | Jacob Nicholson | Medway Velo Club | 02:02:600 |
| 17 | Tony Kiss | Performance Cycles CC | 02:02:800 |
| 18 | Joe Peake | CC London | 02:03:100 |
| 19 | Conall yates | In-Gear Quickvit Trainsharp RT | 02:03:300 |
| 20 | Charles Coleman | Felt Colbournes Hargroves RT | 02:03:700 |
| 21 | David Millar | Garmin – Sharp Pro Team | 02:03:800 |
| 22 | John Cockrill | Abellio – SFA Racing Team | 02:04:400 |
| 22 | Peter Tadros | In-Gear Quickvit Trainsharp RT | 02:04:400 |
| 24 | Daniel Pink | Bigfoot CC | 02:05:200 |
| 25 | Thomas Mead-Herbert | Watford Velo Sport | 02:05:300 |
| 26 | Robert Gough | Arctic Tacx RT | 02:06:000 |
Related
Purchase 100 Climbs
100 Greatest Cycling Climbs at Amazon.co.uk
100 Greatest Cycling Climbs at Waterstones