After the persistent drizzle of Saturday around Holmfirth, the rain hardened to be a bit heavier for Sunday's Lyme Racing Mow Cop hill climb. I was still trying to dry off clothes from the day before. I had to dig deep into my old sock draw at my parents house. I only found a very unsuitable long fuzzy pair which looks like they were a novelty Christmas item from many years ago.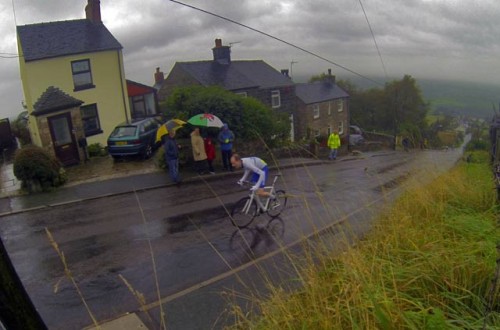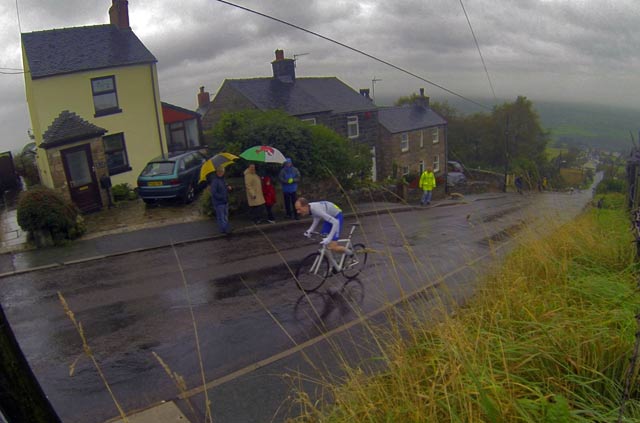 It's amazing how wet everything gets after a few short races. It's hard work racing in the rain. Back in September the British road team got roundly criticised for not finishing the World Championships because it was 'a bit wet and hard'. For the armchair critic the British team seemed like sitting ducks for strong criticism. Though my thoughts were muted by the fact I'm sure I would have climbed off  pretty early too. But, I suppose it's good to have a few races in the rain. It's good preparation should the nationals be greeted by a downpour. (which is quite possible on the North Yorkshire moors)

Mow Cop is an intriguing climb. It's one of the most visually spectacular hill climbs because after the first half, if you look up you see the finish 25% segment looming straight ahead of you. It's looks as intimidating as it is.
After a sorts, I warmed up on the rollers. The rain was fairly light at that point, but as I made my way down to the start line it became heavier. By the level crossing (where the start is), I stripped off several layers of clothes, and left them with the start time keeper. I got off to a good start. After about 7 years of doing hill climbs, I think I've finally worked out a good way of starting off. I learnt how to start by watching the track racing at the 2012 Olympics. Basically stand up and put your weight behind saddle. When you here 'go' you can push forward and get a bit of momentum. I used to just sit on the saddle. Chris Boardman said a good start can be worth half a second. Us hill climbers always like half a second – especially if it doesn't cost £500 for a 100 gram weight saving.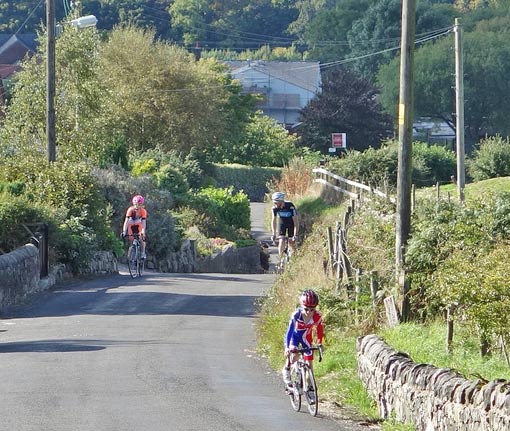 The bottom half of the climb soon becomes quite steep. The first ramp gets up to 20% and it makes you work very hard early on. From then on the gradient eases off a little, but it's still a hard climb because you already went hard at the bottom. I got in to a good rhythm for the first half – in and out of the saddle but pedalling a decent cadence. After about half way, I made a small mistake of looking up at the finish, which loomed on the horizon. I also made the mistake of looking down at which gear I was in – I was already  in the bottom sprocket (39*23) and the steep bit was still to come. It was a bit of lost concentration, but I soon forgot about it and went back to getting up the final really steep part. At one point, I experienced a bit of wheel slip (I had reduced tyre pressure to 90PS) but maybe that was still too high). On the steep bit, there was a quite a crowd cheering you on. There was even a runner, running alongside for a while. Although, it was all a bit of blur at this point, I'm pretty sure he wasn't dressed up as a tomato or wearing a mankini like you might see in some of the Grand Tours.
The last 25% section probably makes you go even harder than you would in a standard climb. There's nothing to do, but put everything into it and pull as hard as you can. Whoever designed the hill climb course, was probably having a laugh when he decided to put the finish line 50 metres after the peak of the steep bit. Psychologically, you think you've made it to the top, but there's still a few more painful pedal strokes to make. I sprinted after a fashion, but it was still in the 23 sprocket, so not exactly Mark Cavendish in the big ring. By the time I'd finished it was all a bit of a blur, but I didn't hang around too long, the rain was quite heavy. I went to get changed asap.
Back in the HQ, I found I'd set a new course record of 4.22.p – knocking a couple of seconds off Matt Clinton's mark from 2012. Although conditions were wet, it seemed to be relatively fast, I didn't notice any wind. 2nd was Matt Clinton (Mikevaughan.co.uk) 4.30. 3rd was Lee Baldwin (Buxton CC) 4.35 4th Chris Baines (4.54.4) (Buxton CC) 5th place was Nick Decker (Congleton CC) 4:54.5. – Nick requested an early start so he could also go and ride the Rake hill climb on the same morning! that's hill climb devotion.
1st lady was Helen Eborall (Born to Bike – Bridgtown Cycles)  who finished in a time of 06:11.4. 1st Junior was Jack O'Neill – Mike Vaughan Cycles in 05:02 – 6th place overall.
Bhima Bowden was 8th to set up Buxton CC for the team prize.
Full Results
1 Tejvan Pettinger Sri Chinmoy Cycling Team M 04:22.9
2 Matt Clinton Mike Vaughan Cycles M 04:30.6
3 Lee Baldwin Buxton CC M 04:35.9
4 Chris Baines Buxton CC M 04:54.4
5 Nick Decker Congleton CC M 04:54.5
6 Jack O'Neill Mike Vaughan Cycles Jun 05:02.6
7 Martin Ford Herbalife-Leisure Lakes Bikes M 05:05.9
8 Bhima Bowden Buxton CC M 05:13.7
9 Chris Dyke Manchester Wheelers Club M 05:16.9
10 Tony Cope Leek Cyclists Club V 05:25.9
11 Paul Robinson Lyme Racing Club V 05:27.3
12 Joe Swinnerton Lyme Racing Club Juv 05:31.3
13 Ben Norbury Congleton CC M 05:39.4
14 Bernard Swinnerton Lyme Racing Club V 05:42.0
15 Giles Bett Dave Hinde RT M 05:43.2
16 Chris Wilcox Lyme Racing Club V 05:44.0
17 Daniel Minor Lyme Racing Club Juv 05:44.4
18 Alex Copp Lyme Racing Club Jun 05:47.3
19 Keith Minor Lyme Racing Club V 05:54.8
20 Matthew Cartlidge Stone Wheelers CC M 05:55.0
21 Joseph Corden Stone Wheelers CC M 06:00.2
22 Jim Stringer Crewe Clarion Whs V 06:03.3
23 Eliot Powell Lyme Racing Club M 06:06.7
24 Robert Rhodes Newcastle RC 2001 M 06:08.2
25 Pete Tatton Congleton CC M 06:09.9
26 Will Pegg Stone Wheelers CC M 06:10.4
27 Helen Eborall Born to Bike – Bridgtown Cycles L 06:11.4
28 Joe Pattinson Lyme Racing Club Jun 06:11.9
29 Mike Jones Congleton CC V 06:12.4
30 Karl Southern Chester RC M 06:22.4
31 George Edwards Lyme Racing Club Jun 06:28.1
32 James Brayford Lyme Racing Club Juv 06:31.0
33 Joseph Earley Liverpool Century RC M 06:45.4
34 Barrie Whittaker Lyme Racing Club V 06:49.9
35 James Duncalf Lyme Racing Club Juv 06:51.3
36 Michael Baskerville Lyme Racing Club M 06:56.0
37 Jayne Dickens Stone Wheelers CC L 06:56.9
38 Matthew Oxby Lyme Racing Club M 06:58.2
39 Philip Hutson Lyme Racing Club V 07:05.2
40 Stephen Hall Lyme Racing Club V 07:15.8
41 George Hancock Lyme Racing Club Juv 07:16.6
42 Richard Hunt Lyme Racing Club V 07:23.6
43 David Prince Crewe Clarion Whs V 07:34.4
44 David Williams Newcastle RC 2001 V 07:34.4
45 Neil O'Brien In-Gear Quickvit RT M 07:44.1
46 Andrew Conroy Kidsgrove Wheelers M 07:47.6
47 Liam Zwetschnikow Lyme Racing Club Juv 07:50.0
48 David Elborn Kidsgrove Wheelers V 08:05.1
49 Glyn Edwards Lyme Racing Club V 08:16.3
50 Alex Powell Lyme Racing Club M 08:17.2
51 Simon Beardmore Lyme Racing Club M 08:28.1
52 Claire Green Lyme Racing Club L, V 08:36.4
53 Brian Powell Lyme Racing Club V 09:41.2
54 Ethan Dakin Lyme Racing Club Juv 11:19.5
Will Corden and the Lyme Racing club did a great job with the event. They had put a bit of work into promoting it, and were rewarded with a good turnout.  They had one of the record quick prize ceremonies. Sometimes, it takes a long time to collate results and work out the correct envelopes. But, I was receiving a good pay cheque for breaking the course record before I had time to dry my hair (not that there's much to dry these days). I also received a photo courtesy Chris Lee Photography (2013 gallery) who were at the event. Unfortunately, it means my fuzzy socks have been immortalised in print. I'll have to make sure for the National all my socks aren't in the laundry.
I like Mow Cop hill climb. It's a challenging hill – a good test of gravity defying power and how to pace the varying gradients.
Related