2013 race report –
Saturday was another two hill climbs promoted by Holme Valley Wheelers (Holme Moss) and Huddersfield Star Wheelers (Jackson Bridge). It was deep in the heartland of Yorkshire hill climb country. As Simon Warren once said in his hill climb book, throw an arrow at a map around this neck of the woods, and you'll probably land on a decent hill climb. They don't really do flat roads her, but they do have plenty of 20% gradients.
I'd never ridden either climb before, but was lured up north by the prospect of Holme Moss and the chance to compete in the Granville Sydney Memorial hill climb.
Holme Moss Clouded out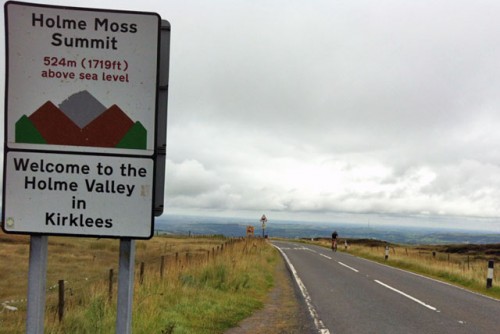 Next year the Tour de France will be flying up Holme Moss, watched by a global TV audience of millions and 100,000s of spectators by the road side. It was a slightly different set up this weekend, but fundamentally both events do involve cycling up a hill until it hurts really quite a lot.
The Indian summer has well and truly finished. We are now being treated to a very English autumn. It was one of those days where there was a perpetual drizzle. Not ideal conditions for a double hill climb; I came back with a car full of wet stuff. But, they are made of stern stuff up this part of the world. I didn't see many dns. I guess, if you're going to do a hill climb, a light drizzle is the least of your concerns.
Unfortunately, Holme Moss is so high up (524m) that the clouds had descended and the thick fog made it unsafe to race. This meant switching to another hill climb course, which was steep and high up, but not sufficiently misty to get lost in the clouds. Fortunately, the reserve hill climb course was just 0.5 miles away (proving the old – throw an arrow at a map and find a hill climb course – theory to be working pretty well)
The drawback of the alternative hill climb course was that it was significantly shorter than Holme Moss. This year I've studiously avoided entering any hill climb where the course record is less than 3.30. But, fate wasn't going to allow me to get away with it. This was, to all intents and purposes a 2 minute hill climb – shorter even than the rake.
2 minute hill climbs just mean you can hurt yourself even more than a long climb, the only saving grace being that it's over quicker. I didn't hold back and gave it everything from the start. It was good enough for 2nd place in a time of 2.12. Richard Handley (Rapha CC) showing that chasing Nairo Quintana and Dan Martin up Caerphilly Mountain does wonders for your hill climbing form. He won in a time of 2.06 – not bad for a wiry thin chap like me. Photos at: flamming photography
After a wet and soggy marmite sandwich it was back to the Fleece for a cup of tea, before heading off to the Old Red Lion in Jackson Bridge for part two.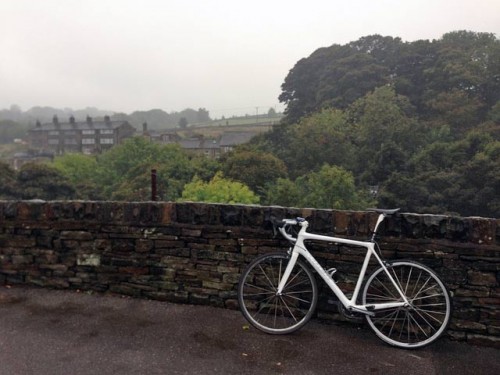 Jackson Bridge was misty at the top, but it was OK to race. This is a real brute of a climb – a real hill climb classic. You start off with a wonderful 20% hairpin to throw you into the red, but they you still have nearly another mile to go to the finish. In true Yorkshire fashion there's no steady gradient, just plenty of ramps and tight corners. It require a bit of pacing and measured effort, before the final stretch to the line.
Jeff Wright holds the course record with a slightly crazy 3.49. He set that record to win his only national hill climb championship in 1994. Jeff Wright was a super fast hill climber (who came 2nd – six times), he only had the misfortune to come up against even crazier fast hill climbers like Stuart Dangerfield, Jim Henderson and Chris Boardman. But, if anyone does 3.49 up Jackson Bridge they have really earnt a national hill climb championship and more.
I managed a 4.18. – One of the quickest for a few years, on a day that was less than ideal. Off the top of my head, Matt Clinton was second, and Josh Teasdale was 3rd.
It was also good to see 10 schoolchildren racing in the Bradford Schools Association event. They seemed to have tremendous enthusiasm – despite the rain and a difficult climb. It was good to see, I even saw someone from my  old school Bradford Grammar School (I wish I could have done hill climbs, much more fun than cross country)
In the pool room of the Old Red Lion, I had a look at the great Granville Sydney Memorial Trophy. It was too valuable to sling in the back of the car and dump on an Oxford mantelpiece, but I took a photo of the previous winners and received a replica trophy.
Much thanks to organisers and marshals from both Huddersfield Star Wheelers and Holme Valley Wheelers. It wasn't an ideal day for standing on the road in a persistent drizzle (that soaks you through).
2014
| | | | | | | | |
| --- | --- | --- | --- | --- | --- | --- | --- |
| 1 | Dan Evans | Team Elite/Paul Bethall Electrical | | 04:06.6 | 33 | Senior | |
| 2 | Tejvan Pettinger | Sri Chinmoy Cycling Team | | 04:08.4 | 37 | Senior | |
| 3 | Matt Clinton | Mike Vaughan Cycles | | 04:17.6 | 29 | Senior | |
| 4 | Josh Teasdale | In-Gear Quickvit Trainsharp RT | | 04:24.0 | 20 | Senior | |
| 5 | Ashley Proctor | Bike Box Allan / Whiston Velo | | 04:38.0 | 20 | Senior | |
| 6 | Ben Jacobs | Albarosa CC | | 04:42.6 | 36 | Senior | |
| 7 | Sam Ward | PH-MAS Cycling | | 04:43.4 | 35 | Senior | |
| 8 | Jack O'Neill | Mike Vaughan Cycles | | 04:48.2 | 19 | Senior | |
| 9 | Kieran Savage | Jackpot Racing | | 04:52.3 | 17 | Junior | |
| 10 | Jody Paxman | Huddersfield Star Whs | | 04:52.9 | 33 | Senior | |
1st lady
| | | | |
| --- | --- | --- | --- |
| Helen Roby | Huddersfield Star Whs | | 06:07.2 |
CTT results
2015 National Hill climb championship on Jackson Bridge
The 2015 national hill climb championship will be held on Jackson Bridge and organised by the Yorkshire Cycling Federation.