This weekend is 3 new hill climbs. Holme Moss (Holme Valley Wheelers), Jackson Bridge (Granville Sydney Memorial event, Huddersfield Star Wheelers) and Mow Cop (Lyme Racing CC) on Sunday. They all look interesting climbs. I'm hoping the gales in the north are blowing the right way up the hills. The hills may either be slow or very slow depending on the direction of the wind. Holme Moss is one of the highest hill climbs in England at 524m. Next year the Tour de France will pass over Holme Moss, probably with greater fan fare than tomorrow morning. But, it's all happening up in Yorkshire.
The start sheet for the National Hill climb was published yesterday. I'm off number 174, (14.54) There are a lot of familiar names around. My minute man is ironically Sam Ward who inspired me to do my first hill climb over 20 years ago… 180 riders in total. Roads will be closed. More on Nat Hill climb
With the national championships two weeks away, it's time to start making the last preparations to bike. (rule no.1 is never leave it to the night before) Last year I spent nearly £1,000 on trying to make the bike lighter. This year I spent nothing and sold the lightweight stem and handlebars, preferring to have some extra money than some 100 grams saving. The only thing I bought this year was the Quark power meter, which broke after four weeks. (Keep your money in your pocket is always a good Yorkshire man's motto)
However, since I've had a relatively frugal year of bike components, I did treat myself to a new chain. There are some things which you shouldn't skimp on a cyclist. Firstly is tyres. Secondly is changing your chain regularly. On my racing bike, I change every 1,000 miles, and always before a big event. You don't want to lose any power to a worn chain. I don't usually spend £50 on a chain. But, if there's ever a time to justify spending £50 on a lightweight chain, this would be it. I bought SRAM because I have snapped a Dura Ace chain doing hill intervals. In other circumstances it may sound cool to say you put down so much power you broke a Dura Ace chain, but if there was ever a time you didn't want to snap your chain, this would be it.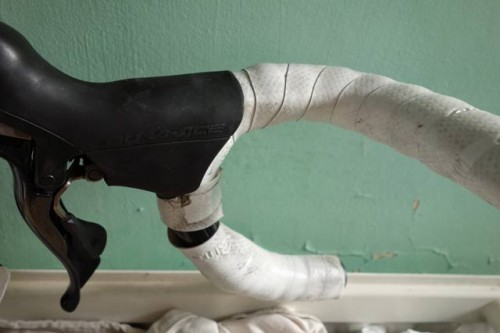 I also treated myself to a new handlebar tape. I was sold on the packaging which said 'thin tape with almost zero added weight' – Those are words that instantly  appeal to any hill climber. 'Almost zero added weight' and I've bought before you can say 'how much does it weigh?'
Sometimes at national champs, you see bikes without any handlebar tape at all. Every gram stripped from the bike. There is a certain Zen appeal to a bare, stripped down bike. But, for the Stang, you may be on different parts of the handlebars including the drops. If it only weighs a couple of grams there is greater benefit from having a better grip. It could be cold and wet up in North Yorkshire. There are more important factors than even a few grams of extra weight.
How to change bar tape