I've been looking back through my cycling logs to have a look at previous seasons. I must admit I did think quite a bit about what happened in previous national championships and why I was just outside the podium on several occasions. This is a potted history of the past 9 national championships.
1993 – My 1st hill climb at Otley CC (placing unknown, close to last)
2004 – My 1st season racing. My first open was a Cardiff Byways triple hill climb. (3 hill climbs in one day. I finished 2nd out of 11 – a good experience, though I've never been back!). I also came second in Burrington Combe (Bristol South CC), with a time of 7.10. I haven't often beaten that initial time. In retrospect it's a shame I didn't go up to  north east for National champs it was won by Jonathan Dayus  just ahead of James Dobbin on Winter's Gibbet a fairly long climb.
2005 12th (2.39.1) – Rake  – 8 seconds behind 3rd, 12 secs behind 1st. My first national championship was at the Rake. A great experience, I finished 12th. I didn't quite know what to expect. But, it was great crowd and atmosphere. I rode it pretty well, though I had very bad wheel slip at the steepest climb. (I was still Richard Pettinger in those days. Report at Tejvan.co.uk) | 2005
2006 – 7th (5.18) Peak Hill – 11 seconds behind 3rd, 36 secs behind 1st – Devon. I did little racing in 2006. I few slow 10 mile TTs.  so I was pleased to finish 7th, only a few seconds off the podium. I thought if I can keep improving at this rate, I could get on the podium quite soon. James Dobbin was a standout winner from David Clarke. Peak hill was a great hill, flat at the bottom getting steeper and steeper. I remember it was a beautiful warm sunny day. Blog on 2006 national hill climb.
2007 – 7th (7.14) Cheddar Gorge –  6 seconds behind 3rd, 23 secs behind 1st.  Another season of little racing. I only did 2 hill climbs in the lead up to the national championship. My Guru, Sri Chinmoy passed away October 11th and I went to New  York for a week. Hill climbing took a back seat that season. Despite racing only once, I turned up to national championship and finished 7th, just a few seconds behind 3rd place. I was pleased. If I'd had more racing, I could easily have got a few more seconds. But, it didn't feel important in 2007. It's a great climb Cheddar Gorge. Steep at the bottom then a long drag to the top. James Dobbin retained his title from David Clarke. A young Alex Dowsett finished 18th.  Results at CTT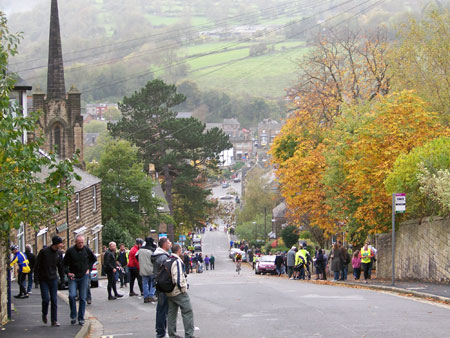 2008. 14th (2:42) Bank Road, Matlock, Derbyshire. 16 seconds behind 3rd, 18 secs behind 1st – A short and spectacular hill climb through the town of Matlock. Again a light season of racing, and a climb that didn't really suit me. I remember setting off really fast and being light-headed by half way up. I slowed down utterly exhausted. At least I'd given it everything. I remember being quite taken by experience.  The winner was Matt Clinton ahead of Bill Bell and Jim Henderson. (blog of 2008) | Bank Road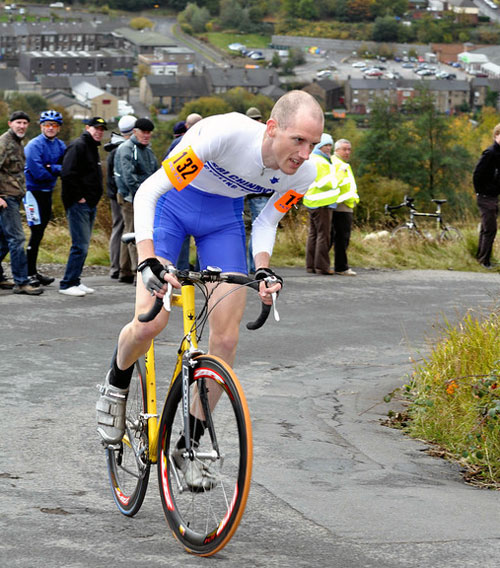 2009 – 12th (3.49) – Pea Royd Lane, Stocksbridge. 10 secs behind 3rd, 32 secs behind 1st. A steep classic hill climb in the environs of Stocksbridge. I had a reasonable race and almost collapsed at the finish. I was able to see the winner – Dan Fleeman grovel his way to the finish after completely smashing it on the lower slopes. He did 3.19 over 10 seconds ahead of 2nd place Matt Clinton. It was a real class ride by Fleeman –  a week after finishing in the top 20 at the Tour of Lombardy. Blog of 2009.
2010 – 4th  (3.56) – Dovers Hill,  1 sec behind 3rd. 15 sec behind 1st. Gloucestershire. 2010 was a breakthrough year. I was training more and importantly able to go through season relatively injury free. My time trial times were dropping quite rapidly. When the hill climb season came, I started winning quite a lot, especially on anything long. In 2010, I won. 7/10 open hills making me one of the favourites. Though significantly, I'd finished 3rd in an open even on Dovers Hill a few weeks earlier. By contrast I'd won against the same field on the slightly longer Saintbury hill. An early realisation that even 200 yards difference in length can have big outcome on the result. I did a good race, riding on the limit. I just missed out on the podium by 1 second. The finish was a little hairy. I had to undertake my minute man who was in the middle of the road, and despite having done an open wasn't sure where the finish flag was. I told myself it didn't make any difference, but preparation could have been more exact. The winner was again Dan Fleeman ahead of Matt Clinton. Blog of 2010 | Results at CTT
2011 – 5th (13.02) – Long Hill. 5 secs behind 3rd, 13 sec behind 1st.  If 2010 was a good year, 2011 was even better. I rolled up to the nationals after winning all 11 open hill climbs in the season – including a win on Long Hill in an earlier September open event. In 2010, I was an outsider, but in 2011 a strong favourite. At 4.4 miles, it was definitely long enough to squeeze out the fast twitch specialists. I rode a fairly good race. I was reasonably happy with race and went considerable faster than the open event. But, it wasn't quite  enough – 5th place, again just 3 seconds off a podium place and only 15 seconds behind the winner Gunnar Gronlund. Before the race, I'd decided to use road bikes with tribars, it had done the business in the open. But, nearly all the top 10 were on time trial bikes, which was probably best choice given the headwind. In 2012, I did quite a few hill climbs on TT bike and felt it was quicker. Choosing the right bike and equipment is all part of the sport; it is another factor that makes the hill climb champs interesting.  But, it did leave a lasting regret. Especially when in 2012 I beat G.Gronlund by over a minute on the Cat & Fiddle (I was on TT bike, he was on road bike for same kind of hill and headwind)  But, you have to make right choices and take your chance! It wasn't a complete disaster I was still 5th and just a small margin behind winner, but it was frustrating to dominate the hill climb season and then fall down on the big occasion. It was doubly disappointing because I knew 2012 would be no chance on the Rake. I had only 2013 to look forward to on the Stang. Blog of 2011 | Results at CTT 
2012 – 12th (2.41) – Rake  –  12 seconds behind 3rd, 20 seconds behind 1st. This was the first time I'd been dissappointed with my ride in a national. Despite knowing the Rake wouldn't suit me, I really went all out for preparation. I rode the hill twice in training, and did a reasonably good time of 2.35 (tailwind assisted) I'd also spent a lot of money on lightweight equipment hoping this would make the difference. On the day, I wanted to do something to go quicker than my times in training. I hoped that the crowd and national atmosphere would give that extra lift to raise my performance and slip under 2.30. I reckoned a sub 2.30 time would have a good chance of a medal, so all I needed was an extra 5 seconds compared to the practise run.
The previous year, I'd had a chat with a former good rider about riding the Rake, he said that if you ride gears you've got to be strict and only change down one gear for the steep bit. I thought this would be the secret of getting those extra 5 seconds. I started off fast and as the steep section loomed, I just made one late change downwards. But, as soon as the road reared up, I felt like treading treacle, I was pushing a huge gear and low cadence. But, I was stuck in the mindset of not changing down a gear. I just tried to push. I was riding differently to how I had in training and usually tackled hills. Eventually, I had to make a messy change down on the steepest 25% section (something you shouldn't do) I then tried picking up the pace. I was exhausted at the top, but knew I hadn't got the best out of the ride. I found my time was 2.41 slower than in training! It was wet and headwind compared with tailwind, but it wasn't the national experience I was wanting. I finished 12th – same position and slower than my first national in 2005. My disappointment was masked by the fact, I wasn't really in with a chance for medals anyway. I lost a few second due to poor hill climb technique. But, it was the difference between perhaps 7th and 12th. It was a rather painful lesson not to try  something completely new in the big race. If I had kept the same approach as the training run, I would probably have done better. I really needed more practise runs. But, again the season was a story of 10 wins out of 12, but not doing anything at the national championships. (significantly, the only other race I'd lost was similar 2 minute effort on Streatley hill where I finished 6 seconds behind Robert Gough. A similar result happened on the Rake.
I feel the Rake is the only hill to really defeat me. Even though I don't do well on the Rake, I still kind of want to go back and have another go. The Rake hill climb is really a great event. The crowd and atmosphere are fantastic. It's a classic hill climb. But, I was also getting fed up with kind of complaining to myself about the wrong type of hill. Long Hill not steep enough, Rake too short. I know a bad hill climber blames the hill! Matt Clinton is a good example here, he's managed a top 3 placing in the past 7 national championships – whether it's the short Rake, Long Hill or Cheddar Gorge. Blog of 2012
2013 Stang 1st (7.57) – 0 seconds off podium. . I rode it well. Exactly to plan, and it was just enough. Finally on the podium. It was an interesting experience to win at the 9th attempt. I would have been happy to win in 2010, but having to wait and go through disappointments, did make it more special in a way. 2013 Blog on National hill climb
2014 – 4th  (3.32) 4-  seconds off the podium. A bittersweet event. It was a great achievement to go faster than in 2008 (3.49). I trained really hard, but back in the grove of just missing out on the podium. A second fourth place!
2015 – 6th (4.25) – 4 seconds off the podium. 10 seconds behind winner. I thought Jackson Bridge might suit me more, but it wasn't to be. The standard and level of competition has increased in past decade
Just off the podium
It was a fairly consistent average of 7-9 seconds behind the podium place for 10 national championships, apart from 2013.
Related