The national hill climb championship in 2006 was held on Peak hill, Sidmouth in Devon.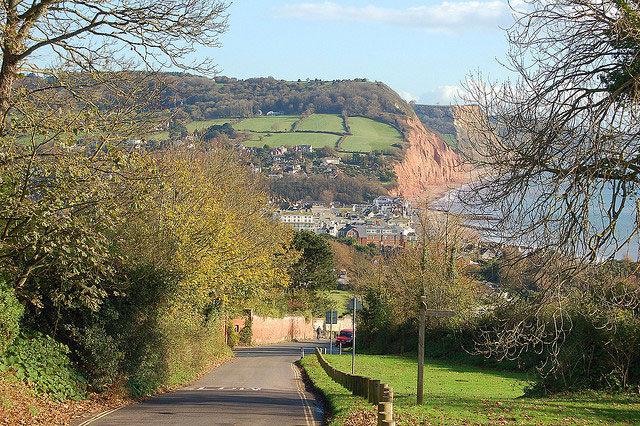 James Dobbin (Arctic Shorter Rochford RT) won the championship in a time of 4.44. A big winning margin over 2nd place, David Clark Nippo KFS 5.07. 3rd was 2004 national champion Jonathan Dayus (Arctic Shorter Rochford RT)
1st women was Ann Bowditch 6.41, Science in Sport. Lyn Hamel was 2nd women. (7.02) 3rd  Jane Kilmartin 7.05 (London Phoenix)
The best junior was Luke Rowe 5.42 Glendene CC-Bike Trax (17th overall) who just finished ahead of Alex Dowsett 18th overall (5.44). It goes without saying that both juniors went on to even greater things than 17th /18th in the national hill climb championship.  James Gullen (Scarborough Paragon was 62nd) (2nd in 2013). There was a very young Hugh Carthy in 89th place (4th in 2013).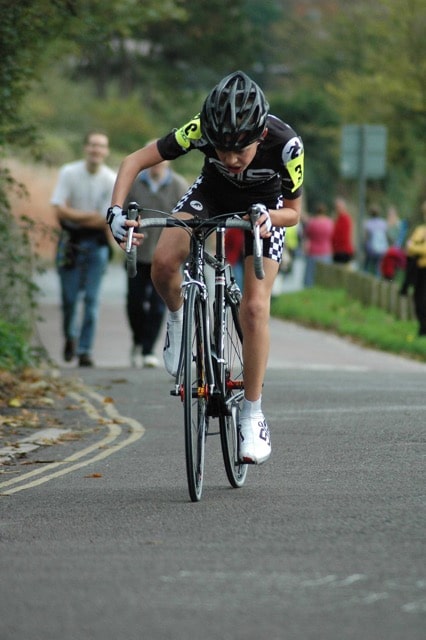 My race
It was my second national hill climb championship and I finished 7th, which was a good result after little racing or training throughout the season. In 2006, I did a couple of time trials, and two hill climbs. They were Streatley HC (Reading CC) ,and Brighton Mitre hill climb – where I won the second leg on Shoreham in a time of 7.21.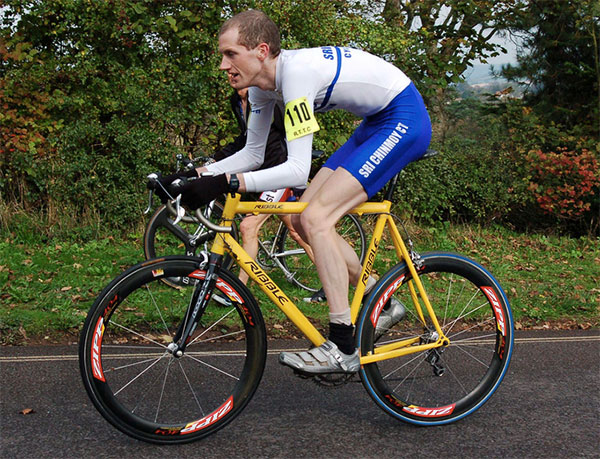 I remember it was a good day. Warm, sunny, dry. I think I paced it relatively well, going quite well on the steep second half. In those days, I never rode a climb before racing, it was a question of starting off and hoping for the best.
My two memories of the national event was Danny Axford's chain fell off during race (he was going pretty well that year)
I went down to Devon with Andy Sherwood and he said he was dehydrated before the race because it was hot. He was going to give it a miss, but I persuaded him to have a go anyway. He later said he really enjoyed it.
I'm posting this page because:
The old CTT results page is now a broken link. But, I found old results page using Internet Way back machine.
I  think I blogged about the 2006 national hill climb, but on another site, which is now no longer in existence. It's interesting how tenuous internet/ computer technology is.  Nine years later and it's actually hard to find info on 2006 national hill climb. As a boss of Google said, if you want to archive something make sure you print it out on paper.
Peak Hill
Distance – 0.9 miles
average gradient: 10%
Height gain: 528ft / 160m
Course record: 4.44 (James Dobbin, 2006)
The climb starts from the seafront, with the ocean quite close. The first 100 yards is a very gentle gradient, before getting steeper and then even steeper as you take a right hand. At this point, it reaches a max of 20% before final 100 yards to finish.
Sid Valley promote an annual hill climb on Peak Hill in October.
Veloviewer

Strava
What the riders said (from Cycling Weekly)
2006 Results (rescued from Internet way back machine (link)
| | | | |
| --- | --- | --- | --- |
| Pos | Rider | Club | Time |
| 1 | James Dobbin | Arctic Shorter Rochford RT | 04:44.0 |
| 2 | David Clarke | Nippo KFS | 05:07.3 |
| 3 | Jonathan Dayus | Arctic Shorter Rochford RT | 05:07.7 |
| 4 | Jim Henderson | Southport CC | 05:10.7 |
| 5 | Daniel Shand | West Pennine RC | 05:12.3 |
| 6 | Matt Clinton | mikevaughan.co.uk | 05:14.8 |
| 7 | Richard Pettinger | Sri Chinmoy CT | 05:18.2 |
| 8 | Bill Bell | Gemini BC | 05:19.8 |
| 9 | Ian Stott | Blackburn & Dist CTC | 05:24.2 |
| 10 | Mark Lovatt | Planet X RT | 05:27.4 |
| 11 | Rafael Radziej | Team Economic Energy | 05:29.6 |
| 12 | Mike Harrison | Sigmasport RT | 05:31.4 |
| 13 | Carl Helliwell | Blackburn & Dist CTC | 05:33.5 |
| 14 | Robert Adams | Bristol South CC | 05:33.7 |
| 15 | Nick Dawes | Farnborough & Camb | 05:41.0 |
| 16 | Robert Gough | Chippenham & Dist Whs | 05:42.2 |
| 17 | Luke Rowe | Glendene CC-Bike Trax | 05:42.9 |
| 18 | Alex Dowsett | Glendene CC-Bike Trax | 05:44.4 |
| 19 | Andrew Peat | Solihull CC | 05:46.5 |
| 20 | Chris Myhill | API-Metrow | 05:48.0 |
| 21 | Martin Bawden | Cyclelogic.co.uk | 05:48.5 |
| 22 | James Ward | Cambridge CC | 05:48.5 |
| 23 | James McLaughlin | Guernsey Velo Club | 05:49.1 |
| 24 | Sam Clark | Buxton CC | 05:50.9 |
| 25 | Ishmael Burdeau | www.agiskoviner.com | 05:51.3 |
| 26 | Pete Vincent | North Devon Wheelers | 05:52.7 |
| 27 | Jules Birks | CS Dynamo (Exmouth) | 05:53.0 |
| 28 | Stuart Hall | Alltrax | 05:53.8 |
| 29 | Gareth Williams | Holyhead CC | 05:55.5 |
| 30 | Adam Pinder | Blackburn & Dist CTC | 05:55.6 |
| 31 | John Storms | Tri Cyclists One Life RT | 05:56.1 |
| 32 | Chris Edmondson | Blackburn & Dist CTC | 05:57.4 |
| 33 | Max Bienkowski | Ashurst BC | 05:59.7 |
| 34 | Derek Smetham | Dursley CC | 05:59.8 |
| 35 | Scott Chalmers | Leisure Lakes RT | 06:01.0 |
| 36 | Douglas Dewey | Team Tor 2000 | 06:01.7 |
| 37 | Lewis Cowley | Plan B RT | 06:02.1 |
| 38 | Philip Borrett | Sid Valley CC | 06:02.7 |
| 39 | Paul O'Mahoney | Ghyllside Cycles | 06:04.3 |
| 40 | Stephen Nunn | Arctic Shorter Rochford RT | 06:05.5 |
| 41 | Adam Holmes | Mid-Devon CC | 06:06.3 |
| 42 | John Ealing | Rossendale RC | 06:06.9 |
| 43 | Stewart House | Arctic Shorter Rochford RT | 06:07.9 |
| 44 | Marc Allen | Swindon RC | 06:10.5 |
| 45 | Paul Moss | Coventry RC | 06:10.7 |
| 46 | Daniel Stevens | Liverpool Century | 06:12.3 |
| 47 | Jake Durant | Mid-Devon CC | 06:12.5 |
| 48 | Carlo Berton | Border City Whs CC | 06:12.8 |
| 49 | Dave Candy | North Road CC | 06:14.9 |
| 50 | Matthew Smith | Gemini BC | 06:16.2 |
| 51 | Daniel Gee | Ashfield RC | 06:17.8 |
| 52 | Andrew Peters | Mid-Devon CC | 06:18.5 |
| 53 | James Cocker | Team Economic Energy | 06:19.2 |
| 54 | Paul Murphy | Tyneside Vagabonds | 06:19.8 |
| 55 | Ben Green | Manchester Wheelers | 06:20.8 |
| 56 | Simon Aske | Mid-Devon CC | 06:23.4 |
| 57 | Richard Birkin | Ashfield RC | 06:25.1 |
| 58 | Ian Phillips | CS Dynamo (Exmouth) | 06:25.3 |
| 59 | Jonah Rice | Exeter Wheelers | 06:26.9 |
| 60 | Sean Childs | RN & RMCA | 06:32.2 |
| 61 | Mark Plowright | Beeston RC | 06:33.0 |
| 62 | James Gullen | Scarborough Paragon CC | 06:33.1 |
| 63 | Glenn Borrett | Sid Valley CC | 06:33.5 |
| 64 | James Jackson | Sid Valley CC | 06:35.8 |
| 65 | Leigh Pinchen | Somerset RC | 06:37.5 |
| 66 | John O'Brien | De Laune CC | 06:37.6 |
| 67 | Andrew Sherwood | Farnborough & Camb | 06:38.6 |
| 68 | Nick Denning | Exeter Wheelers | 06:41.4 |
| 69 | Ann Bowditch | Scienceinsport.com | 06:41.9 |
| 70 | James King | De Laune CC | 06:44.9 |
| 71 | Neil Tubbs | Sid Valley CC | 06:48.2 |
| 72 | Mark Heath | www.echelon-cycles.co.uk | 06:50.6 |
| 73 | Chris Hunt | Sid Valley CC | 06:55.0 |
| 74 | Martin Fullard | Sid Valley CC | 06:55.0 |
| 75 | Ivan Pope | Gillingham & Dist Whs | 06:55.1 |
| 76 | David Wilkinson | Exeter Wheelers | 06:55.7 |
| 77 | Nigel Orpin | CS Dynamo (Exmouth) | 06:56.0 |
| 78 | Chris Rennie | Bikechain-Ricci | 07:00.1 |
| 79 | Sean Carthy | Scienceinsport.com | 07:01.7 |
| 80 | Lynn Hamel | Kent Valley RC | 07:02.1 |
| 81 | Paul Brierley | Huddersfield RC-Salamander | 07:04.4 |
| 82 | Jane Kilmartin | London Phoenix | 07:05.4 |
| 83 | Karl Hodson | Sid Valley CC | 07:05.5 |
| 84 | Gregory Sparks | Sid Valley CC | 07:05.7 |
| 85 | Phil Ward | CS Dynamo (Exmouth) | 07:09.2 |
| 86 | Iain Hounsell | Somerset RC | 07:11.0 |
| 87 | Michael Ives | MI Racing | 07:12.9 |
| 88 | Mike Hudspith | Godric CC | 07:14.2 |
| 89 | Hugh Carthy | Scienceinsport.com | 07:14.6 |
| 90 | Graham Brett | St Austell Wheelers | 07:15.9 |
| 91 | Avril Swan | Wheels in Wheels CC | 07:18.3 |
| 92 | Cherie Pridham | Merlin Development Squad | 07:25.5 |
| 93 | Ross MacDonald | North Devon Wheelers | 07:26.0 |
| 94 | Nigel Winchester | Sid Valley CC | 07:26.3 |
| 95 | Mike Westmorland | Border City Whs CC | 07:30.0 |
| 96 | Colin Tyrer | Sid Valley CC | 07:30.5 |
| 97 | Trevor Pain | North Hampshire RC | 07:34.4 |
| 98 | Dean Ward | 1st Chard Wheelers | 07:35.9 |
| 99 | Simon Foster | North Notts Olympic RC | 07:36.0 |
| 100 | Mark Gorman | RN & RMCA | 07:36.2 |
| 101 | Zak Birks | CS Dynamo (Exmouth) | 07:39.1 |
| 102 | Deborah Percival | 34th Nomads | 07:47.8 |
| 103 | Chris Barretto | Plymouth Corinthian CC | 07:49.1 |
| 104 | Colin Bennett | Sid Valley CC | 07:51.9 |
| 105 | Mitch Pope | Gillingham & Dist Whs | 07:52.6 |
| 106 | Ken Roberts | Lancaster CC | 07:55.3 |
| 107 | Alexandra Zebedee | Solihull CC | 07:55.9 |
| 108 | Mark Sanders | Mid-Devon CC | 08:02.3 |
| 109 | Rob Scott | Plymouth Corinthian CC | 08:03.0 |
| 110 | Ray Retter | North Devon Wheelers | 08:05.1 |
| 111 | Jacqueline Rice | Okehampton CC | 08:16.2 |
| 112 | David Francis | Camel Valley C & TC | 08:22.8 |
| 113 | Ian Kellaway | Coventry CC | 08:23.4 |
| 114 | David Hamilton | Mid-Devon CC | 08:27.0 |
| 115 | Richard Brain | Sid Valley CC | 08:28.8 |
| 116 | David Moran | 1st Chard Wheelers | 08:33.5 |
| 117 | Peter Greenhalgh | 45 Road Club | 08:45.4 |
| 118 | Stace Birks | CS Dynamo (Exmouth) | 08:55.5 |
| 119 | Leigh Taylor | www.agiskoviner.com | 08:57.0 |
| 120 | Phillip Bennett | Sid Valley CC | 09:05.6 |
| 121 | Richard Tate | Sid Valley CC | 09:06.7 |
| 122 | Chris Eccles | Sid Valley CC | 09:15.9 |
| 123 | Gerald Woodley | Sid Valley CC | 09:38.5 |
| 124 | Chloe Birks | CS Dynamo (Exmouth) | 10:12.7 |
| 125 | Arthur Vince | Yeovil CC | 10:33.0 |
| 126 | Lesley Ward | CS Dynamo (Exmouth) | 11:01.8 |
| 127 | Catherine Ostler | Willesden CC | 11:03.5 |
From Cycling Weekly
Related