They called Eddy Merckx 'the cannibal' for his insatiable appetite to win. They say Merckx was so prolific a winner that he caused a recession in cycling. His dominance so absolute, it became a race for second place and interest waned.
But, even the greatest champions eventually falter – a once effortless winning streak, rudely coming to a halt. The gradual, inevitable decline of physical and mental faculties, the inexorable rise of a new generation.
"There's always somebody better than you are" – That's one maxim to temper the pride of human life.
***
Two days after the 2012 national championship on the Rake, where I finished a disappointing 11th, I remember heading out for a 60 mile training ride, with a burning focus and determination to spend the next 12 months training and preparing for the national hill climb on the Stang. I hit the winter training with gusto, knocking out 1,000 mile months, despite a wet and cold winter. That intensity of purpose and commitment lasted all year, right up to that wet and windy day in North Yorkshire. At 36, and with long climbs relatively rare in the UK championship, there was a recurring thought that this could be a last chance saloon to win the national title.
After winning, you gain the confidence to try and retain the title. The single-minded purpose and commitment lasted throughout 2014 and 2015. If anything, I increased the intensity and volume of training, especially in 2014 where, with the help of Gordon Wright, I adopted an unusually scientific and methodical approach. But, despite the huge effort, it was not to be (4th and 6th). I don't think I got any slower – others got quicker – and of course, different hills suit different breeds of riders.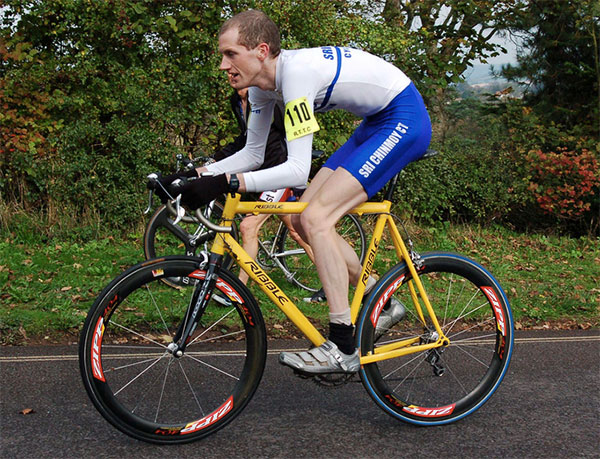 Sometimes, I think back to 2006, and 2007 where I finished 7th and 7th. Those years, I didn't do many races, I did a bit of training, but basically turned up, put on my best pair of woolly socks and hoped for the best. When I compare the effort required to finish 6th in 2015 and the effort to finish 7th in 2006 and 2007 – it is quite a big contrast.
There are a few reasons. But I suppose, if you had to choose your optimal age for hill climb form – it would probably be late 20s, rather than late 30s. I lost count of how many people said at Jackson Bridge – 'Hill climbing is a young person's game'. Though to be fair, women's champion Maryka Sennema gives hope to those of us who are no longer quite spring chickens. But, if you're one of the young whipper snappers getting very good results in your late teens, early 20s – make the most of the next 10 years.
***
2016 National hill climb looms on the horizon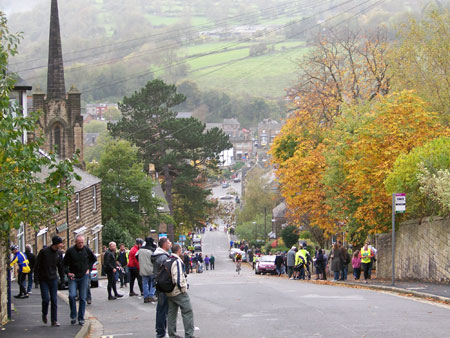 One day after the national 2015 and, out of habit, I invariably start thinking about next year. 2016 is on Bank Road, in Matlock. In 2008, it was won by M.Clinton in a time of 2.26. It is definitely one for the 'sprinters / short distance specialists' I rode in the 2008 national championship, finishing in my lowest National hill climb position of 12th, in a time of 2.42.
In 2013 the force was with the whippet thin, long-distance climbers; in 2016, it will be a matter of limiting your losses, perhaps trying to squeeze into the top 15. It's hard to get the same motivation about fighting for 17th place, compared to the hope of getting on the podium. But, one man's loss is another man's gain, and there will be quite a few short and powerful riders, licking the lips at a 2 minute blast up the steep gradient of a Matlock hill side.
On the flip side, I will have the luxury of approaching Bank road, more with a more laid back attitude than in the past few years. Free of any pretension about getting on the podium it will be revisiting those early motivations for getting into cycling – competing with myself, seeing what I can do, enjoying the experience if possible. Perhaps the primary target for 2016 will be just to go faster than in 2008.
After the 2015 national, Jim Henderson announced his second retirement from hill climbing. Speaking to him briefly after the event, it felt a pretty final decision. As mentioned in this blog, if you've won the title five times, it's hard to adjust the experience of finishing top 15 and not quite having the legs of years gone by.
I don't plan to ever retire from hill climbs. Just to keep going and seeing how it goes. Perhaps strive to be the fastest 47 year old in a race for young people. The good thing is that this year I felt I maintained the form of previous years. On some climbs I was slower than previous years – on other climbs, a little bit faster. At 38, it's even more of a buzz to set a pb on a climb. There is a great motto that age is in the mind, not in the heart. It will be a new challenge to fight the psychological impact of age; there's always the potential for self-transcendence however old you may be.
And who knows? perhaps one day, they will organise the UK national hill climb championship in the middle of nowhere on the Great Dun Fell or Bealach-Na-Ba. That would definitely bring a shudder of excitement, but I can't really see that particular pipe dream becoming a reality. I respect the traditions of the British hill climb championship, and at the end of the day, it's not really a championship for those more physiologically suited to racing up 20km Pyranean climbs.
***
Winning
Winning is definitely a really great feeling. Like the addiction of a nicotine hit or sugar rush, once you've won once, you want more. But, sometimes, you just can't fill the craving because in a race of 240 people, there has to be 239 who don't finish on the top spot. Not everyone can be Eddy Merckx. The problem is that once you've been on a winning run, it's not always easy to step off the podium and watch the inevitable rise of those younger and faster.
But, as long as I don't have unreasonable expectations, I can still enjoy racing – even if I don't win. Sometimes the national hill climb championship feels as much a philosophic test on dealing with missing out on the podium by a couple of seconds as it does a physical test. I guess you learn to deal with disappointment, and try and see things from a different perspective.
There's always someone better than you – perhaps even if you are Eddy Merckx.