Pea Royd Lane has been the venue for the national hill climb championships in 2009, 2014 and it will be the last minute venue for the 2018 National Championships.
It is a classic hill climb length- relatively short and steep with a few sharp corners to make it really testing.  The gradient is variable from fairly shallow at the bottom to a gradient of up to 20% near the top.
Blog from 2014 national hill climb championship
Practice run August 2014
I was driving up north this weekend, so I took the short detour off the M1 to revisit Stocksbridge and have a go at Pea Royd Lane, which I haven't done since 2009. The weather was warm with a cross wind. It felt like a headwind at the start, but tailwind in the middle. The last section I couldn't work out. That's the nature of the course, the wind can be all over the place.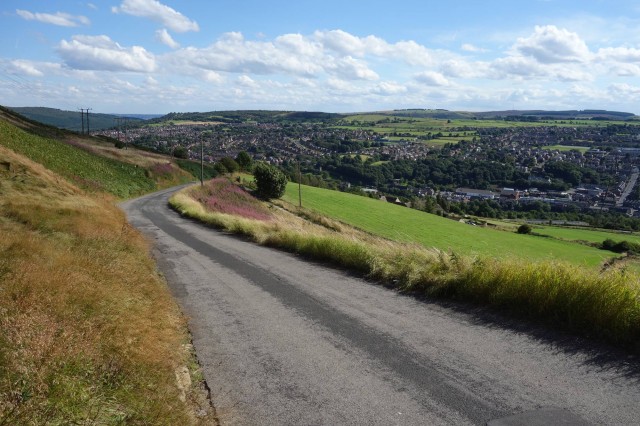 The over-riding impression of the climb was it's steep and also a painful reminder of how hard hill climbs are. I've been looking for a similar hill in Oxfordshire, but there is nothing which gets the same height gain, in such as short space of time – though Whiteleaf hill and Chinnor Hill come close.
After a warm up, I gave it a good effort –  to try and get a rough idea of what time I can do after a summer of 50 and 100 mile time trials.  I've gone deeper in the hill climb season proper. But, it was plenty hard enough. I'm sure there was a lurking thought somewhere in my mind 'Why do I do hill climbs again?'
It's a hard hill climb because the gradient is always changing. The road surface is also quite rough. There was plenty of loose gravel, chippings and patched up road surface. I hear it is going to be resurfaced soon!
I took lots of photos of the climb (see bottom of post). It's quite a mix of scenic Yorkshire views, with some ageing steel plants and electricity pylons thrown in. Still it's a good view from the top.
National hill climb course
Distance – 0.7 miles (1.1 km) approx.
Average gradient – 11.5%
Height gain – 129 metres (approx.)
Max gradient: 20%
Course record men (Dan Fleeman – 3.17.8) – Women (Anna Fischer – 4.55) – (as far as I know)
The open event, promoted by Stocksbridge CC, uses a shorter 700 yard climb. The National championship in 2009 added an extra 500 yards (0.4 km) This first section (Hunshelf road) is a shallower gradient, perhaps 8%. At the end of Hunshelf road, there is a sharp right hander taking you onto Pea Royd Lane. It is here that the gradient really picks up. It is 20% around the corner. You go over a road bridge where there is a short period of more gradual gradient, before another steep section as you go around a left turn. From here there  is 400 yards to the finish the gradient eases slightly on the last section (called Don Hill Height). It feels like there are three parts to the climb
First 500 yards on Hunshelf road – not too steep
Second turn right onto Pea Royd Lane – up to 20% on this road
Steep left turn on to final section of Don Hill Height.
Pea Royd Lane vs other hill climbs
With a course record of 3.17.8  Pea Royd Lane is not quite my forte, I would do better on a longer hill, but, it is just a bit longer than the real short anaerobic hill climbs like the Rake. It gives me an outside chance. It's kind of  somewhere in the middle between the Rake (2012) and the Stang (2013). I would prefer something slightly longer, a climber who excels on a short sprint like the Rake, may prefer something slightly shorter. It makes it an intriguing contest. Depending on form, fitness and many other factors, the podium placings could come from quite a long list of names.
Fixed vs Gears
It's one of those hills where quite a few riders will be tossing up between riding fixed and gears. Matt Clinton rode fixed in 2009 (42*21) but with swirling winds and rain was not convinced it was the best choice. These days, fixed is getting quite rare amongst the top riders. It will be interesting to see if anyone rides fixed in 2014. I will definitely be riding gears, if only because I don't own a fixed.
2009 National Championship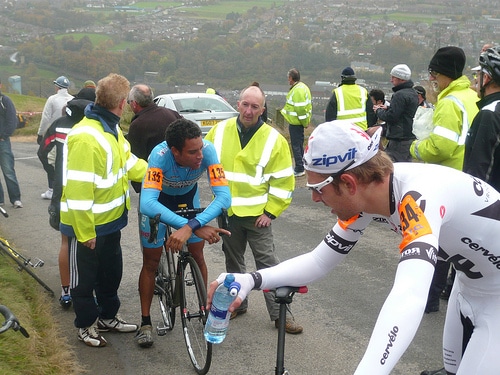 I had a pretty quiet year in 2009, I did little racing and my two time trial times were relatively slow. I didn't expect too much from the national championships and I finished 12th.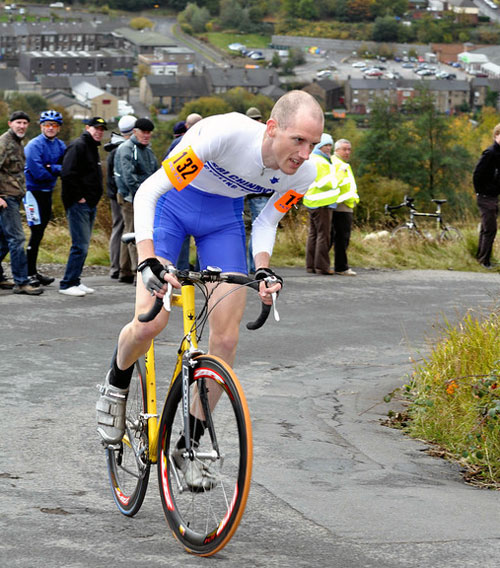 I was at the top when Dan Fleeman finished. He was going really slowly because he had absolutely hammered it on the lower slopes. In an interview at Cycling Weekly, Fleeman said he rode 700 watts from the bottom. He kind of broke all the rules for doing hill climbs. (For example, compare to Chris Boardman's advice for doing hill climbs) The previous week, I think D. Fleeman finished in the top 20 Tour of Lombardy, then sat on the sofa for a week, nearly missed his start, did no practise runs and only an 8 minute warm up. But, sometimes, the no-mind, spontaneous approach can pay off. I wonder what time he might have done if he had paced it differently.
As Fleeman said:
"I didn't know anything about the climb beforehand," said Fleeman. "I had only seen a clip of the climb on YouTube. Before the start I was going to pace it evenly, but at the line I shot off like a mad man, and at the end I felt like I was dying."
"I was going to work on 600 watts average and hold it the whole way," Fleeman said. "Then at the start a few people told me not to bother. Anyway, off I go. I had about 700 watts for the first bit and then at the end I almost came to a standstill and dropped to about 550 watts and I didn't think I'd done that well. Read more at
Cycling Weekly
Results from 2009

1  Dan Fleeman Cervelo Test Team 03:17.8
2   Matt Clinton MikeVaughan.co.uk 03:31
3   Jim Henderson Southport CC 03:39
4   Michael Smith Team Milton Keynes 03:39
5  Adam Pinder Blackburn & District CTC 03:43
6  David Clarke Pendragon Kalas RT 03:43
7  David Griffiths Paramount CRT 03:44
8  Charles Taylor South Pennine RC 03:46
9  Robert Gough Chippenham & District Wheelers 03:47
10  Mike Cuming Raleigh Avanti 03:47
11  Chris Myhill Peak RC 03:48
12  Tejvan Pettinger Sri Chinmoy Cycling Team 03:49
Women
Anna Fischer (Maxgear RT) 4.55
Lynn Hamel Team NCA 4.56
Results from 2014
1 Dan Evans Team Elite/Paul Bethall Electrical 03:24.2
2 Matt Clinton Mike Vaughan Cycles 03:26.5
3 Adam Kenway Team Zenith-www.buzzcycles.co.uk 03:28.1
4 Tejvan Pettinger Sri Chinmoy Cycling Team 03:32.1
5 Joseph Clark Team Zenith-www.buzzcycles.co.uk 03:35.3
6 Edmund Bradbury Cambridge University RT 03:36.5
7 James Lowden Lewes Wanderers CC 03:37.5
8 Lee Baldwin Champion System/ClubRoost/Maxgear 03:40.0
9 Harry Luxton RuTrainingToday CC 03:40.6 J
10 Stuart Marshall Team Zenith-www.buzzcycles.co.uk 03:41.1
11 Henry King Ilkley CC 03:42.3
12 Josh Teasdale In-Gear Quickvit Trainsharp RT 03:44.0
13 Daniel Sullivan Norwood Paragon CC 03:45.6
14 William Bourne University of Bristol CC 03:47.2
15 Nick Spencer Blumilk.com 03:48.7
16 Peter Tadros In-Gear Quickvit Trainsharp RT 03:49.2 A
17 Glyndwr Griffiths Arctic Tacx RT 03:50.6
18 Chris Myhill Peak RC 03:51.1 B
19 Joe Norledge Procycling Magazine RT 03:51.4
20 Chris Dyke Manchester Wheelers Club 03:51.8
21 Charles Coleman Felt Colbournes Hargroves RT 03:52.4
22 Jack Pullar Starley Primal Pro Cycling 03:53.9
23 Callum Stewart Sheffrec CC 03:54.0
24 Michael Openshaw Cestria CC 03:54.2 A
25 Jack O'Neil Mike Vaughan Cycles 03:54.4
26 Ben Nichol Amersham Road CC 03:55.0
27 Felix Barker Cambridge University RT 03:55.0
28 Julian Varley PH-MAS Cycling 03:56.0 J
29 Sam Clark Buxton CC/Sett Valley Cycles 03:56.3
30 Tony Kiss Performance Cycles CC 03:56.8
31 Danny Axford Arctic Tacx RT 03:57.0
32 Michael Broadwith Arctic Tacx RT 03:57.2
33 Jonathan Morris Derby Mercury RC 03:57.5
34 Ashley Proctor Bike Box Allan/Whiston Velo 03:57.9
35 Paul Roby Coveryourcar.co.uk RT 03:58.7 A
36 Mike Humphreys Bury Clarion CC 03:58.9
37 Will Corden Lyme Racing Club 03:58.9
38 Adam Hartley Velocity WD-40 03:59.8 J
39 David Powell Horwich CC 03:59.9
40 Joshua Haasz VCL – SCU 04:00.0 J
more at Velo UK
Women's event
Markya Sennema (Kingston Wheelers CC) (4.35)
Lou Collins (Beeston RC) (4.42.1)
Lyn Hamel (Trainsharp RT) (4.42.6)
Video of 2009 National Championships
Photos of Pea Royd Lane
This is the start area. I wasn't exactly sure of start. But, video gives rough idea.
Start area
The view from the start. If you like rusty corrugated iron, this will be a good place to watch.
Looking back down Hunshelf Road.
Near the end of Hunshelf Road before right hand turn.
Turn right onto Pea Royd Lane. You want to avoid taking the shortest line – it's steep on the apex.
Looking back towards Stocksbridge.
Before the last left hand turn – the road surface was a bit rough around here.
The weather won't be 30 degrees in late October.
The last section to the finish line.
The finish is further up. at the top right of the pic.
I forgot to take a photo finish. So I got this from the youtube video. There was actually a fading yellow line by this telegraph pole, which I assumed was the finish line.
Related