Jackson Bridge is a classic British hill climb course. Roughly 1 mile at an average gradient of 11%. The climb doesn't allow a steady rhythm, but has four difficult sections of 15% plus, interspersed with some more gradual gradients in between.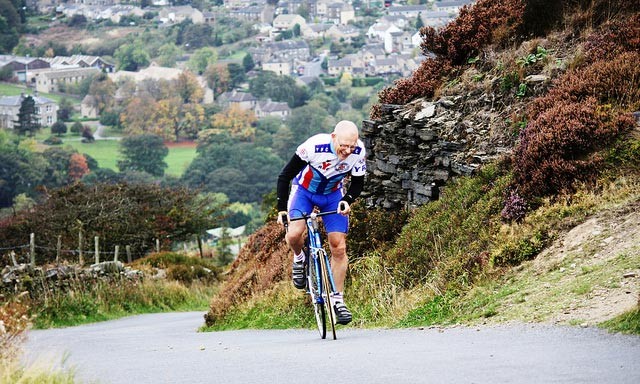 National hill climb championship 2015
Results top 10 Men

| Pos | Rider | Club | Split | Time |
| --- | --- | --- | --- | --- |
| 1 | Richard Bussell | RST Sport/Aero-Coach | 1:54 | 4:15.6 |
| 2 | Dan Evans | Team Elite/Paul Bethall Electrical | 1:51 | 4:20.5 |
| 3 | Joseph Clark | Team Envelopemaster | 1:56 | 4:21.9 |
| 4 | James Lowden | Neon Velo | 2:02 | 4:23.3 |
| 5 | Tom Bell | Fluid Fin Race Team | 2:02 | 4:23.9 |
| 6 | Tejvan Pettinger | Sri Chinmoy Cycling Team | 2:06 | 4:25.1 |
| 7 | Matt Clinton | Mike Vaughan Cycles | 1:58 | 4:27.3 |
| 8 | Adam Kenway | SportGrub Kuota Cycling Team | 1:51 | 4:27.8 |
| 9 | Edmund Bradbury | NFTO Pro Cycling | 1:53 | 4:28.5 |
| 10 | Kieran Savage | Yorkshire Road Club | 2:05 | 4:28.8 |
Results top 10 Women
Maryka Sennema Paceline RT 05:31.9
Hayley Simmonds Team Velosport 05:34.2
Lou Bates Carnac Planet X 05:34.9
 Becky Lewis Fibrax-Wrexham RC 05:36.1
 Lynn Hamel TeamLusso72Design.com 05:36.3
 Elizabeth Stedman Fusion RT Gear Club 05:39.5
 Fiona Blackett Bishop Auckland CC 05:47.0
 Alice Lethbridge gbcycles.co.uk 05:53.0
 Helen Roby HD Revolutions 06:03.0
 Gabriella Leveridge Velosure Starley Primal Pro Cycling 06:07.2
Report from 2015 Championship
Programme: RTTC Programme 2015 – with directions / car park e.t.c.
Jackson Bridge
The start is particularly hard, with a  gradient of around 18% around for the first right hander and then another steep left hander which takes it to 20%.
After these first couple of corners, the climb then becomes more exposed. It also flattens out a little offering some brief recovery, but there are more steep sections to come, including a section of 100 metres at 18%. At about three quarters of the way there is narrow, (slightly downhill + therefore relatively fast turn to negotiate – you have to ease off the pedals because it is quite a sharp corner. After this, there is another last little kick for the line.
Jackson Bridge near the start.
The average gradient is 10.6% for the course of just under one mile – giving an impressive height gain of 150m in approx a mile. It makes it a very good all round test.
It is quite similar to the 2014 course on Pea Royd Lane, with just an extra few hundred metres; it is perhaps not quite as steep – but there's not much in it. Still the extra length compared to Pea Royd Lane may just give a bit more help to those who prefer the longer climbs, and make it a little harder for those who favour the shorter anaerobic climbs. At over 10%, it will favour a hill climb specialist, who can peak for a 4 minute effort at the end of October.
National Course
For the 2015 national hill climb course,the start will be extended by around 100 yards at the start.  I reckon this will add approx 10-15 seconds on to the course compared to the open course. This is primarily so it doesn't start outside someone's window. This extra 100 yards will not reduce the average gradient – it is quite steep all the way from the bottom of the road. Depending on the wind a winning time maybe in the region of 4.05 to 4.30.
Jackson Bridge V9912

Distance 0.9 miles
Average grade 10.6%
Max gradient: 20%
Lowest Elev 910ft
Highest Elev 1,401ft
Elevation gain 491ft  / 150m
Course record men: Jeff Wright (1994 – 3.49)
Course record women: not sure but quickest in recent years Lou Bates  2015, 5.29
Strava – Jackson Bridge open HC course
Jackson Bridge – small Yorkshire village few miles south of Huddersfield.
No. 42 in 100 climbs
History of Jackson Bridge
Jackson Bridge has been used for the national hill climb championship in 1994, where Jeff Wright won his first and only national hill climb championship. In 1994, he inflicted a rare defeat on five times national champion – Stuart Dangerfield. Jeff Wright finished 2nd in the national hill climb championship on six occasions, but won only once. In the north of England, he holds some very impressive course records which still stand today  – 3.49 for Jackson Bridge is really flying. Only three people have ever gone under 4 minutes. Including 2nd place Dangerfield in 1994.
From Cycling Weekly 1994
All three medallist used 42*19 fixed gear. There was a good tailwind on the day.
"The hill-climb is the most nerve-racking day of your life – it's always nice when it's over."
– Jeff Wright 1994 National champion. Cycling Weekly 1994.
Jackson Bridge has featured in the Huddersfield Star Wheelers open events for many years, which  also incorporates the Bradford Schools championship too. In recent years it has been run on the same day as the Holme Valley Wheelers climb up Holme Moss, which is just a few miles away. If you're looking for hill climbs, you are really spoilt for choice in this part of the world.
Huddersfield Star Wheelers have a strong hill climb tradition winning several team prizes in the 1960s and 70s; it also is the club of Granville Sydney who won the hill climb championship on a record six occasions.
Photos of Jackson Bridge
Start
Just after start.
First long right hander. Steepest at apex.
Probably hardest and steepest bit.
Not quite steep enough for serious wheel slip.
It's half way and a kind of recovery.
The road goes on.
A great view for spectators and photographers.
There is a bit of descent, which takes you into this sharp right hander.
Near finish.
This is the finish!

Recent winning times in the open event
2015 – Huddersfield Star Wheelers Hill Climb
Dan Evans Team Elite/Paul Bethall Electrical 04:11.0
 Adam Kenway SportGrub Kuota Cycling Team 04:15.8
 Joseph Clark Team Envelopemaster 04:17.8
 Tejvan Pettinger Sri Chinmoy Cycling Team 04:19.5
 Matt Clinton Mike Vaughan Cycles 04:22.1
 Tim Home NRG RT 04:27.3
 Josh Teasdale Prorace (UCI) 04:28.3
 Jim Henderson Southport CC 04:28.6
 Ben Davis Wheelbase Altura MGD 04:28.8
 Joe Norledge Procycling Magazine RT 04:29.5
1st lady Lou Bates Carnac Planet X 5.29
2nd lady Mary Wilkinson Yorkshire RC – 5.35
2014
D.Evans – 4.06
T.Pettinger 4.08
M.Clinton 4.17
1st lady – Helen Roby, Huddersfield Star Wh 6.07
2013
T.Pettinger – 4.18
M.Clinton –
J.Teasdale –
(can't find results for 2013 on CTT site. blog from 2013)
2012 (CTT)
M.Clinton – 4.21
2011 (CTT)
M.Clinton – 4.17
2010 (CTT)
M.Cuming – 4.28
The open event has an impressive list of winners. In other years:
2004 – J.Henderson
2005 – D.Clarke
2006 – J.Dobbin
2007 – D.Clarke
Jackson Bridge on Velo Viewer
More Photos
View from the top.
Another rider comes to the finish. From 2014.
Jackson Bridge 2015, open 2015
Related
100 Climbs
100 Greatest Cycling Climbs at Amazon.co.uk
100 Greatest Cycling Climbs at Waterstones