This Saturday was the double header of Huddersfield Star Wheelers – Granville Sydney Memorial Trophy (on Jackson Bridge) and Holme Valley Wheelers (on Holme Moss)
With the National on Jackson Bridge in two weeks time, there was a big entry, with 90+ riders and many of those hoping to be contending for Nat. Champs on startsheet.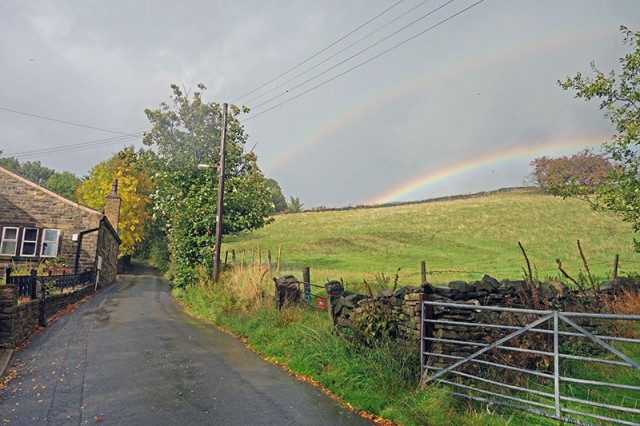 It has been quite a good week training. I went to Jackson Bridge earlier in week to test the national course. It was wet and strong headwind, though sun did come out just towards the end. The bad news was my stages power meter finally went kaput. It had been going through  batteries every four hours, but now this is nothing working at all. I'll have to hope I can get an exchange for this Stages generation one for Stages generation Two, but by the time I'm back in Oxford and get a replacement, it will be too late to use this hill climb season. Still my Quark power meter broke for several months in 2013 – it's not the end of the world, though there is always a value to seeing your power go up and down.
Today, the weather was quite good, though there was a light headwind at the top – unlike last year where I think there was light tailwind.
I did the course in 4.19. Slower than last year. I thought I maybe held back too much for the first steep section. Though I had brief chat to Adam Kenway at the top. He felt he had gone too hard on the first section and suffered on the rest of the course.
It's a tough one pacing hill climbs, especially a variable gradient like Jackson Bridge. If you don't do as well as you would like on a hill climb you can always think you could have paced it better, but sometimes you just don't have the legs.
I finished 4th, behind Dan Evans, Adam Kenway and Joe Clark.
1st Junior was Tim Home – 4.27 NRG RT
1st Vet – Jim Henderson 4.28
1st Lady – Lou Bates –
1st U/16 – Nathan Allatt
Holme Valley CC
After a brief drive over to Holme, it was time to get ready for the second hill climb on the menu. It is a 1.3 mile version of Holme Moss, made famous through the Tour de France climbing it in 2014. It averages 9.5% for the 1.3 miles, and fortunately there was a light tailwind at the top. I went reasonably well; it's definitely a climb where you can get into more of a rhythm than Jackson Bridge.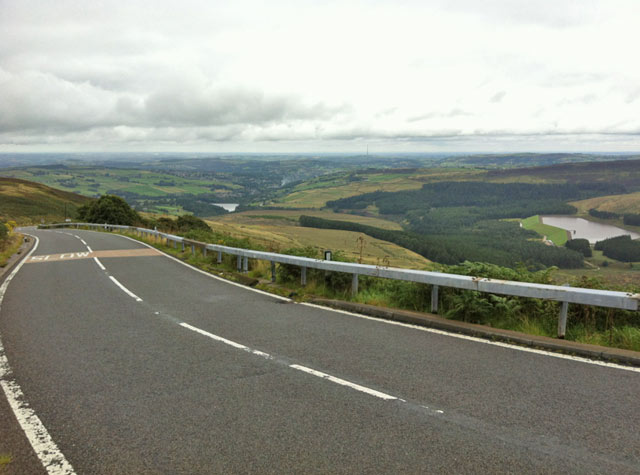 I finished in 6.30 which was 3rd place. 1st D.Evans, 2nd J.Teasdale. 3rd me. 1st lady was Dame Sarah Storey.
Results HSW 2015
| | | | | |
| --- | --- | --- | --- | --- |
| 1 | Dan Evans | Team Elite/Paul Bethall Electrical | 04:11.0 | Senior |
| 2 | Adam Kenway | SportGrub Kuota Cycling Team | 04:15.8 | Senior |
| 3 | Joseph Clark | Team Envelopemaster | 04:17.8 | Senior |
| 4 | Tejvan Pettinger | Sri Chinmoy Cycling Team | 04:19.5 | Senior |
| 5 | Matt Clinton | Mike Vaughan Cycles | 04:22.1 | Senior |
| 6 | Tim Home | NRG RT | 04:27.3 | Junior (M) |
| 7 | Josh Teasdale | Prorace (uci foreign registered) | 04:28.3 | Senior |
| 8 | Jim Henderson | Southport CC | 04:28.6 | Vet |
| 9 | Ben Davis | Wheelbase Altura MGD | 04:28.8 | Senior |
| 10 | Joe Norledge | Procycling Magazine RT | 04:29.5 | Senior |
| 11 | Chris Dyke | Manchester Bicycle Club | 04:30.3 | Senior |
| 12 | Jack O'Neill | Mike Vaughan Cycles | 04:33.4 | Senior |
| 13 | David Huck | Lakes Road Club | 04:34.1 | Senior |
| 14 | Patrick Clark | University of Sheffield CC | 04:37.9 | Senior |
| 15 | Louis Szymanski | ABC Centreville | 04:40.1 | Senior |
| 16 | Walter Hamilton | Veloclub Edinburgh – SCU | 04:40.4 | Senior |
| 17 | Jacob Ragan | The Nab Racing Team | 04:42.4 | Senior |
| 18 | Kieran Wynne-Cattanach | Team Elite/Paul Bethall Electrical | 04:43.9 | Junior (M) |
| 19 | Niall Paterson | Velo Club Cumbria | 04:47.5 | Senior |
| 20 | Ben Jacobs | Albarosa CC | 04:48.0 | Senior |
| 21 | hamish mcdougall | Leicester Forest CC | 04:50.6 | Senior |
| 22 | Kieran Savage | Yorkshire Road Club | 04:53.6 | Junior (M) |
| 23 | Nathan Allatt | Royal Navy & Royal Marines CA | 04:54.0 | Juv M |
| 24 | Callum Stewart | Sheffrec CC | 04:54.5 | Senior |
| 25 | Eugene Cross | Clifton C.C. York | 04:55.4 | Junior (M) |
| 26 | Mark Tickle | Leigh Premier RC | 04:56.1 | Senior |
| 27 | Courtney Blockley-Campton | Leicester Forest CC | 04:57.7 | Senior |
| 28 | James Allen | Langsett Cycles RT | 04:58.4 | Senior |
| 29 | Joshua Hodgson | Kuota-GSG-Spinergy | 04:59.0 | Senior |
| 30 | Leon Wright | Team P B Performance | 04:59.2 | Senior |
| 31 | Matthew Brown | University of Sheffield CC | 05:00.9 | Senior |
| 32 | Chris Smith | Condor Road Club | 05:02.3 | Senior |
| 33 | James Hill | Team Envelopemaster | 05:02.5 | Senior |
| 34 | Nick Despres | Guernsey Velo Club | 05:06.5 | Vet 50 |
| 35 | Timothy Webster | Holmfirth C C | 05:08.3 | Vet |
| 36 | Andrew Pearson | HD Revolutions | 05:08.3 | Vet |
| 37 | Robin Short | Pedalsport CC | 05:09.1 | Senior |
| 38 | Kenny Cliffe | Leicester Forest CC | 05:14.5 | Senior |
| 39 | David Clarke | Giordana – Mitsibushi RT | 05:14.8 | Senior |
| 40 | John Wild | Velo Viewer | 05:15.4 | Vet |
| 41 | Mason Hollyman | Kirklees Cycling Academy | 05:15.8 | Juv (M) |
| 42 | Peter Holdsworth | HD Revolutions | 05:16.4 | Senior |
| 43 | Tom Brazier | Team Elite/Paul Bethall Electrical | 05:17.1 | Senior |
| 44 | Andrew Askwith | Bridlington CC | 05:19.1 | Vet 50 |
| 45 | Richard Lilleker | Cleveland Wheelers CC | 05:23.4 | Senior |
| 46 | Paul Smith | Huddersfield Star Whs | 05:25.4 | Senior |
| 47 | Jamie Holmes | Crewe Clarion Whs | 05:25.7 | Junior (M) |
| 48 | Neil Bentley | Sheffrec CC | 05:28.4 | Vet |
| 49 | Mark Nulty | Glossop Kinder Velo | 05:28.6 | Senior |
| 50 | Lou Bates | Carnac Planet X | 05:29.0 | Female |
| 51 | Will Boyes | Team Cystic Fibrosis | 05:30.7 | Vet |
| 52 | Jason Fossey | Huddersfield Star Whs | 05:31.7 | Vet |
| 53 | Theo Jefferies | Westmead Team 88 | 05:32.1 | Junior (M) |
| 54 | Elliot Dason-Barber | Oxonian CC | 05:32.5 | Vet |
| 55 | James Wakefield | Huddersfield Star Whs | 05:35.4 | Senior |
| 56 | Mary Wilkinson | Yorkshire Road Club | 05:35.5 | Female |
| 57 | John Hey | West Pennine RC | 05:35.7 | Vet 50 |
| 58 | William Staveley | PH-MASCycling | 05:38.9 | Senior |
| 59 | Harry Myers | 3 RT | 05:41.8 | Junior (M) |
| 60 | Sam Mansfield | Champion System / VCUK | 05:51.3 | Senior |
| 61 | Graham Piccavey | Huddersfield Star Whs | 05:57.0 | Vet |
| 62 | Jonathan Kenyon | Huddersfield Star Whs | 05:58.0 | Senior |
| 63 | Heather Despres | Guernsey Velo Club | 06:05.4 | Junior (F) |
| 64 | Jamie Ramsden | Huddersfield Star Whs | 06:07.0 | Vet |
| 65 | Paul Brierley | Huddersfield Road Club Salamander Fabrications | 06:09.3 | Vet |
| 66 | Nicola Soden | Stocksbridge CC | 06:11.2 | Female |
| 67 | Henry Hollyman | Kirklees Cycling Academy | 06:12.1 | Juv (M) |
| 68 | Jessica Roberts | Team Elite/Paul Bethall Electrical | 06:13.7 | Female |
| 69 | James Hyland | Huddersfield Star Whs | 06:14.5 | Senior |
| 70 | Dan Robinson | Manchester Wheelers Club | 06:16.7 | Senior |
| 71 | Natasha Cutmore | RST Sport/Aero-Coach | 06:24.6 | Female |
| 72 | Melissa Brand | Solihull CC | 06:28.1 | Female |
| 73 | Helen Roby | HD Revolutions | 06:28.2 | Female |
| 74 | Reece Watt | Huddersfield Star Whs | 06:35.9 | Senior |
| 75 | Josephine Gilbert | Velosure Starley Primal Pro Cycling | 06:37.7 | Female |
| 76 | Sandra Mackay | Veloschils Interbike RT | 06:44.3 | Fem Vet |
| 77 | Louise Scupham | Scarborough Paragon CC | 06:49.8 | Junior (F) |
| 78 | Gavin Dubens | Huddersfield Star Whs | 07:10.4 | Senior |
| 79 | Shaun Schembri | Huddersfield Star Whs | 07:18.2 | Vet |
| 80 | Mark Haynes | Albarosa CC | 07:48.6 | Vet |
| 81 | Gillian Dukes | Huddersfield Star Whs | 08:05.4 | Fem Vet |
| 82 | Ruby Boyes | Huddersfield Star Whs | 08:10.2 | Juv (F) |
| 83 | Francis Reddington | Ravensthorpe CC | 08:46.9 | Vet 50 |
| 84 | Jonathan Poole | Ashley Touring CC | 08:58.3 | Vet 50 |
| 85 | Sophie Ramsden | Huddersfield Star Whs | 09:23.3 | Juv (F) |
| 86 | David Tinker | Clayton Velo | 10:16.7 | Vet 50 |
| 87 | Thomas Dason-Barber | Team Milton Keynes | DNS | Junior (M) |
| 88 | Rebecca Pidgeon | Darlington Tri Club | DNS | Female |
| 89 | Nikola Matthews | Pearl Izumi Sports Tours International BOBC | DNS | Female |
| 90 | Suzie Richards | Albarosa CC | DNS | Female |
| 91 | Jen Wolstenholme | Huddersfield Star Whs | DNS | Female |
| 92 | Richard Binks | PH-MAS Cycling | DNS | Vet 50 |
| 93 | julian wilkie | Cyclesport International | DNS | Senior |
| 94 | Paul Jones | Bristol South CC | DNS | Senior |
| 95 | Thomas Traviss-Pollard | Team Polypipe | DNS | Senior |
| 96 | Archie Cross | University of Sheffield CC | DNS | Senior |