A review of Bont Zero cycle shoes.
Manufacturer Features:
Claimed weight: 220 grams per shoe. (I've weighed with Speedplay cleats on, and it came to around 580grams. They were 80grams less than my Mavic Tourmalet with same cleats on)
"Fully Heat Mouldable Chassis utilizing Epoxy Thermoset Resin"
Sole: Unidirectional Carbon to improve aesthetics of sole and further reduce weight of shoe
Upper sole: "Durolite Outer Skin for its extremely durable nature and light weight"
I had a pair of Mavic Tourmalet cycling shoes that had lasted since 2009. They were light, comfortable and got good value for money. But, they needed replacing. In terms of cycling shoes, my criteria are:
Comfort
Weight
Aerodynamics
Power transfer (hard to measure)
Looks
I don't need cooling vents (my feet are always cold not hot) Nor do I need any thing to tighten shoes before a sprint.
I did toy with the time trial specific Bont Crono TT shoe, but was put off my higher price, non UCI compliance and wondering whether that would be a problem for CTT.
I chose the Bont Zero because they were lightweight (claimed 540grams a pair) and also claimed to be aerodynamic shape – negating the need for overshoes.
Another selling point was that they had heat moulding capacities so it promised hope of a good fit.
First off, I ordered a pair of 46. I put them on and they were a bit too tight, so I sent them back and got the slightly bigger 46.5 (this was same size as my Mavic's). When these came they were still a little tight in the width. But, I didn't really want to get longer shoes than necessary (no point getting bigger and more weight if you don't need it)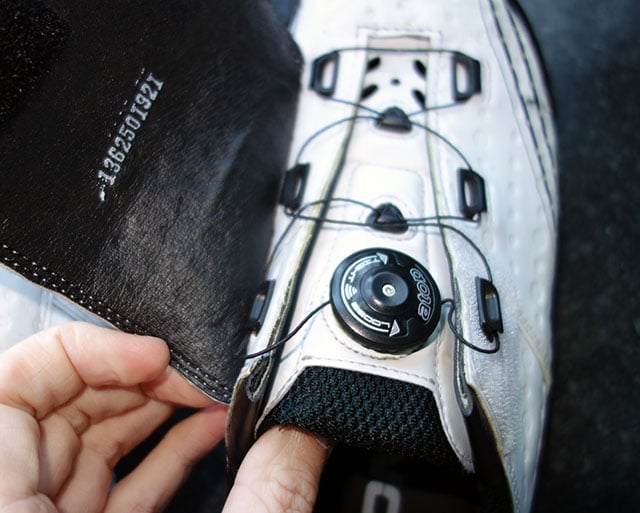 I wasn't sure whether to send back and get bigger 47 size. But, I thought I could deal with the width through the heat moulding process.
I put in oven at 80 degrees for 20 minutes and put on two pairs of socks to make feet as big as they might be. I then put on warm shoes and stood around in them.
The heat moulding process did work to a certain extent – you can see the outline of my outer toes where they have stretched the material. However, it didn't seem to have any effect on the side of the shoes at the widest part of my foot.
Comfort
The biggest problem with these Bont shoes has been the comfort. After an hour or so, it starts to feel tight on the outside of the foot. After 3-4 hours on bike (especially when hot) it becomes uncomfortable. I've never had problems with badly fitting cycle shoes before, it's not nice. I haven't got any blisters or anything, but it distracts you from cycling.
I managed a few 100 mile time trials on these shoes this summer, but more difficult were five hour training rides over bumpy roads.
The problem is once you have done the heat moulding process, you can't send the shoes back. From testing them, I never really anticipated they would be as uncomfortable as they are – because length wise they are quite long.
Once you have done the heat moulding process – there is no possibility of 'give' or wearing them in. They are rock solid, I have tried scrapping away with a knife, but that proved unsuccessful too.
Riding in rain
The shoes do well in wet / spray  conditions. The surface and aero flap help keep a degree of water out of the shoe. The manufacturers claim that in wet conditions the shoe doesn't absorb water.
Riding in heat
The shoes have less aero ventilation that most shoes.  But, I had no problem with sweaty feat. However, my feet are always on the cold side anyway. To me it was an attraction of shoe that they had less ventilation.
Weight
Low weight is definitely good. They look fairly minimalistic and the base of the shoe is strong carbon fibre – one piece moulded.
Aerodynamics
It looks aerodynamic – much more aerodynamic than many other cycling shoes. As a  time triallist, this is a boon. I don't know whether they are quicker with aerosocks or without.
The flap is not absolutely flush. But, it does a pretty good job in covering the dial.
Overall
It's a very good shoe. It ticks a lot of boxes – low weight, aerodynamic, looks good, easy to clean and well made with strong powerful power transfer. But, from a personal perspective comfort is a real show stopper. They only come in one size of width. The problem is I don't even know whether a bigger size would fit me or not. The heat moulding process was not successful for myself, and the last thing you want to do is spend £250 on a pair of shoes and a few weeks later realise they don't fit very well. The problem is I never anticipated comfort problems from trying them on.
On the positive side, they are OK for hill climb season – and low weight is most important here. But, I might have to bite the bullet and buy a second pair for long distance cycling. It probably won't be another pair of Bonts – even if they are low weight and aerodynamic. Comfort trumps all these other factors.
Bont Zero
Related pages