The final race before the national hill climb was Burrington Combe promoted by Bristol South CC, and the final event in the WTTA hard-riders competition. A good 110 riders were on the starsheet, including a record five riders from the Sri Chinmoy Cycling Team. It was probably our biggest turnout since 1978, where we had about 200+ entered in the Pepsi 24 hour cycle challenge in Central Park, New York, including Sri Chinmoy himself.
Photo: Rich Lawton Burrington Combe 2015
After seeing so many willing entrants from my own team, in a fit of enthusiasm, I sent all fellow team members a special four week intensive 'Tejvan hill climb interval training programme' But, when I gently asked how this last minute hill climb training had gone, the topic of conversation seemed to quickly get changed onto questions like – how long does this climb go on for? – what's for lunch after the race?
Burrington Combe
Length 2.2 miles
Average gradient: 6%
Max gradient: 10%
Height Gain 183m
CR: 6.51 (av. speed 17.5mph)
Women's CR: Anna Fischer – 9.04 in 2009
Strava – Burrington Combe
Burrington Combe has become one of my favourite climbs. I first rode in 2004, finishing second behind Danny Axford in a time of 7.12. 11 years later and I'm still doing hill climbs. Burrington makes a nice, relaxing penultimate hill climb of the season. It's long enough to favour a ride like myself and gives you the opportunity to get into a fairly decent rhythm. Burrington Combe makes a natural amphitheatre for a long gradual hill climb, and it's popularity amongst leisure cyclists was quite evident with a large number of cyclists going up and down not connected to the race. It was also great to see another bumper entry of 110, and quite a few vets throwing their hat into the ring.
For the first time in eight years, I thought I'd give a pair of tribars a go. I was buoyed by a possible benefit of using tribars at Porlock (a similar hill). For what it is worth (from a non-scientific approach), I'm not convinced the benefits outweighed the disadvantages. Burrington Combe isn't all smooth gradient, there are a few little digs which can have you getting out of the saddle to keep the momentum going. For the last two minutes, I was hardly using them at all.
From an aesthetic point of view, I'm not keen on tribars on a hill climb bike. I know aesthetics aren't mentioned on the results sheet, but I was perhaps relieved to realise there's not much in it – either way. (Though someone with better power meters and calculators may be able to give more definitive answers)
Conditions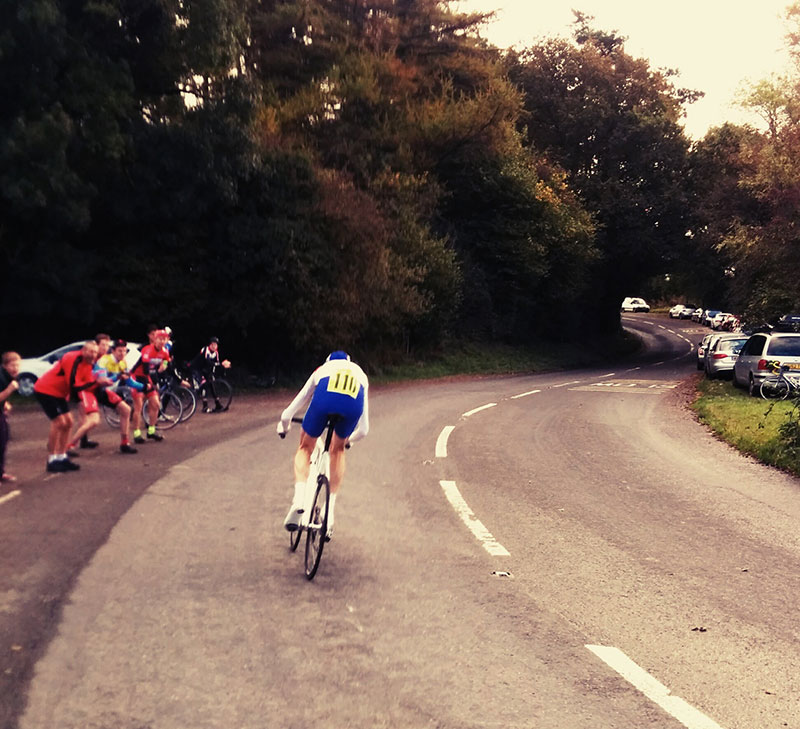 photo: PJ from 2014
Conditions were good for late October. Mildish, and hardly a drop of wind. If anything a mild crosswind, but one of those days when it's hard to tell.
I warmed up by riding around on bike, going up to the village of Bladon. I then swapped race wheels and did a perfunctory 10 minutes on the turbo including 3 reasonably hard efforts.
I set off at good tempo and by halfway was getting into that groove of riding close to the thin red line. By the layby, a sizeable crowd gave plenty of encouragement and noise, before the last couple of minutes riding into the mist.  I got out of saddle and off the tribars to make one last effort to get to top. I finished in a time of 6.58 – 1 second slower than last year. But, it's always nice to get under 7.00 on Burrington. Perhaps one year a strong tailwind will give another shot at a course record.
Alas, we didn't win the team prize, but the newcomers to hill climbing seemed to enjoy the day out. I believe the team prize was Univ. of Bath CC (correct me if I'm wrong). I was at the prize ceremony but was in the usual post-race daze of not being able to  remember anything other than – make sure you don't take your number home with you.
1st lady – Joanna Jago Performance Cycles CC (9.24)
Thanks as usual to the Bristol South CC who promote the event. Good to see Paul Jones in crowd, with cowbell et al.
Next up
Next on the horizon is a week of eating cake and smashing it up on long six hour rides. steady tapering, before the big event on Jackson Bridge. After a season of often finishing a few seconds behind a flying Welshman, it was nice to keep the winning run at Burrington Combe going. The form is good, and am looking forward to the final four minutes of the season. At least I hope it's closer to four minutes than final five minutes!
Photos

Result 2015
1 Tejvan Pettinger Sri Chinmoy Cycling Team S 06:58.4 1st
2 Tony Kiss Performance Cycles CC S 07:25.1 2nd
3 Liam Bromiley University of Bath Cycling Club S 07:28.1 3rd + Team
4 Joe Norledge Procycling Magazine RT S 07:28.6 4th
5 Tavis Walker Velo Club Walcot S 07:38.2 5th
6 James Whateley University of Bath Cycling Club S 07:47.0 Team
7 Josh Gray Team Tor 2000/Kalas Sportswear Ltd S 07:51.7
8 Alastair Barnard University of Bath Cycling Club S 07:54.4 Team
9 James Coleman Velo Club Walcot S 07:56.2
10 Adrian Lawson Ride 24/7 V4 07:56.8 1st Vet 40-46
11 Charles Coleman Velo Club Walcot S 07:59.5
12 Gordon Markus Severn RC S 08:00.0
13 Frazier Carr University of Bath Cycling Club S 08:00.0
14 Glyndwr Griffiths Arctic Tacx RT S 08:01.6
15 Stefan Barnett Velo Club Walcot Jun 08:04.0 1st Jun u18
16 Oliver Darbyshire Severn RC S 08:09.3
17 Andrew Warby RST Sport/Aero-Coach S 08:12.0
18 Robert Borek Bristol South CC S 08:12.1
19 Daniel Pink Bigfoot CC S 08:12.9
20 Tom Ilett Dream Cycling S 08:15.1
21 George Jones Clevedon & District RC Jun 08:20.7
22 Daniel Burbridge Bristol South CC S 08:23.7
23 Stewart House Arctic Tacx RT V4 08:31.2
24 Jon Heath Climb on Bikes RT S 08:32.6
25 Oliver George Team Tor 2000/Kalas Sportswear Ltd Jun 08:39.6
26 Russell Peace Dursley RC S 08:40.6
27 Leigh Pinchen Northover VT / Rudy Project V4 08:44.2
28 John Grenfell Westbury Whs S 08:46.6
29 Adam Sheppard Salt and Sham Cycle Club S 08:47.2
30 Justin Gage Velo Club Walcot V4 08:49.6
31 Iain Hounsell Mendip Cycling Club V4 08:54.5
32 Marc Allen Swindon RC V5 08:58.0 1st Vet 47-54
33 Andrew Turner Bristol South CC S 08:59.0
34 Adam Whittaker Salt and Sham Cycle Club S 08:59.1
35 Richard Shortridge VC Bristol S 09:00.2
36 Dave Cullen Bristol South CC S 09:01.7
37 Mark Hudson Bristol South CC S 09:02.6
38 Charlie Shields Bath CC Juv 09:04.0 1st Juv u16
39 Barnaby Speller Velo Club Walcot S 09:11.3
40 Christopher Stroud Minehead CC V5 09:12.2
41 David Bolton Bristol South CC V4 09:12.4
42 Andy Stuart Velo Club St Raphael V4 09:14.4
43 Rob Nash Bristol South CC V6 09:17.9 1st Vet 55+
44 Chris Adams Bristol South CC V6 09:21.3
45 Jon James Mendip Cycling Club V5 09:21.9
46 Joanne Jago Performance Cycles CC L 09:24.3 1st Lady
47 Tom Bertenshaw Severn RC S 09:25.5
48 Lee Musto Minehead CC V4 09:32.7
49 Thomas Stimpson Salt and Sham Cycle Club S 09:34.2
50 Thomas Perry Evesham & Dist Whs Juv 09:43.9
51 John Bailey Bristol South CC V5 09:45.8
52 Garga Chamberlain Sri Chinmoy Cycling Team V4 09:49.3
53 Elle Twentyman University of Bath Cycling Club L 09:52.6 2nd Lady
54 Gary Smart Bath CC V5 09:55.0
55 Wiebke Rietz 1st Chard Whs LV5 10:00.8 1st Lady Vet
56 Adam Watkins Severn RC S 10:03.7
57 Claire Greenfield Bristol South CC LV4 10:04.5
58 Dave Hurley Somer Valley CC V4 10:04.6
59 David Sprigg Bristol South CC V5 10:05.9
60 Luke Smith Bristol South CC V4 10:06.6
61 Stephen Clarke Bristol South CC V5 10:07.4
62 Andrew Diffey Somer Valley CC V5 10:09.2 inc. late start 15s
63 David Wilton Bath CC V5 10:11.3
65 Nigel Vuagniaux Bath CC V6 10:15.0
66 Colin Payne Chippenham & Dist. Whs V5 10:17.7
67 James Kempe Bristol South CC Jun 10:18.0
68 Thomas Farrugia University of Bristol CC S 10:18.2
69 Julie Marazzi Somer Valley CC LV4 10:19.5
70 Daniel Kempe Bristol South CC V5 10:27.4
71 Richard Turpin VC Walcot V6 10:31.9
72 Victoria Ratcliffe Somer Valley CC LV4 10:38.1
64 Jonathan York Somer Valley CC V4 10:40.2
73 Josh Griffiths Bristol South CC Jun 10:42.4
74 Tim Spencer Bristol South CC V4 10:48.8
75 Vilas Silverton Sri Chinmoy Cycling Team V4 10:53.3
76 David Johnson Sri Chinmoy Cycling Team S 10:58.0
77 Yan Keene Bristol South CC V6 11:06.7
78 Michael Roberts Bristol South CC S 11:27.0
79 Mark Galley Bristol South CC V6 11:28.4
80 Karen Balmforth Sodbury Cycle-Sport LV4 11:49.7
81 Ben Parker BCDS Juv 11:52.8
82 David Braidley Bristol South CC V5 11:53.9
83 Joanna Knight Bristol South CC LV6 11:54.0
84 Dave Francis Alltrax V6 11:54.3
85 Alison Vuagniaux Bath CC LV6 12:52.2
86 Aryavan Lanham Sri Chinmoy Cycling Team V6 13:01.1
87 Theresa Jacobs Bath CC LV5 15:34.7 Lanterne Rouge
Velo UK –
Team photo
Spot the guy on the hill climb diet.
Previous results on Burrington Combe
2004 – 7.12 – 2nd/ 43 – winner D.Axford
2005 – 7.06 – 1st
2008 – 7.21 – 1st / 50
2009 – 7.20 1st/ 55
2010 – 7.10 1st/51
2011 – 6.51 1st  /48 – CR (blog 2011)

2014 – 6.57 1st /118 – blog 2014
2015 – 6.58 1st / 110
Related