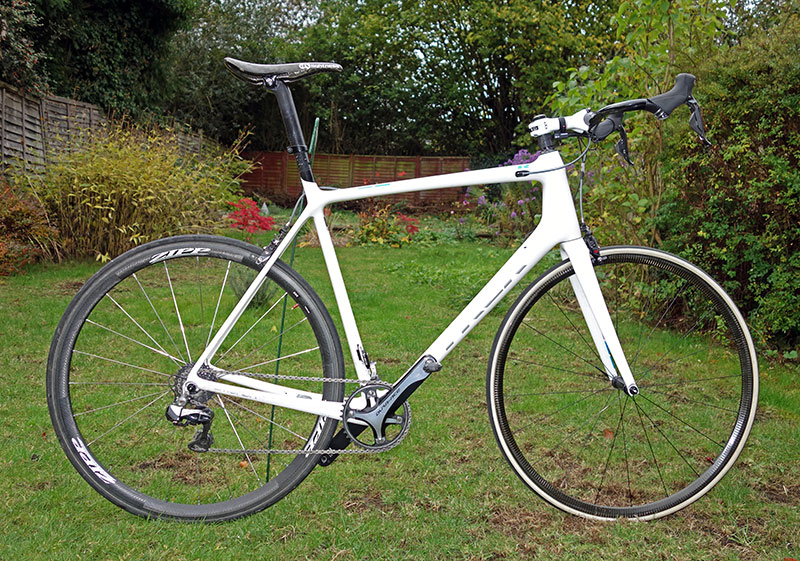 Hill climb bike
Trek Emonda SL frame
Shimano Di2 9000 Dura Ace 11sp – Front mech removed,
39 Chainring – 23-11 (11 speed cog with one cog removed to fit on 10sp cassette.)
Handlebars Zipp Contour SL – 135 grams with drops chopped off
Bontrager stem
Bontrager direct mount light brakes
Rear wheel Zipp 202
Front wheel – tune hub, AX lightness spokes
Tubs Vittoria Crono
Weight: 5.2kg.
Tune 40 skewers. (pair 38 grams)
Speedplay X1 pedals Titanium
AX lightness saddle
Dura Ace gears
Front of bike
Dura Ace BB 90.
Bontrager brakes.
Bontrager XXX stem
A little bit of drillium. With single chainring, I thought I ought to have a chain guard. (I would much prefer a narrow-wide chainring. But, they don't seem to make for four armed versions.
The chain guard isn't brilliant because it only stops the chain falling inward. Still I got to drill a few holes in it.
holes
Rear wheel 
I found this on bike. It weighed 6 grams so I took it off!
Front brake. I could make it lighter by finding an old small brake lever and taking off the Dura Ace brake lever, but apart from that it's hard to find too many more weight savings.
Thanks to Andy Sherwood for Sherwood cycles repairs.
Related
Previous hill climb bikes

The one constant of old hill climb photos seems to be light bikes and bad socks.
Hill climb bike 2013
Hill climb bike 2012 – Rake
Hill climb bike 2011 – Long Hill

Trek Madone Zipp 404 wheels, Continental Competition tyres. Tribars
Hill climb bike 2010 – Dover's Hill

Trek Madone Zipp 404 wheels, Continental Competition tyres. Weight approx: 6.2kg
Hill climb bike 2009 – Pea Royd Lane


Ribble Scandium frame. Zipp 404 wheels
Hill climb bike 2007 – Cheddar Gorge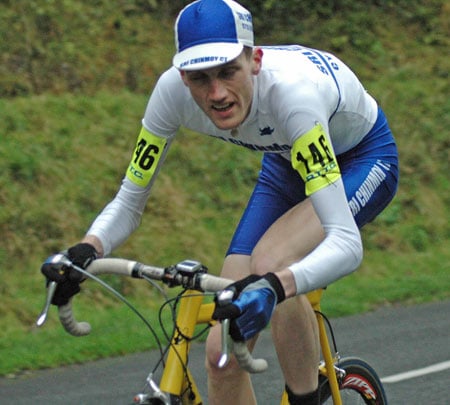 2006 Hill climb bike – Devon – Sidmouth Hill

Don't mention socks and gloves.
2005 national hill climb – Rake

Related