I received a loan of a Trek Emonda SLR 9 for the last week of the hill climb season, where I finished 4th in national hill climb on Pea Royd Lane.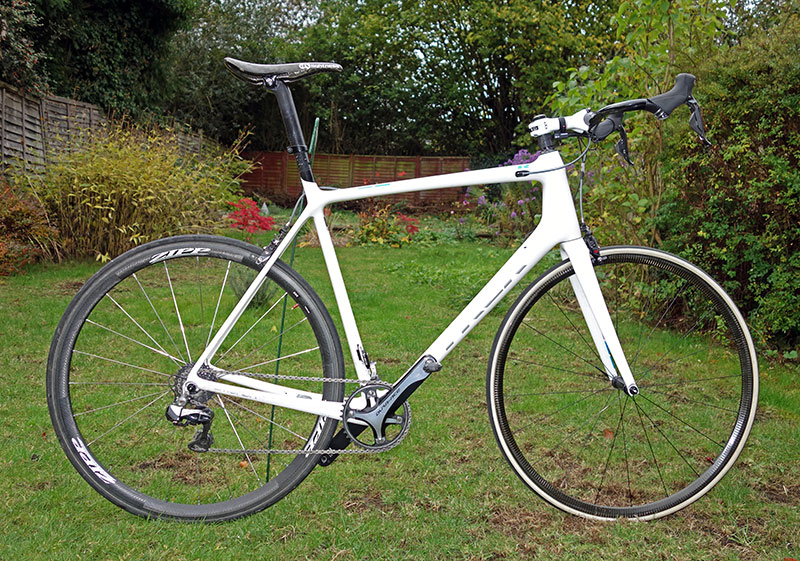 For 2015 I bought a Trek Emonda SLR, and used all year. Photos of that Trek Emonda are here
It's a good bike.
2014 Emonda

For the national championship I customised the Trek Emonda to get the weight down from 6.4kg to 5.1kg. Details of the hill climb bike are below. This is a general review of the Trek Emonda.
The Emonda is designed for those most interested in climbing. The frame is based on the OCLV series carbon used in the Madone series – which has been Trek's flagship model for quite a few year. For the Emonda, Trek have sought to reduce weight wherever possible, whilst retaining the strength and rigidity of the frame.
One possible drawback of the Trek range is that there are now basically three different models The Emonda for low weight, the Madone for aerodynamics and the Domane for comfort (i.e Sportives). It may leave you thinking – well, I'd actually like one which combines all three benefits. Unless you're sponsored by a pro UCI team, you can't have the luxury of more than one bike. But, the differences between the three bikes are not huge. It's not as if the Madone is heavy or the Emonda has poor aerodynamics. But, it is another choice you'll have to make. For many road riders, choosing between a Madone and Emonda will be a hard choice – especially if you ride in UCI events and you're waiting to see if the UCI reduce the 6.7kg weight limit. The Emonda will really come into it's own if the UCI reduce the low weight limit below 6.0kg. Until then you're probably better off with a Madone, where better aerodynamics will make a bigger difference to improvement and speed.Fortunately, for myself, it is a no brainer to pick the Emonda as my new bike. I'm a hill climb specialist and self-confessed weight-weenie. It's all about knocking off grams. If you want the lightest bike, the Emonda OCLV 700 series frame is the ideal starting point. It has the lowest weight of any production bike. (690grams for 56cm model)
Emonda Range
The top of the range Emonda is the SLR 10. This is a real show-off bike, with ridiculously light and expensive components (like a Tune saddle, Tune wheelset, SRAM RED 22 gruppo and Bontrager Speed Stop brakes. It means that the complete bike, comes in at a fantastically ridiculous weight of 4.6kg. It is also absurdly expensive at £11,000. But, is undoubtedly a smart bit of marketing by Trek- weight is very easy to measure variable – much easier than aerodynamics and strength. The eye catching low weight is excellent to mention in marketing, giving a glean to the whole Emonda range.
However, if you don't fancy spending £11,000 on the new Emonda SLR 10. There are 17 other models to choose from. Starting at the Emonda S4 for £1,200 going up in increments of quality, lightness and price. You pay your money and you get a lighter bike.
For example the Emonda SLR 6
is £4,300 which uses the same 700 series frame as the SLR 10, but has cheaper components such as Shimano Ultegra groupset. The whole bike still comes in at below the UCI limit of 6.6kg, with potential to reduce weight later. This is certainly a good starting point for a more affordable light weight bike.
Project One
Another advantage of the Emonda is that you can pick and choose combinations through Project One – if you already have light wheels you can save money there, and keep the cost down.
What's it like to ride?
Firstly, the lightness is noticeable. On the smooth surface of Pea Royd Lane, it had fantastic acceleration.I'm used to riding the Madone (2010 model) which is no heavyweight, but the Emonda was a noticeable improvement. For me, that is a big plus.
The lower weight has not been sacrificed for any loss of strength and rigidity. Using a simple stress test, it's hard to notice any lateral movement. Of course, rigidity is harder to measure than weight. But so far, I can Trek's word for it that it is as strong.
Value for money
Bikes seem to be be getting more expensive as manufacturers find better ways to get us to part with cash. Still the Trek Emonda is reasonably priced compared to similar models.
Is it the right bike for you?
Certainly there is a great attraction in getting a super-light bike, it definitely makes it easier in the hills. But, bear in mind 0.5kg / 1kg weight saving is not that much, if you're carrying around 20kg of surplus insulation. Also, bear in mind that aerodynamics can make a bigger difference to your speed. When doing flattish time trials – you learn it's all about aerodynamics, weight doesn't really come into it. Aerodynamics is harder to measure than a simple 4.6kg weight value, but in a solo attack, the Madone will be a better choice.
In my case, the Emonda is top of my wish list. It ticks all the boxes in what I need from a bike. I definitely want to get one, the problem is that it's already been an expensive year with a new TT bike. After the national hill climb, my comment was that the Emonda is irritatingly good. Alas, there's always a new bike to buy!
Trek Emonda Hill climb bike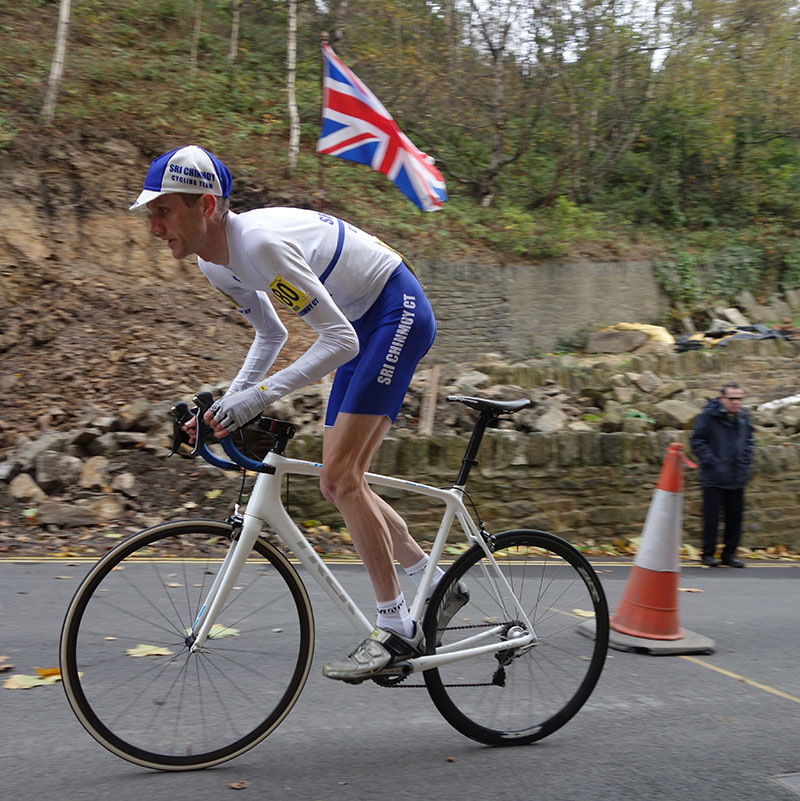 Firstly, thanks to Beeline bikes Oxford for helping me get loan of bike and setting it up.
I have been riding a Trek Madone (at 2013 hill climb champs, it weighed about 6.0kg). But, with the new Emonda coming out this summer, I wanted to try and get the new specialist climbing bike for the upcoming national championship.
It meant only 1 week to get used to the bike – not ideal, but I thought potential weight saving worth it.
Customised Trek Emonda
To state the obvious, the bike is really light. We had it in Beeline's and asked a few punters to lift it up. Many were driven to exclaim in the bluest French words to the effect of 'goodness me that is light'. There really is a wow factor to lifting up a bike that light. As a hill climber, I'm spoilt by being used to riding a 6.0kg bike, but when you get it down to 5.1kg, it's a big bonus.
I rode the Emonda at Burrington Combe, and Cheddar Gorge on Sunday and also yesterday and today. The acceleration going up hills is very good. It is also feels quite rigid and strong. Doing a simple stress test, it is hard to feel much lateral movement. The extra wide bottom bracket, does seem to help with power transfer.
It can't say it feels a huge difference to riding the Trek Madonne – in terms of ride quality, control, stiffness and weight; but there is a marginal improvement and it was quite a bit of fun working out how to reduce weight.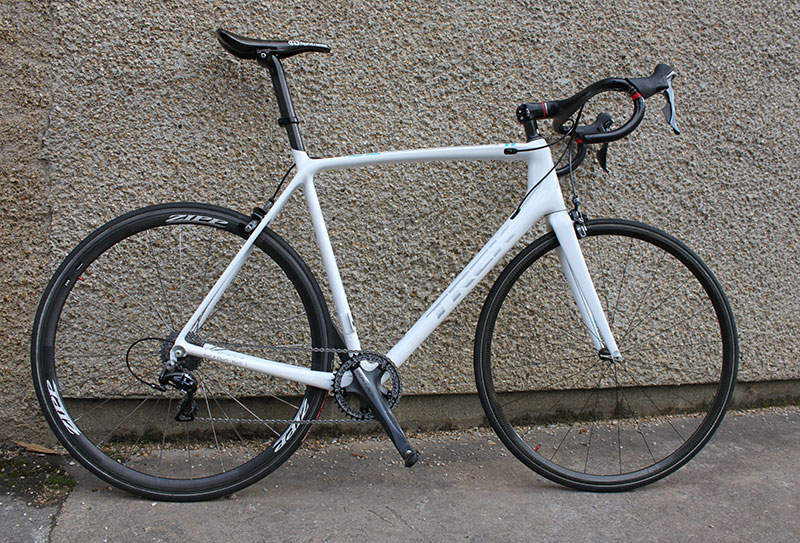 Trek agreed to lend a Emonda SL9. The Emonda SLR 9 The SLR 9 has a claimed weight of 6.1 kg. When we first weighed it was about 6.3kg, but that was with 60cm frame, mechanical Dura Ace 9000 rather than Di2 and lots of extras screwed on – . However, from the SLR 9, we made quite a few modifications to bring the weight down to 5.1kg.
Some details of hill climb bike
Frame – Emonda SLR – OCLV 700 series frame (claimed weight of an Emonda SLR 56cm frame is 690grams) – This frame is 60cm, so a bit bigger.
Groupset – Shimano Dura Ace 9000 mechanical – but front mech removed and Shimano Dura Ace 7900 crank to fit Race Face narrow wide single chainring.
Rear wheels – Zipp 202 (weight with cassette and TT tub – 900 grams)
Front wheel – Tune hub / AX lightness rim (weight with Vittoria Chrono TT tub – 550 grams)
Saddle – AX Lightness (63 grams) (The Bontrager Paradigm XXX saddle was 175g)
Brakes – Shimano Dura Ace 9000
Pedals – Speedplay (X1) – 150 grams a pair
Total weight – 5.1 kg – (8-900 grams lighter than Trek Madone hill climb bike in 2013)
Trek say 'The Emonda is made from Trek's top-end 700 Series carbon fibre, but lighter and without compromising stiffness or handling'. It is geared up to be a 'climber's bike and Trek must be hoping the UCI reduce their weight limit of 6.7kg.

For a hill climb bike, it seems a great frame to build a bike up from. I was hoping for Di2 electronic gearing, but it only came with mechanical groupset.
Frame: 700 series OCLV
Bontrager XXX integrated stem and handlebars. Stem cap removed for big race. (it isn't an integral part of keeping the stem tight).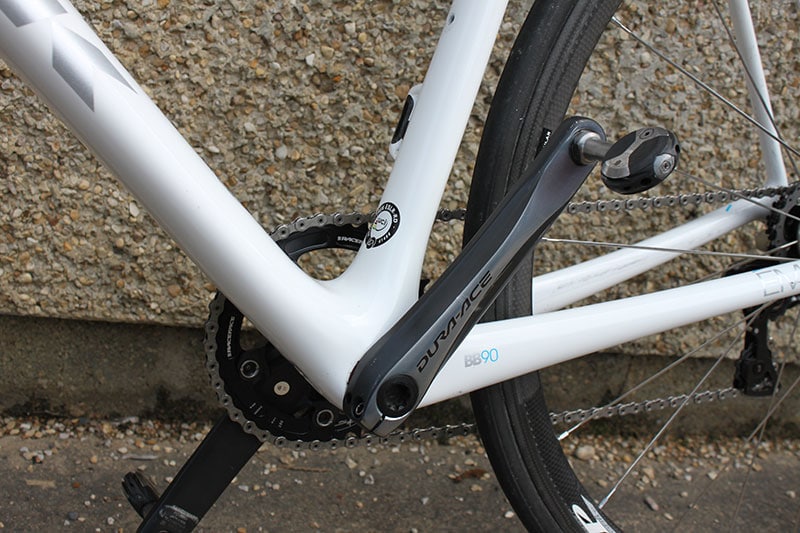 Wide Bottom Bracket 90. Trek say it is the widest bottom bracket to give extra rigidity and stiffness to help acceleration.

E2 stem is narrower at the top.
It tapers from a 1.5″ lower bearing to a 1-1/8″ upper bearing, and is wider side to side than front to back. Trek say. 'This asymmetric steering system minimises weight while maximising power transfer and keeping the fork stiffer under cornering loads.'
Handlebars without handlebar tape. The only problem with borrowing a bike is that you can't cut the ends of the handlebars you don't use. There's 20 grams right there. Also, I didn't like riding without handlebar tape, it was too slippy so I have put some lightweight tape on the drops.
Also, it's a good job this isn't my bike or I would be cutting off the ends of those brake levers and regretting it later.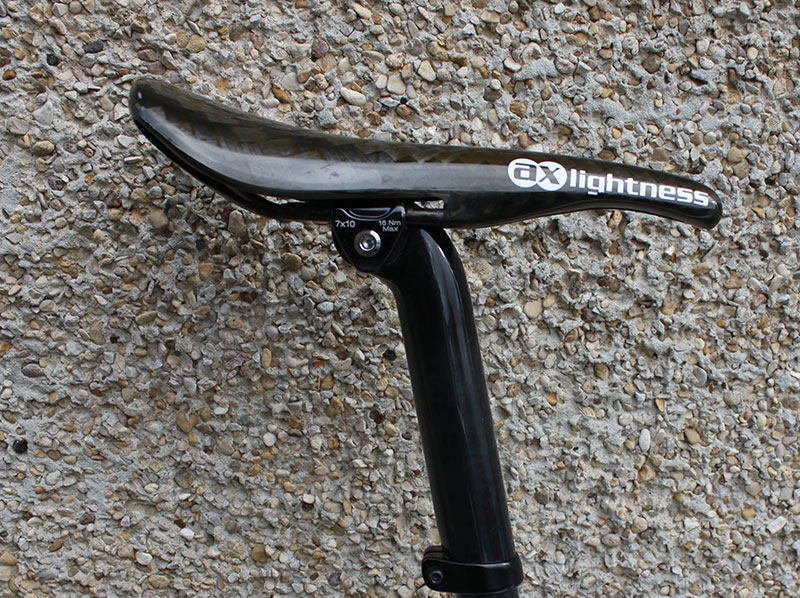 AX lightness saddle – 63 grams.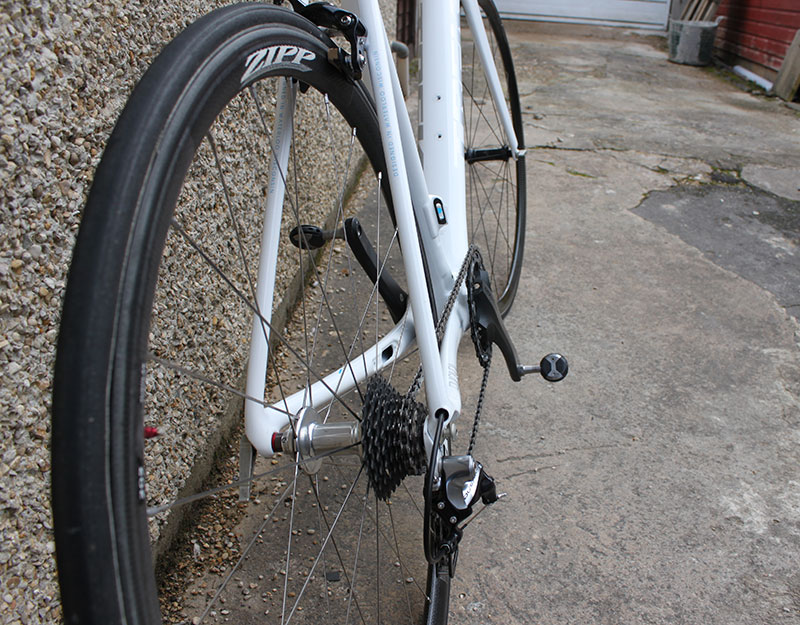 Look along bike


Emonda with Shimano Dura Ace 9000 mechanical rear dérailleur. A shortened chain.

Race Face – narrow wide single chain ring – extra deep teeth so that you can get rid of the front mech and cable. Just word of caution if you're going to ride a single chainring without chain catcher, make sure it is a specific single chainring – they call them 'narrow-wide'. They are primarily aimed at cyclo-cross / MTB market. Road riders rarely have reason to ride a single chainring. There does seem something aesthetically pleasing about a single chainring without front mech – a bit of the fixed feel. Somehow a front mech just to prevent the chain bouncing off isn't good planning.
It was hard to get a narrow wide chain ring to work on bike. This 5 armed Race Face, doesn't fit the Shimano Dura Ace 9000 series crank with 4 bolt holes, so the chaps at Beeline found an old 7900 crank to fit it.
The alternative would have been to go SRAM red and use another type of chainring, but that would have got too expensive.
Initially, it looked like we would have to leave front mech on. But, it does look cooler without.
Emonda at Burrington Combe – with outer chain ring still on.
Direct mount brakes. Reduce redundant parts
Could it have been lighter?
The Emonda SLR 10 (at a mere £11,000) – has a claimed weight of 4.6kg. If I had the time and money, I could have made the bike even lighter.
For example EE Brakes (or Bontrager Speed Stop brakes), AX lightness stem/handlebar and SRAM red gruppo groupset. But, it's still pretty good at 5.1kg. Just as there's always a new bike to buy – I suppose there is always a lighter bike. At the end of the day, the power you can generate is more important than the odd gram here and there.
I would also have preferred to be riding Dura Ace di2 electric gears, though a week before the big race is probably a little late to be changing gear systems just now.
Related