Today was the Trevor Yeoman memorial Buxton CC Long Hill.
Long Hill is a steady long climb. Fairly constant, averaging only 3%. The wind direction can make a difference.
Long Hill from Whaley Bridge
Distance – 4.44 miles
Average gradient – 3%
Height gain – 195m –  425m (approx 230m)
I first did Long Hill in 2010, I set a course record of 12.26, there was quite a helpful tailwind that day. Since then I've ridden a total of 6 times in competition. Each time, I've tried a different equipment combination. My first record was set on a road bike, no tri bars. This year, I went for full time trial bike with discwheel. It was an opportunity to use the Trek Speed Concept before putting it away for the year. It's probably the heaviest bike I've taken to Long Hill.
The only downside to taking TT bike was no power meter, but sometimes it's good to remember what it is like to ride on feel. If anything I rode rather conservatively, not wanting to really blow up too early like last week at Snake Pass. I took it fairly steady all the way up, just around the threshold level which is close to what is tolerable. It was only on the last horseshoe corner that I increased effort a little. For a short while there was a mild headwind, before the final last minute and half to the top.
I finished in a new course record of 12.16. 10 seconds off the 2010 mark. Though I have no idea whether it is due to better form or a TT bike being quicker than a road bike. I'd like to think it is better form. Though I know in a headwind a TT bike is definitely faster.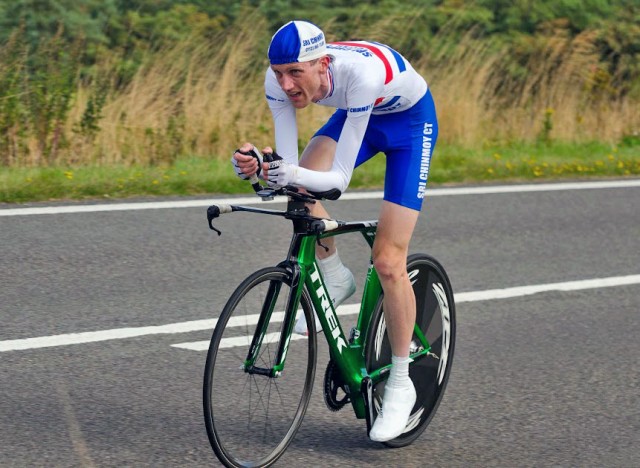 2nd place was Henry King of Ilkley CC with a very fast time of 12.44. 3rd was Adam Kenway (Team Zenith – www.buzzcycles.co.uk) with 12.59. 3 riders under 13 minutes is quite rare. 1st women was Helen Eborall of Born To Bike-Bridgtown Cycles, who just pipped Vanessa Whitfield (Velo Club St.Raphael) into 2nd place by a margin of 0.2 seconds. Junior race also very close, less than 3 seconds

1st woman – Helen Eborall Born To Bike-Bridgtown Cycles W 15:47.8
2nd women – Vanessa Whitfield Velo Club St.Raphael W 15:48.0
1st Junior – Daniel Minor Lyme Racing Club J 14:44.7
2nd Junior – David Murphy Liverpool Mercury Dolan CC  14:47.5
Never forget the marginal gains in hill climbs.
After race, I did some more hills – not full on efforts – more steady at perhaps a 10 mile TT pace. It was a nice chance to set off up a hill at a manageble pace and be able to keep that rhythm all the way to the top. It was a fantastic day for cycling and I took the opportunity to go up Long HIll by different, quieter routes – a bit steeper than Long Hill main road. Goyt valley is definitely worth a visit. Weekends 11am – 4pm it seems to be closed to traffic. I went up one road and found myself at the top of the Cat and Fiddle.
May update post later.
Thanks to Sam Clark, Buxton CC and Sett Valley Cycles for event and sponsoring.
Previous results
2010 – 12.26 – 1st – (strong tailwind – road bike, no tribars) Blog 2010 | Results 2010
2011 – 13.49 – 1st (headwind – road bike, tribars) blog 2011
2011 – Nat HC – 13.02 – 5th (headwind – road bike, tribars) Blog Nat Champs
2012 – 13.35 – 1st (TT bike) Results 2012
2013 – 13.13 – 1st (TT Bike) (blog cyclinginfo)
2014 – 12.16 – 1st (TT bike, and discwheel)
Veloviewer

Strava

Results 2014
1                  Tejvan Pettinger                             Sri Chinmoy Cycling Team                                       12:16:3        21.7
2                   Henry King                                  Ilkley C.C                                                                        12:44:6   20.9
3                   Adam Kenway                               Team Zenith-www.buzzcycles.co.uk                               12:59:6   20.5
4                   Ben Norbury                                  Congleton C.C                                                          13:41:4   19.4
5                   Sam Clark                                    Buxton C.C/Sett Valley Cycles                                       13:57:3       19.1
6                   Mike Birkby                                  Rutland C.C                                                            14:06:5       18.9
7                   Bhima Bowden                               Buxton C.C/Sett Valley Cycles                                       14:21:3       18.6
8                   Chris Baines                                 Buxton C.C/Sett Valley Cycles                                       14:23:0   18.5
9                   Mark Nulty                                   Manchester Wheelers Club                                           14:35:2   18.3
10                  Paul Armstrong                              Sheffrec C.C                                                           14:44:6   18.1
11                  John Sanderson                              Manchester Wheelers Club                    V                  14:44:7    18.1
12                  Daniel Minor                                  Lyme Racing Club                                 J                   14:47:5   18.0
13                  David Murphy                                Liverpool Mercury Dolan C.C                     J                 14:47:6   18.0
14                  Michael Stretch                              Macclesfield Wheelers                            V                 14:48:7   18.0
15                  Henry Cash                                   Holme Valley Wheelers                           J                   15:02:3  17.8
16                  Mark Horsley Frost                               Buxton C.C/Sett Valley Cycles                                           15:07:3     17.6
16                  Mike Knudsen                                Macclesfield Wheelers                                                15:07:3  17.6
18                  Theo Jeffries                                 Westmead Team 88                              J                   15:07:8  17.6
19                  Jamie Humphries                            Westmead Team 88                                                   15:16:4  17.4
20                  Sam Mansfield                               Buxton C.C/Sett Valley Cycles                                        15:27:3  17.2
21                  Paul Targett                                  Pendle Forest C.C                                 V                   15:36:3   17.1
22                  Matthew Cosgrove                          Sport City Velo                                    J                   15:44:7   16.9
23                  Nick Decker                                  Congleton C.C                                                                15:46:1        16.9
24                  Helen Eborall                                 Born To Bike – Bridgtown Cycles                 W                15:47:8            16.9
25                  Vanessa Whitfield                           Velo Club St.Raphael                              W                 15:48:0   16.9
26                  Stuart Baker                                 Buxton C.C/Sett Valley Cycles                                         15:53:5       16.8
27                  Iona Sewell                                   gbcycles.co.uk                                     W                  15:57:3   16.7
28                  Andy R Moore                                Lincoln Wheelers C.C                                                  15:59:5  16.7
29                  Lee Speight                                   Holme Valley Wheelers                                                 16:08:8  16.4
30                  Keith Minor                                   Lyme Racing Club                                 V                   16:08:9   16.4
31                  James Russell                               Macclesfield Wheelers                            V                   16:16:4       16.3
32                  Duncan Smith                                Team Hoppers Rollers                                                       16:26:0        16.2
33                  Sandra MacKay                              gbcycles.co.uk                                     W                  16:28:5  16.1
34                  Jayne Dickens                               Stone Wheelers C.C                                     W                  16:57:9        15.7
35                  Nick Sharpe                                  Buxton C.C/Sett Valley Cycles                   V                 17:01:0       15.7
36                  Sophie Yarwood                              Team Glow                                                W      17:10:5      15.5
37                  Nicola Soden                                 gbcycles.co.uk                                          W                 17:22:1       15.3
38                  Molly Whittall                             Buxton C.C/Sett Valley Cycles                     W                  17:22:8      15.3
39                  Ken Roberts                                  Garstang C.C                                              V      17:41:9      15.1
40                  Michael Allcroft                              Buxton C.C/Sett Valley Cycles                     V               17:53:1   14.9
41                  David & Amanda Phillipson                 Withington Wheelers                           Tandem           27:16:1     9.8