Winnats Pass is a tough climb in the Peak District from the village of Castleton heading West through a steep limestone cleft.  It averages over 10%, with a considerable section of 20% + near the top.
Winnats pass has featured in the now-defunct Tour of Peak road race and also featured as a venue for the National hill climb Championship on a record ten occasions (most recent 1977). It will also be the venue for 2021. There is now a popular Tour of the Peak sportive, run in May. The sportive offers closed roads for Winnats Pass.
The climb travels through a natural amphitheatre with steep slopes and rock faces on either side of the road. It provides an excellent location and challenge. The main drawback of Winnats pass is that it can be quite busy with motor traffic.  (unfortunately, the old A road through Mam Tor was closed due to subsidence.) Combined with the narrowness of the road, it can become a little crowded. As a result, you are likely to be greeted with the reassuring smell of burning clutch as cars struggle up the 20% inclines.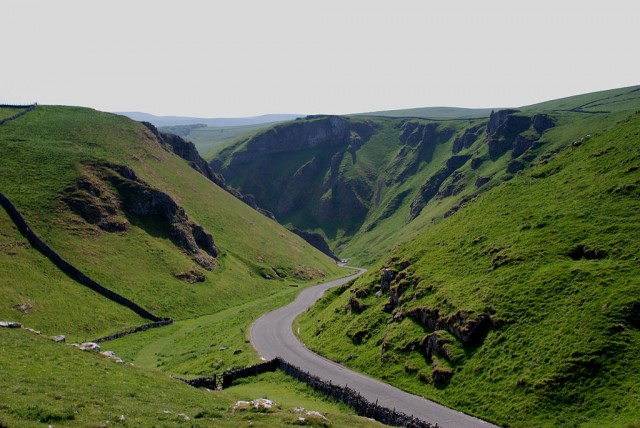 Winnats Pass old Hill Climb Course
The National Hill Climb Championship has been held on Winnats Pass on ten occasions. They used to be able to get a road closure because the alternative A road to the top was still functioning.
The winning time was around 3.20 – 3.30. It is hard to know the actual course but this is a rough approximation.
2021 National hill climb course
The 2021 National hill climb has been confirmed as Winnat's Pass. The course is said to be
"Start at first kerbstone on left 5 metres above Cattle Grid. Proceed uphill to finish at Cattle grid sign just before Cattle grid at top. 0.56mile/ 985yds"
Best approximation so far.
Twitter – Winnats Pass
Strava – Hill climb course Winnats Pass
---
Winnats Pass Full climb:
After leaving the village of Castleton you turn left. Initially, the climb is not too steep, but the gradient increases until you come to a fairly constant section of 20%, which lasts for quite a bit.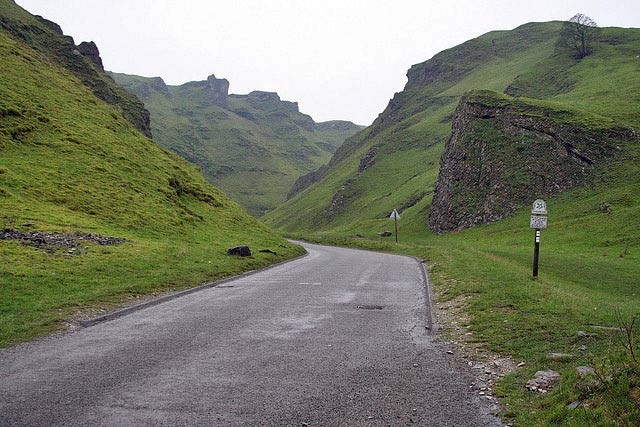 On the top of the moor, you see the quite impressive Mam Tor.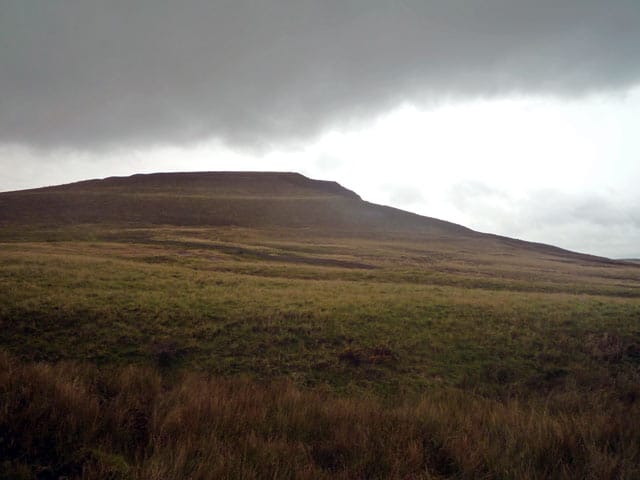 The climb starts off at a gentle gradient as you leave the village; it steadily increases – up to 10% in the middle, and steeper towards the top. For a good section, you have a gradient of 20%. Difficult if you went too fast at the bottom or if you run out of gears. There are also two cattle grids to negotiate. Finally, there is a false flat taking you to the top.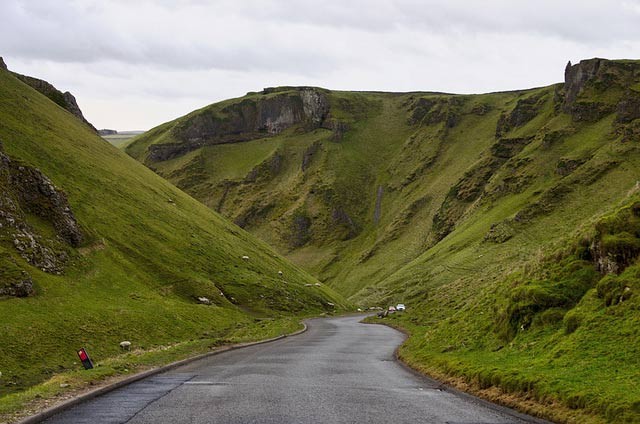 1977 National Championship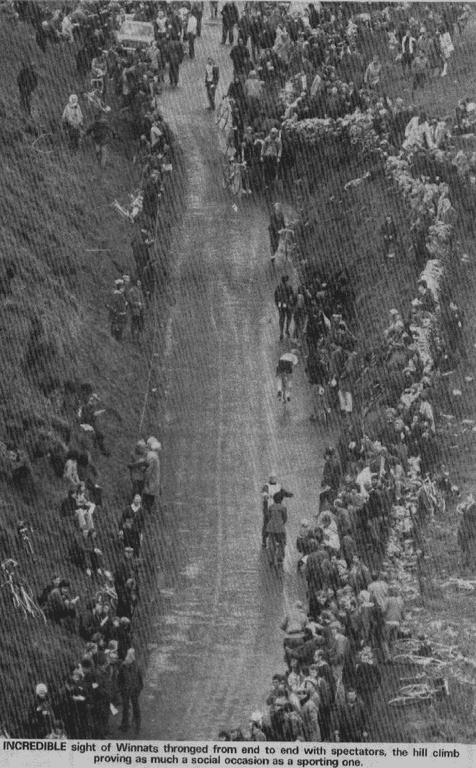 In 1977, the National hill climb championship was held on Winnats Pass. It was won by John Parker (3.22) Southport RCC. The times suggest it must have been the last half of the climb, rather than the full. One note I have from the 1947 championship (won by Vic Clark) was that the distance was 983 yards (max. gradient -1 in 4.)
The final paragraph in the Cycling Weekly report from 1977  Nat HC was:
"They are a strange breed these men of the mountains. For minutes after they lay moaning and groaning like extras from a film battle, they where asking where next year's championship will be held."

Cycling Weekly report from 1977
Other National championships on Winnats Pass
1977 – John Parker 3.22
1972 – Granville Sydney,  3.23
1967 – Paul Wildsmith – 3.43
1966 – PD Greenhalgh – 3.11
1963 – Granville Sydney 3.18
1959 – Gordon Rhodes
1957 – Eric Wilson 3.56
1953 – R Keighley – 3.43
1949 – Bob Maitland 3.50
1947 – Vic Clark 3.28
One downside to the climb is that it is quite popular with motorists. Even motor cars can struggle a bit on the steep part, you might smell a whiff of burning clutch as you struggle up the last part. The road is wide enough for a bike and car, but with two cars passing it can get a little tight.
Overall, it's definitely a climb to check out. There is a good little circuit around Mam Tor, Edale and Winnats Pass if you wanted to get a few ascents in.
2012 blog
The only time I have visited Winnats pass was after racing up Cat & Fiddle in September 2012.
Starting in Macclesfield I went back up the Cat & Fiddle (much more slowly) and made my way over to Buxton against a fierce headwind. From Buxton, I took the road to Whaley Bridge, the opposite side of Long Hill, a climb I have frequently raced on. From Whaley Bridge I took a reasonable B6470 road to Chapel en Le Firth. A menacing black cloud was threatening in the distance, I was tempted to turn around, but wanted to reach Winnats pass if I could. The climb out of Chapel en le Firth was steady and long. Peaslows is just to the south, – a little steeper.
With the afternoon getting dark, I made straight for Macclesfield. From Whaley Bridge I took the road straight to Macclesfield. It was more direct than the Cat & Fiddle. This was one of those unsatisfying climbs with many false flats and several sections. When you think you've got to the top, you descend before another section of uphill. The climbing is the same as the Cat& Fiddle, but the Cat & Fiddle gives a greater sense of achievement because it's all done at once.
Related