Wheelspin is not a pleasant experience, it can throw you off rhythm and make you feel like you are going nowhere. A reader asked for any advice after experieing several wheel slips on Streatley.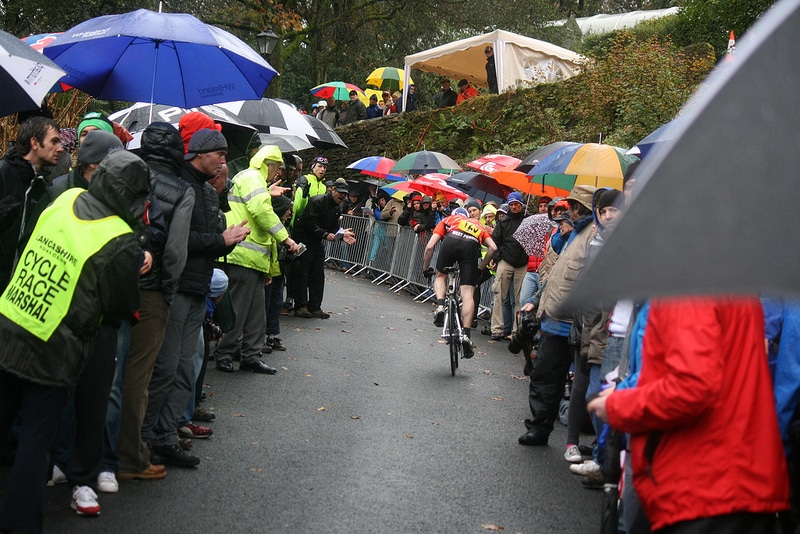 Factors which make wheelspin more like include
The steeper the hill it is
Riding style. Big jerky effort, low cadence, out of the saddle efforts may make wheelslip more likely
Rear tyre pumped up high
Personal experience of wheel spin
The first time I had bad wheel spin was 2005 National hill climb on the Rake. The ground was damp and it was the first time I had raced on a climb as steep as the Rake (22%) It really knocked my rhythm. It felt like you were grounding to a halt. Since then I might have had some at the Cat and Bec hill climbs, which are also similarly steep but I can't remember now.
When I went back to the Rake in 2012, I didn't have any wheelspin, I think I reduced tyre pressure to 65psi because it was damp.
How to avoid wheelspin
I find the best way to avoid wheel spin is to avoid entering climbs like the Rake or Cat and Bec!
On a serious note, I'm not an expert on avoiding wheelspin, because I preferred longer climbs rather than the very short and steep. A few riders say they experienced wheel spin on Streatley Hill (max gradient 18%) but I never have. Possibly because I spin slightly higher cadence than average or my tubs are good. In 2020 on Streatley, I reduced tyre pressure to 80psi – but only because others were talking about wheelspin.
Of course, if you can remain seated whilst climbing, wheelspin will not occur. But, this is not really useful advice as no-one wants to climb the Rake or Streatley seated. (For what it is worth I did the first 150m of Streatley seated and then the rest of the climb out of the saddle)
Lower psi to 60psi. If you think wheelspin is a big issue, the best is to ride 25″ tyres and reduce tyre pressure to as low as 60psi. Choosing wider tyres gives more traction
Best tyres to avoid wheelspin?
After the 2005 experience, I spent a long time researching the best tyres to avoid wheelspin. I eventually asked Jim Henderson and he advised some particiular tubulars as being fantastic for avoiding wheelspin, I regret to say I can't remember what he said!
Since 2011 I have used
Vittoria Chrono Evo tubulars (165g) 22″ which are super light and have been very good for avoiding wheelspin. For me these have been good, but there might be better. I'm not sure whether the Chrono Evo are still available.
My Vittoria may need replacing, and if it is Winnat's Pass next year, it will be another steep one. If any reader has any tyre recommendations please share!