Results 2005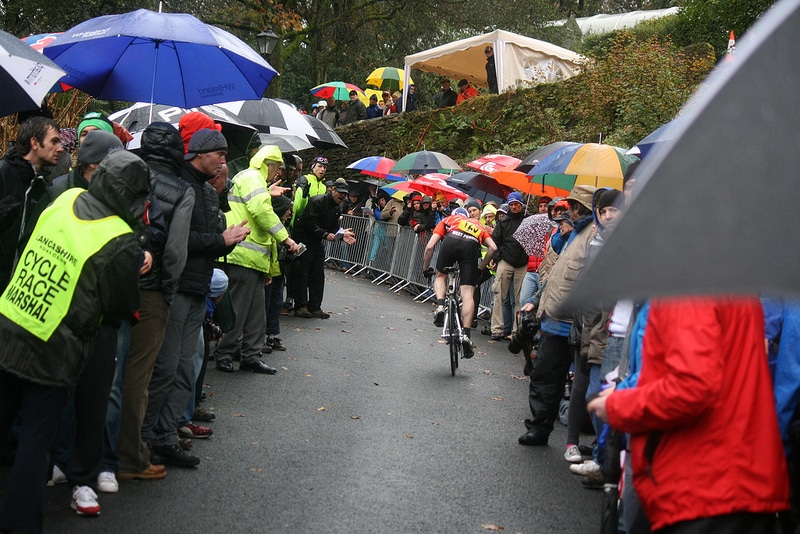 Pos

Rider

Club

N1

Arctic Shorter Rochford RT

Arctic Shorter Rochford RT

Arctic Shorter Rochford RT

Arctic Shorter Rochford RT

Arctic Shorter Rochford RT

Arctic Shorter Rochford RT

Royal NavyRoyal Marines CA

Hastings & St Leonards CC

Arctic Shorter Rochford RT
National Hill Climb 2005 – The Rake
View: Video of Climb
This years national hill climb was held in Ramsbottom, Bury on the steep climb of the Rake. It was organised by Lancashire RC. The climb is quite short only 900 yards long but towards the end the climb gets close to 25%. It was used in this years Tour of Britain and was also used for the National Hill Climb Championship in 1999.
There were 150 riders in the field with some of the country's top riders. Pre race favourites included 5 times champion Jim Henderson (Southport CC), Rob English (21st Airports), Johnathon Dayus (Arctic Shorter – last years champion) David Clarke (Rayon d'Argent) and Ben Greenwood (Recycling.co.uk.)
Many riders such as Jim Henderson were riding fixed gears, this helps to make the bike slightly lighter but looses some flexibility as you can easily be overgeared for the last part of the climb. I don't have a fixed bike but use a single chainring 39 with a standard sprocket on the back, see hill climb bike
When I arrived in Ramsbottom it was raining quite hard, but fortunately this cleared up by the time I was racing. However it left the roads wet, which meant the road was quite slippy.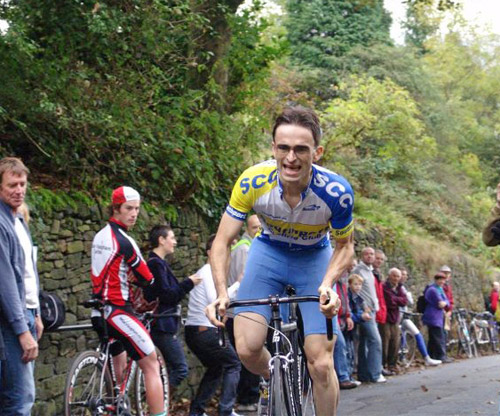 The climb starts in the centre of town and is run on closed roads. Being close to many cities there was a good crowd of spectators lining the route especially at the top. It's difficult to remember much from the climb it seems to be over quite quick. It was the first time I had ridden in the wet this year and had a problem with my back wheel slipping in the wet. When I turned the last corner on to the steepest section there was a great noise from the crowd at the top of the climb. It gives you a real boost just as the climb is getting the most difficult. At the top of the climb, there is another 50 yards or so of flat, where you could easily gain or lose a few seconds. There were even marshals at the top waiting to catch you in case you fell off your bike with exhaustion.
I finished 12th overall in a time of 2.39.1. only 9 seconds off a medal so I was quite pleased. I only regretted using 19mm track tubs in the rain.
I was disappointed for my old club mate Jim Henderson who narrowly missed out on winning by a margin of only 0.3 seconds (or 240g as he worked it out).
The National Champion was Ben Greenwood Recycling.co.uk,  3rd place was French based David Clarke (Rayon D'Argent ) Rob English had a good ride to finish just outside the medals in 4th place.
Overall results
1          Ben Greenwood   2:26.5
2          Jim Henderson     2:26.8
3          David Clarke         2:31.9
4          Rob English          2:33.9
5          Matt Clinton        2:34.2
6          Jonathan Dayus    2:34.8
7          James Dobbin      2:35.0
8          Peter Bissell        2:36.5
9          Bill Bell               2:37.2
10       Alex Coutts          2:38.0
11        Ian Stott              2:39.0
12        Richard Pettinger  2:39.1