The 2020 National Hill Climb was held on Streatley Hill and was promoted by Reading CC. In many ways, it was quite an innovative event. Chip timing, live stream, live commentary (good quality) And perhaps most impressively 479 riders signed up, with a special effort to encourage more women to enter. I believe over 109 women and 104 juniors were on the startsheet, which is impressive growth from a few years ago. For quite a few years, the Hill climb championships has seen increased interest and growth, but this year's event has set a new standard. The organising team did an excellent job in difficult circumstance. It will be interesting to see how it progresses in the future.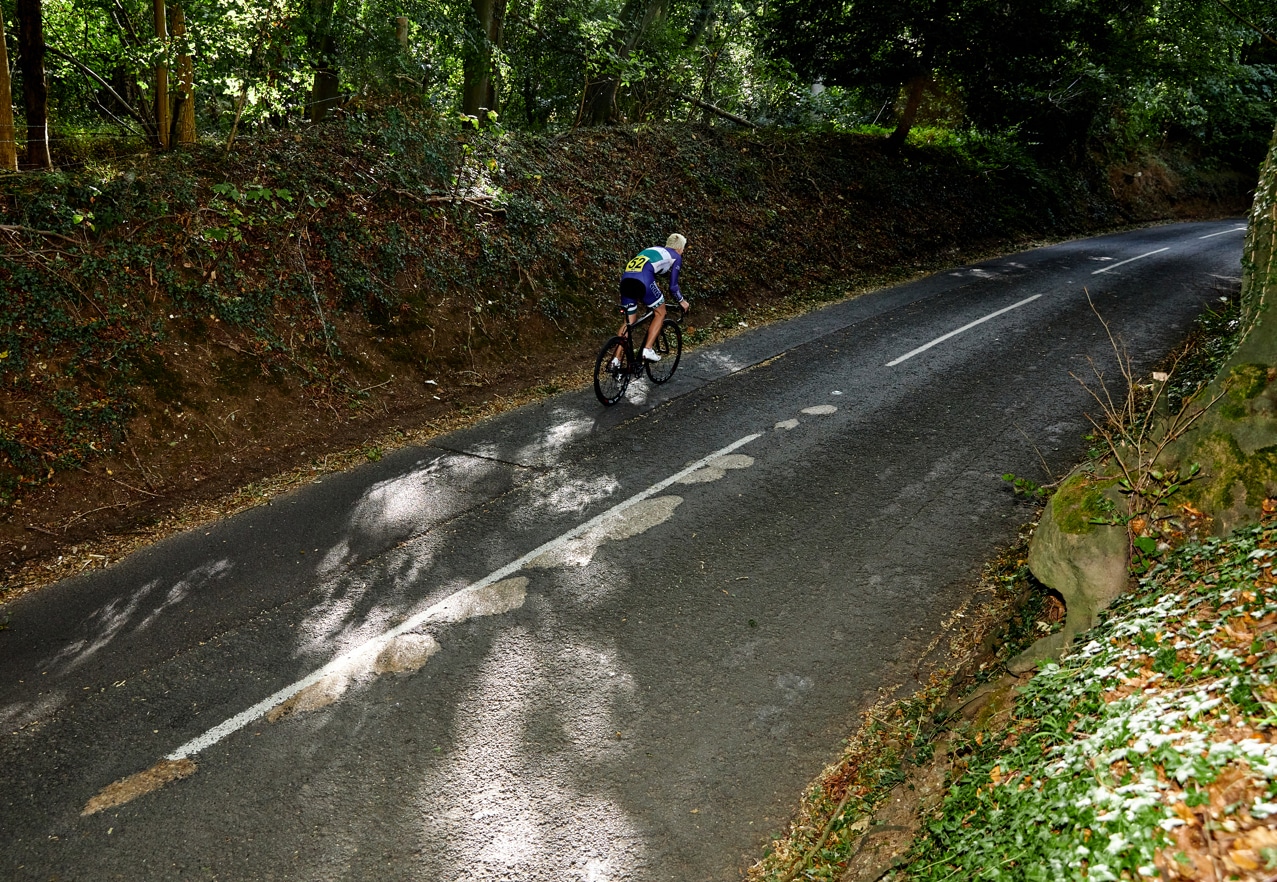 The depth of the field is also reflected in the standard of this year's hill climbing. I've come back after four years out of the sport, and on coming back, it seems the bar has been raised quite a bit. Of course, like everything else, the event has been overshadowed by the current Covid-19 situation and I think we have to be thankful the event was able to go ahead. Fortunately, time trials are more suited to socially distancing than the majority of amateur sports, but it must have required quite a few last-minute organisational changes to keep the event on track. The event was not without some Covid casualties. I know of two Welsh riders (Ed Laverack men's defending champion) and Rebecca Richardson (3rd women 2019) who were unable to attend due to Welsh lockdown. But still, around 400 riders were able to start in an event which did as much as possible to minimise any risk.
One reason Streatley hill was chosen was the hope that it would have created a great atmosphere on the hill. In normal times, I think the hill would have been packed with spectators, and it is a shame we didn't have that opportunity to race through a thick crowd of noise and spectators, but, in the bigger scheme of 2020, this is a minor inconvenience and I got the feeling the riders were grateful for the chance to race, even if we didn't have the packed roads of previous years.
Moving with the times, the race had live results, live feed and live commentary. My only quibble is that for us dinosaurs who do not use Facebook some things are not so accessible. But, in theory, after the race, you were able to watch a video of yourself competing. I was quite impressed with the quality of commentary and the commentator could even pronounce my name.
In the men's event, Andrew Feather (HuntBikeWheels.com) took another well deserved title, with a storming time of 2.04. I believe Andrew Feather has now won 14 hill climbs on the run, probably a record. Just a second behind was Tom Bell (High North Performance) at 2.05. In third place was another podium for Adam Kenway (Vitus Pro Cycling/ Brother UK). There were also many very good rides throughout the field. In the women's event, Bithja Jones (Pankhurst Cycles), who has also been on super form this year, took her first title in a time of 2:47.94. Mary Wilkinson of the Yorkshire Road Club took her third second-place. In third place two ladies were tied with exactly the same time Monica Greenwood (Macclesfield Wheelers) and Becky Storrie (Synergy Cycles).
In the world of pro cycling, we are seeing a new generation of young riders come through and set very fast times. It is the same in domestic cycling, with six junior men going under 2.30. The winner was Tom Williams (Webbs 1902 CC) in a time of 2.20.85 – not bad for a 16 year old! Matthew Houlberg (Meudon Pedal Heaven Le Col RT) 2nd and 3rd was  Lukas Nerurkar VC de Londres.  The junior women was won by Abi Smith (Moonglu CC) in 3.02, Ellen Bennett (Flamme Rouge Cycling Team) 2nd in 3.17.46 and Kat Richardson (Glasgow Triathlon Club.) in 3:21.47
The fastest vet man was Glyndwr Griffiths 2.22.
Next year's hill climb?
One rumour I enjoyed hearing at this year's event was that next year was provisionally planned for Winnat's Pass. I'm not sure how reliable the rumour is, but suffice to say it's a beautiful setting and has been used as the National Championship course on a record ten occasions.
My race
After four years with injury, the main thing was that it was great to be back racing this year. I never had too much expectations; these days the main thing is competing against yourself, how close can you get to former pbs. It's a different way to approach the race. Less pressure and expectations – mainly doing it for the buzz of racing.
Thanks to Paul Jones for video
The race went fairly well. I paced it reasonably well and finished quite strong. My time was 2.33, which is OK. It wasn't a super-special effort, but a reasonable effort all considered.
One thing about racing on closed roads is that I always forget the road is closed to traffic and out of habit, ride 2 feet from the left curb, even if this means going over the potholes.
The main thing is I got a lot of inspiration from doing the championship again. Nice to meet a few people (including quite a few first timers). If all goes well, I will be back in 2021 and will be trying very hard to go faster than – if not personal bests – at least faster than 2020.
Some photos of the event

Adam Kenway in the queue to sign on. For a pro rider, Covid-19 has made it a difficult year.
The field for parking.
Fast vets
Newbury Velo and Reading CC were both heavily involved in organising. The event required quite a big team of volunteers helping with the road closures and socially distancing measures. I recognised a few faces from the London West district, who did a great job.
At the bottom of the hill. There were two starting gates to facilitate 30-second intervals (30 secs are definitely the way to go for a big event) The chap on the right is former champion Matt Clinton, who I think spends more time coaching other riders these days. Another former champion I noticed on the startsheet was Ben Greenwood (Macclesfield Wheelers). Ben won the 2005 National Championship on the Rake (my first national), 15 years ago and he is still a senior!
The weather was mostly good. At least the rain storm passed the previous night. There were a few brief showers for the women later in the day. There was a small headwind on the climb.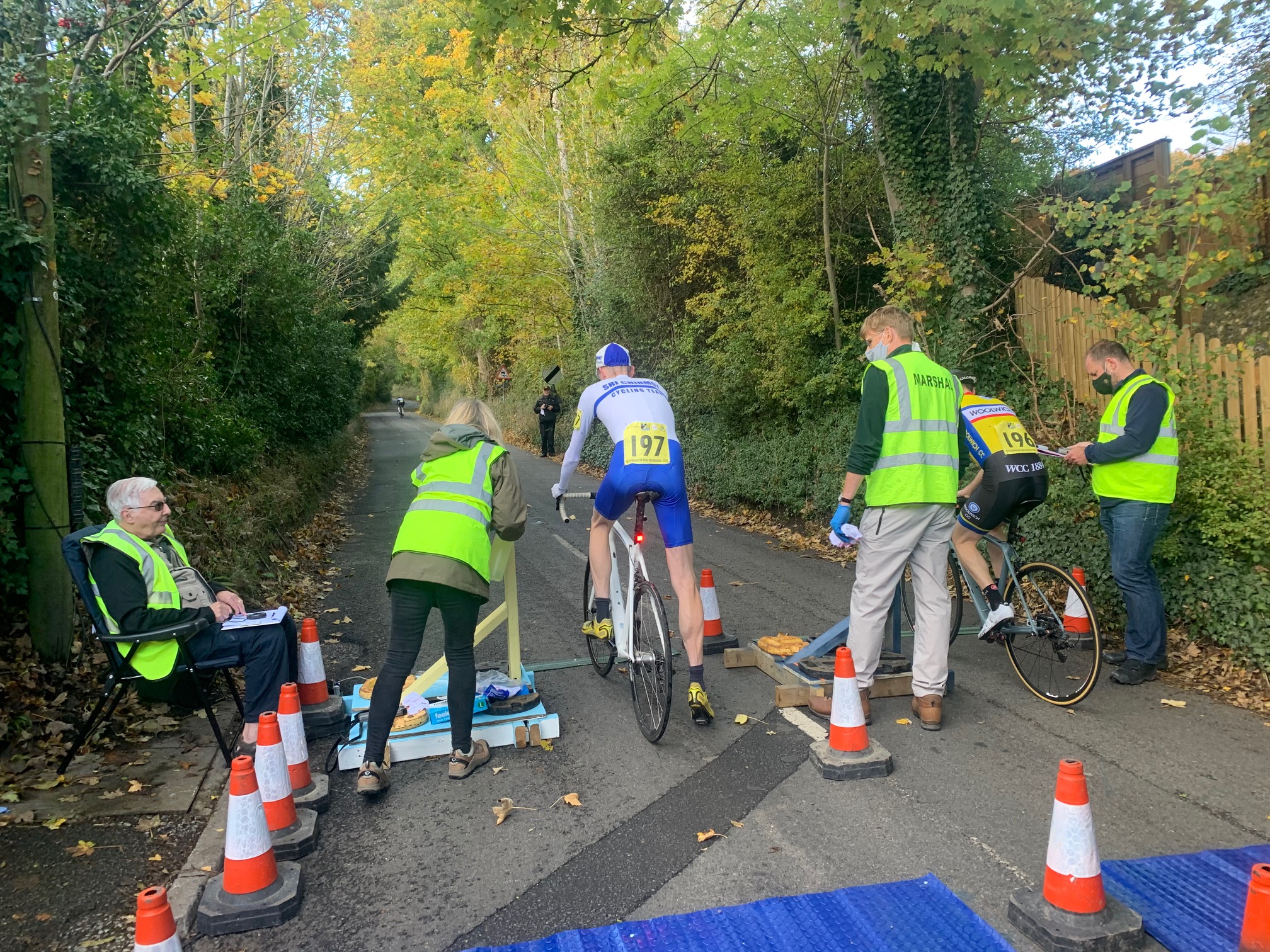 Results
Photos
If you know of any good photo gallery, please add link in comments below.
---
Previous results up Streatley
2004 – 2.38 – 5th/38
2005 – 2.39 – 5th/ 27 winner Rob English 2.21.
2012 – 2.24 – 2nd.
2020 – 2.33 – 51st (National hill climb.
Previous National hill climbs
2005 – 11th (Rake) 2.39
2006 – 7th (Peak Hill) – 5.18
2007 – 7th (Cheddar Gorge) – 7:14
2008 – 12th (Bank Road) – 2.42
2009 – 12th (Pea Royd Lane) – 3.49
2010 – 4th (Dovers) (3.56)
2011 – 5th (Long Hill) – 13.02
2012 – 11th (Rake) – 2.41
2013 – 1st (Stang) – 7.57
2014 – 4th (Pea Royd Lane) – 3.32
2015 – 6th (Jackson Bridge) – 4.25)
2016 – 41st (Bank Road – 2.40
2020 – 51st (Streatley) – 2.33
Footnote
In terms of most consecutive hill climb events, I don't know the record but I believe Andrew Feather now has around 14. My longest winning streak was 13 between Oct 2013 and Oct 2014. (13 opens, 16 hill climb stages. But, I think the winning streak in 2020 is even more impressive given the depth of competition that exists now.
Matt Clinton had 19 consecutive hill climbs wins during 2008-2009.