Today was my 10th entry for the Bristol South CC promotion on Burrington Combe.
It's always a hill climb I enjoy riding. A good long climb, nice scenery and, over the years, I have got to know quite a few riders and organisers from the Bristol scene. It also helps that the climb historically suited my riding style. The last eight times I have entered – going all the way back to 2005 – I came first. It was an unbeaten run that was more than overdue to be broken. Since I was last here in 2016, a lot has happened. And it's not just me getting older.
I thought the conditions were quite good. 12 degrees, hardly any wind, maybe 1 mph headwind at the top, but not noticeable. My race went fairly well. I warmed up on the road, switched to the lighter racing wheels and went off to the start. I got into a good rhythm and I paced it reasonably well. I made quite a good effort, riding as hard as I could for 7+ minutes and making an extra effort at the steep bits. The only downside to the race was that my time was about 30 seconds slower than I would have liked. As a great French philosopher once said "That's life, mate!"
My very first cycling blog was not cyclinginfo.co.uk, but an appendix to richardpettinger.com (so long ago I even had a different name). It was a pretty feeble first effort at writing about cycling. I mainly remember calling the blog "It's all downhill from here" which, at the time, I thought was very amusing for a blog about cycling. I then moved to cyclinginfo.co.uk before settling on cyclinguphill.com. But, as I enter the more mature phase of life, perhaps the title "It's all downhill from here" will prove increasingly apt.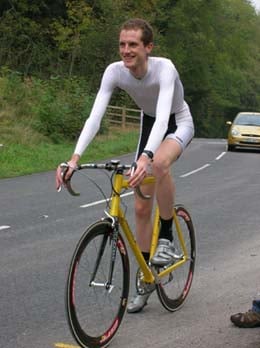 Out of interest – this was the kind of blog I wrote from my 2005 event – Bristol South CC
In 2005, I remember spending hours getting the bike lighter, I think I ran a 44 single chainring, and all kinds of marginal gains. I was really proud at how light the bike was – something in the region of  6kg for a scandium Ribble frame. These days, taking off my bottle cage is my main concession to bike preparation. Though the Emonda is a pretty good starting point.
Interesting of note – in 2005, there were only three riders under 8 minutes; today there were nineteen. (though James Dobbin went on to win Nat HC in 2006/07). I imagine in 2005 there were very few juniors or women on the startsheet as they were a rare breed in that era. These days the hill climb scene is attracting a greater diversity of riders which is a very good thing, even if does mean us older folk see ourselves slipping down the standings.
The other blog of note from rp.com was a report from the 2005 National Hill Climb.
In the past few weeks, I have had a small dip in form. I have especially struggled (comparatively) on the longer climbs. I used to do better on the long climbs, but these days it is the other way around. I think part of the reason may be due to the fact I don't train as much as I used to. On short climbs, you can get by on quite low mileage and a few efforts. For the longer climb, it seems to make a bigger difference how fit you are. It would be interesting to see what would happen if next year I tried training like I used to. But, I now realise that to do 10-15 hours of training is a really big commitment of time, energy and enthusiasm. Whether I will ever have that time or inclination to train, I doubt.
At the race, I saw a few people I hadn't seen for quite a while. Including Nick Pashley who was the club captain during my days at Oxford University CC. I was club treasurer and Nick was a larger than life presence. He mainly rides cyclo-cross, but with that being cancelled for 2020 – he made a sideways jump (or should that be vertical) jump into the hill climb scene. He made a very creditable time for a first effort at hill climbs, and he's definitely not a whippet like me.
Time: 7.31 – 369 watts
Previous results on Burrington Combe
2004 – 7.12 – 2nd / 43 – winner D.Axford (7.02 CR)
2005 – 7.06 – 1st / 61  – (2005 blog)
2008 – 7.21 – 1st / 50
2009 – 7.20 – 1st / 55
2010 – 7.10 – 1st / 51 – (blog 2010)
2011 – 6.51 – 1st  /48 – CR (blog 2011)

2014 – 6.57 – 1st / 118 – blog 2014
2015 – 6.58 – 1st / 110 – blog 2015

2016 – 7.17 – 1st / 113 (386W) – blog 2016
2020 – 7.31 – 8th / 113 (369 W)
Thanks to Bristol South CC for putting on the event in these testing times.
Of note
Photo by Paul Jones. I should add that I haven't put on any weight – I had just stuffed a skinsuit up my cycle top.
---
Vale Street
On my way back from Burrington Combe, I made short detour to Vale Street, Bristol. I read about it in Simon Warren's Another 100 Climbs. It claims to be the steepest residential street in Europe. It's a bit of a gimmicky climb being very short. But, it is very steep and makes a good photo.
I run a 11-speed cassette (with one removed) on my old lightweight rear wheel (10 speed hub). When I went for the climb, I went down into lowest gear, only for chain to fall off, leaving me kind of stranded, horizontal to this super steep gradient. I was just stuck for a few seconds not knowing what to do or where to go. If someone had been watching, they might have found the predicament quite funny. Second time around, I chose gear more carefully. It's a weird sensation, I could never let myself rip and try really hard as I feared I would fall off on the adverse camber. I should have tried the really hard way from the bottom of the hill, up the really steep left-hander section. But, my lowest gear was 39*23 and it wasn't working very well  I felt I would not make it and probably fall over. So I gave it a miss. But, I did do it coming down the adjoining road and turning right.
So two hill climbs for the price of one. I've ticked it off my bucket list of climbs to do. It took me 21 seconds and went round the block three times.
Results Burrington Combe 2020
| | | | | | | |
| --- | --- | --- | --- | --- | --- | --- |
| Position | First Name | Last Name | Gender | Category | Club | Precise Time |
| 1 | Carl | Jolly | Male | Espoir | University of Bristol Cycling Club (UOBCC) | 07:11.3 |
| 2 | Thomas | Arkell | Male | Espoir | East London Velo | 07:13.0 |
| 3 | Phil | Stonelake | Male | Vet | Bristol Road Club | 07:17.7 |
| 4 | Jake | Hollins | Male | Senior | Bath Cycling Club | 07:23.8 |
| 5 | Jacques | Coates | Male | Espoir | Team PB Performance | 07:28.4 |
| 6 | Nicholas | Candy | Male | Espoir | North Road CC | 07:28.6 |
| 7 | Ben | Millar | Male | Senior | Team Tor 2000 | KALAS | 07:30.5 |
| 8 | Tejvan | Pettinger | Male | Vet | Sri Chinmoy Cycling Team | 07:31.3 |
| 9 | Will | Duffy | Male | Espoir | Bath Cycling Club | 07:31.8 |
| 10 | Archie | Cross | Male | Senior | Team Lifting Gear Products/Cycles In Motion | 07:32.6 |
| 11 | Tom | Lowe | Male | Vet | Born to Bike – Bridgtown Cycles | 07:34.2 |
| 12 | Nick | Livermore | Male | Senior | Bristol South Cycling Club | 07:35.9 |
| 13 | Andrew | Kirby | Male | Senior | 73 Degrees Bicycles, WestSide Coaching rt | 07:37.2 |
| 14 | Tom | Williams | Male | Junior | Webbs 1902 CC | 07:39.2 |
| 15 | Ted | Cross | Male | Senior | University of Bristol Cycling Club (UOBCC) | 07:43.4 |
| 16 | Charlie | Lacaille | Male | Espoir | University of Bristol Cycling Club (UOBCC) | 07:49.6 |
| 17 | Jake | Sargent | Male | Espoir | FTP (Fulfil The Potential) Racing | 07:58.3 |
| 18 | Daniel | Eastment | Male | Vet | 1st Chard Wheelers | 07:59.6 |
| 19 | Thomas | Hall | Male | Senior | Bristol South Cycling Club | 07:59.8 |
| 20 | Jonathan | Heath | Male | Senior | NFTO CC | 08:00.4 |
| 20 | Andrew | Metherell | Male | Vet | Salt and Sham Cycle Club | 08:00.4 |
| 22 | Glyndwr | Griffiths | Male | Vet | 73 Degrees Bicycles, WestSide Coaching rt | 08:02.8 |
| 23 | Adam | Whitehead | Male | Senior | Bristol South Cycling Club | 08:04.9 |
| 24 | Joseph | Wright | Male | Juvenile | Team Zoyland | 08:05.0 |
| 25 | Steve | Thomas | Male | Vet | Bristol Road Club | 08:05.2 |
| 26 | Joe | Taylor | Male | Senior | Magspeed Racing | 08:08.3 |
| 27 | Harvey | Thomas | Male | Juvenile | Bristol Road Club | 08:08.5 |
| 28 | Carl | Dyson | Male | Senior | Leicester Forest CC | 08:08.7 |
| 29 | Daniel | Pink | Male | Senior | GS Avanti | 08:12.6 |
| 30 | Karl | Norris | Male | Vet | 360VRT | 08:13.5 |
| 31 | Robert | Francis | Male | Espoir | Reflex Racing | 08:18.7 |
| 32 | Liam | Cahill | Male | Senior | Reflex Racing | 08:22.4 |
| 33 | Thomas | Southey | Male | Senior | Bristol South Cycling Club | 08:23.4 |
| 34 | Charles | Coleman | Male | Senior | Rogue Racing | 08:26.3 |
| 35 | Jamie | Richardson Paige | Male | Senior | Magspeed Racing | 08:27.9 |
| 36 | Anthony | Clark | Male | Senior | FTP (Fulfil The Potential) Racing | 08:28.3 |
| 36 | Natalie | Grinczer | Female | Senior | CAMS -Tifosi | 08:28.3 |
| 38 | Matthew | Skeats | Male | Senior | University of Bristol Cycling Club (UOBCC) | 08:30.1 |
| 38 | Joe | Norledge | Male | Senior | Bristol South Cycling Club | 08:30.1 |
| 40 | Junda | Niu | Male | Espoir | University of Bristol Cycling Club (UOBCC) | 08:37.5 |
| 41 | Nicole | Coates | Female | Espoir | Torelli | 08:38.5 |
| 42 | Josh | Griffiths | Male | Espoir | Bikestrong-KTM | 08:39.4 |
| 43 | Jon | Reilly | Male | Senior | Bristol South Cycling Club | 08:39.7 |
| 44 | Richard | Bennett | Male | Senior | Bristol South Cycling Club | 08:43.5 |
| 45 | Sam | Westlake | Male | Senior | PDQ Cycle Coaching | 08:43.8 |
| 46 | Jack | Luke | Male | Senior | Bristol South Cycling Club | 08:45.2 |
| 47 | James | Harrison | Male | Senior | Sodbury Cycle Sport | 08:46.0 |
| 48 | Ben | Turner | Male | Vet | Wellington Wheelers Cycling Club | 08:47.3 |
| 49 | Tavis | Walker | Male | Vet | Rogue Racing | 08:49.6 |
| 50 | Gary | Fouracres | Male | Vet | Mendip Cycling Club | 08:51.2 |
| 51 | Scott | Chalmers | Male | Senior | Magspeed Racing | 08:51.4 |
| 52 | Jonathan | Marriott | Male | Espoir | University of Bristol Cycling Club (UOBCC) | 08:51.6 |
| 53 | Ash | Miles | Male | Vet | CC Giro | 08:52.9 |
| 54 | Tom | Taylor | Male | Juvenile | Avid Sport | 08:56.0 |
| 55 | Jon | James | Male | Vet | Mendip Cycling Club | 08:57.8 |
| 56 | Kate | MacTear | Female | Senior | Bristol South Cycling Club | 08:58.2 |
| 57 | Christopher | Britten | Male | Vet | Sodbury Cycle Sport | 09:00.9 |
| 58 | Luke | Browne | Male | Senior | BS10 Cycling Club | 09:07.4 |
| 59 | Jon | Wiggins | Male | Senior | PDQ Cycle Coaching | 09:07.5 |
| 60 | Edward | Trenchard | Male | Vet | Bristol South Cycling Club | 09:12.2 |
| 61 | Edward | Arnold | Male | Senior | Stroud Valley Velos | 09:13.0 |
| 62 | Felix | Smith | Male | Senior | Bristol South Cycling Club | 09:13.1 |
| 63 | Clare | Good | Female | Senior | PDQ Cycle Coaching | 09:14.6 |
| 64 | Christine | Wellington | Female | Vet | Birmingham Running, Athletics and Triathlon Club | 09:15.6 |
| 65 | Charlotte | Davies | Female | Senior | FTP (Fulfil The Potential) Racing | 09:16.7 |
| 66 | Paul | Jones | Male | Vet | Bristol South Cycling Club | 09:18.7 |
| 67 | Tommy | Barlow | Male | Vet | Clevedon & District Road Club | 09:19.3 |
| 68 | David | English | Male | Vet | Chippenham & District Wheelers | 09:20.8 |
| 69 | Nick | Pashley | Male | Vet | Bristol CX | 09:24.2 |
| 70 | Marc | Allen | Male | Vet | Swindon Road Club | 09:26.7 |
| 71 | Tomasz | Osinski | Male | Senior | BS10 Cycling Club | 09:29.5 |
| 72 | Leo | Guilfoyle | Male | Junior | Clevedon & District Road Club | 09:30.2 |
| 73 | Steven | Cottington | Male | Vet | Bath Cycling Club | 09:33.3 |
| 74 | Leon | Gierat | Male | Vet | Bristol CX | 09:36.6 |
| 75 | Daniel | Andres | Male | Senior | FTP (Fulfil The Potential) Racing | 09:40.1 |
| 76 | Emily Kate | Walton | Female | Senior | Beeston Cycling Club | 09:41.4 |
| 77 | Ben | Loxton | Male | Espoir | University of Bath Cycling Club | 09:43.5 |
| 78 | Naomi | Eaton | Female | Senior | Stroud Valley Velos | 09:44.4 |
| 79 | Charlie | Bird | Male | Senior | Rogue Racing | 09:45.8 |
| 80 | Louis | Wright | Male | Juvenile | Team Zoyland | 09:49.3 |
| 81 | Edward | Morris | Male | Vet | Okehampton CC | 09:55.3 |
| 82 | Evan | Griffiths | Male | Senior | North Essex Velo | 09:55.5 |
| 83 | Alan | Green | Male | Vet | Magspeed Racing | 09:59.0 |
| 84 | Richard | Burt | Male | Vet | Solihull CC | 10:15.0 |
| 85 | Oliver | Strother | Male | Vet | Bristol Road Club | 10:15.3 |
| 86 | Chris | McDonald | Male | Tan | PDQ Cycle Coaching | 10:24.1 |
| 87 | Jim | Dyke | Male | Vet | Bristol South Cycling Club | 10:38.2 |
| 88 | Becky | Dodds | Female | Senior | Rogue Racing | 10:39.8 |
| 89 | Haydn | Davies | Male | Vet | Giant CC Halo Films | 10:45.4 |
| 90 | Richard | Emery | Male | Vet | Severn Road Club | 10:59.5 |
| 91 | Pauli | Markkanen | Male | Vet | Bristol South Cycling Club | 11:10.8 |
| 92 | Gordon | Scott | Male | Vet | CC Weymouth | 11:28.4 |
| 93 | Sara | James | Female | Vet | Clevedon & District Road Club | 12:22.3 |
| 94 | Helen | Gray | Female | Vet | Rogue Racing | 12:34.1 |
| 95 | Joanna | Knight | Female | Vet | Bristol South Cycling Club | 12:42.2 |
| 96 | Rachel | Profit | Female | Vet | Clevedon & District Road Club | 14:48.5 |
| 97 | Bob | Symons | Male | Vet | PDQ Cycle Coaching | 15:30.6 |
Women
1 Natalie Grinczer Female Senior CAMS -Tifosi 08:28.3
2 Nicole Coates Female Espoir Torelli 08:38.5
3 Kate MacTear Female Senior Bristol South Cycling Club 08:58.2
4 Clare Good Female Senior PDQ Cycle Coaching 09:14.6
5 Christine Wellington Female Vet Birmingham Running, Athletics and Triathlon Club 09:15.6
6 Charlotte Davies Female Senior FTP (Fulfil The Potential) Racing 09:16.7
7 Emily Kate Walton Female Senior Beeston Cycling Club 09:41.4
8 Naomi Eaton Female Senior Stroud Valley Velos 09:44.4
9 Becky Dodds Female Senior Rogue Racing 10:39.8
10 Sara James Female Vet Clevedon & District Road Club 12:22.3
11 Helen Gray Female Vet Rogue Racing 12:34.1
12 Joanna Knight Female Vet Bristol South Cycling Club 12:42.2
13 Rachel Profit Female Vet Clevedon & District Road Club 14:48.5