One of the steepest residential streets in England, Vale Street is an unrelenting  1 in 4 climb – all the way to the summit. It has an average gradient of 23% and maximum gradient of 25.6%, there is no let up in the gradient from bottom to top. It is a sharp left from Park Street so it is not easy to get much momentum at the start.
Also, it is steepest on the inside of the hill. Don't take the very shortest route, but go around a little, otherwise, you may get into difficulty. You will have to also take care of cars coming down, though it is a residential street and relatively quiet. Make sure you have the right gears and power your way up.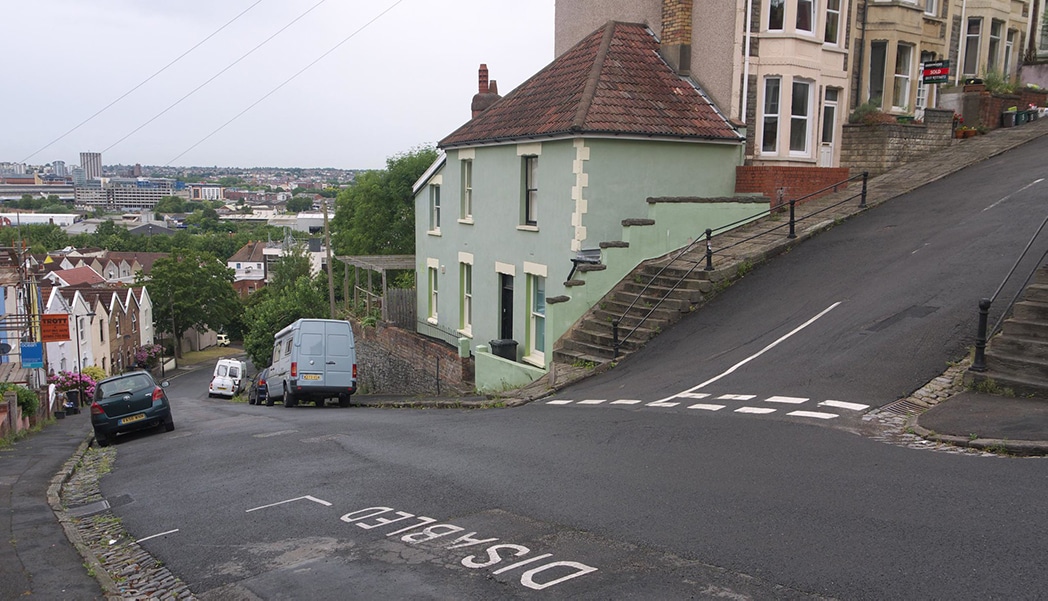 The only consolation is that it is quite short. Just 100 metres. Bristol is a city that has plenty of steep hills and also has a fixed gear tradition. I'm not sure you would want to try Vale Street with a fixed gear.
Details of the climb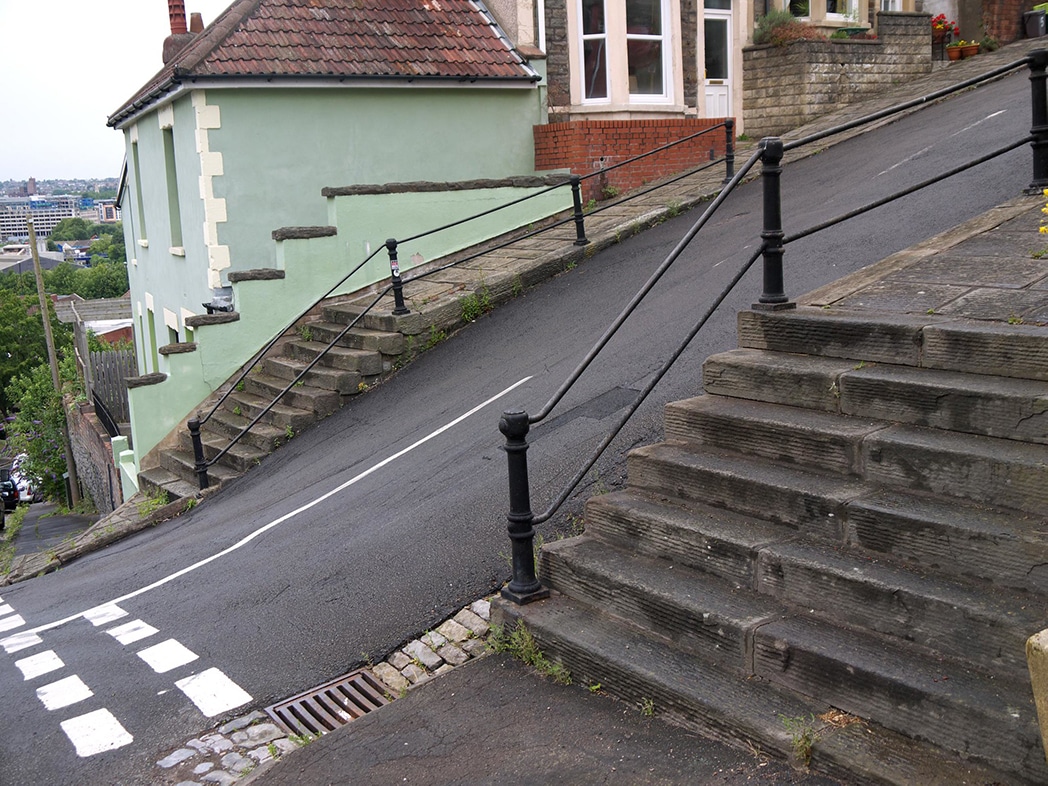 Veloviewer

Strava
Riding Vale Street
I rode Vale Street after doing a hill climb on Burrington Combe (near Bristol)
I run a 11-speed cassette (with one removed) on my old lightweight rear wheel (10 speed hub). When I went for the climb, I went down into lowest gear, only for chain to fall off, leaving me kind of stranded, horizontal to this super steep gradient. I was just stuck for a few seconds not knowing what to do or where to go. If someone had been watching, they might have found the predicament quite funny. Second time around, I chose gear more carefully. It's a weird sensation, I could never let myself rip and try really hard as I feared I would fall off on the adverse camber. I should have tried the really hard way from the bottom of the hill, up the really steep left-hander section. But, my lowest gear was 39*23 and it wasn't working very well I felt I would not make it and probably fall over. So I gave it a miss. But, I did do it coming down the adjoining road and turning right.
The proper climb should be really from bottom of Park Street as that is more testing than coming down hill and turning right.
Related
Purchase 100 Climbs
Another 100 Greatest Cycling Climbs at Amazon.co.uk
100 Greatest Cycling Climbs at Waterstones
Gold Hill is a very steep and short climb, but it is iconic for its famous views, entering into the national consciousness through the Hovis Bread advert (with a baker boy – pushing an old heavy bike up the hill. The climb will be all over very quickly, but the attraction is the picture-perfect setting in this most 'English' of scenes.
Details of the climb
Veloviewer

Strava
Related
Purchase 100 Climbs
Another 100 Greatest Cycling Climbs at Amazon.co.uk
100 Greatest Cycling Climbs at Waterstones