The National Hill Climb Championship this year is at Winnats Pass. It is an iconic venue for the event because it is an excellent hill (i.e. really hard – 11% average, 20% max gradient). The hill has a natural amphitheatre around the climb meaning there will be a great atmosphere for both riders and spectators.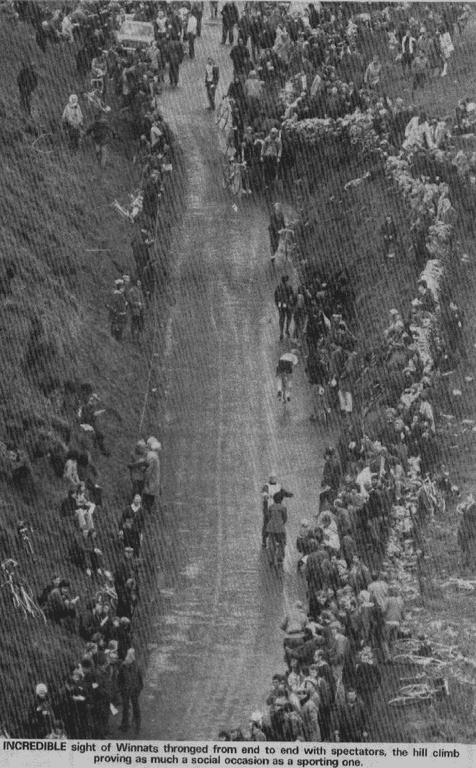 It is also by far the most popular hill climb venue for the National with 10 visits. However, this will be the first visit to Winnats since 1977.
2021 Hill Climb Links
The reason the National hasn't been back for 43 years is that there used to be an A road going up parallel to the hill climb route. However, a landslip meant the closure of the A road and so the hill climb route is now a major through road. Closing the road is much more tricky, these days.
It was very interesting to hear the efforts the organisers went to be able to get the local community to support the road closure. The event will be earlier in the morning so the road can re-open to traffic. Also because of pressure on the road, there will be 300 places – 50% men/women. So getting a qualifying time is likely to prove tricky.
From what I can gather the course record for the event (men) is 3.11. Peter Greenhalgh (1966)
---
Personal note
I am still at racing weight, but that's about it! Cycling is not really happening this year. Injury niggles, tiredness, other things going on e.t.c.
If I really forced myself, I could probably get a qualifying time and place in national, but I'd rather the place went to someone who had more fire in the belly so to speak. When I have gone out for a short ride, I'm now amazed at the effort you need to make to be in top shape for hill climbs and racing. Still, sometimes when I get on the scales I feel it is a waste of 62 kgs!
Even writing about Winnat's Pass makes you nostalgic for the National Hill Climb Championship.