A good cycling friend – Andy Sherwood has set up a new business – Sherwood Cycles It is aimed at offering mobile bike repairs throughout Oxfordshire and surrounding areas.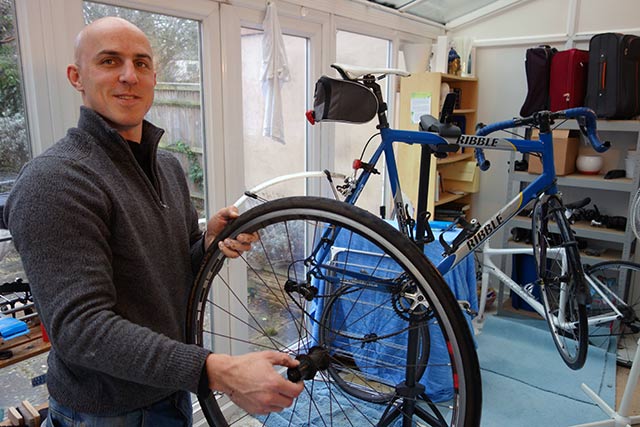 I've known Andy for quite few years, we did a few hill climbs together back in 2004/05.  Sherwood is not a bad cyclist himself, and did two 24 hour time trials, reaching 400 miles plus in both.
With seven bikes, I'm a big customer of bike repair services. My training and commuting bikes need fairly regular simple maintenance (cables/ cassettes / chains) My racing bikes are also a real pain – regularly needing tricky servicing. This is especially true since my latest Trek Speed Concept is now Dura Ace Di2 11 speed. I have 8sp, 9sp, 10sp and 11sp bikes. Wonderful compatibility problems.  Especially, when you are trying to fit a Quark Power meter.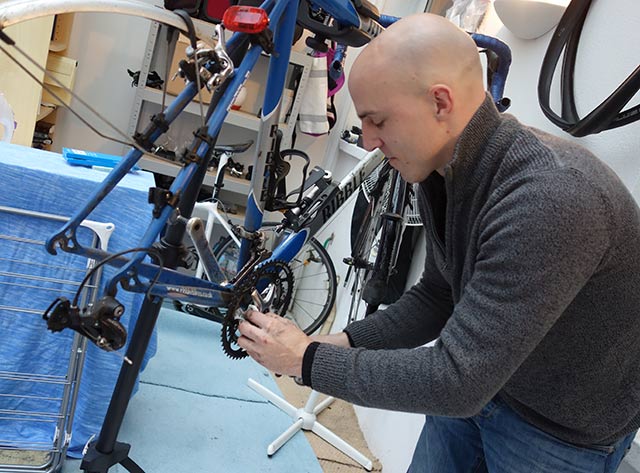 Today I got Andy Sherwood to tighten up a loose headset (Not enough spacers as it turned out) and change cassette and chain. In theory I can do these jobs myself, but from experience I'd rather pay an expert. Ironically, I had a Dura Ace 9 speed cassette lying around from the last millennium, when my racing bike was 9 speed. It was one of those things, which was sitting on the shelf for years.
The bike was all done very well. And a new cable fitted to help gears.
Mobile repairs
I don't like driving anywhere in Oxford. It's a pain having to take a bike in the car, find somewhere to park, and then later go and pick it up. This is the big advantage of a mobile bike mechanic who comes to you. The drawback is finding a time when the mechanic can come round. Fortunately, Sherwood came within 20 minutes of sending a text.
Value for money
I often fancy myself as a business consultant – I can't help but give business advice. My main advice to Andy was to have the confidence to charge a decent price and not just rock bottom prices. Compared to car repairs, bike repairs are always good value.
One thing you can guarantee with Sherwood is that he will always try to give a good deal to the customer. He's not in it for the money, but he does cares about giving good service.
Oxford bike repairs
There are already a few mobile bike mechanics in Oxford, but there must be quite a big market. I remember in my student days, it could take a whole term for a puncture to be fixed. When I take photos of Oxford cyclists – you can often see a very visible need for bike maintenance – even if it is the sound of rubbing mudguards, rusty chains or tyres with 10psi
To contact Andy at Sherwood Cycles: Text or call: 07473 300 894
Related