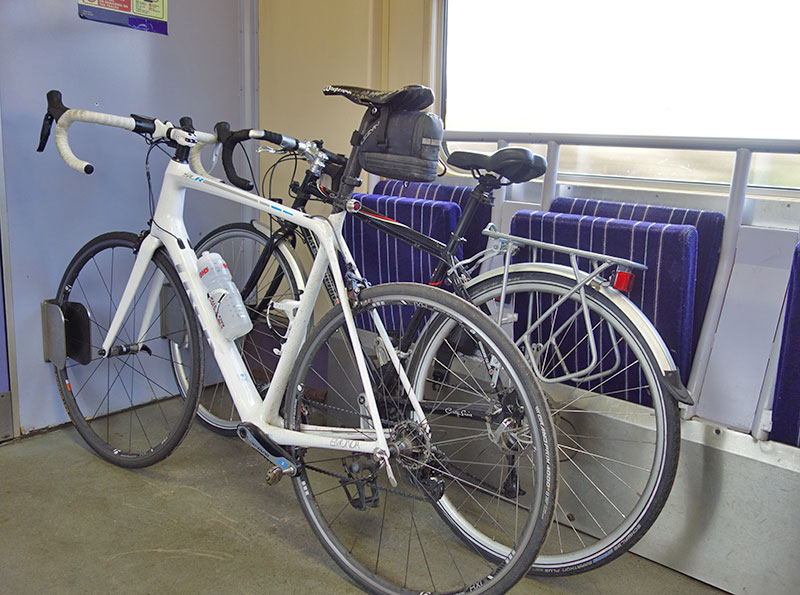 The weather forecast for today was sun and westerley wind. I thought I would be clever and get a train from Bingley to Clapham and avoid a long slog into a headwind. It partly worked out because the wind was strong, but 'light occasional showers' obviously means something very different west of Settle.
First up was a new climb south from Clapham towards the Trough of Bowland called Bowland Knotts. It is a climb from 100 climbs, and I probably wouldn't have thought of taking this road without a desire to tick off a few more climbs in the book. The road was certainly very isolated and quiet. In a long ascent and descent, I think I only saw one car, four people and a dog. It's not mid-summer, but if you're looking for traffic free roads, this is as good as it gets.
The climb is a long drag of 4 miles plus – averaging only 4%, but with a strong side wind, it was tough going, though some great views partly compensated. Looking back down the hill, it reminded me somewhat of the bleak open climb of the Stang in North Yorkshire. Though this climb has no 17% gradient to start off with.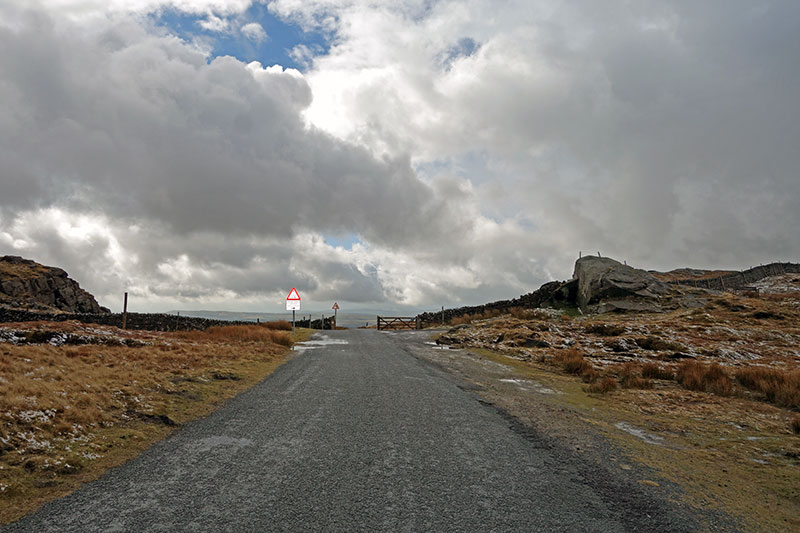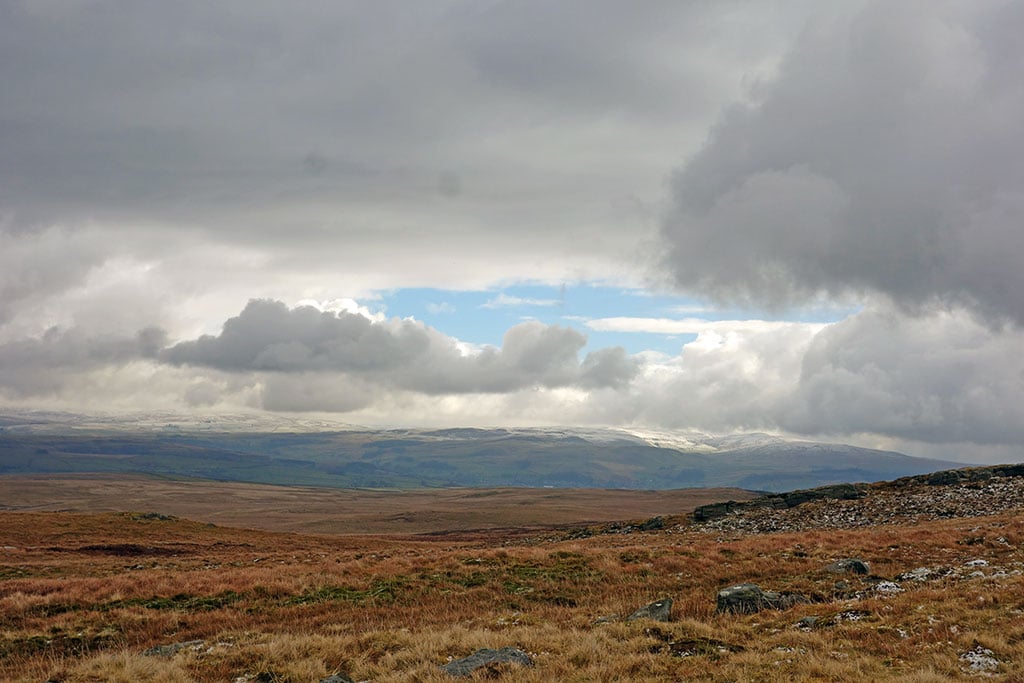 After going up the climb I did a u-turn and came back down to get some photos. On the long descent it started raining, and there was no shelter to speak off – barely the odd bush let alone a tree. Eventually I plodded on to Giggleswick. I was fed up of the rain and sheltered in a red phone box. It was no laughing matter getting soaked through in Giggleswick. After a minute standing in a red phone box, I realised this really wasn't much help. Anyway, the rain eased off so I went over to the climb of Langcliffe Scar. I had plans to go a long way north, but the return of heavy rain, encouraged me to do another u-turn and seek out some shelter in Settle.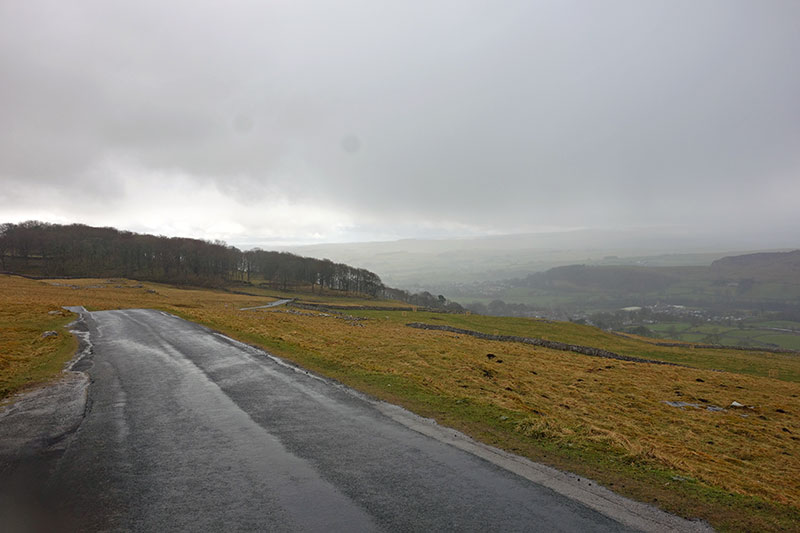 I rarely stop at cafes these days, but the rain looked set in and I fancied warming up. I stopped at a Settle cafe, joining another three bedraggled cyclists over tea and eggs on toast. Sitting in sodden clothes was slightly uncomfortable despite the warming tea, I tried to dry my gloves by placing the pot of hot water on them. As I was leaving another two dripping cyclists came in asking for  "Two by the radiator, please" (shaking into the cafe in bare legs – brave for the inclement weather.)
Out of Settle, there is a steep climb High Hill Lane and this takes you towards Malham. Sun came out east of Settle.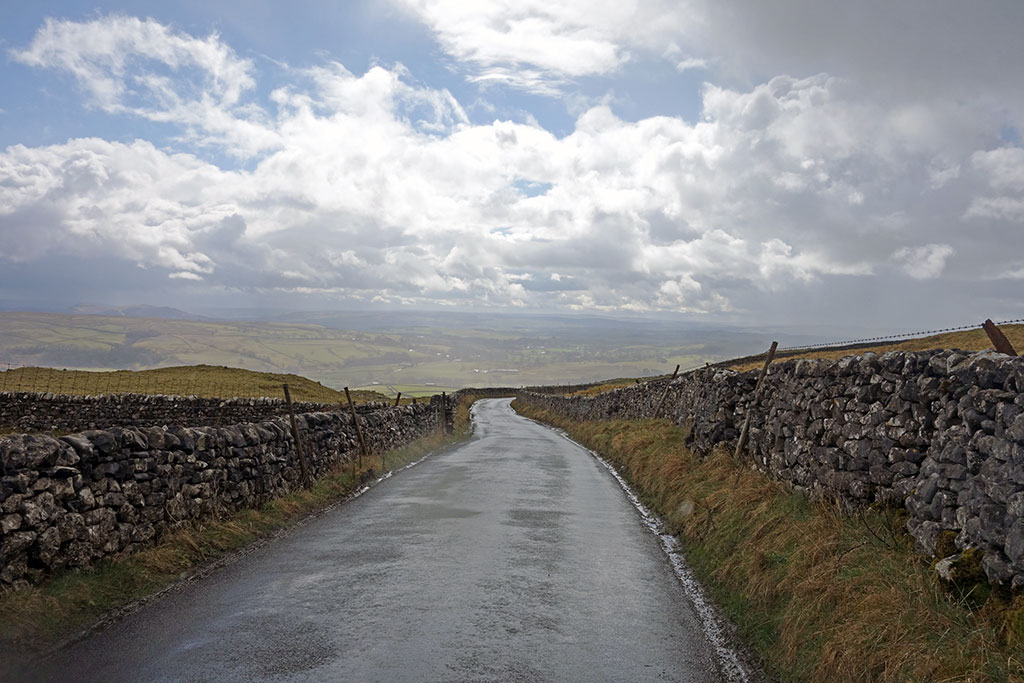 Malham Tarn to Arncliffe.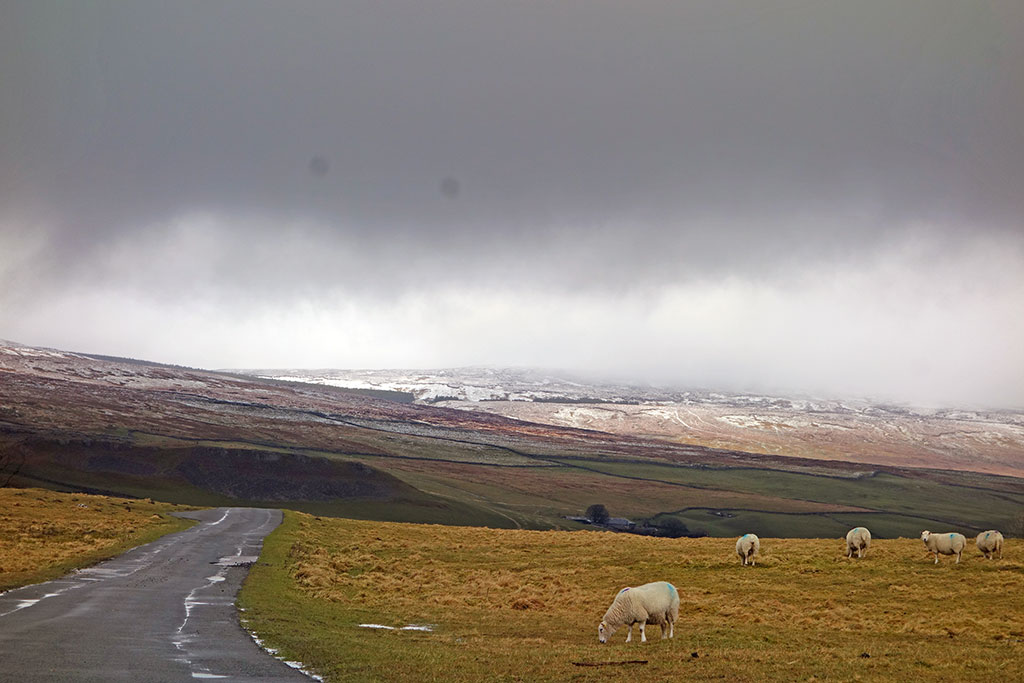 A lone cyclist.
A strange day, the train was a good idea. But, despite cheating with a tailwind for most of the ride, it was a very slow average speed, 15.6 mph. Wet and hilly. In the end 65 miles, 2,300m of climbing.