Recently, I wrote that an attraction of cycling was taking random roads and hoping for the best. The British countryside can encourage an adventurous spirit – if nothing else you can enjoy a new view, new road – even if you later do a u-turn. But, it's not always the Yorkshire Dales or the Cotswolds – I also spend four weeks a year in Queens, New York. I've written about cycling in New York before – rarely with any degree of praise or recommendation. To cut a long story short, it's a tough place to cycle – you rarely see cyclists on the road and for good reason too. As a result, I ride defensively and with unerring routine. I basically have two rides, which never go beyond 30 miles.
One ride is to cycle two miles south to Kissena Boulevard outdoor velodrome. Here I cycle around in 250-metre circles for an hour before I can't take it anymore – and then cycle the two miles back home. I don't have a power meter in New York, so just try to make sure I keep an average of over 20mph for the velodrome riding. It's a bit more fun if there are other cyclists there too. Last week a random cyclist latched onto my wheel for quite a few laps. It encouraged me to very slowly raise the pace from 20 to 21mph then 22mph. After about 10 minutes I reached 25 mph and suddenly my wheel sucker friend went pop and lost contact. I didn't mind, in fact, I was grateful that he gave me the motivation to ride harder than usual. It was a surprisingly good feeling to just ride someone off your wheel by imperceptibly raising the pace. It also reminds you how hard it can be to motivate yourself when cycling on your own.
The other type of ride I do is to cycle a relatively pleasant 3 miles through Cunningham Park bike path to a hill – called locally as 'Sanitation Hill'. It is so named because it is the destination for New York refuse lorries to dispose of their waste. At the end of your lung-bursting sprint up the hill, you get a few deep breathes of rotting garbage. Lovely!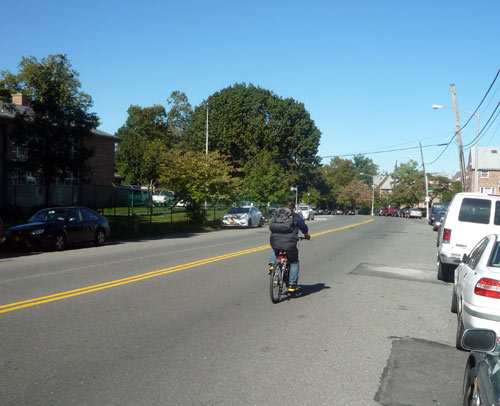 It's a mere 0.8 km average 3% gradient, 33m height gain. My all time record is 1.35 (1.31 for the Strava segment) so it's not exactly Alpe d'Huez, but as far as Queens cycling goes, it makes it relatively fun. You can also approach the hill by coming down another and getting a flying start.
If I can ignore the feint waft of rotting food emanating from the trucks, I can repeat up to 10 hill climb intervals. By the end, I will be taking 2.00 or even 2.10. So I guess that 20 minutes of hard effort is a good training session. Occasionally I spot other cyclists go up this hill, though in all the 15 years I've been up and down, I've never spotted anyone using it for hill climb intervals.
I'm not sure what benefit these 1.30 intervals are at this time of the year. It is interval training with no focus other than it seems like a good way to spend an hour on the bike.
And that's it for me, I don't care to venture any further than a 3-mile radius from my home. I don't feel adventurous, even in the slightest. In New York, I just want to get back safely. I never push my luck, but take it easy and willingly surrender to the aggressive trucks and SUV's (SUV's  / 4WD are very popular here – it is partly due to the state of the roads but also it seems to fit the more aggressive style of driving. )
I give Queens New York a hard time for cycling but in fairness – for a city setting you could do a lot worse. The outdoor velodrome is a dream and that 33m of height gain by sanitation alley is just enough for a bit of variety. I wouldn't recommend it for a cycling holiday but it shows even in the urban setting you can usually find some ways to eke out your training.