I haven't ridden all the climbs in the UK, but it will be hard to beat Hardnott Pass for difficulty, drama and the beauty of the surroundings. I always think of Hardknott and Wrynose pass as the King and Queen hill climbs of England. In terms of overall length and height gain, it is not particularly spectacular. But, the great attraction (or should I say feature) of Hardknott is its unrelenting steepness. Sometimes 1/3 signs overrate the gradient of the actual climb. But, with Hardknott pass, the 1/3 is really merited. No matter which line you take, you can't avoid considerable sections of 30%. This is really steep; it's so steep you can have a strange feeling that you might fall over backwards when climbing. No matter how fit or not you are, getting up Hardknott pass gives a sense of achievement, which is hard to replicate on longer, but shallower climbs.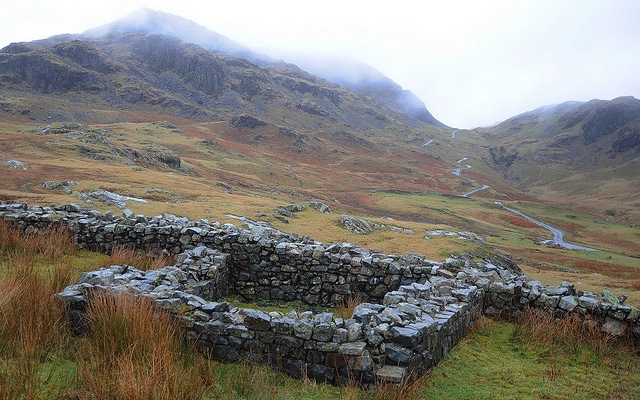 Hardknott pass is not particularly accessible, hidden away in the Esk valley in the West of the Lake District, but it is definitely worth a visit and climbing both sides. Originally Hardknott was a Roman fort used to keep the pesky locals at bay.
It is worth bearing in mind:
The descents are pretty tricky too – check your brake blocks before riding.
Unfortunately, the road surface was pretty shocking on the East face, when I went in 2013.
Also, it is so steep, cars and larger vehicles can really struggle (you wouldn't believe the inappropriate vehicles people try to drive up the 30% hairpins.) Before climbing, it is worth looking around to see if there is traffic jam in front or behind you. It is best if you can climb unimpeded by traffic.
Hardknott Pass West to East (from Eskdale)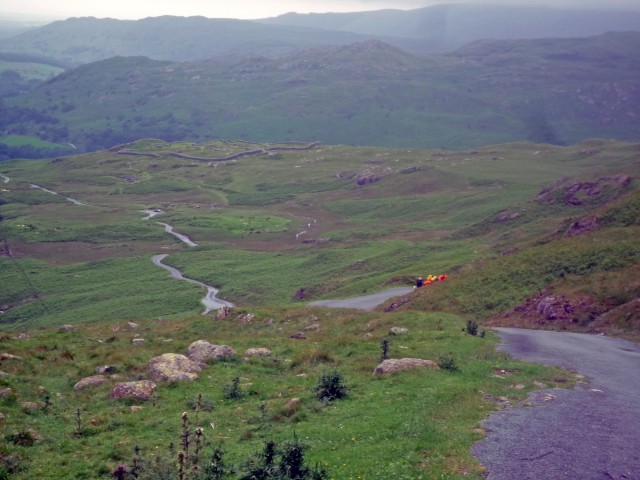 Distance: 1.6 miles
Avg Grade – 12%
Lowest Elev 126ft
Highest Elev 1,159ft
Height gain 1,033ft / 290 metres
Max gradient 33%
As you leave the River Esk, there is a gentle ascent before you hit the first 20% slopes. This is just a foretaste of what is to come, but it is really hard for about 500m, before the 20% gradient eases off, giving you some time for recovery as it averages a mere 8% for a km. But, you willwant to keep your bike in a low gear as you prepare for the final section. After this relative respite, you will need to get ready for the final section of twisting 30% hairpins. It's unbelievably tough to pull yourself around these corners. If you don't have the right gears, you will be getting off and walking. You can help yourself a little by going wide on the corners, this slightly lowers the gradient – but not much.  You will need to do a lot of pulling on your arms. It's not just your legs that will be burning. Hopefully, you won't get stuck behind a tractor. Cars and large vehicles can also struggle and come to an almost complete stop. You will be climbing to the smell of burning clutch. As the top approaches, the gradient mercifully eases off slightly. When you feel the gradient reducing, you know you're going to make it – there is a great sense of relief!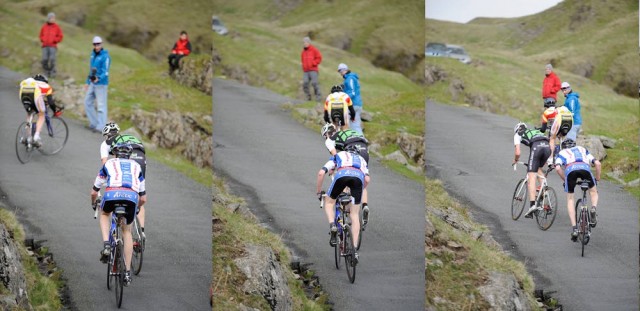 At the top, it's worth stopping to have a look behind you – it's hard to believe what you have just climbed.
Veloviewer

Strava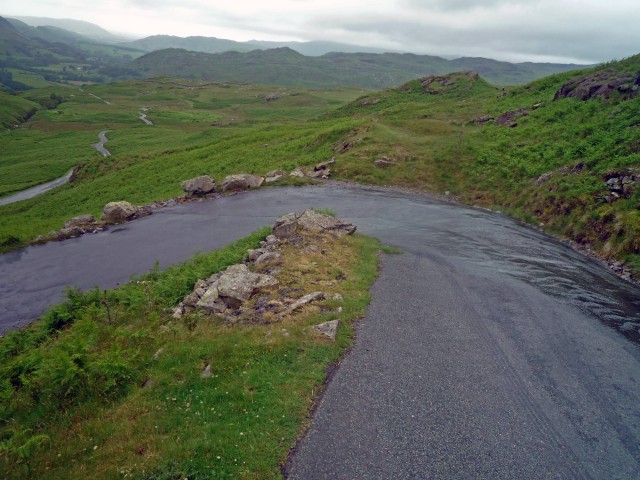 The descent is pretty tricky – 30% hairpins. Cars really struggle on the descent too, so be careful. Check your brake blocks before visiting!
Hardknott pass with miles in the legs
Just to make it harder the Fred Whitton Challenge means you will come to Hardknott Pass with 100 miles in your legs, and major Lake District climbs already done. No wonder this is a sportive with one of the greatest reputations in UK.
Hardknott West to East (from Ambleside towards Eskdale)
Hardknott pass East to west.
length 1.8 km
Height gain 180 metres
Average gradient: 10%
Max gradient 30%
This is not particularly long, but it is really steep. There is an amazing straight section of 30% towards the start of the climb. There is no option but to go straight up – you have to commit or fall off trying. You can't afford to hesitate. It is quite an experience climbing this section. I often get a strange sensation climbing this part – it's like you could fall over backwards – it's that steep. After that there are several hairpins. You can reduce the gradient by going wide, it gives a chance to recover at least before the next surge upwards. This is a fantastic climb, going up the hairpins of Hardknott is an experience you won't forget in a hurry.
Wrynose / Hardknott double.

Most people will climb Hardknott East to west after already climbing the very difficult Wrynose pass. After a partial descent into Cockley Beck, the road forks. Left takes you down to Duddon Bridge, straight on takes you up Hardknott pass. If you thought Wrynose was tough, Hardknott is much steeper. You can always turn left towards Duddon Bridge, there is a long way around to Eskdale.
Car's themselves had difficulties on these climbs. On Wrynose, a car went past me at about 5mph and nearly stalled. But, overall motorists were quite kind. I think they showed a rare degree of respect for a cyclist going up those hills.
Descent of Hardknott Pass towards West
It is seriously steep, with wicked hairpins.. You really have to be very careful to avoid getting up any speed, because once you have momentum it's hard to bring it back. My arms were aching by the end of the descent.
Overall
Hardknott Pass definitely deserves its 10/10 rating in 100 climbs. It's definitely a must do climb. But, be warned, you might need a triple chainset or even compact. I now always make sure I have a 28 for my 39 chainring. I once climbed  Wrynose pass on a 39*25, but I couldn't face Hardknott with that gearing so had to come back another time.
Related