Recently, I've been buying quite a lot of these packs of energy gels with water bottles. Firstly, it's convenient to have lots of sachets for travelling and carrying in back pocket to top up water bottles during long rides. It saves having to carry around 1.5kg tubs. Secondly, buying a pack with a free water bottle, is a good motivation to throw away some rather manky looking water bottles that have been sitting around my cupboard for God knows how many year. Generally, the packs are good value, and much better and more convenient than buying the odd gel and energy bar everytime you might need one. If you're lucky, you might see some packs on special offers. It's always worth checking with the manufacturer site, as they may give a free starter pack if you register with them. I know ZipVit were doing this for a while, but seem to have discontinued the practise at the moment.
These are some of the endurance packs that you can pick up in cycle shops or online.
SIS Endurance Pack
2 x SIS GO Isotonic Gels;
2 x SIS GO Energy Sachets;
2 x SIS GO Electrolyte Sachets;
2 x SIS REGO Rapid Recovery Sachets;
2 x SIS Go Energy Bars.
Free 800ml SIS bottle is also included
10 * energy sachets = £11.99 £1.19 per item. It could be more expensive to buy separately. I quite like this SIS pack and have bought a couple. There is a good mix of sachets and I find myself using all the different products. The water bottle is high quality and makes a good replacement for some old ones.
The recovery powder is based on soy protein
The energy powder is based on maltodextrin/fructose 2:1 combination.
SIS Endurance pack at Evans
Alternatively, you can spend £10 on SIS products of your choice at Evans and get a free water bottle with code SIS10
High 5 Race Pack
Contents
Iso Gel x 2,
Iso Gel Plus x 1,
Energy Gel x 2, (23g carb)
Energy Gel Plus x 6,
Energysource sachet x 4,
Energysource X'treme x 1,
Protein Recovery Sachet x 1,
Zero Sachet x 4,
750ml Bottle x 1,
17 energy products for £13.49
I throw away the Energy Source X'treme because it is too much caffeine,  I also rarely take zero sachets because I prefer to take electrolyte with some weak energy solution. But, it is still good value with 11 energy gels, 4 sachets of powder, 1 recovery powder and a 750ml bottle. I've used High 5 products a lot, especially the 2:1 energy powder. I'm not as keen on the taste of the energy gels for some reason, but I'm not fussy enough to stop taking them.
The energy source is maltodextrin / fructose 2:1
High 5 at Evans
Gatorade
1 × 500ml Gatorade Green Cycling Bottle;
2 x Gatorade Prime 118ml pouches
6 x Gatorade Perform 36g sachets
2 x Gatorade Recover 500ml bottles (mixed berry flavour)
10 energy products
Gatorade use more High GI energy sources than the more traditional maltodextrin. The ingredients include:  glucose , dextrose and sugar.
Ingredients include isomaltulose (a source of glucose and fructose), dextrose, sugar, maltodextrin, and a very long list of other ingredients
I have tried Gatorade a while back, but generally prefer maltodextrin to glucose.
Nectar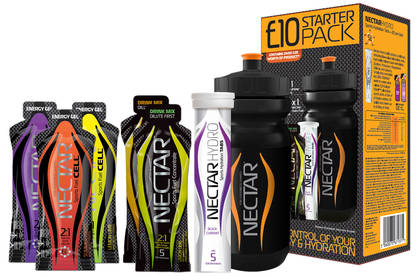 1 × 600ml Nectar sports bottle,
2 x Nectar Fuel Concentrate Sachet – 50ml,
3 x Nectar Sports Fuel Cell (Energy Gel) – 40ml,
1 x Nectar Hydro Tab
Nectar starter packs –£7.99 at Evans
I haven't tried Nectar, but currently good value. Similar composition to Gatorade of glucose e.t.c.
 Related